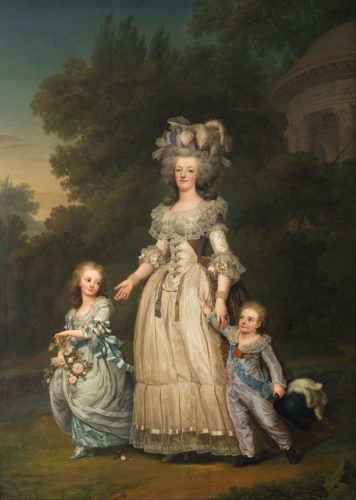 Let's take a closer look at this splendid portrait of Marie Antoinette walking in the gardens of the Petit Trianon with her two eldest children, Madame Royale and the Dauphin Louis Joseph. It was painted by the Swedish artist Adolf Ulrik Wertmüller in 1785 when Marie Antoinette was thirty years old and had been Queen of France for eleven years and was commissioned for Gustav III of Sweden.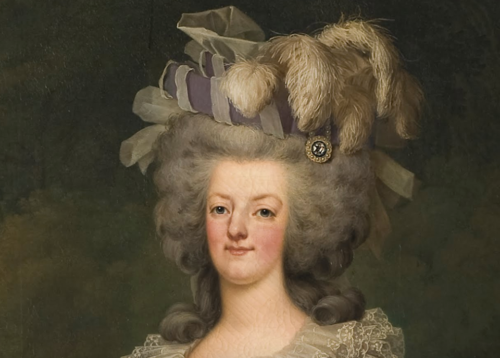 Wertmüller took particular care while painting his three royal subjects' clothes, even ordering a pair of mannequins that he dressed in clothes that actually belonged to Madame Royale and the Dauphin. Marie Antoinette's dress, an elaborate robe à la Turque, is one that she actually owned and Wertmüller collaborated with her hairdresser, Léonard, to ensure that her hair looked just right. He was paid 14,000 livres for his efforts, which was a huge sum.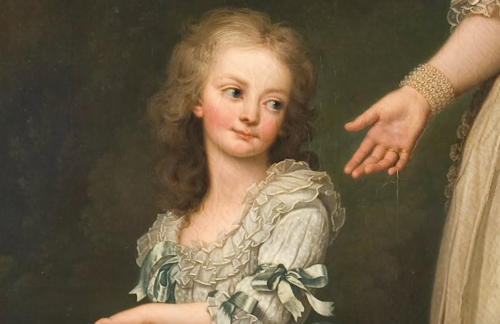 However, despite all the effort, the painting lacked the grace and flattering charm of Vigée Le Brun's paintings of Marie Antoinette, with the result that the Queen did not care for it AT ALL and it's said that when she first saw it, she was horrified and exclaimed 'Is that really supposed to be me?' In fact, she disliked it so much that she wanted to have it withdrawn from the 1785 Salon in Paris and replaced with a more flattering portrait by Vigée Le Brun. However to her credit, Le Brun refused to oust Wertmüller and so the painting went on display that autumn as planned and was then resoundingly panned by both critics and public alike, who also found it horribly stiff and unattractive, which probably cheered Marie Antoinette up a bit. The unfortunate Queen, no doubt relieved that the hated portrait was destined for Stockholm and wouldn't be hanging around Versailles making her feel bad about herself, then commissioned a new and much more becoming painting of herself with her children from Vigée Le Brun.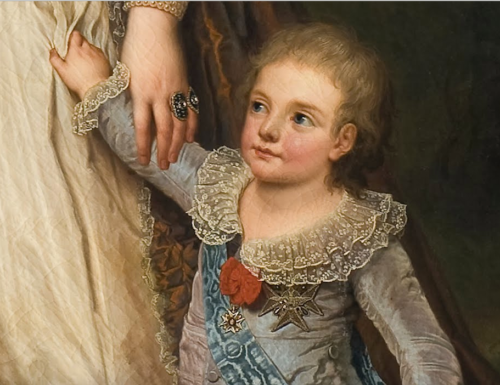 It now hangs in the Nationalmuseum in Stockholm.