Madame la Comtesse was the daughter of the Marquis de Sinety and was betrothed to her husband, who was the eldest son of the Marquis de Vachères, in 1779 in a ceremony that took place at Versailles and was witnessed by several members of the royal family. Marie Gabrielle was formally presented at court after her wedding that summer and swiftly became one of Marie Antoinette's closest friends. She escaped the revolution and became Duchesse de Caderousse when her husband, from whom she was separated by this point, inherited the title in June 1800.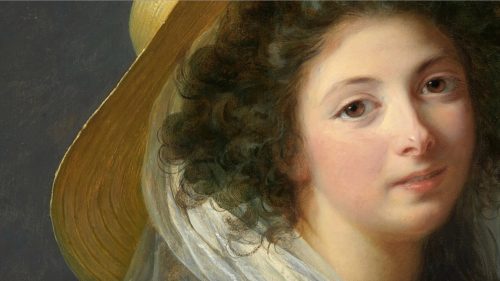 Although women of the Comtesse's class usually wore their hair powdered, Vigée Le Brun persuaded her to be painted with her hair in its natural state, which caused a furore when she went to the theatre straight after one of her sittings. 'I could not stand powdered hair,' the artist later recalled in her memoirs. 'I persuaded the beautiful Duchesse de Grammont-Caderousse not to use any for her portrait. Her hair was ebony black… arranged in irregular curls. After the sitting, which finished at the time of the midday meal, the Duchesse left her hair as it was and went to the theatre as she was. Such a lovely woman had to set the fashion, which gradually caught on and became widespread.'
The painting can now be found in the Nelson-Atkins Museum of Art in Kansas City.