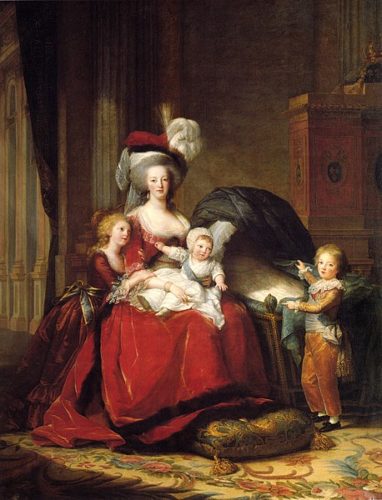 Today's painting by Vigée Le Brun is her 1787 portrait of Marie Antoinette and her children with her second son Louis Charles, who was in 1785, taking pride of place on the Queen's lap. The boy would succeed his father as Louis XVII in January 1793 but would never be crowned and would eventually die in prison in June 1795 at the age of ten.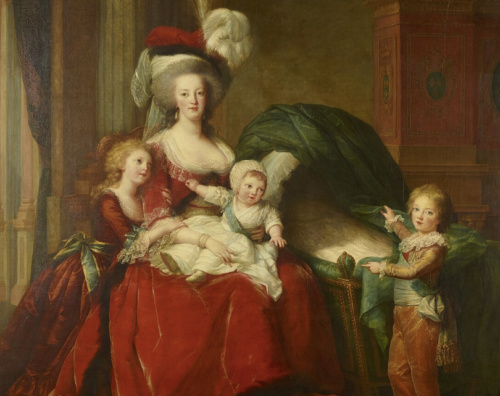 The painting was commissioned in September 1785 and Vigée Le Brun was given precise instructions that the work should be a monumental formal depiction of the Queen and the royal children at Versailles as opposed to one of her more informal portraits of mothers with their children. Marie Antoinette gave birth to her fourth child, a daughter Sophie Hélène Béatrix in July 1786 at around the same time as work began on the piece but the baby unfortunately died just eleven months later and was therefore alluded to with an empty cradle.
When Vigée Le Brun was working on the initial composition of her piece, she consulted her friend Jacques Louis David, who suggested a triangular composition that brought to mind images of the holy family. He would later vote for the execution of Louis XVI.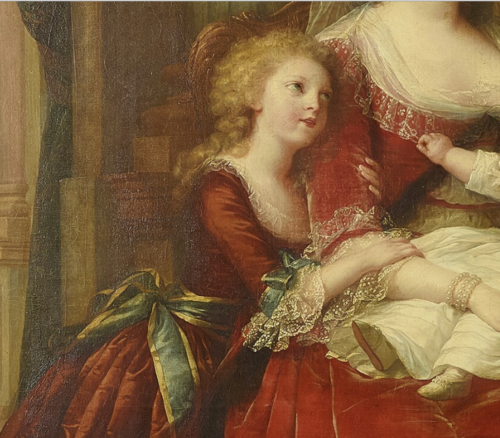 The painting was intended for the Salon de Mars at Versailles but after the death of the Dauphin Louis Joseph in 1789, Marie Antoinette asked for it to be removed as it made her feel so sad. It was possibly this removal that saved it from violence during the Revolution, after which it became the object of secret pilgrimages by faithful royalists – when Vigée Le Brun visited it at Versalles many years later, the guard thanked her for all the tips that he had received from people who had paid to see it.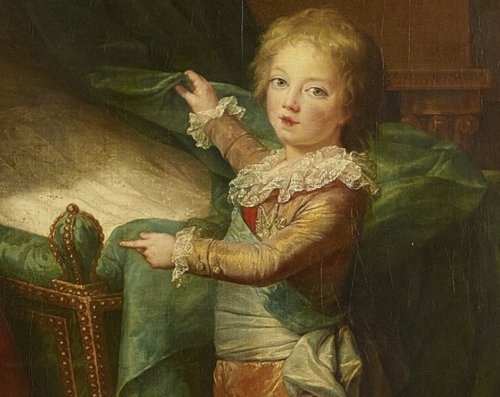 A Gobelins tapestry version of the work was presented to Empress Alexandra of Russia by the French government and was placed in a prominent position in her rooms in the Alexander Palace at Tsarskoye Selo.