Today's painting by Vigée Le Brun is her luminously lovely portrait of Countess Ekaterina Vasilievna Skavronskaya, which she painted in 1790 in Naples, where the Countess' husband was Russian Ambassador. The beautiful Countess (1761-1829) was one of the five gorgeous Engelhardt sisters who caused a furore when they arrived at the Russian court in 1775 – in much the same manner as the Mazarinettes in 17th century France. The Engelhardt girls were the nieces of Catherine the Great's love Potemkin, who gave them all positions at court, showered them with riches, arranged prestigious marriages and made at least two of them his mistresses – with Ekaterina being the most favoured of all, to the extent that she is believed to have given birth to his child during a prolonged sojourn in the countryside in 1780. It was also rumoured that Ekaterina's marriage to Count Paul Skavronskaia was hastily arranged by Potemkin in order to conceal a second pregnancy.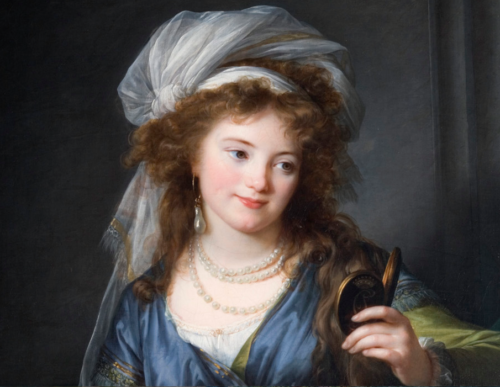 Despite all of this, Vigée Le Brun thought the Countess quite enchanting and wrote in her memoirs that she was 'gentle and pretty as an angel. In the daytime, she was constantly idle; she had no education, and her conversation was as empty as could be; despite all that, thanks to her ravishing face and angelic sweetness, she possessed invincible charm'. The miniature she is holding in her hand is a portrait of her husband, Count Skavronskaia who died in 1793, after which she married again, this time for love, to Giulio Renato Litta. Her younger daughter, also named Ekaterina, was the infamous society beauty Princess Bagration, who scandalised Europe with her affairs and separation from her husband in 1805.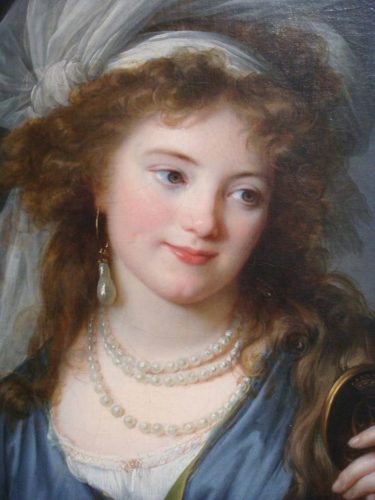 The painting is now in the collection of the Musée Jacquemart-André in Paris, where it entranced my boyfriend and I for quite some time last November.