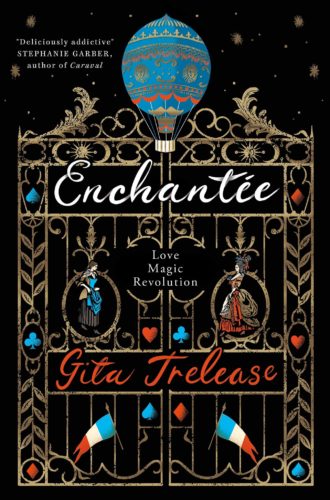 I have been a bit too busy writing my own books to do much reading lately but absolutely HAD to down tools in order to read Gita Trelease's magical Enchantée, a delightful YA book set in 1789.
'Paris in 1789 is a labyrinth of twisted streets, filled with beggars, thieves, revolutionaries – and magicians . . .When smallpox kills her parents, seventeen-year-old Camille is left to provide for her frail sister and her volatile brother. In desperation, she survives by using the petty magic she learnt from her mother. But when her brother disappears Camille decides to pursue a richer, more dangerous mark: the glittering court of Louis XVI and Marie Antoinette.Using dark magic Camille transforms herself into the 'Baroness de la Fontaine' and presents herself at the court of Versailles, where she soon finds herself swept up in a dizzying life of riches, finery and suitors. But Camille's resentment of the rich is at odds with the allure of their glamour and excess, and she soon discovers that she's not the only one leading a double life.'
I loved this book so much. I am not usually into magic themed YA books or indeed magic themed adult books either for that matter but this one kept me absolutely enthralled right from the very start, thanks to the delightful characters and wonderful descriptions of pre-Revolutionary Paris and Versailles. I can't wait to read the sequel, Liberté, which is due to be published next year.