"This event is so much more than just an art show, well, two things more. It's got a bar and a cinema. Think of this as a fairground that embraces brutality and low level criminality – so a fairground then. Here you're encouraged to consider, not just consume, to look, not just spectate and most important of all – beware of uneven floor surfaces." — Banksy.
Many, many years ago when I was growing up in Aberdeenshire, I used to be forced to spend rather too much time at a place called Anderson's Storybook Glen, a most miserable little spot where hideous life size statues of nursery rhyme characters cavorted in the most sinister manner amidst the shrubbery as small children screamed in fear at their grinning yet still oddly vaguely painted faces. I've tried several times to explain the awfulness of Anderson's Storybook Glen to my Bristol born and bred husband but without any success, there's no need to do this now though as we've been to Dismaland together and at long last he totally gets it.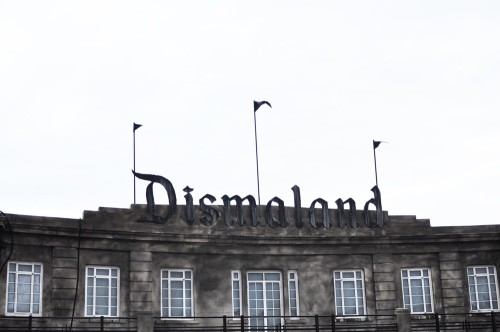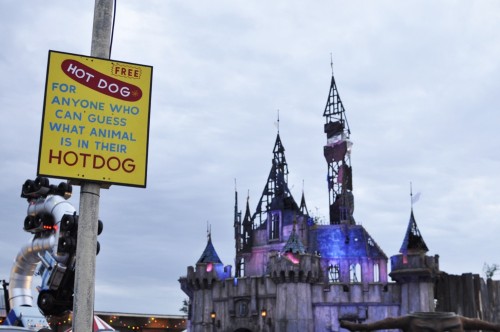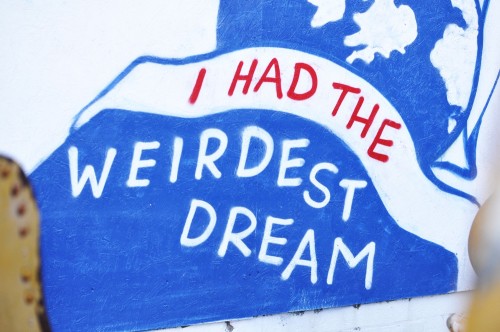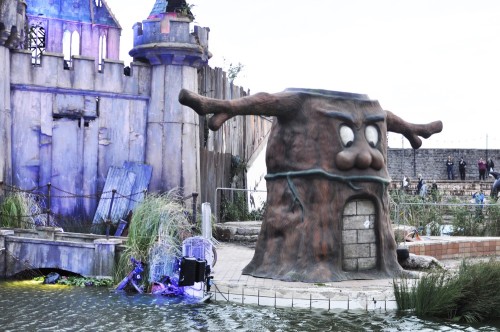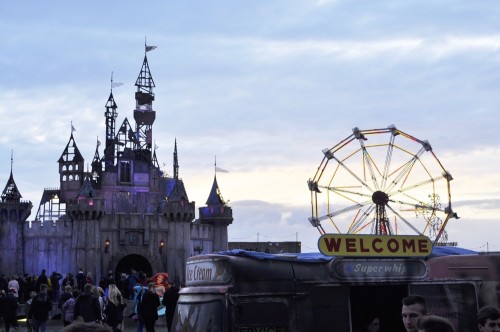 As long term readers of this blog will already know, I am a massive fan of the street artist and social commentator Banksy who, like my husband, is alleged to come from Bristol and, if rumours about his identity are correct, has probably tussled with him on the Bristol public school rugby match circuit at some point. Or perhaps not. He doesn't seem like a rugby playing type, does he? Or maybe all those afternoons spent freezing in muddy fields in Failand are the reason why he turned out the way he did. Who knows.
Anyway, to cut a long story short because I know that you're here for the pictures and low down on Dismaland rather than all these tiresome reminiscing about miserable childhood misadventures in fields, when we heard that Banksy had taken over the ramshackle old Tropicana building in Weston-super-Mare, which has been a bit of an eye sore on the seaside town's already dilapidated sea front for many years. We actually used to live in Weston many moons ago and found it a bleakly dispiriting experience so to me it is the perfect location for Dismaland, Banksy's 'bemusement park' which is being touted as 'the UK's most disappointing new visitor attraction' where visitors are promised 'a festival of art, amusements and entry level anarchism'.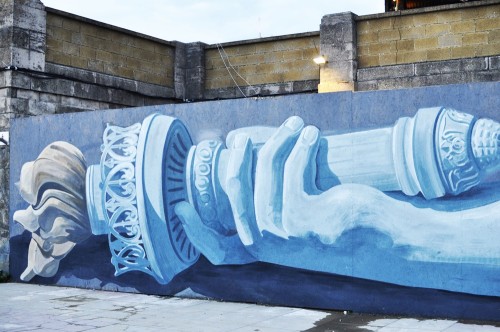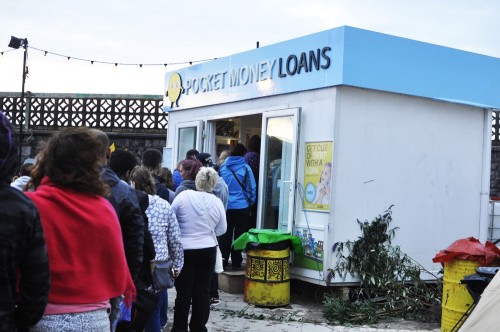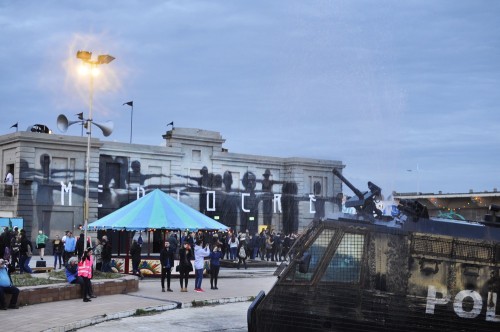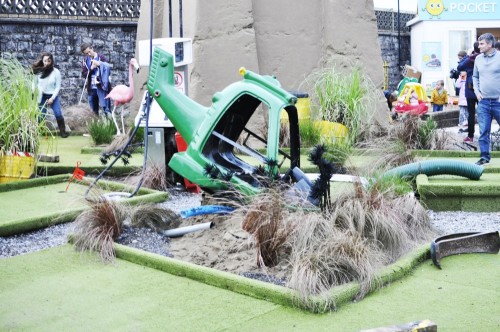 'Are you looking for an alternative to the soulless sugar coated banality of the average family day out? Or just somewhere a lot cheaper? Then this is the place for you – a vibrant new world that provides an escape from mindless escapism. Instead of a burger stall, we have a museum. In place of a gift shop we have a library, well, we have a gift shop as well.
Bring the whole family to come and enjoy the latest addition to our chronic leisure surplus – a bemusement park. A theme park whose big theme is – theme parks should have bigger themes…'
How could we resist?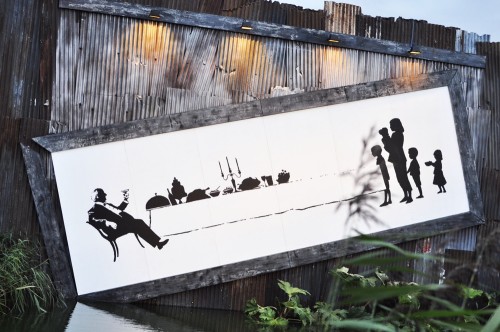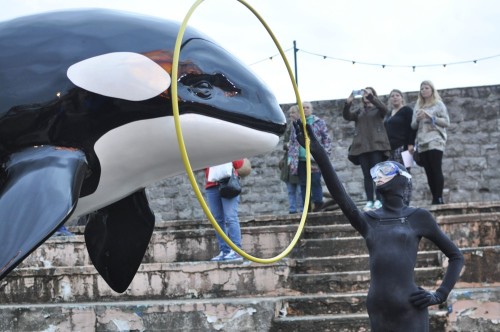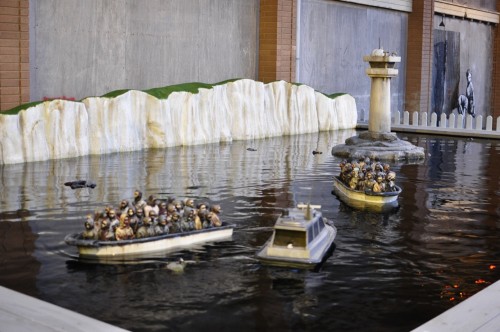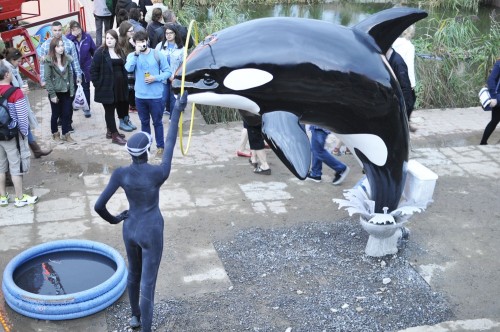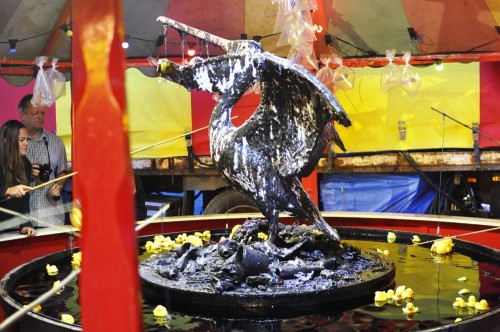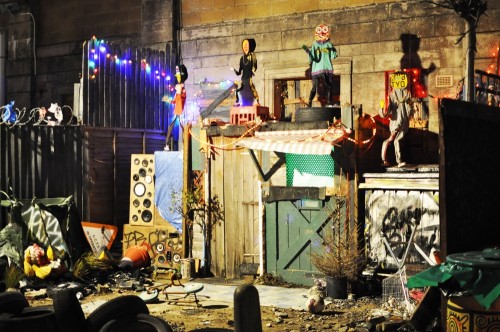 We once vowed that we would never EVER set foot in Weston super Mare ever again but once we'd navigated the torturous ticket page (another part of the dismal experience?) and grabbed our tickets, we could hardly wait to pile into the car and set off to the land of dark, scudding clouds, mud and misery. To add to the fun we told our children that we were going to an amusement park but then relented and said that it wasn't quite like that when The Six Year Old got a bit too over excited. 'Will there be rides?' he asked. 'Maybe,' we said. 'But they won't be the sort of rides that you're expecting.' Oh dear.
There was a massive but relatively fast moving queue when we arrived clutching our tickets and cameras, keen as mustard to be bemused. Greeted by surly, aggressive staff in Bill Barminski's cardboard security screening room, we were admonished 'not to smile' then sent on our way into the park to enjoy the tinny, creepy seaside holiday music and unwholesome and miserable delights prepared for us by Banksy and a crew of international artists, ranging from the Jeffrey Archer Memorial Fire Pit where you are invited to 'warm yourself around an authentic real open fire ceremonially lit each day by burning one of the famed local perjurer's novels' before enjoying a giant pin wheel 'commissioned by Banksy to power the entire site, it turns out that this ecological marvel has trouble charging more than two mobile phones at once', a rotating caravan and the Big Rig-Jig : 'a masterpiece of post-industrial assemblage art – it's two juggernauts performing ballet by Mike Ross'.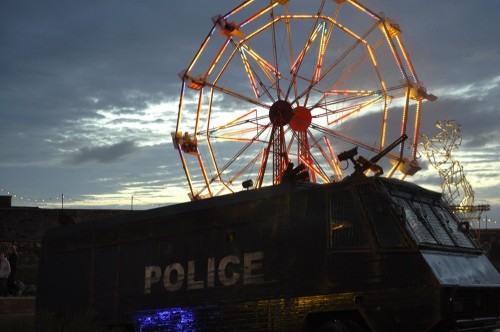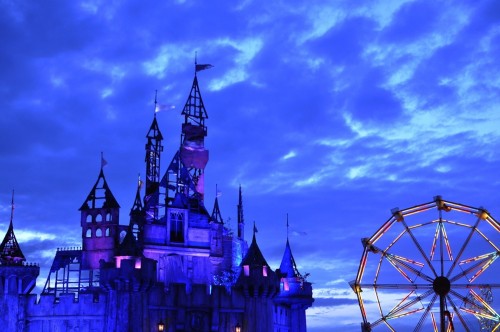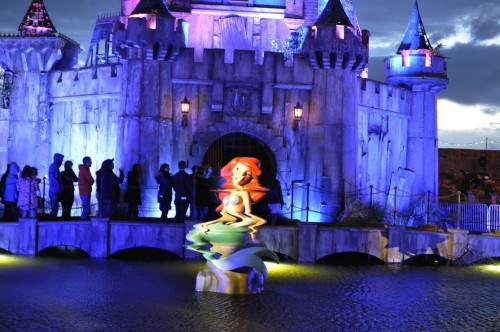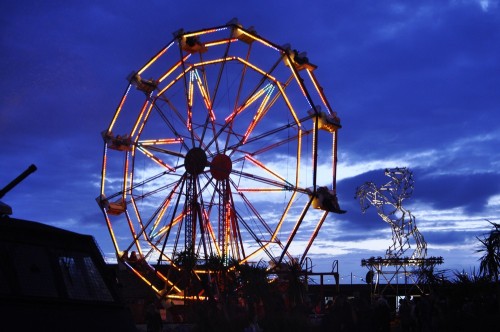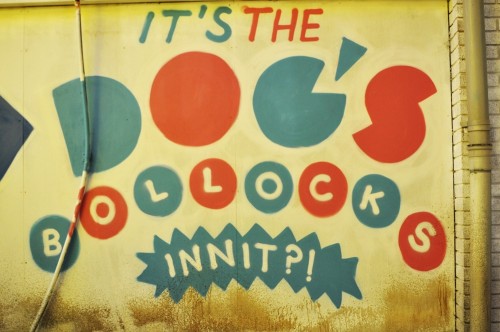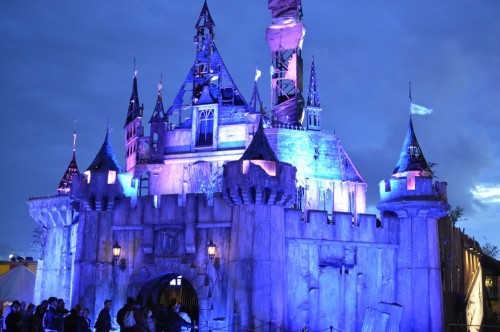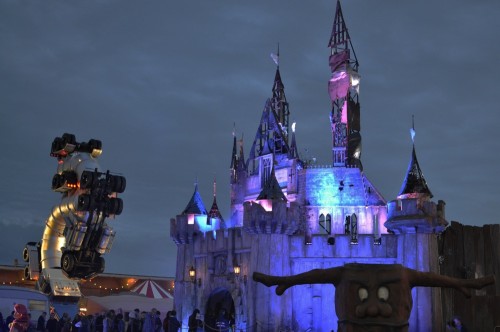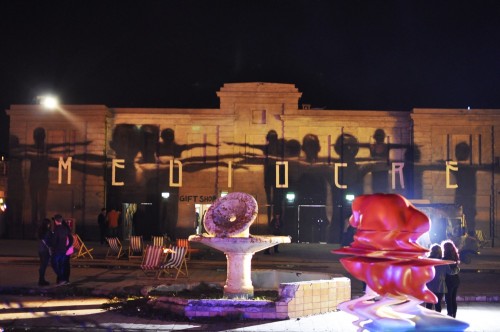 The treats don't end there as there's a whole plethora of traditional seaside treats such as a Punch and Judy show, mini golf (or rather Mini Gulf – 'an oil caliphate themed crazy golf course made from the hockey pitch at Cheltenham Ladies College'), a cinema, picnic area and all manner of grim and grotty looking 'amusements' such as Crazy Gulf and Hook A Duck From The Muck manned by the most miserable looking staff that you could ever hope to find anywhere, all decked out in the Dismaland uniform of a bright pink tabard with 'DISMAL' printed on the back, teamed with a pair of black Mickey Mouse ears. They shuffle around the site with long faces, treating visitors with the surly contempt that we so richly deserve and rewarding all attempts at interaction with scowling disdain. I asked one if I could have a refund. 'No,' he snarled. 'Is there somewhere that I can write to complain?' I persisted. He considered this for a long moment before replying. 'Yes,' he muttered darkly. 'But I'm not going to tell you where.'
The whole park is littered with amazing artworks, if you like that sort of thing, which I most definitely do but there's also bars, a children's play area which 'combines soft play and loan shop' and Guerrilla Island, which 'features a bus mounted museum, library, gallery of guerrilla art, Comrades Advice Bureau and workshops in how to hack billboards'. One of the high points for me though was the incredible Galleries, three large rooms 'which together comprise the finest collection of contemporary art ever assembled in a North Somerset seaside town' and what a treat it is. The works inside may not appeal to all tastes but I absolutely loved it as it was right up my street.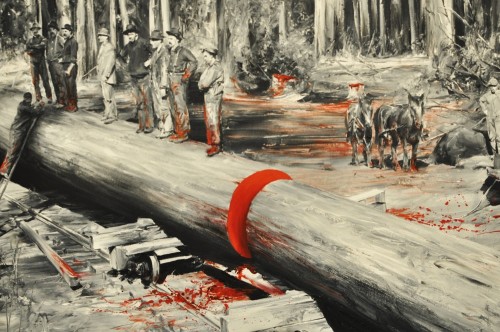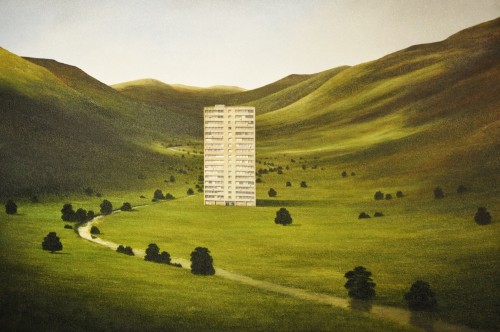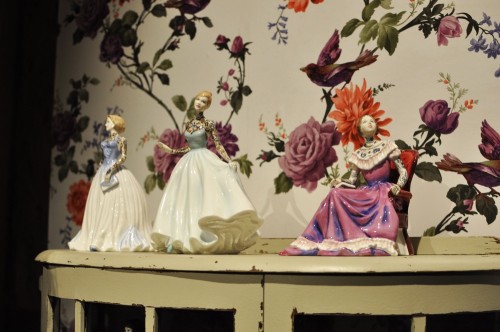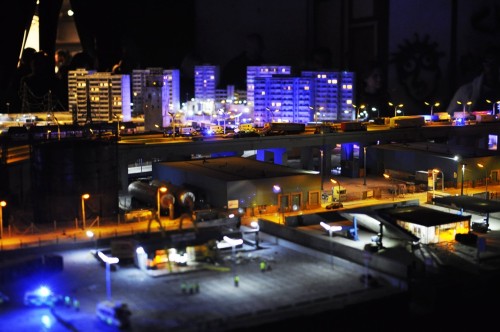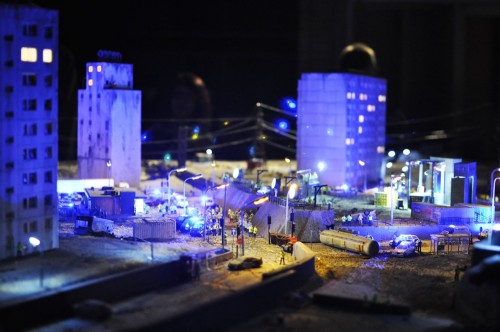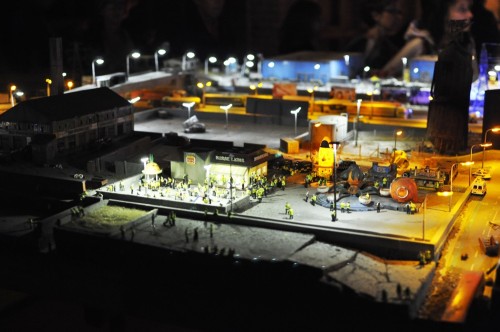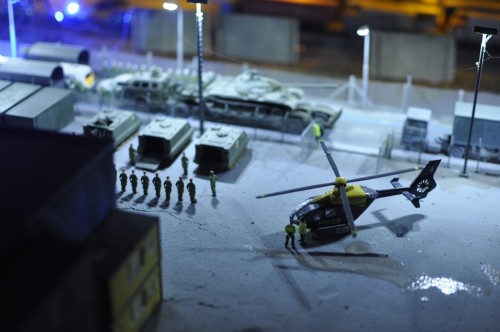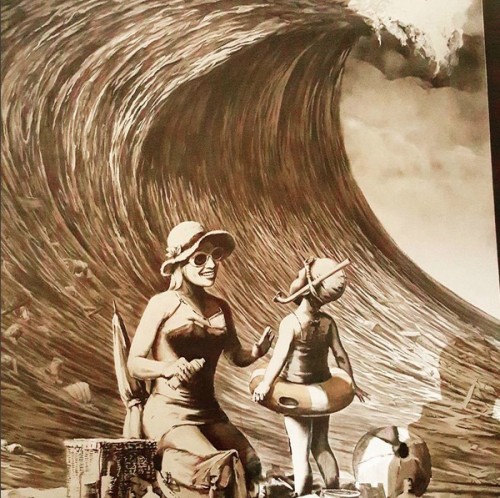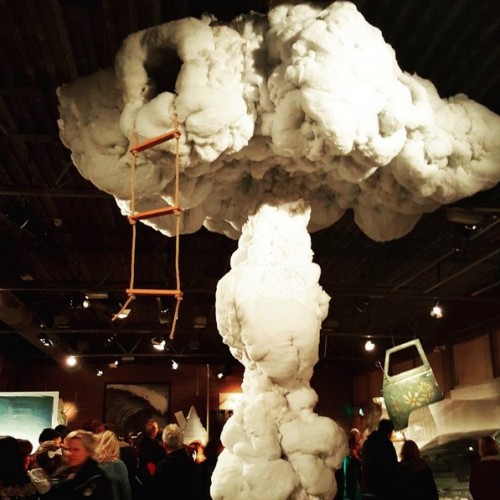 There are more than fifty artists from seventeen different nations displaying their work at Dismaland so although I could probably go on about it all day long, I'll just mention a few favourite pieces like Jenny Holzer's electronic signs (she's also responsible for the pronouncements regularly delivered over the Dismaland tannoy system, read by an eight year old girl), Banksy's painting of a mother and child apparently oblivious to the enormous tsunami about to overwhelm them, Dietrich Wegner's mushroom cloud installation, Leigh Mulley's paintings of bleak seaside towns 'painted with such sincerity that you can almost smell the vinegar and disappointment', Lee Madgwick's haunting landscapes, Jessica Harrison's beautiful tattoo covered china figurines and Amir Schiby's haunting tribute to the four Palestinian boys killed on Gaza beach by Israeli shelling. Best of all though was Banksy's weirdly hilarious Grim Reaper riding a dodgem car. It has to be seen to be believed, really and former KLF member Jimmy Caulty's amazing diorama of a miniature town apparently frozen in the middle of some sort of disaster, entitled 'Aftermath Displacement Principle' and involving three thousand tiny riot police trying to keep control of the miniature residents. Asked if he has a favourite part of the model, Jimmy replied, 'No, I hate all of it.' Fair enough. I loved it though.
Outside, although there is a whole plethora of treats on display, from a killer whale jumping out of a loo and through a hoop into a bucket and a woman being completely swamped by attacking pigeons, the obvious piece de la résistance of the event is the dilapidated and yet still oddly beautiful Cinderella's castle that stands at the very heart of the park, dominating the scene. During the day it looks dismal and depressing but at night it looks almost magical as the lights come on and are reflected in the pool in front of it, in which there stands a distorted statue of Ariel. Here, we are invited to 'step inside the fairytale and see how it feels to be a real princess'. Once inside we were ushered through a damp, drip corridor with exposed wiring and warning signs before being allowed to enter a large dark chamber dominated by a large overturned life sized Cinderella's pumpkin carriage complete with dead horses, out of which the princess herself sprawls close to death, her plaintive cries of 'Help me' ignored by the gang of photographers that surround her, their camera flashes lighting up the macabre scene which is clearly intended to be reminiscent of the final moments of Diana, Princess of Wales.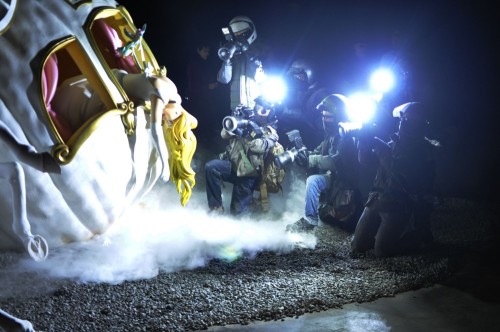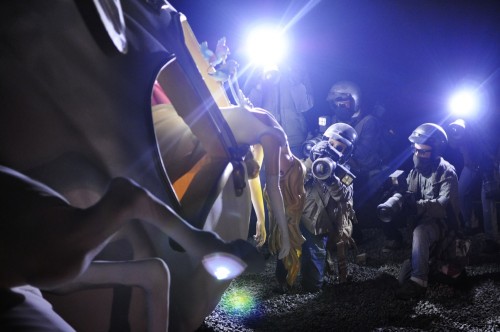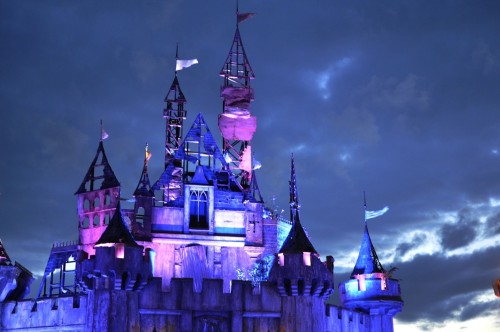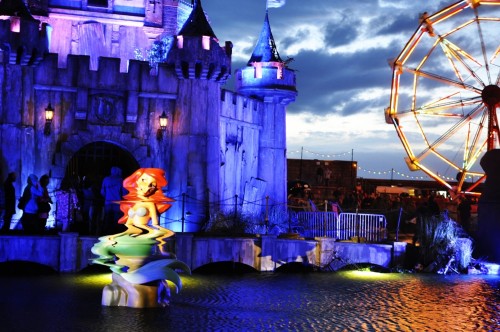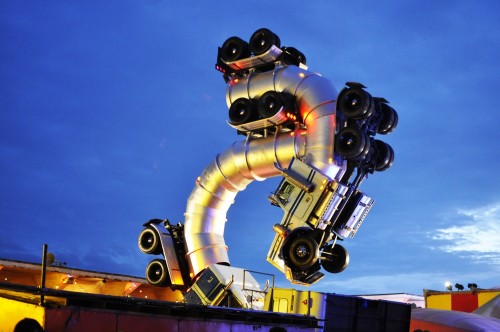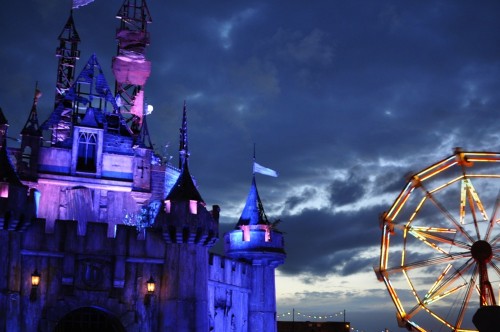 Feeling suitably sobered, we spent a good couple of hours wandering around the park, taking photographs of the art and enjoying the inventive films in the cinema. Although we were promised (and received) dismal misery, I don't think I stopped grinning the whole time I was there as I enjoyed it so much, if 'enjoy' is the right word under the circumstances, which it probably isn't. Yes, it was bleak and dingy and dilapidated but it was also imaginative, innovative and actually really quite darkly funny, in a strange sort of way. Even my children got really into it and had a whale of a time, which at one point prompted me to wonder if we had brought them up exceedingly well or are in fact the very worst parents in the world to have brought up two people who are apparently so completely uncomplaining and actually quite pleased when they are promised an amusement park and taken to Dismaland instead.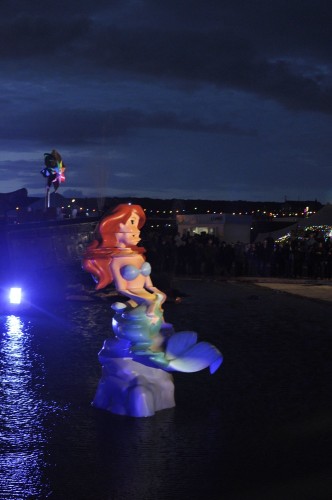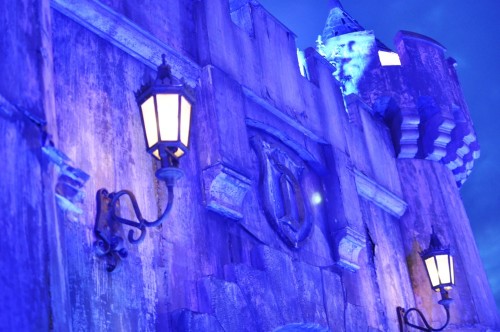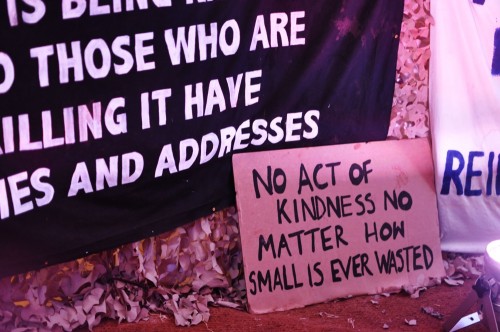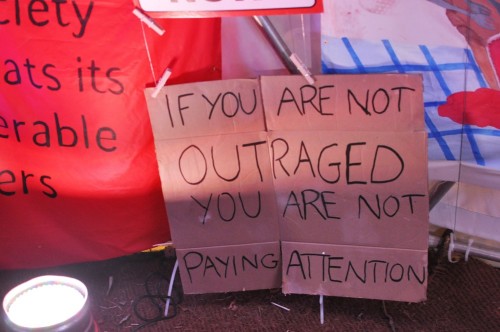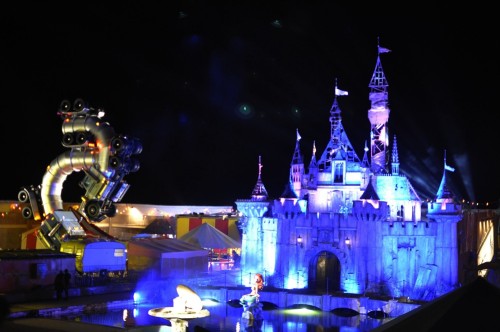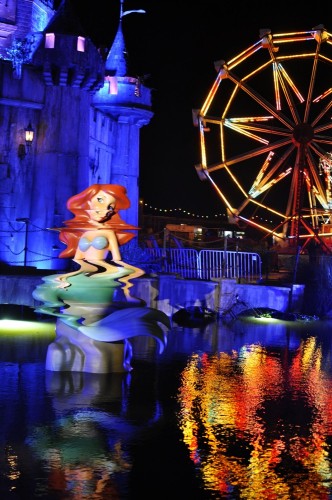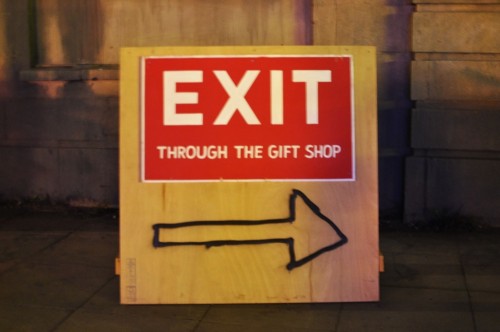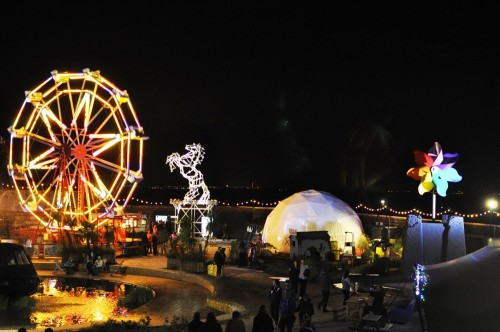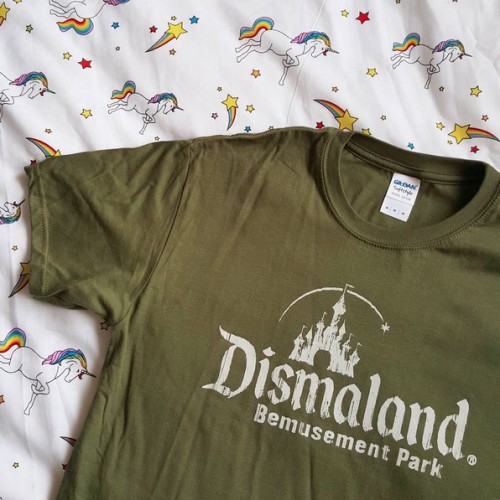 After one last turn around Cinderella's castle, it was time to leave, exiting via the gift shop where we picked up a last souvenir of the unhappiest place on earth.
Dismaland is in situ at the Weston super Mare Tropicana until the end of September with tickets (which cost £5) being released in regular batches. Go for an evening session if you can as I think the park comes into its own as dusk falls and be prepared for mud and misery galore. As Banksy writes in the accompanying programme, 'This whole event has been like making a dream come true for me. But I wonder if I should have picked a less weird dream.'
******
I don't have adverts or anything like that on my blog and rely on book sales to keep it all going and help pay for the cool stuff that I feature on here so I'd like to say THANK YOU SO MUCH to everyone who buys even just one copy because you are helping keeping this blog alive and supporting a starving author while I churn out more books about posh doom and woe in the past! Thanks!
As the youngest daughter of the Empress Maria Theresa of Austria, Marie Antoinette was born into a world of almost unbelievable privilege and power. As wife of Louis XVI of France she was first feted and adored and then universally hated as tales of her dissipated lifestyle and extravagance pulled the already discredited monarchy into a maelstrom of revolution, disaster and tragedy. Marie Antoinette: An Intimate History is now available from Amazon US and Amazon UK
Set against the infamous Jack the Ripper murders of autumn 1888 and based on the author's own family history, From Whitechapel is a dark and sumptuous tale of bittersweet love, friendship, loss and redemption and is available NOW from Amazon UK
, Amazon US and Burning Eye.
'Frothy, light hearted, gorgeous. The perfect summer read.' Minette, my young adult novel of 17th century posh doom and intrigue is available from Amazon UK
and Amazon US and is CHEAP AS CHIPS as we like to say in dear old Blighty.
Copyright secured by Digiprove © 2015 Melanie Clegg