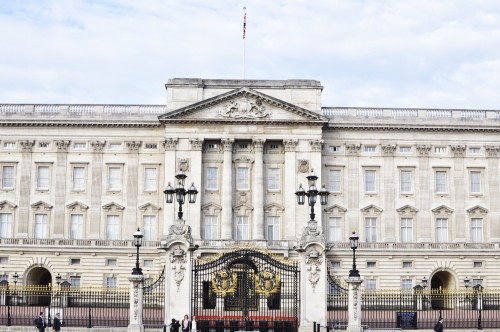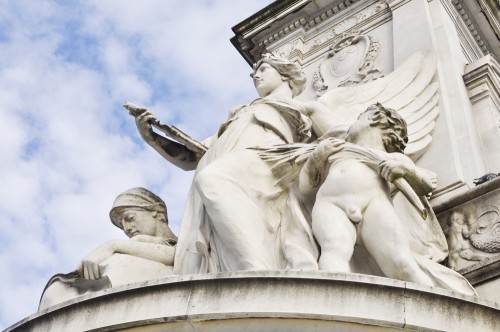 My blog has provided me with several pinching myself to check that it is real moments over the years but perhaps none were quite so grand or amazing as Wednesday morning's adventure when I was invited to a very special function in an otherwise empty of visitors Buckingham Palace where we were promised cake and a private tour of the state apartments in the company of the curators of this year's special summer exhibition, which focuses on the splendid royal receptions held at the palace while the Queen is in residence. To our joy and amazement we were given unprecedented permission to take photographs inside the palace so I made the most of this by taking photos of ABSOLUTELY EVERYTHING as I knew that you'd all be dying to see inside too.
This was actually my third visit to Buckingham Palace's extraordinary and beautiful state rooms so you might expect me to be feeling just a little bit jaded about the splendours within but that honestly could never be the case as there is always something new to look at or some hitherto unnoticed treasure to sigh over and admire. If you have even the smallest interest in British history then Buckingham Palace is somewhere that you absolutely HAVE to visit as it is crammed to the opulent rafters with paintings, sculptures and all manner of treasures connected to several different generations of the royal family and not just the ones who have resided in the palace itself. The paintings alone are amazing – there are hundreds on display, ranging from wonderful old masters to well known portraits of the British royal family to some more unusual and less familiar but no less fabulous works. It really is a feast for the eyes, although you may find yourself feeling rather gilt blinded as you stagger out afterwards due to all the sumptuousness on display.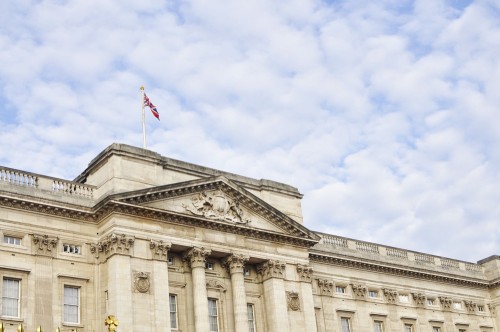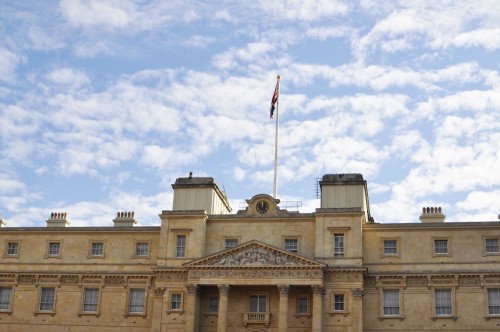 Buckingham Palace has been opening for the summer every year since 1993 and by now several million visitors have streamed through its doors to have a look inside while the Queen is away having her working holiday in Scotland. There's a special exhibition every year that relates to either recent royal events like weddings or new babies or anniversaries of past momentous occasions such as the coronation. This year's exhibition is rather different as it is titled A Royal Welcome and focuses on the way that the palace gets ready for special events like the state banquets that are regularly held in honour of visiting dignitaries and the famous garden parties that are held every year in the palace grounds for a host of very fortunate guests.
On this occasion, however, we were the ones who were being welcomed to the palace for a good nose around the exhibition, followed by breakfast on the palace terrace. To recreate the experience of dignitaries arriving at the palace for a banquet, after clearing the airport style security, this year's visitors will enter the palace through the Grand Entrée and Grand Hall where they can immediately follow in the footsteps of thousands of excited débutantes in their white frocks, dignitaries and guests and mount the amazing Grand Staircase that leads up to the first floor of the palace.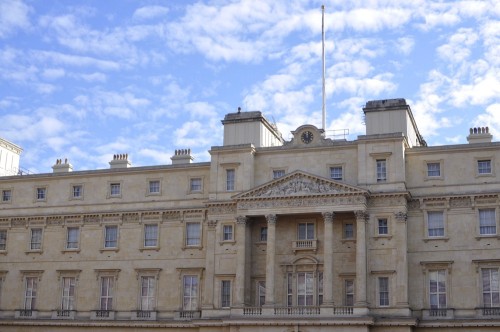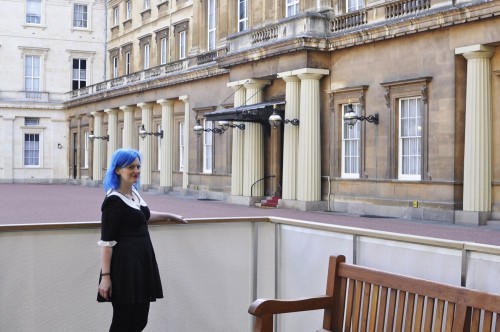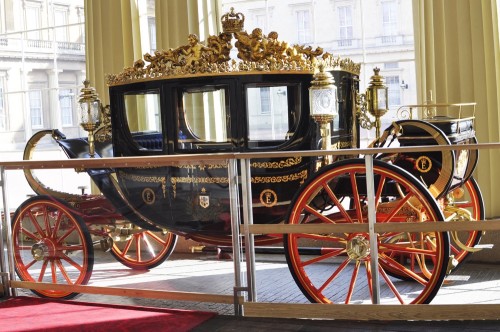 The tour normally takes visitors through the Green Drawing Room but instead we were taken to the East Gallery, which is home to Winterhalter's famous painting of Victoria, Albert and their eldest three children and then entered the Ball Supper Room, which plays host to each year's exhibition and has displays charting the intense preparatory work that goes on behind the scenes behind a Buckingham Palace banquet from planning the menu to decanting the wine to washing up afterwards (a VERY careful operation as many of the Queen's services are precious eighteenth century Meissen and Sèvres). It really is fascinating and quite awe inspiring to see how much hard work and preparation goes into these events.
Also on display are some lovely dresses worn by the Queen at different stages of her reign as well as a display that takes a look at the work of Angela Kelly, who is designs most of the Queen's clothes and hats in her studio and is responsible for Her Majesty's very distinctive and rather stylish look (I will always maintain that the Queen is one of the best dressed women of all time). There's even some bolts of beautiful, colourful materials from the royal stash on display, waiting to be used for future creations.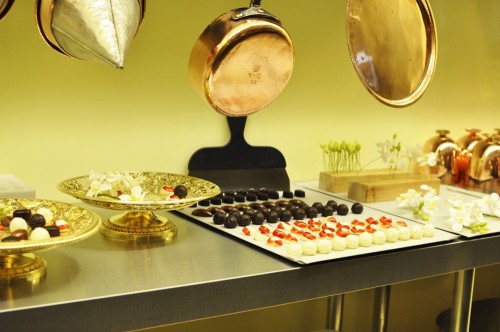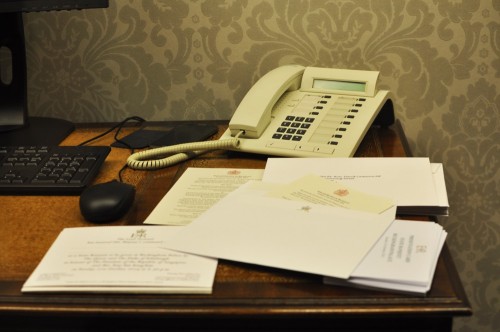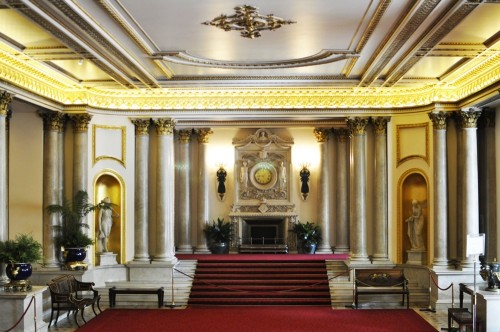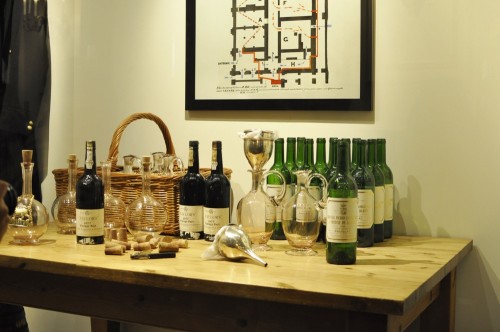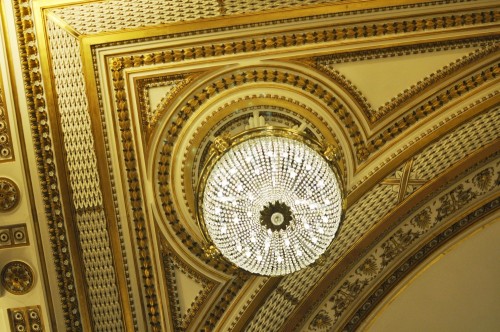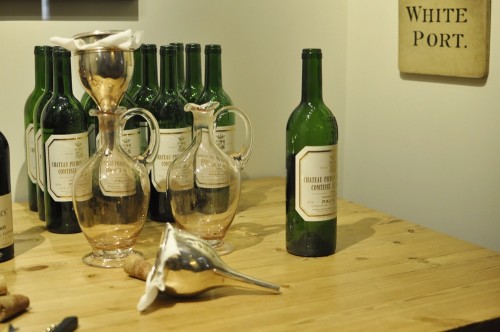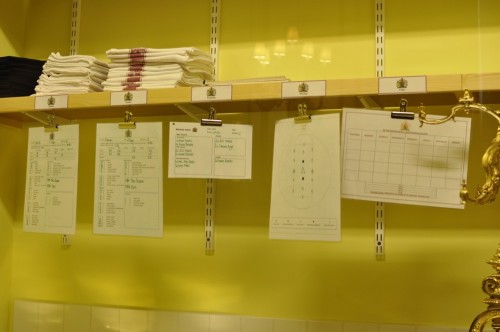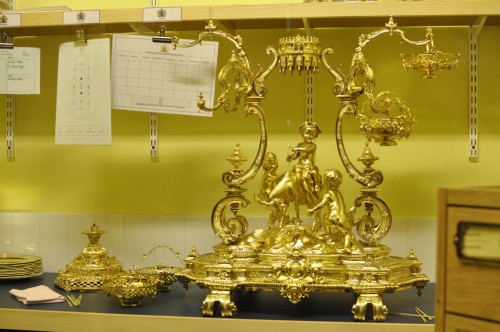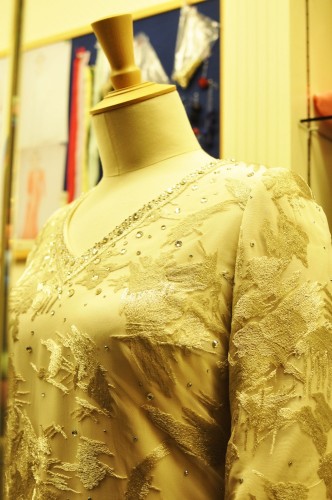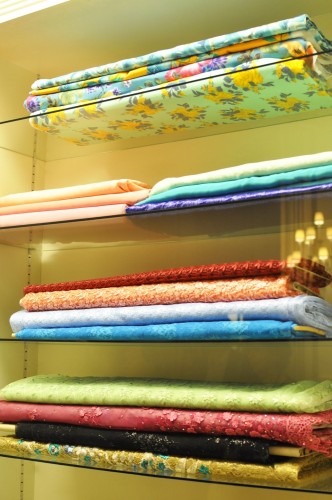 Best of all though is a very special display of some of the Queen's favourite pieces of jewellery – the famous Kokoshnik tiara, which comprises 488 diamonds and was originally a rather fancy bespoke present to Queen Alexandra (who was then Princess of Wales) from the ladies of society to mark her twenty fifth wedding anniversary in 1888. It has been passed down through the royal family ever since and will no doubt one day grace the Duchess of Cambridge's head. Also on display are some family orders, the Queen's extremely impressive 'Coronation' necklace and earrings with their enormous pear shaped diamonds, which were originally made for Queen Victoria in 1858 and the gorgeous Dorset Bow brooch, which was a wedding present to Queen Mary (then Duchess of York) in 1893 from the County of Dorset. I felt so very privileged to be able to see these up close and being able to take photographs was like a dream come true as I have long been completely fascinated by the royal family's jewel collection.
After this we stepped through to the enormous Ballroom, which has been laid out as if for a state banquet for this season and what an impressive spectacle it is as it looks absolutely amazing. It really is fascinating to see the way that all the place settings are laid out – complete with tiny little lamps! The floral decorations also perfectly complement the gleaming gilt and crimson of the ballroom, which has been a witness to many a royal shindig in its time – including the by all accounts cracking wedding party for the Duke and Duchess of Cambridge.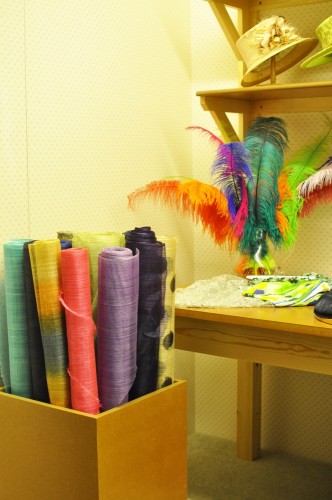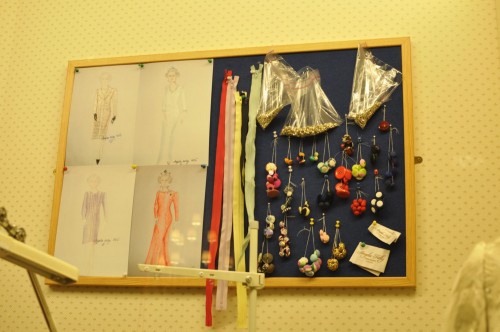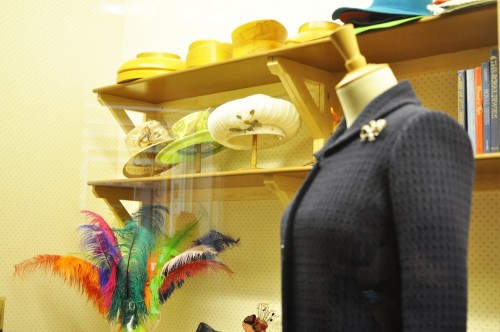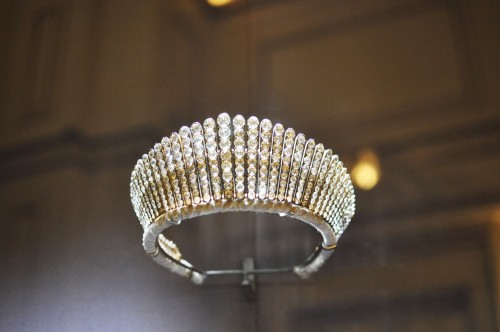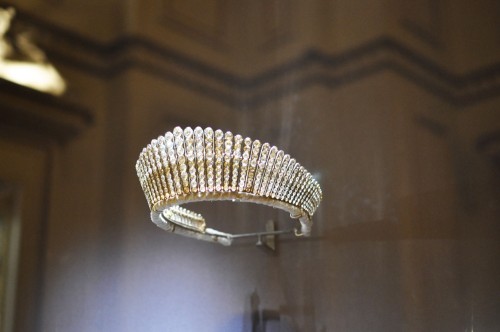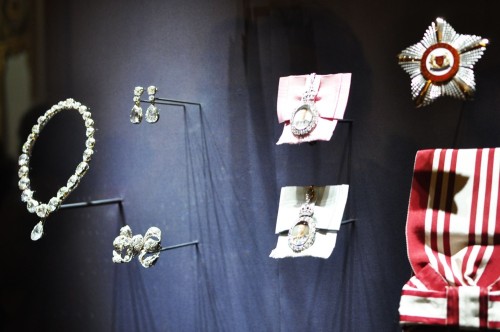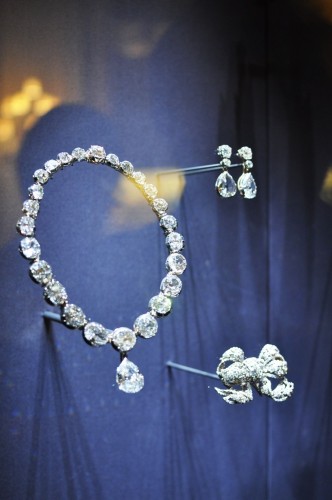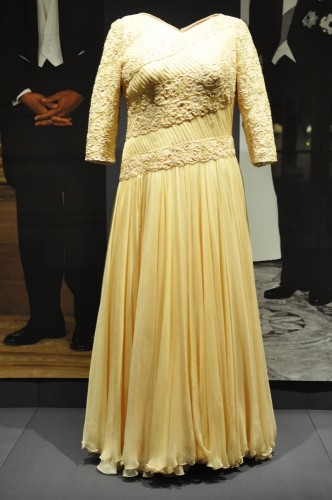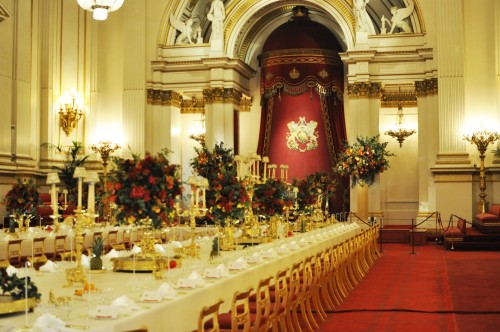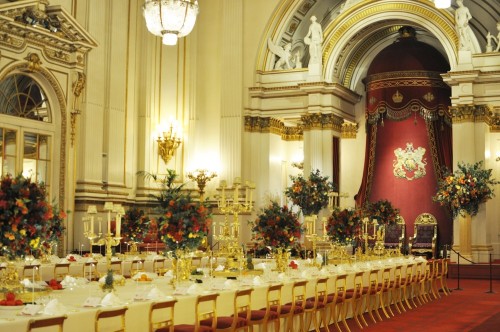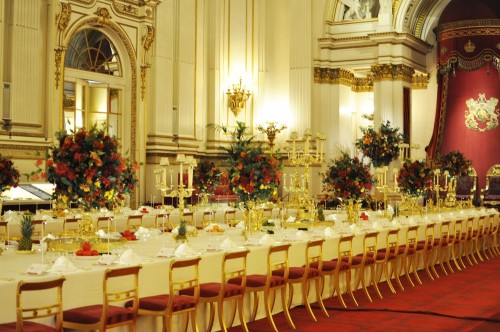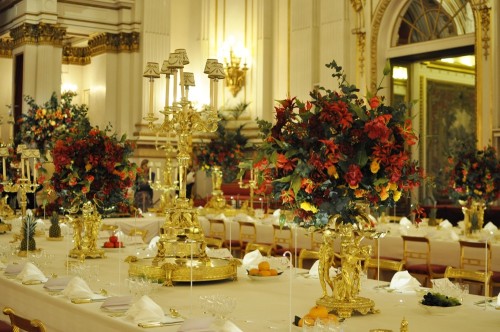 We were then permitted to take a wander through the state rooms, which have displays devoted to the garden parties that are held every year in the palace grounds with more examples of Angela Kelly's work. I love the way that the Queen deliberately dresses in bright sorbet and macaron coloured clothes so that she can be visible at all times from a distance – which ensures that even people who weren't fortunate enough to get close to her still feel like they are in the royal presence. Her favoured colour palette is always very summery, I feel, much like that of her late mother and I think that's brilliant. Far too many older ladies dress in drab and depressing colours once they hit a certain age and it's just too sad. I know that not everyone has the Queen's dress budget but a bit of colour can do wonders for a mature complexion.
The Queen certainly seems to favour the same soft, pretty colours when it comes to her furnishings as well – it seems strange to say this about somewhere so majestic and stately as Buckingham Palace but there is a definite feminine touch about the place with lots of pink brocade sofas and pastel coloured walls. You really get a sense, while walking through the rooms, that this is a Queen's palace and I wonder if things will change in the future when we have a King on the throne? Will the pinks, yellows and soft teals be replaced by more crimson, dark blues and gold to create a more masculine ambience? I do hope not as I think the palace needs a soft touch to stop it being oppressive and mausoleum like.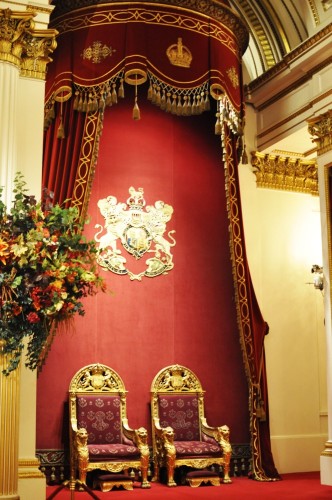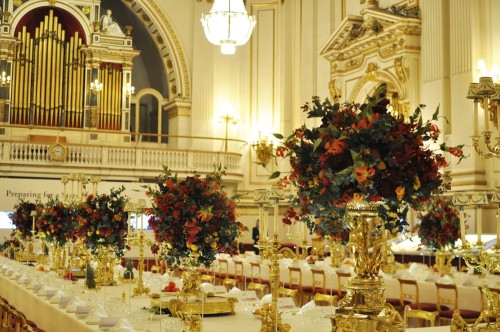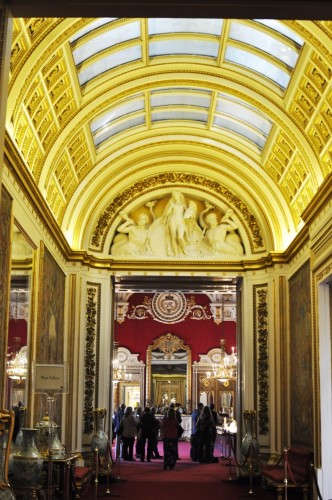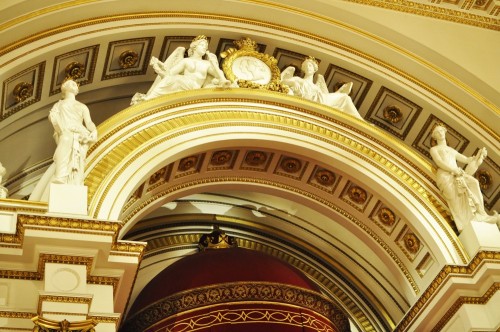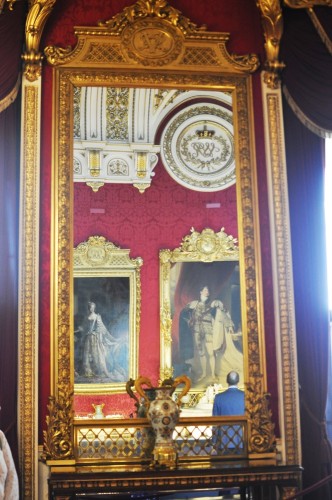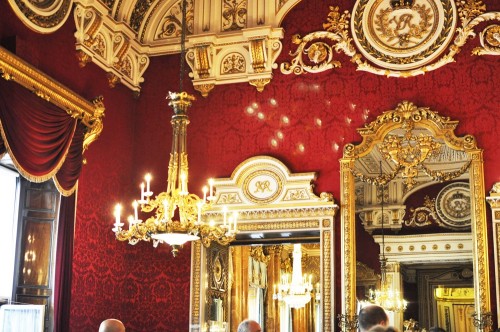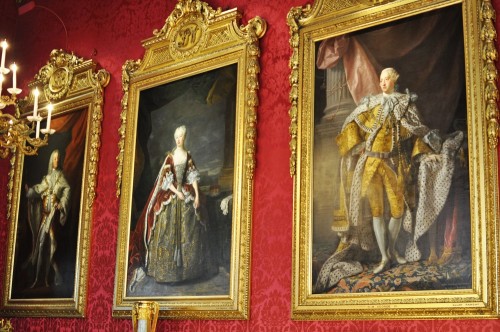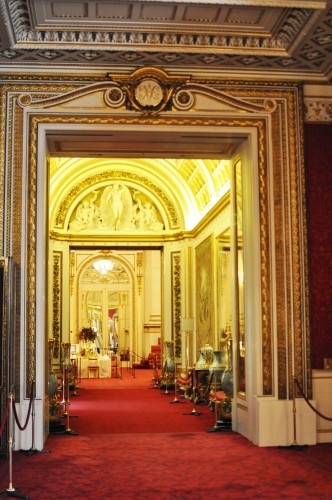 The State Dining Room, which overlooks the gardens is reserved for very special dinner parties and is lined with portraits of the Hanoverian monarchs and their consorts, with the notable exception of the 'unruly' Caroline of Brunswick.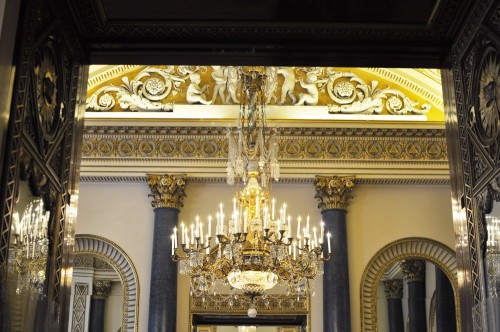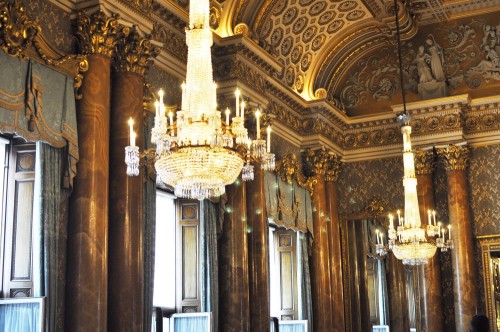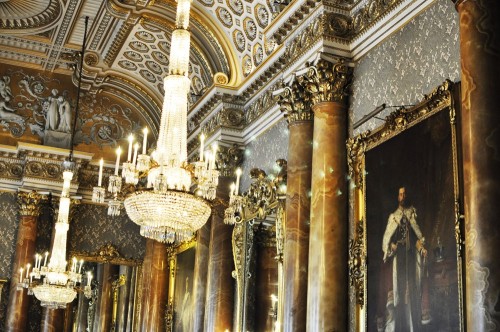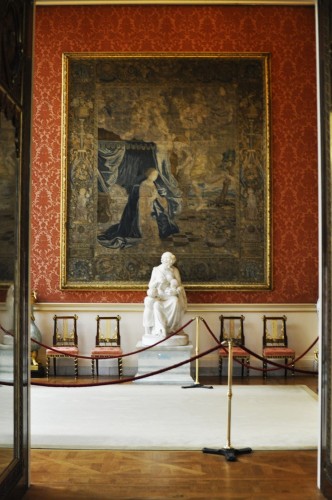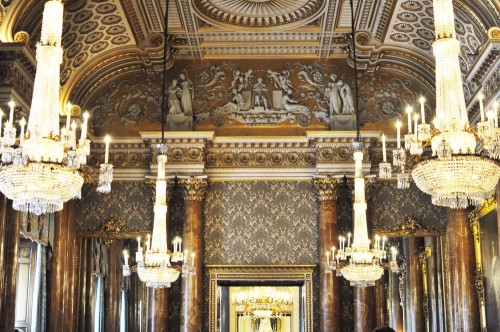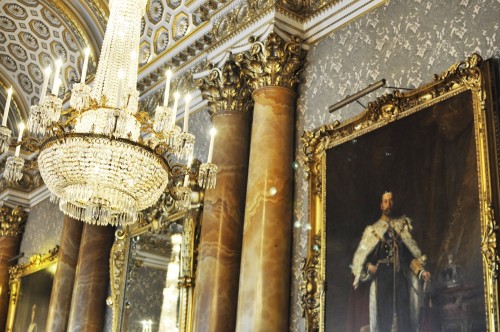 The Blue Drawing Room was originally hung with crimson silk until Queen Mary had it replaced with blue flock wallpaper to create a much more harmonious and feminine ambience. It's only right, therefore, that portraits of Mary and her husband George V should dominate this room.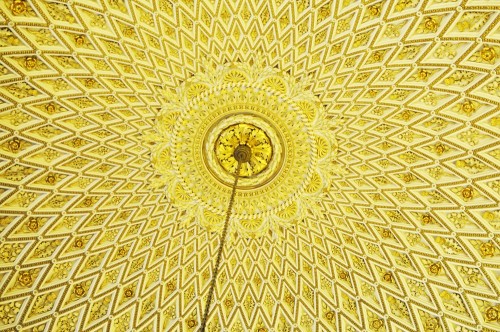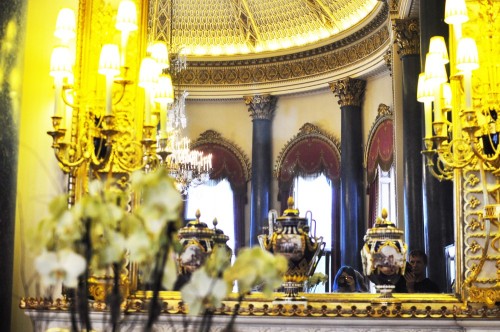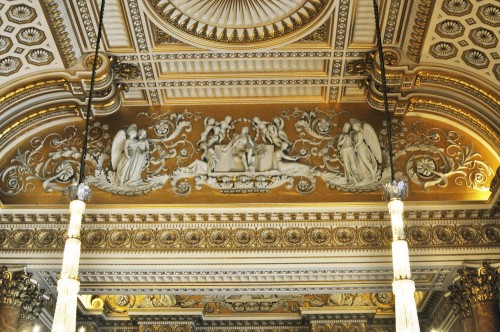 The Music Room is at the centre of the West Front, overlooking the garden and is often used for royal christenings – both Prince Charles and Prince William were christened here.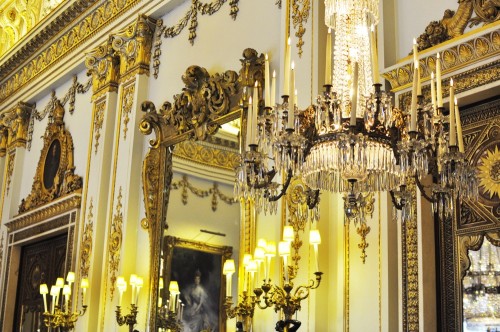 My favourite room in the palace is probably the White Drawing Room, which is dominated by a gorgeously opulent portrait of Queen Alexandra. It's a wonderfully opulent harmony of cream, palest yellow and gold that somehow contrives to be both majestic and beautiful – not an easy combination to pull off!
At this point, the paying public began to appear and we hastily whipped our cameras out of sight so that they wouldn't get the wrong idea and also get seriously envious because, crikey, who wouldn't be? I could hardly restrain my glee as I made my way down the stairs to the gardens, unable to believe that I'd just been allowed to take photographs inside one of the most iconic and famous buildings in the whole world. It was incredible.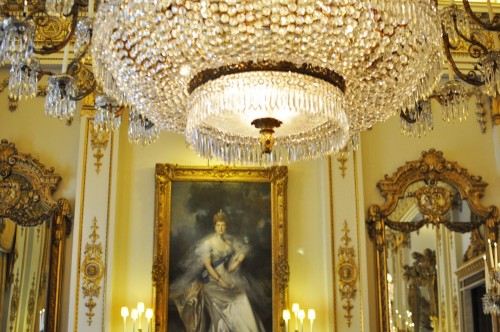 It turns out that in Buckingham Palace, 'breakfast' means delicious profiteroles and hot chocolate served on the terrace overlooking the palace grounds. We had a truly lovely time chatting in the sunshine before it was time to head back inside for another stroll around the rest of the state rooms, feeling slightly miffed about having to share them with other people instead of getting them to ourselves. It's always such an immense treat to wander around Buckingham Palace, gazing in awe at the familiar and not so familiar royal portraits and just soaking up all of the history contained within those familiar walls. It really is a very special place and I'm personally glad that the royal family are still with us to act as its custodians – I think it would have a very different and much less appealing ambience if it ceased to be a family home and instead became a chilly, echoing museum.
A visit to Buckingham Palace isn't complete without a stroll through the lovely gardens but we had to rush off as we had been very kindly invited to take a look at Clarence House, the official residence of Prince Charles and the Duchess of Cornwall as well – which is a story for another day!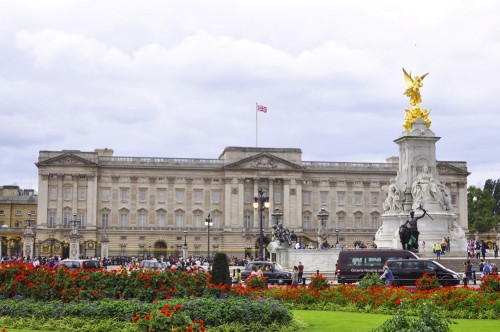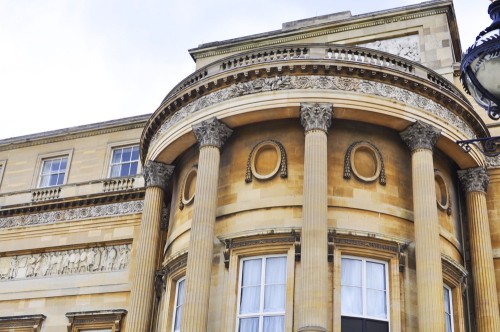 Buckingham Palace is open every day until 27 September and entry to the state rooms costs £20.50 for adults and £11.80 for the under seventeens (under fives go free). You book ahead here and it's well worth a visit!
If you can't make it to this year's summer opening then you can get the accompanying book, A Royal Welcome: Making magnificence at Buckingham Palace (Souvenir Album)
and I definitely recommend Buckingham Palace: The Official Illustrated History
as a more general history of the palace.
Many thanks to the Royal Collection press team for inviting me along!
(Sorry if some of the photos seem disordered – my blog is playing up at the moment!)
******
I don't have adverts or anything like that on my blog and rely on book sales to keep it all going and help pay for the cool stuff that I feature on here so I'd like to say THANK YOU SO MUCH to everyone who buys even just one copy because you are helping keeping this blog alive and supporting a starving author while I churn out more books about posh doom and woe in the past! Thanks!
As the youngest daughter of the Empress Maria Theresa of Austria, Marie Antoinette was born into a world of almost unbelievable privilege and power. As wife of Louis XVI of France she was first feted and adored and then universally hated as tales of her dissipated lifestyle and extravagance pulled the already discredited monarchy into a maelstrom of revolution, disaster and tragedy. Marie Antoinette: An Intimate History is now available from Amazon US and Amazon UK
Set against the infamous Jack the Ripper murders of autumn 1888 and based on the author's own family history, From Whitechapel is a dark and sumptuous tale of bittersweet love, friendship, loss and redemption and is available NOW from Amazon UK
, Amazon US and Burning Eye.

'Frothy, light hearted, gorgeous. The perfect summer read.' Minette, my young adult novel of 17th century posh doom and intrigue is available from Amazon UK
and Amazon US and is CHEAP AS CHIPS as we like to say in dear old Blighty.
Copyright secured by Digiprove © 2015 Melanie Clegg