When I was a very little girl, I used to spend a lot of time in London visiting my great grandmother and other family members. We lived in the Scottish Highlands at the time and would get the sleeper train down from Aberdeen and make a real event of the whole thing, visiting the Tower of London, making special shopping trips to Hamleys and Harrods and, best of all, getting a boat down the Thames from Embankment to Greenwich for a visit to the National Maritime Museum. I used to absolutely love Greenwich when I was little – I've never been massively big on naval history but there was something about the combination of the river, those elegant white buildings and that sweep of park behind that I used to find quite magical as a child.
I think that my last visit to the Maritime Museum was as a teenager when I went along to see a brilliant exhibition about Henry VIII and his court which was staged there in 1991 and I was pretty keen to go back with my own little boys in the hopes that they too would fall in love with the Maritime Museum, especially my youngest son who has been obsessed with the Titanic ever since he was a tiny little dot and is well known for his impromptu rousing performances of Celine Dion's The Heart Will Go On. I know, adorable.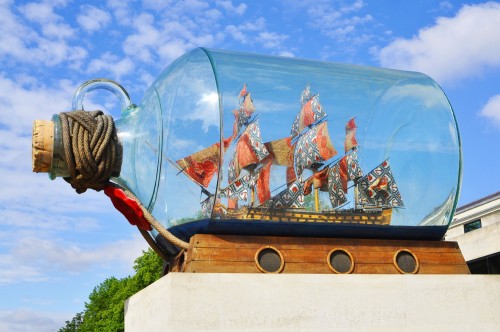 We picked a perfect day for our visit as it was absolutely beautiful that morning. After admiring the huge ship in a glass bottle (HOW DID IT GET IN THERE?!) outside the main entrance and picking up our tickets for a day of fun, we started off by heading back to the Cutty Sark on the riverside, which the small boys were very excited about as it looks just like our own SS Great Britain here in Bristol, which is their all time favourite thing to do on a Sunday afternoon. Whereas the SS Great Britain was primarily a passenger ship, the Cutty Sark took part in the all important tea trade between Britain and China and you learn loads about tea as you make your way around the ship, where the various decks and living quarters have been restored to their original appearance when it was one of the most famous tea clippers in the world.
I loved strolling on the top deck of the Cutty Sark in the sunshine. Even though its stationary in its dry dock, you can really imagine how it must have been back in its heyday as it sailed on its amazing journeys. It really is a beautiful ship anyway though – all gleaming auburn wood and shining brass fittings. So bright and breezy and lovely. After our promenade around the dock we descended to have a look at the bottom of the ship – like the SS Great Britain, the Cutty Sark is surrounded by a glass 'sea', which means that visitors can have a really close look at the bottom. There's also a lovely looking café and an amazing collection of old painted figureheads down there.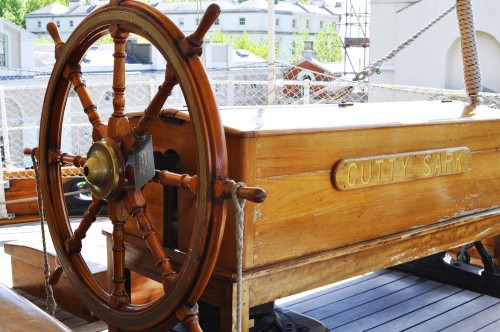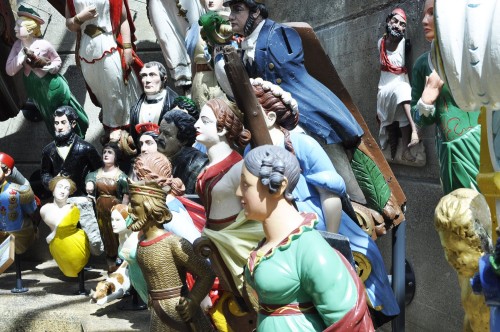 After this we wandered back to the main museum and hiked up the path to the Royal Observatory to have a look around and get our first glimpse of the amazing view down towards the museum and Queen's House, which is definitely one of the very best sights in all London – a wonderful juxtaposition of old and new. The observatory is really interesting and I really loved seeing inside the special room with a high ceiling and huge windows commissioned by Charles II so that he could watch the stars with his scientist chums. I also really liked learning more about the working out of longitude and latitude, which made the lives of seafarers MUCH easier as it meant they could plot their exact locations based on a complicated combination of time and stars. Or something. I was paying attention, honest!
We then went over to the neighbouring Planetarium (via my husband AGAIN IGNORING SIGNS and ruining some people's photos by falling foul of the equator line etiquette) for a look at the excellent 2014 Astronomy Photographer of the Year exhibition, which features some truly spectacular images. We then went into the planetarium itself to watch the new show, Dark Universe which explores what lies in the 95% of the universe that we have yet to explore. I wasn't really sure what to expect as we reclined in our seats and stared up at the ceiling in the darkness but it was completely amazing and so well done, although it did make me feel a bit queasy watching satellites and planets whirling over head! My husband and the boys absolutely loved it – in fact my poor long suffering husband came out singing its praises, which must be a first as although he accompanies me to these places cheerfully enough, he's never actively enthused about one before – well done Greenwich!
It was then time to head back down for the day's highpoint – Against Captain's Orders, a new production by Punchdrunk which is set behind the scenes at the museum. Part of the joy of Against Captain's Orders was not knowing what to expect so I won't talk too much about it here, other than to say that it was enormously good fun, thrilling and exciting. The basic premise is simple – a tour group gets shut behind the scenes in the store rooms of the museum and have to race against time to complete a series of tasks while at the same time evading alarms, capture and goodness knows what other perils. It's extremely well done and definitely well worth participating in. My ten year old absolutely loved it!
After this we went for a wander around the museum, although the six year old was more interested in the two brilliantly planned play areas than any of the exhibits! There's some fascinating things on display though, including a wonderful royal barge made for Frederick, Prince of Wales in the early 1730s and artefacts relating to the death of Lord Nelson during the battle of Trafalgar, including the naval uniform (complete with bullet hole and bloodstains!) that he was wearing at the time. It's a wonderful museum for families as there's something for everyone and a lot of care and attention has been paid to making sure that younger visitors have plenty to do.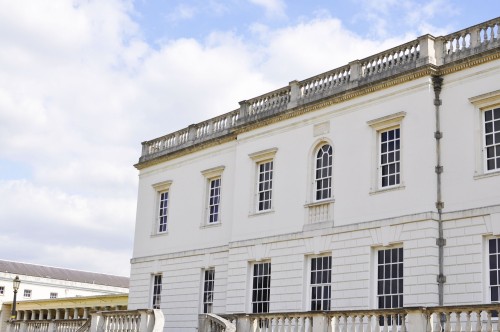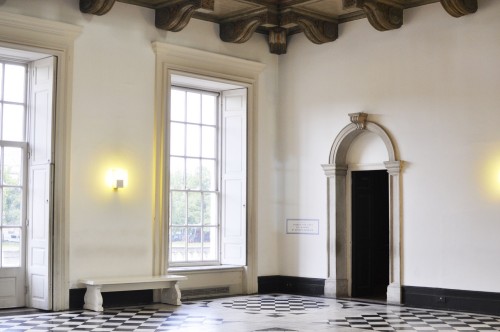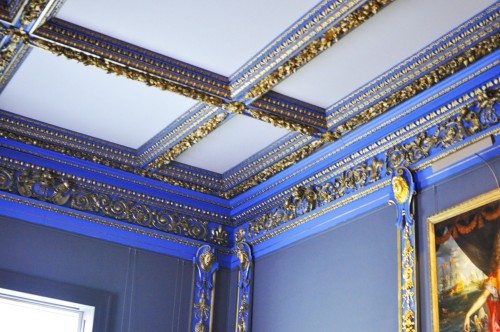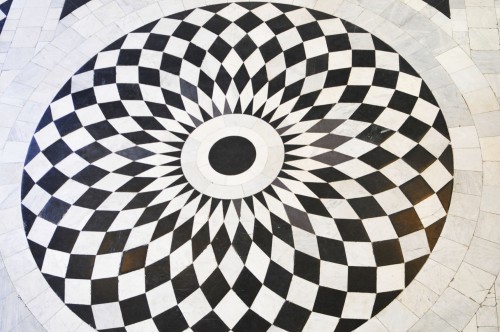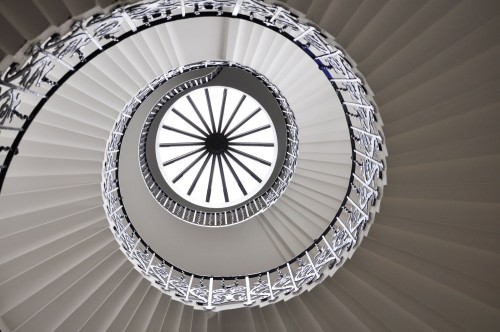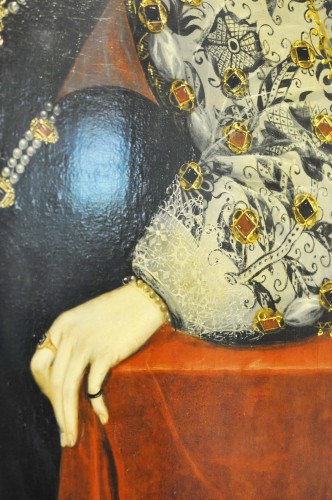 Dave was keen to get back to the Planetarium with the boys so I took the opportunity to take a look at the Queen's House, which I last visited in 1991 when I went to Greenwich for the Henry VIII exhibition. At that time it had just been refurbished and restored to its appearance in its seventeenth century heyday when it was the London residence of Queen Henrietta Maria, all based on actual inventories from the time which listed the house's fabulous contents. Although we're used now to the brightly coloured, gilt embellished and lavish reconstructions of the past, the refurbishment of Queen's House caused quite a stir back in the nineties when much was made of its colourful, glittering extravagance. It really was extraordinarily beautiful though and a real window into the magnificence and splendour of the Stuart court before the Civil War.
Sadly, all of that beauty is long gone as apparently one of the museum's directors took against the decoration and ordered that all the seventeenth century embellishment should all be removed and the rooms returned to their current stark appearance. It's so sad. Some vestiges of the former splendour still remain but otherwise most of the elegant rooms of the Queen's House are plain and there's an uneasy combination of Stuart history in some rooms and paintings of war scenes in others. It's still lovely though, especially the main central hall and the famous spiral tulip staircase and when it reopens again after its latest refurbishment, perhaps it will be magically returned to its seventeenth century opulence? Who knows but I do hope so (and so does the curator I spoke to, who got quite misty eyed about all that vanished splendour).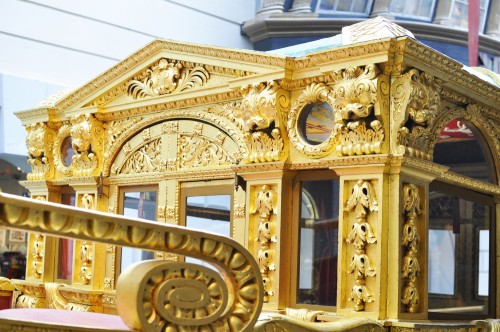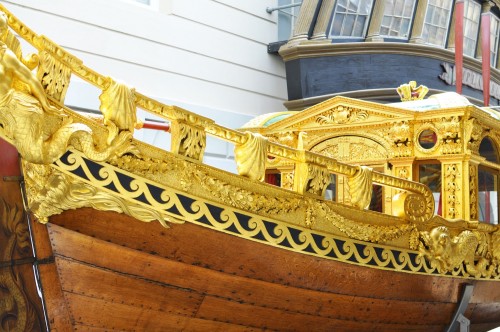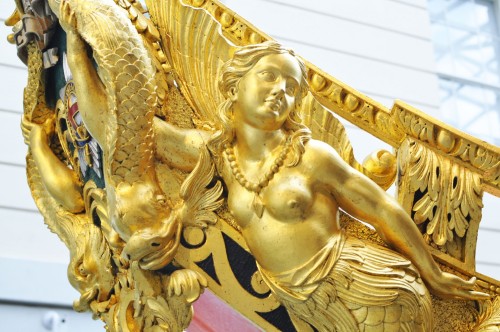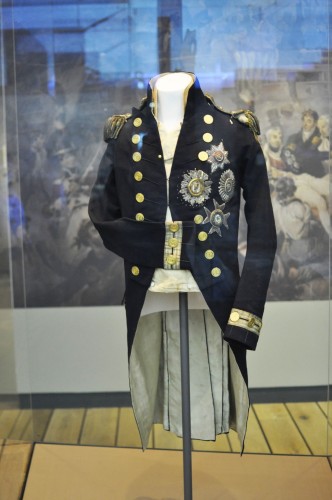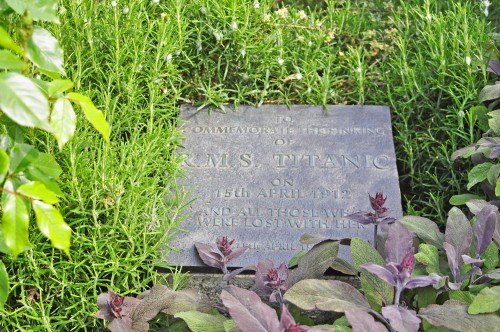 We had a brilliant time at Greenwich Maritime Museum and still had lots left to see even though we were there until kicking out time. There's absolutely loads to see and do there and if you have any ship, space or science fans in the family then they're pretty much guaranteed to have an absolute blast in the main museum, observatory and planetarium. It's all changed a great deal since I used to visit as a child but although it's now very modern and light filled and innovative, it's still just as inspiring and fascinating as ever with all sorts of fascinating little displays to catch the eye and imagination. We definitely can't wait to come back again!
Thanks SO much to the lovely Eloise and the rest of the press team at Greenwich Maritime Museum for organising our tickets and such a most excellent day!
******
I don't have adverts or anything like that on my blog and rely on book sales to keep it all going and help pay for the cool stuff that I feature on here so I'd like to say THANK YOU SO MUCH to everyone who buys even just one copy because you are helping keeping this blog alive and supporting a starving author while I churn out more books about posh doom and woe in the past! Thanks!
As the youngest daughter of the Empress Maria Theresa of Austria, Marie Antoinette was born into a world of almost unbelievable privilege and power. As wife of Louis XVI of France she was first feted and adored and then universally hated as tales of her dissipated lifestyle and extravagance pulled the already discredited monarchy into a maelstrom of revolution, disaster and tragedy. Marie Antoinette: An Intimate History is now available from Amazon US and Amazon UK
Set against the infamous Jack the Ripper murders of autumn 1888 and based on the author's own family history, From Whitechapel is a dark and sumptuous tale of bittersweet love, friendship, loss and redemption and is available NOW from Amazon UK
, Amazon US and Burning Eye.
'Frothy, light hearted, gorgeous. The perfect summer read.' Minette, my young adult novel of 17th century posh doom and intrigue is available from Amazon UK
and Amazon US and is CHEAP AS CHIPS as we like to say in dear old Blighty.
Copyright secured by Digiprove © 2015 Melanie Clegg