Thank you so much to everyone who entered my recent English Heritage giveaway! The winner has been notified and will hopefully have their membership cards in their clutches very soon! I absolutely love being a member of English Heritage as they really do have something for everyone – from Roman forts to cottages to castles to stately homes, including Osborne House on the Isle of Wight, which I'm hoping to visit over the summer.
Last Monday (which was a bank holiday here in the UK) we were invited along to the brilliant WWII event at Dover Castle, which is another impressive historic property looked after by English Heritage and one, furthermore, which has borne witness to a LOT of really fascinating history as well as standing in for the Tower of London in more than one Anne Boleyn execution scene (in The Other Boleyn Girl and Wolf Hall, fact fans) due to its resemblance to its Londoner cousin.
We were planning to drive over to London anyway so decided to head down to Dover first before carrying on to the capital. It was a bit of a trek but definitely well worth it as the event was really good fun and we absolutely loved poking around the castle as well. One of my sons has recently been officially diagnosed with Aspergers Syndrome and one of his current interests is WWII fighter planes, especially Spitfires – once he overheard me telling my husband that there was going to be a Spitfire on display there was no way we were going to get out of going along. Not that we minded as I'm really interested in WWII as well at the moment plus I hadn't been to Dover Castle since childhood and was pretty keen to see it again. Also, I'm a MASSIVE fan of Foyle's War which is set further along the coast in Hastings so I was kind of hoping that the Dover event would have the same sort of vibe going on because Christopher Foyle is the GREATEST. Ahem. Anyway…
Although the town of Dover is, like many other harbour towns, pretty miserable looking, the castle is undeniably impressive as it looms over the sea from its rocky prominence. Although there's probably been some sort of fort on the site since the Bronze Age, Dover Castle as it appears today was built by Henry II in the 12th century and has seen all manner of drama and iniquity since then, although I'm not convinced that anything can beat the dramatics of Henry's own family.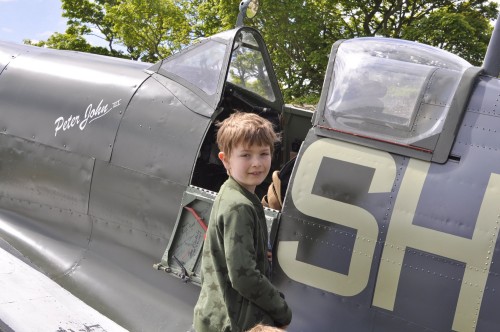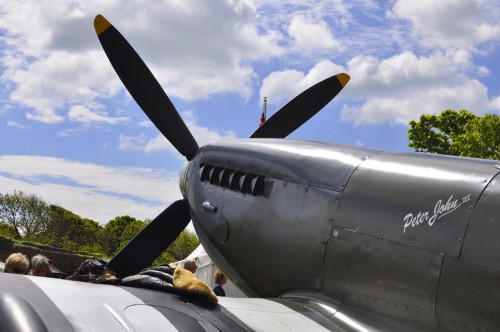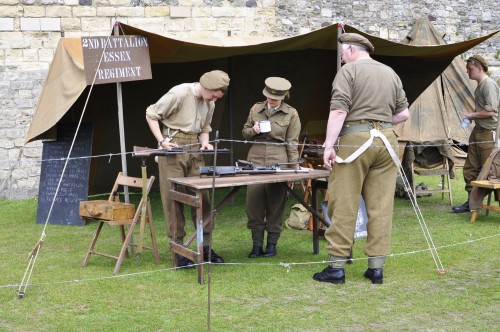 We were there to explore the castle's WWII history though and hastened straight up to the castle to take a look at the displays that had been laid on for the day. Naturally, my boys all made straight for the queue waiting to get a really close look at the parked up Spitfire, which was the real deal and had been reconstructed from pieces of original planes. Both my little boys were completely thrilled to be allowed to get really close to the plane and have a really good look inside the cockpit at all the exciting looking controls. I was more interested in the amazing vintage hairdos that were wandering about the place courtesy of a special pop up 1940s beauty parlour that had been set up within the keep, although I didn't take the plunge and go for a victory roll myself.
After this we took a wander, accompanied by the rousing 1940s music coming from one of the tents, around the various history displays which included some dashingly louche RAF officers lounging about while waiting for action, lots of war time types wandering around and a grumpy looking group of squaddies with hipster hair cleaning their weapons in front of their tents. I used to do English Civil War re-enactment as a teenager and although I'm not keen to get back into that again, I'm really tempted to give WWII re-enactment a go as it looks like so much fun plus the clothes are way more flattering.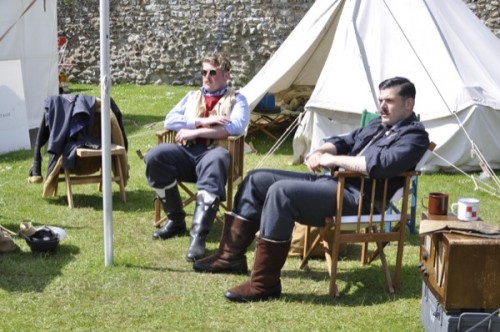 (I see London, I see France, I see… oh look, it IS France!)
We wandered off after this to have a picnic lunch by one of the old gun batteries, which had a wonderful view down to the ferry port and across to France. My husband comes from Bristol and hasn't been to the south east very often so he didn't believe me when I told him we'd be able to see France. In HIS face because there it was, all mist shrouded and mysterious in the distance. I think my boys were a bit disappointed that they couldn't see the Eiffel Tower from the Kentish coast though. Ah well.
After lunch we returned to the castle for a display of German firepower as demonstrated by a German army re-enactment group. Naturally they were enthusiastically booed when they marched on in their uniforms and we were politely asked to desist by the commentator. It was a really interesting display as they had some really impressive weaponry going on, but the sounds of their guns and rifles being fired (with blank ammunition but still VERY noisy) was too much for me so I went back to the main keep of the castle for a look around, leaving the others to enjoy the explosions and bangs. There's a great display within the keep about the history of the castle, which has seen all sorts of notable visitors over the centuries, including Henry VIII and Anne Boleyn. In fact it's possible that the couple might even have got married there after their return from France in 1532, although it's more likely that their illicit wedding ceremony took place in Calais.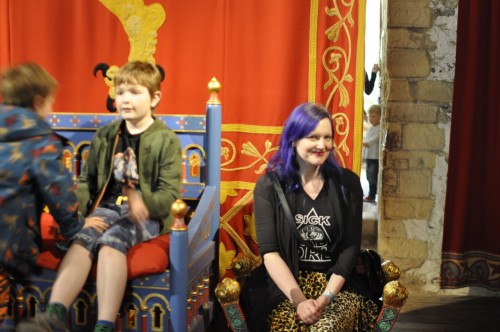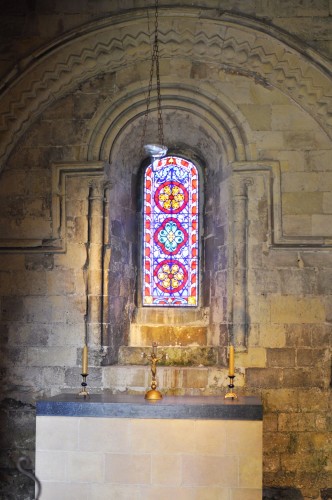 We had a good poke around the castle keep, which has loads of interesting nooks and crannies to explore. Several chambers have been restored to their Medieval appearance so that visitors can imagine themselves as guests at the court of Henry II and Eleanor of Aquitaine. If you've visited the Tower of London then you can probably imagine how it looks – there's a lot of gilt and colour and rich decoration and it really does look great. Naturally, we all wanted to have a go on the thrones.
One of the high points of the day was a flying display by a Spitfire and we all trooped up to the very top of the keep in order to get a good view. However my fear of heights got the better of me quite quickly so I had to leave the others in the keep and run off down the stairs for a more ground level view. I went back to the gun batteries overlooking the Channel and was rewarded by the sight of the old plane sweeping gloriously into view from across the sea. The people up on the top of the keep may have had the best view but we were treated to some of the German army re-enactors pretending to try and shoot the plane down as it flew overhead then being chased away by a group of Tommies.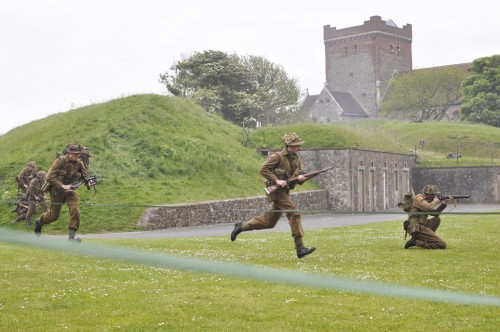 After this we went down to the famous tunnels, which run through the chalk cliff beneath the castle. As well as Foyle's War, I'm also a massive fan of Poirot and particularly like the adaptation of The Clocks, which isn't all that much like the book and is, in fact, rather better. Anyway, although while the original book is set in a fairly boring sounding town in the 1950s, the television version is set in Dover in the mid 1930s and some of the action takes place in the secret military offices in the tunnels. It's great. You should all watch it and not just for the rather dashing young hero, who is an officer in the British Navy.
Anyway, we were rather put off by the size of the ENORMOUS queue waiting outside the Tunnels and almost gave up altogether before we found out that they were letting groups of thirty people inside every fifteen minutes, which made it seem not quite so bad. I waited for almost an hour in the end though, which ought to show my enthusiasm for such things. However, my husband and the ten year old bailed on the six year old and me because they wanted to go back up to the main site to watch the WWII skirmish re-enactment between the English and German troops. I really wanted to see it too but decided to stick with the tunnels because I'd already queued for about half an hour at this point and felt like I'd really invested my time in the endeavour.
However, not only am I scared of heights but I also really hate being underground and in confined spaces and sadly, I'd got so over excited about queuing that this small detail somehow managed to escape my mind until I was literally about to walk inside. I took it on the chin though and actually really enjoyed the experience, which involved being taken down deep underneath the castle and led by a very interesting and informative guide through various rooms telling the story of the Dunkirk evacuation in May 1940. In fact, the anniversary of the beginning of Dunkirk was the day after our visit, which was well timed!
As you might expect, the tunnels were really quite dark and eerie and the tour is set up to really evoke just how tense those days must have been. We were herded into each room in turn and had to wait until the lights above the doors turned green before we were able to move on to the next room. It was all very atmospheric and coupled with the really interesting displays and reconstructions of the campaign rooms and so on, really gave a unique insight into the events of that terrible and amazing week. It's one of those things that really chokes me up; all those little boats heading bravely over the Channel to rescue hundreds of thousands of marooned soldiers while all the while being harried by the German planes and guns. So heroic and astonishing. What an amazing achievement.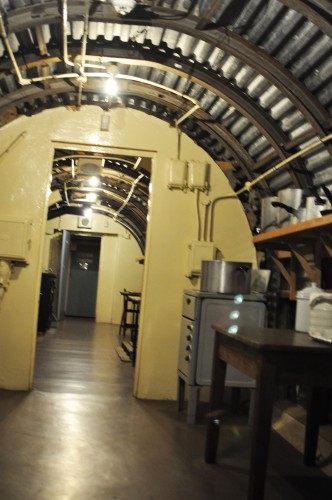 (My naughty husband took these even though they didn't allow photography! You'd think he'd have learned after the Roman Baths water incident, but no. Here he is, ignoring all the signs telling him NOT TO DO SOMETHING again! I despair.)
After this, we went down another tunnel to have a look at the wartime hospital, which is a reconstruction of, you guessed it, a makeshift military hospital in WWII complete with rudimentary wards, a canteen, kitchen and rather bleak looking operating theatre where you can really imagine the surgeons and nurses working hard to save lives while bombs drop overhead, making the lights flicker and ceiling plaster fall down. I had a lovely chat with one of the guides about my secret childhood vice, which was stealing plastic food from the displays at National Trust properties and stately homes, which I then kept as precious loot in a box hidden underneath my bed. I made the mistake of telling my husband about it once and he now makes a point of frisking me whenever I start to look suspicious in National Trust properties (although he has, on VERY rare occasion, also thieved the odd plastic food item as a present – that's what passes for romance in our house). He wasn't there this time but my subsequent attempt to make off with a piece of plastic cabbage was soundly reprimanded, much to the six year old's glee.
We met up with the others after this – they'd had a splendid time watching the skirmish in front of the castle, which apparently involved a lot of shouting and explosions and excitement. We still felt like there was plenty left to do at Dover Castle as it is so big and has so much going on but, annoyingly, we were completely shattered after our long drive across the country and action packed day so decided it was time to go on to London, which turned out to be a bit of an adventure too. Although I am Scottish, I spent my teenage years near Colchester in Essex but for some reason, although he has been married to me for almost ten years, my husband had NEVER been to Essex until we drove through it on our way to the Docklands, where we were staying. Determined to make the most of this, I made him stop at Lakeside Shopping Centre, the heartland of my people, where we had indifferent Taco Bell burritos (we don't have many Taco Bell in the UK so this was a bit of an exciting novelty for us), nice fries and sugar high inducing Cinnabon buns before driving on to London, where our adventures continued…
Thanks SO much to the lovely Natasha at English Heritage for inviting us along for the day! We had a blast!
******
I don't have adverts or anything like that on my blog and rely on book sales to keep it all going and help pay for the cool stuff that I feature on here so I'd like to say THANK YOU SO MUCH to everyone who buys even just one copy because you are helping keeping this blog alive and supporting a starving author while I churn out more books about posh doom and woe in the past! Thanks!
As the youngest daughter of the Empress Maria Theresa of Austria, Marie Antoinette was born into a world of almost unbelievable privilege and power. As wife of Louis XVI of France she was first feted and adored and then universally hated as tales of her dissipated lifestyle and extravagance pulled the already discredited monarchy into a maelstrom of revolution, disaster and tragedy. Marie Antoinette: An Intimate History is now available from Amazon US and Amazon UK
Set against the infamous Jack the Ripper murders of autumn 1888 and based on the author's own family history, From Whitechapel is a dark and sumptuous tale of bittersweet love, friendship, loss and redemption and is available NOW from Amazon UK
, Amazon US and Burning Eye.
'Frothy, light hearted, gorgeous. The perfect summer read.' Minette, my young adult novel of 17th century posh doom and intrigue is available from Amazon UK
and Amazon US and is CHEAP AS CHIPS as we like to say in dear old Blighty.
Copyright secured by Digiprove © 2015 Melanie Clegg