Even though I have lived in the West Country for over ten years, I am ashamed to admit that until just a few weeks ago I had never set foot inside the famous Roman Baths at Bath. This oversight becomes even more peculiar when you consider that I live in Bristol, which is probably less than fifteen minutes away from Bath Spa by train. However, I can put all of this arrant foolishness firmly in the past now and report that thanks to the kindness of the press team at the Roman Baths, I have now fully sampled the delights of this fascinating Bath attraction. Yes, ALL the delights – including the famously horrible sulphuric tasting waters that enlivened the novels of Jane Austen and Georgette Heyer amongst others.
We had a lovely day for our visit, which meant that the central Great Bath looked really rather lovely sunshine while the famous golden granite walls and columns surrounding it gleamed softly. It's probably just as impressive on overcast days too but there's something about mellow spring sunshine that really brings out the full beauty of that lovely peachy Cotswolds stone. I actually thought that the Roman Baths would be very small but the whole complex actually covers quite a large area and there is much more to see than I had anticipated!
First of all there is a lovely walk around the terrace, which has a view down across the Great Bath and to the beautiful Bath Abbey, before you descend down to a very large and fascinating display about Roman Bath and the way that the city developed during the period from its rather small roots to become a large and important settlement with the baths, temples, shops and all manner of Roman sophistications going on. The displays are stuffed full of Roman artefacts such as temple offerings, grave stones and statuary, as well as some really lovely relief work that would have once decorated buildings. I loved the offerings that have been excavated from temple sites, especially the curses that were written by vexed Romans on pieces of lead then squished up and thrown into the waters of the spring. Some of them were amusingly petty and served as a reminder that people have ALWAYS been disproportionately enraged by the small annoyances and grievances of life. It also really reminded me of Uncle Matthew in Nancy Mitford's novels when he writes the names of people who have annoyed him on scraps of paper then puts them in a drawer.
Also on display is the Beau Street horde of over 17,000 Roman coins which were recently discovered in the city. I really love hordes of old coins so especially enjoyed seeing this display along with the other artefacts shown alongside, which are intended to evoke the lives of Romans from all classes who lived in Bath or travelled to the city to use the baths or pray at the temples. I was also really wowed by a wonderful preserved pediment from the temple of Sulis Minerva, who was especially revered at Bath during this time. There's lots of artefacts from the temple complex as well as a walkway that takes visitors over the ruins of the temple, after which you get to see the steaming mineral rich waters of the Sacred Spring which was the heart of the temple complex and where visitors would have made offerings. It's really an incredible sight and even now 240,000 gallons of water rise daily – a phenomenon that the ancient Romans believed must surely be due to some unseen deity such as Sulis Minerva.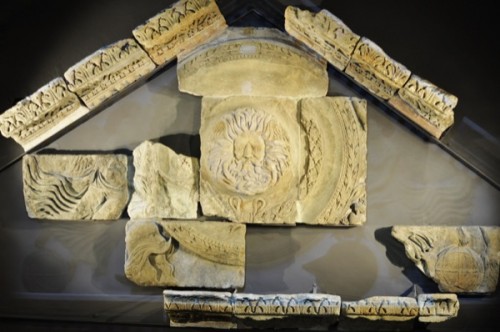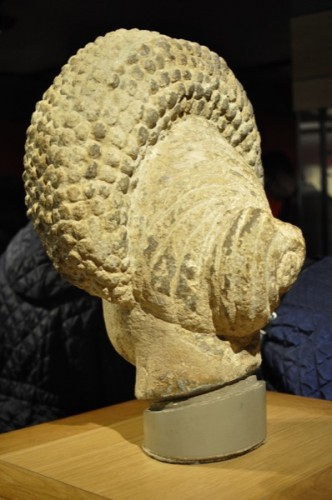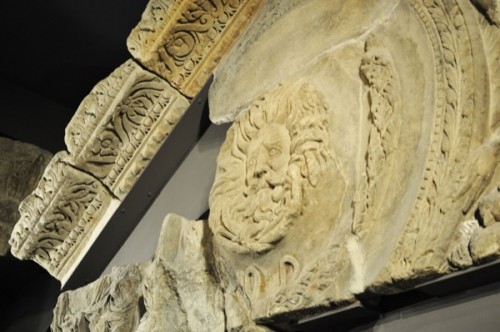 After this we had a walk and a much longed for sit down beside the steaming waters of the Great Bath, which really is a most lovely spot. Despite all the signs advising visitors NOT to put their hands in the water, my husband decided to stick his fingers in – at which point I informed him that he now had cholera or some other mighty fine disease from olden days. He did not care. I didn't let him hold my hand or kiss me for quite a long time afterwards though, just in case.
The Great Bath is a must see for anyone interested in Roman architecture as it really is very impressive and so big that it would have been an awe inspiring sight for many of its original Roman visitors. Not that it isn't pretty awe inspiring now as although the original vaulted roof has vanished, enough still remains to fully evoke just how splendid it must have looked in its elegant heyday. Say what you like about those Romans – they REALLY knew how to throw up a building.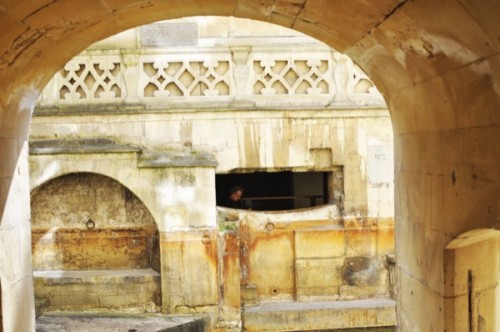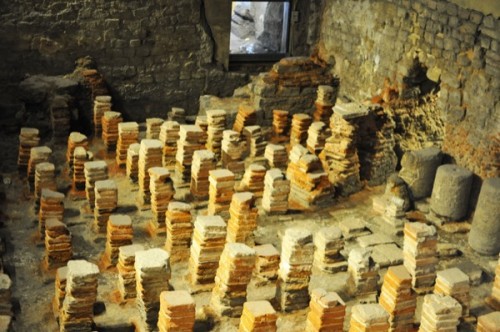 The pool is 1.6 metres deep and has steps leading down to the blissfully warm water from all sides so that bathers could slip in and out of the water at will and then have a lovely time swimming about or just idling at the sides and chatting. Visiting the Great Bath was quite a special social occasion to the Romans and they would have enjoyed drinks and all sorts of snacks (honey roasted dormouse anyone?) while they bathed. In atmosphere it would have been very much like a modern spa – a bit luxe but invigorating too.
It's still possible to see much of the complex that surrounded the Great Bath during its heyday as the number one bathing destination in the Roman south west back in the day. The Romans took bathing extremely seriously and especially so at Bath where it had religious and spiritual connotations thanks to the association of the baths with the goddess Sulis Minerva. The Great Bath was just part of a ritual that involved several other rooms and stages, much like a spa or bath house today where the bathers would strip off and enjoy massages, saunas and cold dips in the plunge pools in a series of lavishly decorated rooms with underfloor heating provided by the hypocaust system. In its prime, the baths would have been a busy, bustling noisy place full of people – much the same as it is today, in fact, except we all kept our clothes on and (with the exception of my husband) stayed away from the water.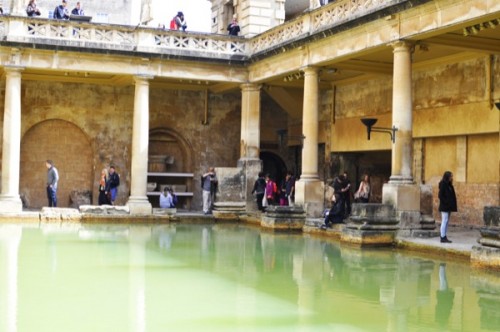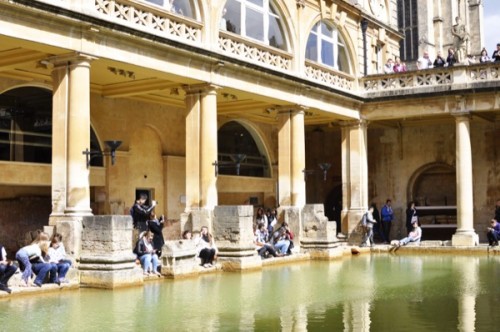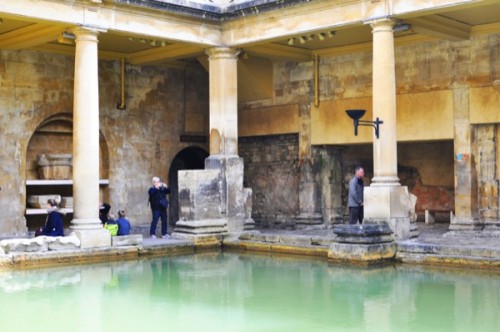 The visit ends with a taste of the famous water, whose reputation continued long after the Romans had marched away from Bath and would lure visitors like the Duchess of Devonshire, the Duchesse de Polignac, the Princesse de Lamballe and Jane Austen to the city well into the eighteenth century and beyond. It's really not very nice but I suppose that may well have been part of its appeal – after all, aren't we all conditioned to think that unpleasant things must surely be good for us?
We all thoroughly enjoyed our visit to the Roman Baths. Although I studied Roman British history as part of my degree, I don't really know all that much about it so was very pleased to get an opportunity to find out more! The Roman Baths are open every day but the opening hours vary depending on the season. They are open until ten at night in July and August though, which must be amazing as then you get to see the Great Bath all lit up by torches.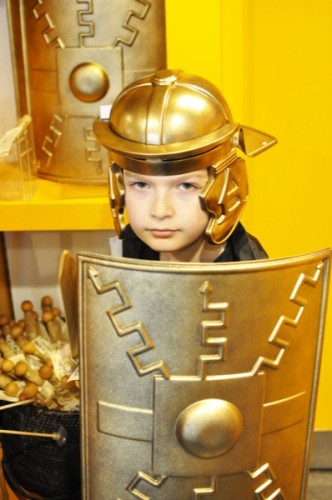 Note – I never EVER use audio guides when I visit museums and galleries so can't ever comment on how good they are but on this occasion my husband nabbed our six year old's guide when he got bored with it and reported that it was actually really good so there you are! I'm starting to wonder if I'm missing out by maintaining my prejudice against audio guides actually – maybe I'll give one a go next time I visit somewhere!
Many thanks to the press team at the Roman Baths for inviting us along for a visit!
******
I don't have adverts or anything like that on my blog and rely on book sales to keep it all going and help pay for the cool stuff that I feature on here so I'd like to say THANK YOU SO MUCH to everyone who buys even just one copy because you are helping keeping this blog alive and supporting a starving author while I churn out more books about posh doom and woe in the past! Thanks!
As the youngest daughter of the Empress Maria Theresa of Austria, Marie Antoinette was born into a world of almost unbelievable privilege and power. As wife of Louis XVI of France she was first feted and adored and then universally hated as tales of her dissipated lifestyle and extravagance pulled the already discredited monarchy into a maelstrom of revolution, disaster and tragedy. Marie Antoinette: An Intimate History is now available from Amazon US and Amazon UK
Set against the infamous Jack the Ripper murders of autumn 1888 and based on the author's own family history, From Whitechapel is a dark and sumptuous tale of bittersweet love, friendship, loss and redemption and is available NOW from Amazon UK
, Amazon US and Burning Eye.
'Frothy, light hearted, gorgeous. The perfect summer read.' Minette, my young adult novel of 17th century posh doom and intrigue is available from Amazon UK
and Amazon US and is CHEAP AS CHIPS as we like to say in dear old Blighty.
Copyright secured by Digiprove © 2015 Melanie Clegg