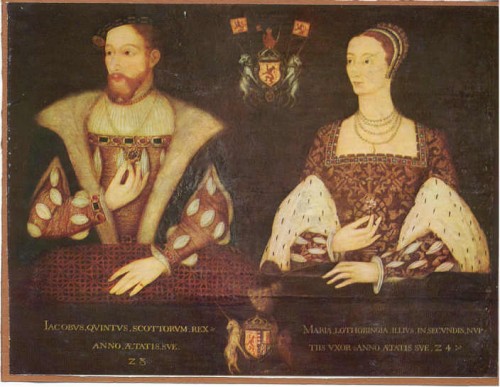 James V and Marie de Guise, anon artist, c1542. Photo: National Trust for Scotland.
Oh dear, it's now over a month since I returned from my amazing research trip to Edinburgh and I still haven't finished writing up all of my adventures for this blog! In my defence, I'm incredibly busy right now with my other writing projects so haven't had much time to spare for blog writing, but I hope that things will calm down a bit soon so that I can write a few more posts about what I've been up to.
Although my research trip was primarily intended to focus on royal residences associated with Marie de Guise, the wife of James V it was impossible to avoid their associations with her daughter, Mary Queen of Scots as well, who made full use of her various palaces and castles during her all too brief period of personal rule in Scotland and this made for some very poignant visits as it's hard not to be moved by the unfortunate young queen's sad story when you're literally standing where she once stood all those hundreds of years ago. To the rest of Europe, Scotland had a reputation of being something of a wild, impoverished and barbaric land but it's obvious that this was not at all the case in reality, thanks to the Francophile interests of James IV and V, who both refashioned the royal residences in a recognisably French Renaissance style and filled them with luxurious furnishings and wonderful paintings. If Marie de Guise had felt trepidation about leaving her cushy lifestyle in the Loire Valley behind to become Queen of Scotland (and why wouldn't she when you consider that her predecessor, the French princess Madeleine had died within a few weeks of landing in Scotland) then her fears must surely have been alleviated when she saw just how comfortable and beautifully appointed the Scottish royal palaces were and how cultured the court that surrounded her husband was.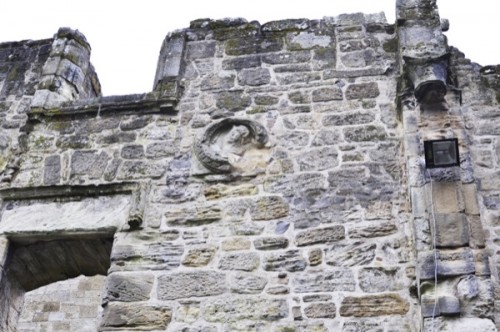 I've already written about my visits to Edinburgh Castle, Holyroodhouse Palace and Stirling Castle, which were all favourite residences of both Marie de Guise and her daughter and were all designed to underline the might and majesty of the royal Stuart dynasty. However, for the last two days, I concentrated on Falkland Palace and Linlithgow Palace, which were primarily used as holiday retreats for the royal family, where they could surround themselves with favourite courtiers, hunt, dance and generally make merry.
My visit to Falkland Palace did not start well as I hadn't realised just how out of the way it is if you're travelling by public transport and ended up getting first stranded in a village that had only two buses going through every hour and then totally lost. It was not fun. However, I got there in the end and after a brief walk around the village, which recently stood in for 1940s Inverness in the Starz adaptation of Outlander (which apparently occasioned MUCH excitement when they were filming there last year!), I went to have a look at the palace, which is under the care of the National Trust for Scotland and is, rather unusually, not set all that far back from the road. There's no sweeping driveway here and, like Holyroodhouse, which is also disconcertingly close to the bottom of the Royal Mile in Edinburgh, it serves as a reminder of how relatively informal and close to the people the Scottish form of monarchy was back in its heyday, not that the Scottish Kings and Queens couldn't also pull out all the stops and preside over a glittering and awe inspiring spectacle of majesty too when the occasion warranted it.
I've wanted to visit Falkland Palace for a really long time, ever since I fell madly in love with an illustration in one of my childhood history books of a winsomely smiling James IV standing in front of it with a falcon perched on his wrist. Lovely. Later on the palace became associated in my mind with James' granddaughter Mary Queen of Scots, who loved to retreat to Falkland with her circle of intimates to enjoy the fresh country air and beautiful surroundings. It's said that she even donned a shirt and hose to play tennis in the court erected in the gardens (which still exists), which was considered very daring at the time, although I'm sure the gentlemen appreciated the spectacle. Hunting was the real draw at Falkland Palace though and the monarch and their court would go hunting and hawking pretty much every day while there, rising early in the morning and returning several hours later, if not late at night.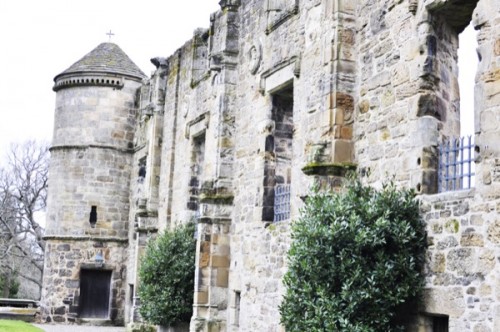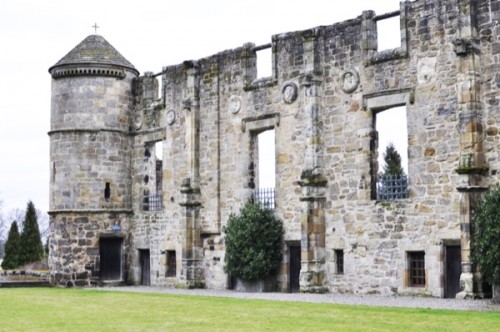 Falkland Palace as we know it today is the result of building work started by James IV during his programme of completely overhauling the royal residences to make them more French and elegant in appearance, which must have been very much appreciated by his wife, Margaret Tudor, who was used to the lovely riverside palaces at Greenwich and Richmond. Building work would continue well into the reign of his son, James V who continued to expand and embellish the palace in the French style, hiring some of the finest craftsmen of the day, no doubt hoping to impress his wives, both of whom were French and who were given Falkland as part of their jointures. Although Madeleine sadly died before she got to take any active part in her husband's building plans, Marie de Guise, whose father, Claude de Lorraine, Duc de Guise, was a keen builder and embellisher himself, took a close interest in the developments at all of the palaces, including Falkland and we know that she insisted upon inspecting the work herself to make sure that it was to her exacting standards. However, she also paid extremely well so I don't expect anyone complained very much about her regular site visits to check up on progress.
Although, sadly, much of the original Renaissance palace is now missing, enough still remains to give a real sense of how Falkland Palace must have looked during its sixteenth century heyday, when it was a pleasure palace for kings and queens and home to a vast staff, many of whom were employed to facilitate the hunting, either by looking after the royal hunting dogs or training the birds of prey that would be used in hawking. It really is a most beautiful place, although I probably didn't see it at its very best thanks to visiting at the start of March on a rather overcast and dreary day. It was intended to be enjoyed in the summer though and judging from photos that is when it looks particularly lovely.
Interestingly, although Falkland Palace is looked after by the National Trust for Scotland, it also has a hereditary keeper, Ninian Crichton Stuart, who resides in the palace as its official 'caretaker'. It's an ancient office and one that the Crichton Stuart family have held for over a century, although the title itself dates from the sixteenth century, when Archibald, 6th Earl of Angus and second husband of Margaret Tudor was appointed the first keeper. Although much of the keeper's residence is not open to the public, he occupies the state apartments that are, which means that they have a rather pleasant homely feel that is quite unlike that of most royal residences. The lovely guide who showed me around said that she wished she could move in too and I wholeheartedly concurred as it was just so cosy and welcoming.
The way that Falkland looks today is mostly thanks to extensive renovations begun at the start of the nineteenth century and continued by the Marquess of Bute, who was also responsible for the amazingly over the top Arts and Crafts faux Medieval 1880s decor at Castell Coch and Cardiff Castle in Wales, which I have featured here in the past. It's like a stage set from Game of Thrones, complete with castle shaped wash stands and amazing gilt embossed wall papers and so on. I love it. Falkland Palace is very much along these lines too but with a rather more restrained hand, possibly in deference to its impressive history. It looks amazing though and at times its hard to believe that it wasn't always such a riot of Victorian magnificence.
As is fitting for what was once a favourite Stuart family residence, the walls are covered with wonderful portraits of the Stuart monarchs and their families, in particular the lovely double portrait of James V and Marie de Guise, which hangs above the fire in the keeper's drawing room and a wonderful full length portrait of Charles II, which I had never seen before. I couldn't believe it when I was told that it recently had to be repaired after a visitor ripped a massive hole right across the canvas with their backpack and then didn't own up afterwards! What a total git. And yet people still complain about having to remove heavy bags when they visit stately homes. Awful.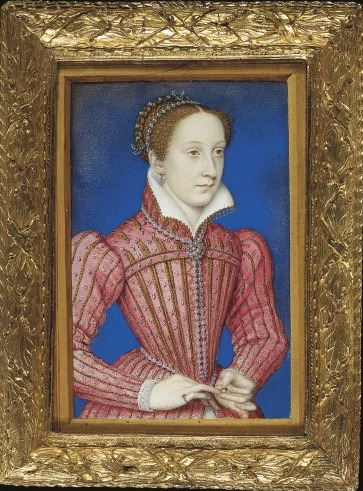 Mary Queen of Scots, Clouet. Photo: Royal Collections.
It's not known for certain which room James V died in after his ill fated flight to Falkland Palace in December 1542 after the defeat of his troops by those of his uncle, Henry VIII at Solway Moss, however its likely to have been a bedchamber that once occupied the current library as this was where the hapless and beleaguered king would most likely have been lodged. After his death, his body lay in state until the 7th of January in the royal chapel downstairs, which was draped in austere black for the occasion.
After leaving the main building, you go through a door which leads out on to the first floor of the ruined east wing, which is now open to the sky as it is entirely lacking in a roof. This part of the palace was once home to the king's state apartments, including his presence chamber and bedchamber but was sadly destroyed by a fire in 1654 and never rebuilt. Across the way though there is the Cross House, a tower that has been refurbished to show modern interpretations of how the bedchambers of the King and Queen would have looked in the sixteenth century.
One of the rooms is decorated to reflect the tastes of James V, while the other was decorated in honour of Mary Queen of Scots, with the furnishings being installed in 1987 to mark the 400th anniversary of her execution. Although neither room is contemporary (and I was astounded to learn that the magnificent bed in the King's chamber is the Golden Bed of Brahan, which was made in the Dutch East Indies in the early seventeenth century – it looks TOTALLY in keeping with how you'd expect a sixteenth century monarch's bed to look though), they still give a really good idea of how the Stuart Kings and Queens lived when they were in residence at Falkland and made me feel quite sad that so much has been lost of the original fabric of the palace.
Sadly the weather was rather too dour for me to properly enjoy the gardens, but I did take a stroll down to the famous real tennis court, which was installed by James V in 1539 and is the oldest in Britain, even pre-dating the one at Hampton Court Palace. I was even allowed to go beneath the barrier and stand for just a few moments on the court itself, which is still used by tennis players today. The rest of the gardens are relatively simple, but there's plenty of lawn which would have been handy for archery and other favourite sixteenth century courtly sports. However, damp and miserable though the day was, it's impossible not to be impressed by the wonderful scenery that surrounds the palace, which was built in a hollow and is surrounded by hills and woodlands. I could totally imagine the young Mary Queen of Scots coming outside early in the morning, surrounded by her dogs and with a falcon perched on her wrist and just taking a deep breath of fresh country air. Let's hope she had better weather than me though!
Ps. Thank you so much to all at Falkland Palace for the guided tour and letting me lurk in your offices while waiting for the rain to go away so that I could take some exterior photos!
*****
I don't have adverts or anything like that on my blog and rely on book sales to keep it all going and help pay for the cool stuff that I feature on here so I'd like to say THANK YOU SO MUCH to everyone who buys even just one copy because you are helping keeping this blog alive and supporting a starving author while I churn out more books about posh doom and woe in the past! Thanks!
Set against the infamous Jack the Ripper murders of autumn 1888 and based on the author's own family history, From Whitechapel is a dark and sumptuous tale of bittersweet love, friendship, loss and redemption and is available NOW from Amazon UK
, Amazon US and Burning Eye.
'Frothy, light hearted, gorgeous. The perfect summer read.' Minette, my young adult novel of 17th century posh doom and intrigue is available from Amazon UK
and Amazon US and is CHEAP AS CHIPS as we like to say in dear old Blighty.
Copyright secured by Digiprove © 2015 Melanie Clegg