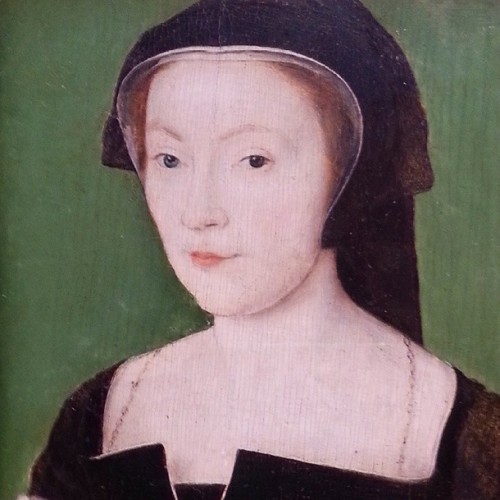 Writing books can be a really long, hard, thankless slog but there are a myriad of compensations for the misery, not least the fact that if you're really canny about subject matter, you can justify going on epic research trips to amazing places. It should come as no surprise whatsoever therefore to learn that as soon as I got my commission to write a full length biography of Marie de Guise, I immediately started planning research trips to France and Scotland to view places intimately connected with this most fascinating of queens.
Although it would have made more sense chronologically speaking to head to Paris first, I decided to eschew the charms of the City of Lights in favour of Edinburgh as I am far less familiar with it and have been hankering to go there for quite a while, not least because, as a born and bred Scot myself, it is my very own capital city and I have always thought it a bit weird that I barely know the place. In fact, since I moved away from Scotland at the age of twelve, I have spent a grand total of about twenty four hours in the land of my birth, thanks to a couple of day trips up to Edinburgh during the August festival. I was keen as mustard, therefore, to get to know my own country a bit better.
My journey up to Edinburgh began late at night just over a week ago, when I found myself in the insalubrious environs of Euston station in London, waiting for the iconic Caledonian Sleeper train up to Edinburgh. Yes, it would have been FAR more convenient to catch a direct train up from Bristol or even fly up from our local airport, but I've been longing to go on the sleeper train to Scotland for ages and so decided to cast all thoughts of convenience aside and just go for it. I'll admit that my nerve wavered a bit when I got to Euston late at night but all doubts vanished as soon as I found myself clambering aboard the sleeper train at half past eleven and was shown to my tiny room by a really lovely steward.
I've heard mixed reviews of the sleeper train experience, but have to say that I thought it was absolutely wonderful and would definitely do it all again in a heartbeat. The rooms are tiny, yes, but they're well laid out and there's plenty of storage space as well as fresh, proper linen on the beds and a small sink for your evening and morning ablutions. Unlike other trains, there are no announcements on the Caledonian Sleeper, probably because lots of people go straight to bed as soon as they get on, and this creates a really peaceful, calm travelling environment, although it is a bit weird when the train starts to move (very creakily!) with no apparent warning. I loved it though and even wandered down to the famous lounge car just after we set off, to have a decorous hot chocolate in total peace and quiet, surrounded by businessmen completely immersed in their whisky and newspapers. There's a great menu too, which offers Scottish 'treats' like haggis, neeps and tatties and all hot drinks come with a pack of shortbread, which is just brilliant.
I'm not a great sleeper anyway so have to admit to waking up a couple of times during the night (and then checking my Google Maps to see where we were, which was just fascinating), but was generally really comfortable and snug in my bunk. The blinds are proper blackout ones too so it was completely dark in my cabin, which was a relief as I was worried about station lights and people being able to peer inside. The best thing though was waking up at about half six in the morning, throwing open my blind and seeing a whopping great snow covered mountain in front of me, before a discreet tap at my door announced the steward with my morning coffee and shortbread. It was all extremely civilised and I'd wholeheartedly recommend it to anyone. I can't wait to do it again, in fact!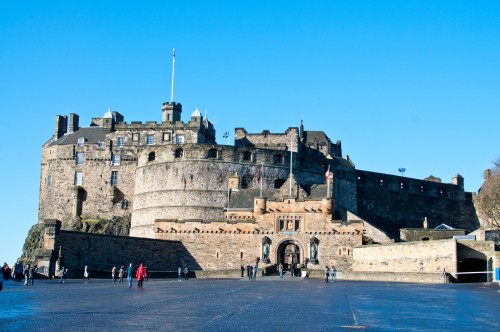 We arrived into Edinburgh at just after seven in the morning and I emerged, feeling fresh as a daisy, from Waverley Station and immediately fell in love. Not with some hulking great Scottish charmer (although I was reading Outlander
while I was up there and have to say that it made me more susceptible than I would normally be to a bit of Scots), but with the city itself, which blazed gorgeously in the spring sunshine. It really was a most beautiful sight and I could hardly bear to tear myself away to dump my bags and have a brief catch up with the friend that I was staying with for the first two nights, before I returned to wander about again.
My first port of call was, of course, Edinburgh Castle, where Marie de Guise died in June 1560. Although few traces remain of the royal apartments, I was still keen to explore the iconic fortress, which presides over Edinburgh from its eyrie of blackened volcanic rock. Edinburgh is a city of hills, winding streets, staircases and alleyways, all of which combined to make my walk up to the castle a real adventure. Unlike other British cities, which have lost much of their historical character thanks to German bombs in WII and unsympathetic development in subsequent decades, Edinburgh positively SEETHES with history and you get a real sense that if the Outlander tables were turned and Jamie Fraser found himself hurtling through time to the present day, he'd still be able to find his way around without any problems.
The castle though is every bit as extraordinary as I expected and I thoroughly enjoyed the morning that I spent exploring its nooks and crannies. Like an idiot though, I had totally failed to realise just how high up it actually is, which was a bit of an issue when coupled with my terrible fear of heights. I steeled myself to go up to Saint Margaret's Chapel, where Marie de Guise's body lay after her death, but had to back away from a few sheer drops when my nerve completely failed me. It was still completely exhilarating though and the views across the city to the mountains and sea beyond are unparalleled.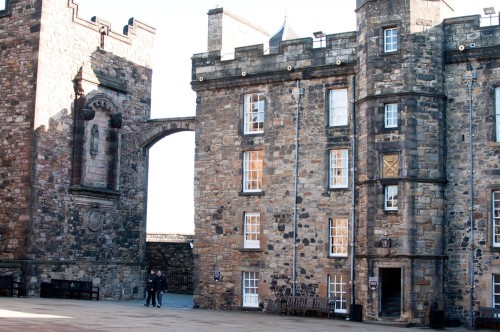 There's plenty to see within the castle itself. I eschewed the more military museums as I was starting to flag after my long journey, but thoroughly enjoyed looking at the great hall, which was completed in 1512 for James IV, who was married to Margaret Tudor, the eldest daughter of Henry VII and Elizabeth of York. Sadly the King would be killed at Flodden just a year after his great hall was completed, but he made full use of it in the meantime, hosting splendid feasts and court celebrations beneath its splendid hammer beam roof, which recalls to mind the one created for his brother-in-law Henry VIII at Hampton Court Palace.
It turned out to be impossible to walk in the footsteps of Marie de Guise without also shadowing those of her husband's parents, James IV and Margaret Tudor and her daughter, Mary Queen of Scots. The sixteenth century was a bleak time for the rulers of Scotland and their people, with three long regencies in a row after the untimely removal of three monarchs in a row, which left infants as rulers of the country. First there was James IV, who was killed at Flodden in 1513 and left his seventeen month old son to succeed him as James V, only for James himself to die after the battle of Solway Moss in 1542, leaving his six day old daughter Mary as Queen. Mary's reign would come to an abrupt end in 1567, when she was forced to abdicate in favour of her own toddler son. They were bleak but fascinating times and I felt their shadows all around me as I visited sites linked to these three unfortunate Scottish monarchs, all of whom left their mark in some way.
I definitely felt their shades at Edinburgh Castle, although the building was never a favourite royal residence during the sixteenth century as the rulers preferred the more comfortable, French styled surroundings of nearby Holyroodhouse, Linlithgow Palace or Falkland Palace. However, it was here in June 1566 that Mary Queen of Scots, who had temporarily abandoned the comforts of her more favourite residence, Holyroodhouse in favour of the security and impregnable might of the castle, gave birth to her only child, the future James VI and after passing a plaque set into the wall to commemorate the life and death of his grandmother, Marie de Guise, I stepped inside the royal apartments to take a look at the ground floor room where he was born after a long and difficult labour.
During their heyday, the royal apartments at Edinburgh Castle must have been a splendid sight, designed both to impress visitors and also create an ambience of comfort for their noble inhabitants, who relied on the huge blazing fires, heavy fur coverlets and rich curtains and tapestries to protect them from the elements in the famously wind battered city. Although little remains today of this former splendour, you can still get a sense of how it must have looked at the time of Mary Queen of Scots, with splendidly ornate wall and ceiling paintings, beautiful stained glass and gilt encrusted wooden panelling. However, the interior as it appears now actually dates from 1617, when Mary's son, by now King of England, returned to Scotland for the first time in fourteen years in order to celebrate the Golden Jubilee of his, rather inglorious it must be said, succession to the Scottish throne.
The state apartments had fallen into some disrepair in his absence and so were restored to their former glory and also remodelled to reflect the new enhanced status of their occupant, with the room where he was born being given special treatment as it was transformed into a sort of shrine to his majesty. Nowadays though, the room stands more as a shrine to the memory of his mother and is presided over by a graceful bust of the supplanted Queen, while James' memory is evoked more by the wonderful Laich Hall across the way, which is a masterpiece of Jacobean interior design.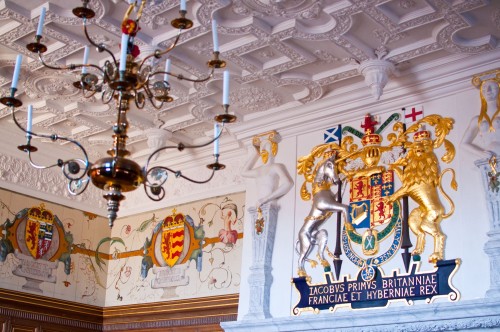 After wandering around the royal apartments, I headed next door to where the Scottish crown jewels, known as the 'Honours of Scotland', are on display. Created by Scottish and Italian craftsmen for James IV and V, they were first used all together for the coronation of Mary Queen of Scots, who was two months off her first birthday, in September 1543 and must have presented a dazzling spectacle, although naturally the infant Queen was apparently too busy bawling her head off to take much notice. It must have been reassuring to Marie de Guise though, to have her daughter, whose future seemed so insecure at the time, crowned with all the full honours of Scotland.
However, unlike their younger English cousins, which are kept safe in the Tower of London, the Scottish crown jewels, as is perhaps fitting when you consider their providence, have had a romantic and strange history as they were hidden away in 1651 and 1660 to keep them out of the clutches of Oliver Cromwell and then from 1707, after the Treaty of Union between England and Scotland, they were locked away in a room of the castle and pretty much completely forgotten about (I know! Madness! I mean WHO on earth forgets that they've got a whopping great CROWN tucked away? Other than, I dunno, the likes of Kanye West or maybe Lady GaGa?) until 1818 when the writer Walter Scott got official permission to break open the room where they were said to be kept and discovered them, looking as good as new. What a story.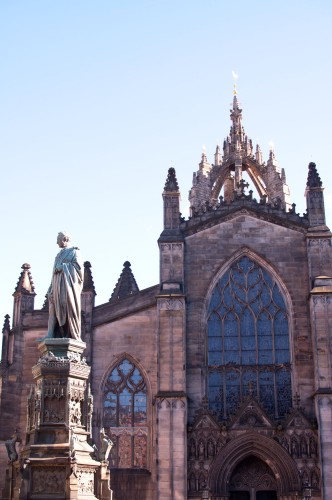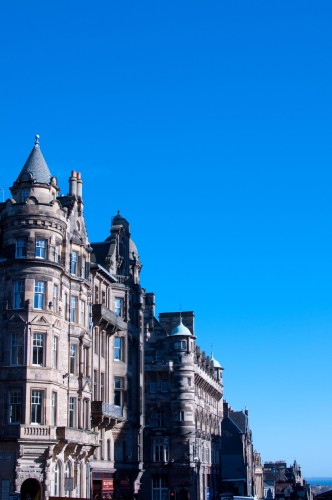 After feasting my eyes on the jewels for as long as I felt able to without drawing suspicion upon myself as a potential burglar, I headed out into the castle again to clamber up some stone staircases, descend into the former military prisons and the bowels of long lost towers and then take in some more of those hair raisingly wonderful views from the parapets before finally taking reluctant leave of Edinburgh Castle and strolling down the historic Royal Mile to the city's other royal residence, Holyroodhouse Palace, which was home to both Marie de Guise and her daughter.
There's something so romantic about the walk from Edinburgh Castle down to the palace at the bottom of the hill and it's definitely something that really helps give a sense of time and place to the stories of the sixteenth century Scottish monarchs as books don't really prepare you for the connection between the two buildings or indeed, how close Holyroodhouse is to the city – you can see the bottom of the Royal Mile from the room that both Marie de Guise and Mary Queen of Scots used as their bedchamber so when they looked down from the window they would have seen the palace gates and then the bustle of city life just beyond while, of course, rooms to the rear of the palace had tremendous views of the mountains.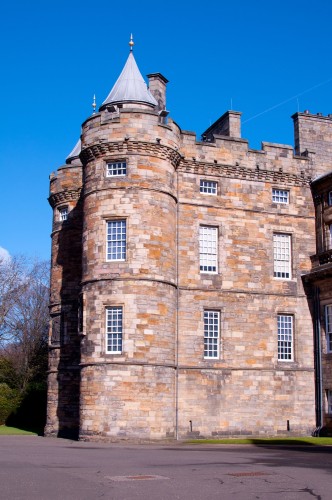 Holyroodhouse itself was first conceived of as a royal residence at the very start of the sixteenth century when James IV got into a bit of a flap about providing his prospective bride Princess Margaret Tudor with a suitable home after their marriage, keenly aware that his match with England was a bit of a coup and that he would need to work hard to impress both his bride and her English entourage. In the end he decided to expand the royal lodgings attached to the abbey of Holyrood into a small but very comfortable palace in their own right and it was there, in August 1503 that he married Margaret and she celebrated her coronation as Queen of Scotland. Their son, James V continued their work in enlarging and embellishing Holyroodhouse again in anticipation of a forthcoming wedding – this time his ill fated but nonetheless rather romantic match with the frail but exquisite Princess Madeleine de Valois, daughter of François I, who was to die at Holyroodhouse just forty days after her arrival in France in 1537 and was buried in the neighbouring abbey.
Of course it is with James' daughter, Mary Queen of Scots that Holyroodhouse is primarily associated in most minds but its story didn't end with her flight to England in 1568. Her son James VI eventually moved into the palace in 1579 and his Queen, Anne of Denmark was crowned there in 1590. After the Stuart inheritance of the English throne in 1603 however the palace was somewhat neglected with only occasional visits from royalty including one by Charles I who was crowned there as King of Scotland in 1633. It was not until 1679 though that a member of the Stuart family would again take up residence, when Charles II's brother, James, Duke of York moved in with his wife, Mary of Modena.
After James' succession to the throne, the palace was once again abandoned by the Stuarts and lived in by loyal retainers until James' grandson, Bonnie Prince Charlie took up residence in 1745 after his triumphal entry into Edinburgh and made it the headquarters of his attempt to regain what he saw as his birth right, probably taking great comfort and strength from living in what had been the palace of his ancestors – a Stuart prince in a Stuart palace, what could possibly go wrong? Plenty, obviously.
Later on, Holyroodhouse would also provide a home for another pretender prince, this time the Comte d'Artois, youngest brother of Louis XVI who took up residence in 1796 and remained there until 1803 along with much of his family and several of loyal followers, fellow emigrés like himself. Poor Artois, probably thought his days of exile were behind him when he succeeded to the throne of France in 1824 as Charles X but as we all know he didn't last long on the throne before being booted out again and forced to abdicate and ended up back in Holyroodhouse in 1830.
After this the palace began to slide into decay until its fortunes were dramatically reversed by a sudden change in sensibilities and taste, due in part to the work of Sir Walter Scott, discoverer of the lost Honours of Scotland, whose novels had caused a sensation and stirred up an almost unprecedented passion for the romance and drama of Scottish history, in particular anything pertaining to the tragic Mary Queen of Scots. George IV himself took an interest in the palace and became the first reigning monarch to set foot in Scotland since Charles went up to be crowned in 1633 but it was his niece, Queen Victoria, whose passion for Scotland was all consuming, who really took matters in hand and made Holyroodhouse the elegant and beautiful residence that it is today.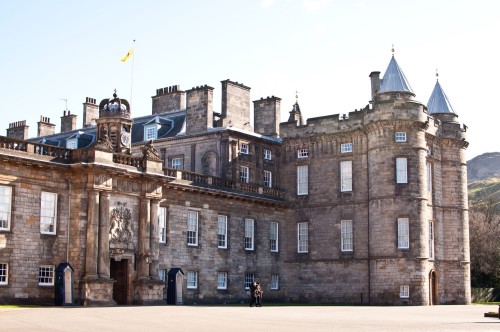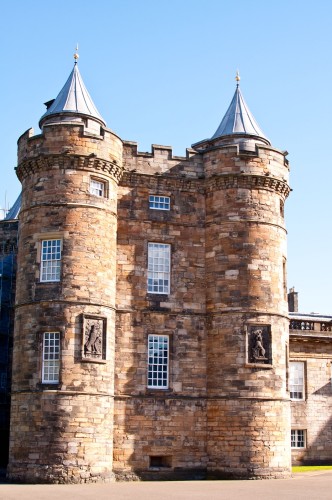 As always, I really enjoyed my visit, which encompassed the state rooms in the wing added to the palace by Charles II (who did much to enlarge and beautify Holyrood with apartments for himself and his Queen, Catherine of Braganza but never actually managed to stay there) and now used for official occasions during the Queen's one week residence at the start of every summer. These include the great stair with its wonderfully florid paintings of scenes from Ovid's Metamorphosis (which on a previous visit reminded my young son of the staircase at Hogwarts in the Harry Potter films); the royal dining room, with its portrait of Bonnie Prince Charlie, whom I've always felt an intense dislike for on the behalf of all those loyal Highlanders that he led to their deaths at Culloden; the throne room, dominated by a rather sombre portrait of James VI and I and others of his descendants, all given their Scottish titles here so that James II is listed as James VII and so on.
I personally always love seeing bedchambers best when I visit palaces and stately homes and although there are none on show at Buckingham Palace, at Holyroodhouse, you can see the King's Bedchamber, which was originally decorated for Charles II as part of his overhaul of the palace but is rather more elegantly comfortable than the rooms conceived for his cousin Louis at Versailles. I wonder if Louis XVI's younger brother, the Comte d'Artois slept here during his times at Holyroodhouse. I expect that he did. There is also the Queen's Bedchamber, which contains the crimson damask hung state bed, which for a long time was erroneously described as 'Queen Mary's Bed' and kept in her former chambers in a suitably romantic tattered and dusty state so that visitors could gleefully imagine that it had barely been touched since the sixteenth century. However, it was actually commissioned for the Duke of Hamilton in 1682.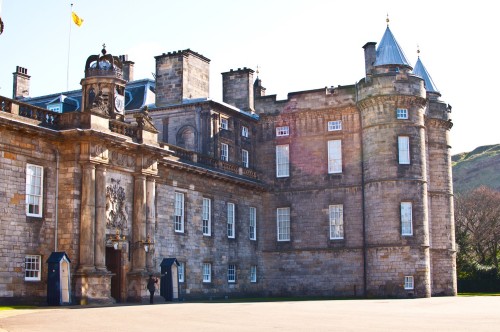 Another high point is the great gallery, which is lined with over a hundred portraits by the Dutch artist Jacob de Wet depicting all the rulers of Scotland both proven and imaginary – a rather weird looking, cross eyed lot it must be said but it was interesting nonetheless. The portraits were commissioned by Charles II in 1684 as a means of underlining the long Stuart right to the throne although it wasn't until the period of Bonnie Prince Charlie's residence at the palace that the gallery was used for its intended purpose as a ballroom – the portraits of his regal ancestors serving as the perfect foil for the pretender prince's posturings.
The main high point though are the rooms once inhabited by Marie de Guise and then by her daughter Mary Queen of Scots during the brief period between her arrival back in Scotland in 1561 and her forced abdication in 1567. They're reached via a winding stone staircase, which in itself gives the visitor a sense that they are leaving the relative opulence of the state apartments for the older part of the palace, from the Queen's Bedchamber to the chamber used as a bedroom by Mary, which has been restored to an approximation of how it would have looked during the mid sixteenth century, although I think it's much less opulent than it would have been, considering that Marie de Guise brought all manner of French furnishings and refinements with her and her daughter also arrived back with plenty of Parisian luxuries. It still manages to evoke a certain dusty sense of their residence in the palace though and it's hard not to be moved by the small supper room off the main bedchamber, where Rizzio was attacked in front of Mary Queen of Scots.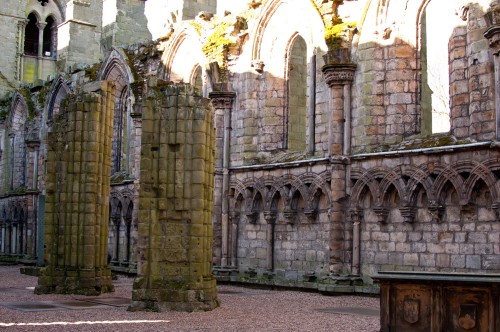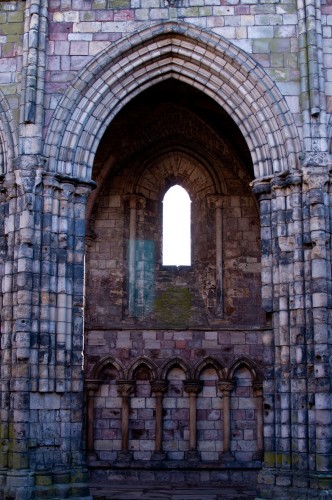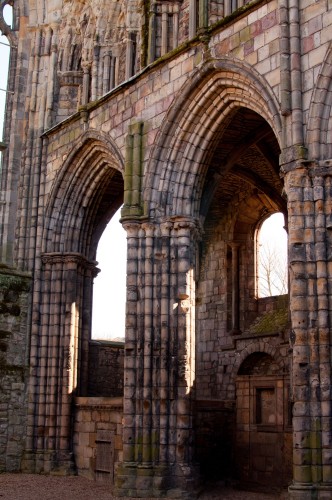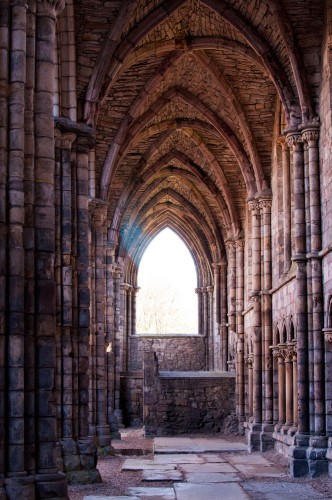 After this, I went outside to look at the picturesque ruins of Holyrood Abbey, which was first founded in 1128 and predates the palace by several centuries. It's quite a small space but packed with history as several royal weddings and even coronations took place here, including those of Margaret Tudor, Anne of Denmark, Marie de Guise and Charles I. It is also the last resting place of various members of the Stuart family including poor little Madeleine de Valois, James V, the two short-lived princes born to Marie de Guise, and Henry Lord Darnley, whose remains have been moved to a locked vault in the far corner of the ruin.
I was, of course, mostly interested in it as the location of Marie de Guise's coronation in February 1540, almost two years after she had arrived in Scotland as James V's bride. After the sad disappointment of his all too brief marriage to the Princess Madeleine, James had clearly decided to hedge his bets with this second attempt at a French alliance and waited until Marie was thoroughly established as consort and also, crucially, pregnant with their first child, before having her crowned as Queen of Scotland, although preparations had been put in motion much earlier so that she was provided with a new crown for the ceremony, while James IV debuted his own new crown, which would form part of the Honours of Scotland and be used at the coronation of his daughter just three years later. By all accounts, Marie's coronation was a splendid affair with gun salutes from the castle, feasting and even fireworks, which must have looked amazing over the city, so whatever she thought about her husband's tardiness, she must have been well pleased by the great show that he had made for her.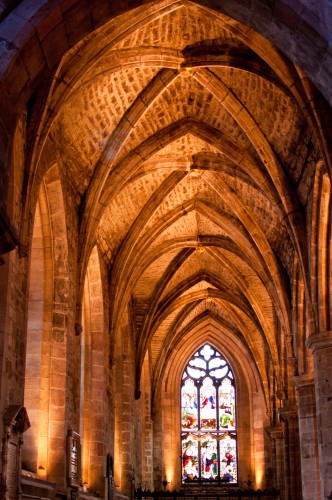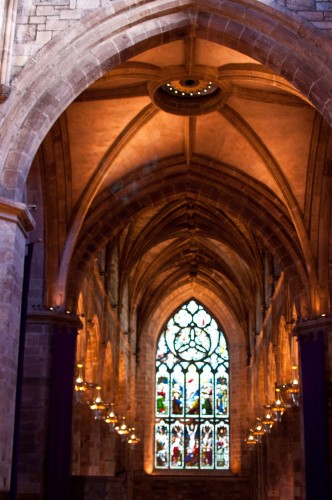 Walking back up the Royal Mile, I decided to pay a quick visit to Saint Giles' Cathedral, which is really beautiful and was not only associated with John Knox (boo, hiss) but also the final resting place of handsome historical hot stuff, James Graham, Marquess of Montrose, a supporter of the Covenanters and brilliant general who fought for the Royalist cause of Charles I and his son Charles II during the Civil War before being captured and ignominiously executed and dismembered in Edinburgh. Fellow Margaret Irwin fans will recall him as the hero of her novel The Bride
, in which he is briefly fascinated by Elizabeth Stuart, Queen of Bohemia before falling in love with her artist daughter, Louise. So romantic. His tomb is fittingly beautiful and when I visited was dappled with the radiant multicoloured light cast through the stained glass window beside it.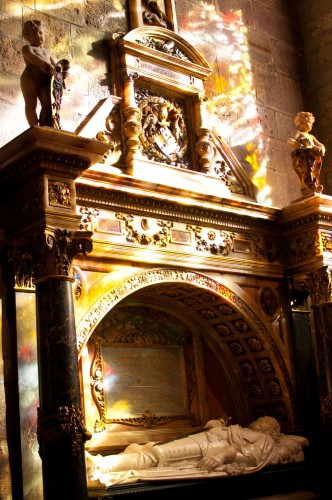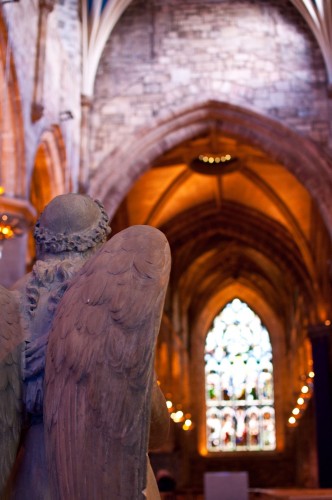 Thoroughly exhausted by now, I said a sad goodbye to the Royal Mile and headed back to Leith for a night of curry and scandal before heading to bed to prepare myself for the next day's adventure: a visit to Stirling Castle.
******
Set against the infamous Jack the Ripper murders of autumn 1888 and based on the author's own family history, From Whitechapel is a dark and sumptuous tale of bittersweet love, friendship, loss and redemption and is available NOW from Amazon UK
, Amazon US and Burning Eye.
'Frothy, light hearted, gorgeous. The perfect summer read.' Minette, my young adult novel of 17th century posh doom and intrigue is available from Amazon UK
and Amazon US and is CHEAP AS CHIPS as we like to say in dear old Blighty.
I don't have adverts or anything like that on my blog and rely on book sales to keep it all going and help pay for the cool stuff that I feature on here so I'd like to say THANK YOU SO MUCH to everyone who buys even just one copy because you are helping keeping this blog alive and supporting a starving author while I churn out more books about posh doom and woe in the past! Thanks!
Copyright secured by Digiprove © 2015 Melanie Clegg