In a week where everyone is talking about the release of the Fifty Shades of Grey film (did anyone actually like that book? I haven't read any of them and have no plans to do so or to see the film but it seems to have inspired unmitigated loathing everywhere. SOMEONE must have liked it though, surely?), it seemed oddly fitting to make a trip to the beautiful Old Vic theatre in Bristol to watch April de Angelis' play about its shocking eighteenth century forerunner, Fanny Hill, a book that scandalised and titillated Georgian society after its release in 1748.
I expect that two hundred years from now, the furore surrounding Fifty Shades will have been more or less forgotten, whereas Fanny Hill, in contrast, still holds a certain power over readers and is even available as a Penguin Classic, which I doubt will happen to any of its modern counterparts. Although who knows how low reading habits will have sunk two centuries from now so I wouldn't count on it. I personally first encountered Fanny Hill in my early teens thanks to finding an old copy hidden away in a bookcase in the library of the house that I grew up in. Upon flicking through its yellowing pages, I immediately realising that here was a rare treasure and stashed it away in my room for some illicit night time reading. A few years later at sixth form, my friends and I made something of a tradition of buying copies for each other for our seventeenth birthdays, each carefully inscribed with a birthday greeting and a fervent hope that 'may your future be filled with manly machines of ardent ecstasy'.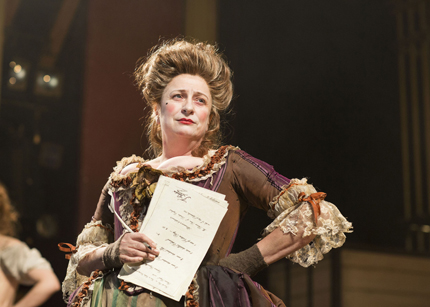 I was pleased as punch therefore when I found out about the forthcoming Old Vic production of The Life and Times of Fanny Hill, starring Caroline Quentin as the world weary middle aged Fanny looking back on a life of vice. I was also intrigued as to how Cleland's somewhat breathless and raunchy narrative would translate to a stage play. I suppose that as a feminist, I was concerned that the exploitative nature of the original book which, after all, involves the naïve young Fanny being coerced into prostitution.
The evening itself kicked off with a free gin bar courtesy of Bath Gins (who have a winsomely winking Jane Austen on their bottles), giving a suitably Georgian vibe to the proceedings and ensuring that we were all (except the drivers and teetotallers) in a rip roaring frame of mind before the play began. As an aside, a few years ago, I threw a few 'Gin and Whores' Victorian themed parties – I couldn't help reminiscing a bit about this as I wandered, pink gin in hand down to the pit for the start of Fanny Hill.
I was, I'll admit, initially a bit disappointed by the Fanny Hill set as I was expecting something rather more opulent than the dock side crates and cranes. However, once the play began, it became clear why they had decided on this set – it was a suitable backdrop for what was after all Fanny's fall from grace now that she was cast out from the world of luxurious Mayfair brothels and instead forced to ply her trade in far less salubrious surroundings, which is how we find her employed at the very start.
The premise of The Life and Times of Fanny Hill is a simple one – Fanny's glory days as a sought after lady of pleasure are at an end now that she is middle aged and somewhat less enticing than she had been in her youth. In exchange for having her debts written off, she agrees to write a pornographic memoir of her life as a prostitute but, unable to recall the details, she ropes in two of her friends, the bold and jaded Louisa (Phoebe Thomas) and the still sweet Swallow (Gwyneth Keyworth), who plays the part of the young Fanny in the reenactments of her life, to fill in the details and pad it out with their own imagined experiences with the enthusiastic assistance of Louisa's admirer, Mr Dingle (played by Nick Barber).
The first half of the play is a good humoured, amusing romp enlivened by filthy folk tunes, some energetic sexual escapades and much skewering of the pretensions and delusions of the prostitutes' male clientele. Any references to the darkness that lies beneath are quickly hushed by Quentin's furiously writing away Fanny, who reminds the others that 'her' readers won't want to hear about the dark side of their trade and are only interested in the sex. It's still uncomfortable to watch though – Fanny's first encounter with a client is tantamount to rape and acts as a sobering reminder that these women didn't choose their path but rather had no choice in the matter due to the paucity of opportunities available to them.
However, if the first half is all dirty jokes and romping, the second half as a rather darker tone as we find out more about Fanny's friends and the harsh realities of their lives, which reminds us that Cleland's original book was really just a pornographic fantasy, intended to titillate without even the slightest semblance of education about the conditions that his eponymous heroine dwells in. In the hands of a woman, however, the source material takes on an altogether darker turn as we learn about venereal disease, abuse, rape, starvation, infanticide and death in a world where no one wants to take any responsibility for women like Fanny, Louisa or Swallow. This is a cruel, venal and hypocritical world with no proper welfare and few opportunities for uneducated and unsupported women of the lower classes, who are placed at a total disadvantage and often forced into prostitution because there is nothing else they can do and especially so when they are perceived to have lost their 'virtue' or have, for whatever reason, found themselves alone in the world.
The original Fanny Hill has a frothily romantic happy ending at the end of Cleland's novel when she is reunited with her first love and ends her days happily married and restored to respectability and prosperity, untouched by her earlier escapades and in her proper place at last. This, I suppose, acts as a salve to the conscience of his male readers, suggesting that their exploitation of working class women isn't so bad after all because, look, see, no harm has been done and she's safe and well and it was all just a bit of fun in the end. It doesn't end well for Fanny in the play though – she's already middle aged and on her last legs when we first meet her and it's obvious that things are about to decline even more with every passing year that she manages to survive. This is the true, harsh reality for women in Fanny's position and one that Cleland wilfully ignores because, well, it's not sexy is it? It's real though and that's what this play is, I think, all about – it takes the fantasy of Fanny Hill, the celebrated woman of pleasure, and blows it apart to reveal the sadness and darkness underneath the frivolous, lace petticoated facade.
Bawdy, funny, dark, thoughtful and ultimately touching, The Life and Times of Fanny Hill is at Bristol Old Vic until the 7th of March 2015.
All photos: Helen Maybanks.
******
Set against the infamous Jack the Ripper murders of autumn 1888 and based on the author's own family history, From Whitechapel is a dark and sumptuous tale of bittersweet love, friendship, loss and redemption and is available NOW from Amazon UK
, Amazon US and Burning Eye.
'Frothy, light hearted, gorgeous. The perfect summer read.' Minette, my young adult novel of 17th century posh doom and intrigue is available from Amazon UK
and Amazon US and is CHEAP AS CHIPS as we like to say in dear old Blighty.
Copyright secured by Digiprove © 2015 Melanie Clegg