How beautiful is this book? I was pleased as punch when I got La mode à la Cour de Marie-Antoinette
from my brother in law as a Christmas present, and also rather astounded by how big it is as it is HUGE. Which can be a bit annoying when it comes to finding it a space on my many bookcases, but any inconvenience is well worth it because the size means that the illustrations, many of which take up an entire page or even a fabulous double page spread, can be viewed in unprecedented detail due to their larger than usual size. It's amazing and SO beautiful. If you are into eighteenth century fashion then you just HAVE to have it.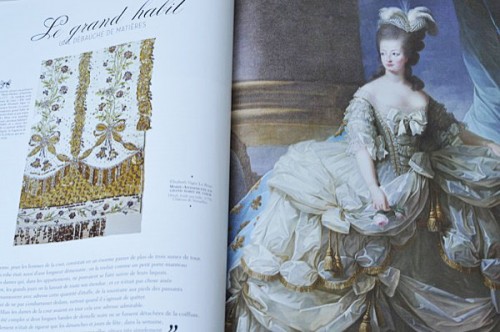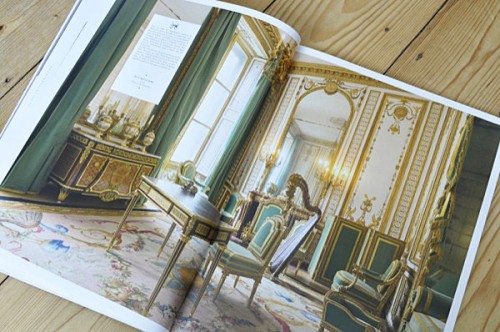 This wonderful book uses lush paintings, actual clothes and stills from films like Marie Antoinette to explore style and fashion at the court of Louis XVI and Marie Antoinette, a period of unprecedented glamour and opulence, when both men and women dressed with unparalleled exquisiteness. This is also the period that saw the beginnings of couture as we know it today, with Rose Bertin, who designed many of Marie Antoinette's most sumptuous gowns becoming almost as famous as her royal client, making her one of the first known fashion designers, with her boutique on the Rue de Saint-Honoré in Paris becoming the first port of call for English visitors to the French capital.
Although this book is written in French, which isn't a problem for me as I can read French (just don't ask me to write anything because, ugh, grammar), I wouldn't worry if you haven't had to read any French since escaping school as the illustrations are so profuse and gorgeously opulent that you'll still get plenty of pleasure out of turning its pages.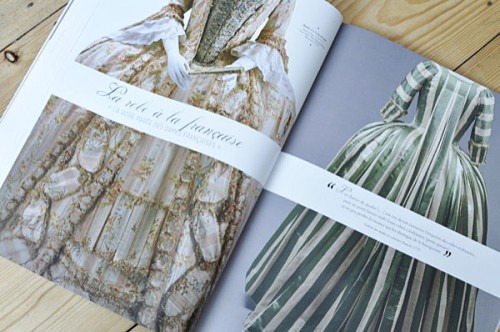 As a heads up, there's a seriously opulent looking English book on the same theme, Fashion Victims: Dress at the Court of Louis XVI and Marie-Antoinette
by Kimberly Chrisman-Campbe, coming out on the 31st of March. I've already pre-ordered my copy and will definitely share a review when it arrives.
À bientôt.
******
Set against the infamous Jack the Ripper murders of autumn 1888 and based on the author's own family history, From Whitechapel is a dark and sumptuous tale of bittersweet love, friendship, loss and redemption and is available NOW from Amazon UK
, Amazon US and Burning Eye.
'Frothy, light hearted, gorgeous. The perfect summer read.' Minette, my young adult novel of 17th century posh doom and intrigue is available from Amazon UK
and Amazon US and is CHEAP AS CHIPS as we like to say in dear old Blighty.
Copyright secured by Digiprove © 2015 Melanie Clegg