My recent post about the upcoming series of Wolf Hall sparked a bit of a lively debate about the costuming over on my Facebook page, with some criticisms of the 'Victorian mourning bonnet' hoods and wrinkled bodices. Personally, I think it looks great but then I'm not a massive stickler for total authenticity when it comes to costume dramas. Oh, I know what it SHOULD look like but I watch such little television that when I DO make the effort to watch something, I really just want to be entertained rather than educated. I read books and go on excursions for the latter.
I know it drives plenty of people absolutely up the wall though and I think that's good too because it means that effort is still made even while apathetic people like me are lounging about on our sofas proclaiming that 'I don't care about the wrinkly bodices, I just want to be entertained,' like, I dunno, miniature Roman emperors or something. Obviously if something is REALLY wrong then we'll roll our eyes around like champs, but if the OVERALL EFFECT is good then I'm pretty happy to let it slide because I think evoking a period ambience is more important than being an absolute stickler for authenticity, which is why I absolutely love The Tudors, Marie Antoinette, Plunkett and Macleane and oh, a whole host of films that play fast and loose with aesthetics (and soundtrack and, yes okay, facts) but still managed to create a pleasingly evocative world.
The other thing is that the clothes worn during the reign of Henry VIII, and ESPECIALLY the ones worn by women, which are usually the costumes that get the most criticism, were exceedingly restrictive with heavy skirts, lots of layers of material to control, scratchy fabrics and uncomfortable corsetry going on. Of course, if you were born to wear such clothes then it would be fine and all in a day's work, but a modern actress (or actor) would probably struggle to move properly and with the required freedom (acting, after all, isn't just about delivering lines, it's about expressive movement too) in truly authentic clothes. However, on the other hand, such clothes would also make them move in a fully authentic way – the corsetry would give them properly upright posture for a start.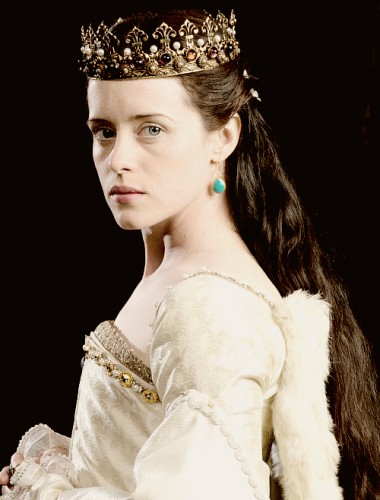 In a recent interview, Claire Foy, who plays Anne Boleyn in Wolf Hall had this to say about the costumes: 'It's the most amazing thing as an actor to have clothes made for you, because you're so used to wearing something someone has already worn and has their name in. When you have costumes made, you are able to really make them unique, make them have a personality and stand out. Anne was incredibly interested in fashion and how she looked and she really paid attention to changing a particular detail about her outfit that would make her stand out. That's what was such a breath of fresh air in English court – she came in saying she wanted it like this, or thinks it would look better like that. Like someone in the 80s turning up their blazer sleeve.
When we were doing the fittings, it was just incredible that the structure and the way they put the dresses together was so accurate, everything was pinned on – nothing was sewn, it was done exactly as they would have done it in Anne's time. In the first few weeks it was magical and amazing – but then it gets to July and you're in a stately home not able the drink water, sit down, not really able to breathe and you're regretting asking the corset to be so tight in the fitting! Then, of course, there was the baby bump, so I was grumpy on a couple of days…'
Mark Rylance as Thomas Cromwell. Photo: BBC.
The director, Peter Kosminsky also had this about the level of authenticity in the production: 'We've tried to make it pretty authentic, down to the food they eat, the way they eat, the way they use their napkins, and of course the costumes, which are authentic right down to the fastenings. Of course, although the timeframe is short, it's still the best part of a 20 year period, so there was an evolution through the period, and through the six episodes. Throughout we've tried to be pretty accurate; we've shot in properties that are almost all period, or within the confines of television, you could believe that they were period. To take one example we were shooting in Penshurst Palace, using part of it as part of the set for York Place, which becomes Whitehall Palace. There's no doubt that Henry VIII stood in the room where we had Damian Lewis standing, playing Henry VIII, 500 years ago.'
The costume designer Joanna Eatwell had plenty say about the lengthy process of creating the costumes for Wolf Hall: It began with conversations with director, Peter Kosminsky, and our production designer where we throw in ideas, references, art, and then narrow it down and eventually we all turned to one particular painter, which is Holbein, who embodies this period, and without him we would have nothing. What is amazing about Holbein, is he not only painted members of the court, he also painted merchants, and even some of Henry's courtiers and staff so we have a complete cross section which is incredibly important for a piece like this.
Cromwell starts as this plain little figure, an 'every man' and we chart his incredible journey to the second most powerful man in the world, and when you watch the physical aspect of this journey, he starts from a regular physique, but by the end he has a similar physique to Henry. We start to build up layers and use more cloth – which is incredibly valuable at this time – and everything is hand-made and hand dyed.'
About creating the costumes for Anne Boleyn, she said: 'Her journey is quite interesting, as she comes in as this rather fresh young thing, an opposite to Katherine who is old money, status, class – everything that Anne doesn't have. She comes in wearing these light colours, frothy pinks, silks and gradually gets darker and she's allowed to slowly move into those darker colours; sumptuary laws dictates what colours you can wear at this time. With Katherine we have used the pinnacle of sumptuary which is purple – she is all purple and gold, so she is every inch the queen.'
Damien Lewis as Henry VIII. Photo: BBC.
Apparently the main challenge was scale because 'it is about telling the story through the clothes. With Cromwell more than anything, it is visually indicating his rise which has been one of the more interesting points. Because of Mark's background at The Globe theatre, he works in a certain way which isn't a way we often work in television which is 'getting back to original practise' and making it how it was made at this time. Everything has been handmade for him, hand dyed, all the fastenings are correct.'
And apparently the costumes are actually extremely heavy because 'if you start to look again at all the paintings, there is a great bulk and a great weight to everything. Even if you look at the clergy, everything is heavy and lined and you know then it's not just a fashion. It is a sign of wealth and status. There are all these amazing paintings from when the Thames froze over at this time, so you suddenly realise it was cold. You realise why Henry has this physique – you don't wear 15 layers for nothing!'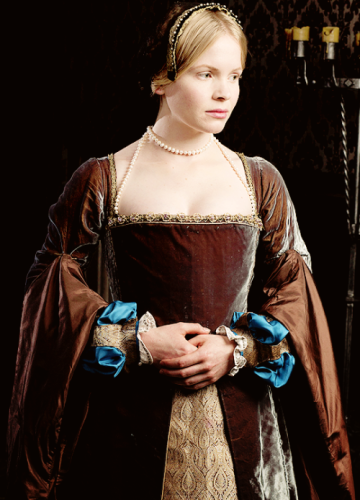 Kate Phillips as Jane Seymour. Photo: BBC.
The production manager Pat Campbell also had this to say about their job of recreating a sumptuous and convincing Tudor world for the production: 'I read Hilary Mantel's books, then the scripts and then you just have to immerse yourself in the period. The most important thing was locations – we were looking for months. Peter [Kosminsky] is a director who comes from a documentary background, he's factual. That meant that we did want to be true to the period, so we filmed in England rather than overseas as is often the case and the results are fantastic. We've been working across the South of England and we are basically filming in the majority of Tudor properties that still exist. It gives it a genuine reality to start with which is great. And it's good for the actors: They walk into an old house and it feels right.
Because we're working in this country we have actually filmed in several manor houses that Henry VIII actually visited. He had a fantastic playground in the South of England – he travelled all over the place, he went hunting across the South, and he moved his huge entourage from house to house. We have been filming in some of those houses. For example, Berkeley Castle, which we have filmed in, had stained glass windows put in for his visit. These are still there, they're beautiful and we saw them in our shoot. Nothing could be more 'correct' than the real thing.'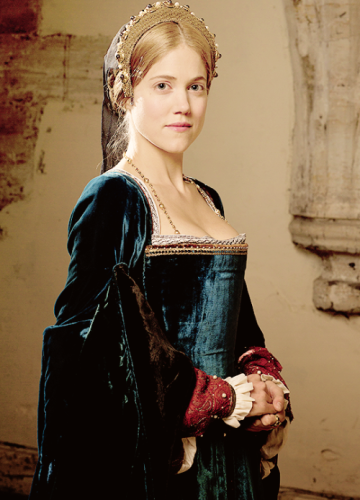 Charity Wakefield as Mary Boleyn. Photo: BBC.
Pat Campbell also had this to say about the actual research they carried out: 'A lot of research. Much of it was to do with the amount of etiquette involved in the way people lived. We had special advisers to tell us how things would have been. Also documentaries like Tudor Monastery Farm and others like that when they go into minute detail about how a swan was cooked or something were hugely informative. Our graphic designers spent a lot of time in the British Library in areas where you can't take books out. And the Vatican Library, where they have Henry's love letters to Anne, have also helped out. Because the books are so well known the amount of help we have received has been fantastic.'
And it sounds like Hilary Mantel has no quibbles either about the way her material was brought to life for television: 'I spent a fascinating hour or two in the trailers with the costumes, turning them inside out and examining every stitch. The leather was aged, the fabrics were specially woven. Even the pins were specially hand-made to an authentic pattern, and my husband is carrying one around in his wallet as a sort of talisman; pins held the Tudors together. There's no doubt that an unseen army was at work behind the scenes, on every aspect of the production, and I owe them gratitude.'
Joanne Whalley as Catherine of Aragon. Photo: BBC.
All of which makes me EVEN MORE EXCITED about seeing the finished production as it sounds like an extraordinary amount of love, care and attention has flowed into this project plus of course there's the amazing source material itself.
'Three Card Trick', the first episode of the six part series Wolf Hall is due to be shown on BBC2 on the 21st of January.
******
Set against the infamous Jack the Ripper murders of autumn 1888 and based on the author's own family history, From Whitechapel is a dark and sumptuous tale of bittersweet love, friendship, loss and redemption and is available NOW from Amazon UK
, Amazon US and Burning Eye.
'Frothy, light hearted, gorgeous. The perfect summer read.' Minette, my young adult novel of 17th century posh doom and intrigue is available from Amazon UK
and Amazon US and is CHEAP AS CHIPS as we like to say in dear old Blighty.
Copyright secured by Digiprove © 2015 Melanie Clegg