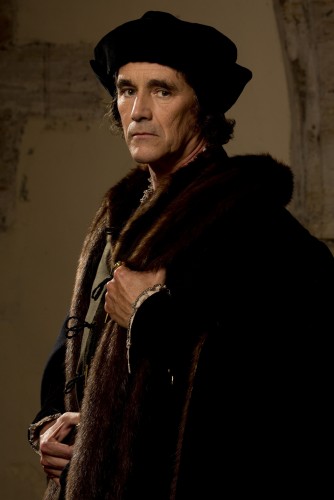 As you probably all know by now, I am a MASSIVE HUUUGE fan of Hilary Mantel's series of books about Thomas Cromwell (in fact, I've been a MASSIVE HUUUGE fan of Hilary Mantel since I picked up A Place of Greater Safety a couple of days after it was first published) and have been beside myself with excitement about the upcoming television series, which is due to hit BBC2 on the 21st of January. Hurray.
I was pleased as punch to finally see the trailer last night but fell asleep before I could share it with you all. I know, I know. However, for those of you that haven't already beheld its wondrousness, here it is in all its candlelit and dramatic glory.
As long term readers may recall, I went up to Stratford-upon-Avon to see the Royal Shakespeare Company productions of Wolf Hall and Bring up the Bodies last January and absolutely LOVED them. I thought the costumes, script and, above all, casting (particularly Ben Miles as Cromwell, Lydia Leonard as Anne Boleyn and Nathaniel Parker as Henry VIII) were spot on and will be really interested to see how their television counterparts do in the same roles.
Of course, EVERYONE wanted Damien Lewis to play Henry VIII and I'm thrilled that this in fact happened – he could in fact have been born to play the part and not just because of his auburn hair, although that helps. And although I was keen as mustard to see Andrea Riseborough play Anne Boleyn, I have to say that I was pretty impressed by the casting of Claire Foy, whose memorable performance as Lady Persephone in the recent all too brief revival of Upstairs, Downstairs was perhaps a highlight of that sadly doomed series (BRING IT BACK, I BLOODY LOVED IT) and judging from the pictures we have seen so far, she is perfectly suited to the role.
Damien Lewis as Henry VIII in Wolf Hall.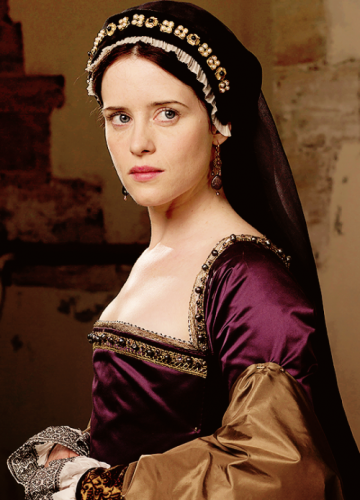 Claire Foy as Anne Boleyn in Wolf Hall.
I'm going to reserve judgement about Mark Rylance though – he looks great in the photos and trailer but I just can't shake the fact that I saw him playing Romeo in a Royal Shakespeare production many MANY years ago and, I dunno, but once you've seen an actor play Romeo, it's hard to see them in more mature roles later on. I suppose because it makes ME feel old too? Gosh, I'm so vain. I bet he's marvellous in the part.
(I'm also pleased because Bryan Dick, whom I fancy ENORMOUSLY is going to be in it as Richard Riche. Not many people seem to have HEARD of him but he's one of those actors that you know when you see him.)
Charity Wakefield as Mary Boleyn in Wolf Hall.
Kate Phillips as Jane Seymour in Wolf Hall.
Jessica Raine as Jane Boleyn in Wolf Hall.
Wolf Hall is being kicking off on BBC2 at 9pm on the 21st of January 2015. I can't remember the exact date but I believe that it's being shown in the US in April.
Hopefully The Mirror and the Light (the concluding part of the Wolf Hall trilogy) will be out in 2015 soon. We can but dream.
******
Set against the infamous Jack the Ripper murders of autumn 1888 and based on the author's own family history, From Whitechapel is a dark and sumptuous tale of bittersweet love, friendship, loss and redemption and is available NOW from Amazon UK
, Amazon US and Burning Eye.
'Frothy, light hearted, gorgeous. The perfect summer read.' Minette, my young adult novel of 17th century posh doom and intrigue is available from Amazon UK
and Amazon US and is CHEAP AS CHIPS as we like to say in dear old Blighty.
Copyright secured by Digiprove © 2014 Melanie Clegg