Swallows and Amazons: Photo: Bristol Old Vic/Simon Annand.
I'll admit that thanks to a combination of depression, illness and other assorted woes, I haven't been feeling as festive as I might otherwise have done as we hurtle through December. I'm a bit upset about this to be honest as I usually love this time of year and really like to throw myself into the whole fairy lights, gluhwein and glitter fun. To be honest, I find that enjoying the seasons and the annual festivals really helps with my depression as it keeps me in the present and gives me something fun and sparkly to think about when times get bleak.
This winter has got off to an especially gloomy start however and I've been really struggling to feel cheerful as the nights get longer, mornings are darker and temperatures begin to dip below freezing. However, things have definitely taken a turn for the better now thanks to a trip the other evening to the press evening for Swallows and Amazons at the Old Vic. Okay, it would be going way too far to claim that it saved my life, but I can honestly say that it well and truly properly kickstarted the countdown to Christmas for me as it was just so twinkly and funny and heartwarming and lovely.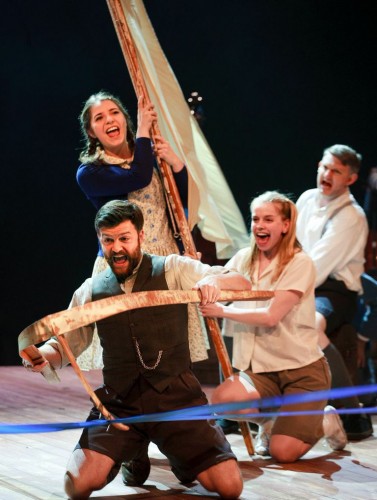 Swallows and Amazons: Photo: Bristol Old Vic/Simon Annand.
Now, don't kill me but I have never actually read Ransome's original Swallows and Amazons book – like most children's literature, it was banned from the house when I was growing up so I never got a chance to read it – so I was not at all familiar with the story other than a vague idea that it was about gangs of children having boat fights on a river. Obviously this is sort of true but it's about so much more than this. As the Bristol Old Vic promises us: 'Swallows and Amazons is a story of an idyllic era, of endless summer evenings and the beauty of youthful imagination. Follow Captain John and his able crew as they set sail to Wildcat Island on an exotic adventure packed full of piracy, adventure and fun!'
As a special treat we took our own two little boys along with us for the evening. My six year old had never been to the theatre before so we were SLIGHTLY dubious about how things would pan out, but in the event we need not have worried as he was held absolutely silently spellbound and on the edge of his seat from start to finish and totally loved it. Of course, we ought to have known how things would be when we sent him upstairs to get ready to go out and he came down wearing a suit jacket over his clothes – clearly this is a boy who instinctively knows how one acts when one goes to the theatre (which is only proper considering that he's named after Oscar Wilde!). The lovely supper beforehand and apparently endless supplies of gingerbread and mince pies (and mulled wine for the adults) helped a lot too.
Swallows and Amazons: Photo: Bristol Old Vic/Simon Annand.
It was a superb festive treat for we adults too – a charming, cheerful and often hilariously funny evocation of a now long lost age. Although the setting is the Lake District in the summer holidays, it makes for an excellent Christmassy treat as the qualities of friendship and family loyalty, so perfectly rendered in Ransome's book, are perfect for this time of year, when we are all encouraged to be more generous and thoughtful towards the people in our lives.
I wasn't really sure that I would enjoy Swallows and Amazons but I absolutely loved it and even got a bit teary eyed from time to time. Oh dear. I had no idea that the eponymous Amazons were actually two girl 'pirates' and they, along with the youngest Swallow, Roger, totally stole the show for me. The music too was exceptional and although, as I have mentioned before, I am not exactly a fan of musical theatre, I really enjoyed the songs in this production, which were quirky, clever and often really funny. And as always we were massively impressed by the wonderful stage design, which made full and often inspired use of the available space – I'm always saying this but the innovative and ingenious way that designers use the Old Vic stage is always fascinating and rather awe inspiring to me.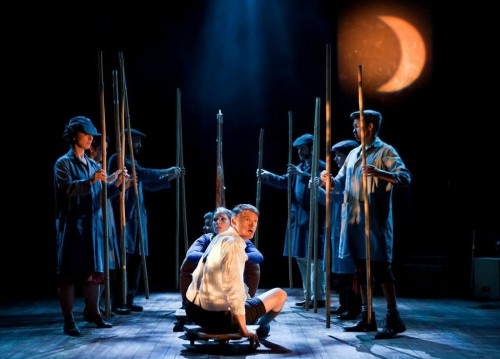 Swallows and Amazons: Photo: Bristol Old Vic/Simon Annand.
In summary, if this time of year is making you feel a bit flat or if you just need a general injection of festive fun into your life then I totally recommend this heartwarming, charming, hilarious and engaging production of Swallows and Amazons to leave you feeling completely full of the joys of the season and the whole goodwill to all men thing. Plus it's hard not to feel all festive and jolly when you're spending the evening in a beautiful Georgian theatre, with the gorgeous scents of mulled wine and gingerbread floating up the stairs. Wonderful.
Swallows and Amazons is on at the Bristol Old Vic theatre until the 17th of January 2015 so you have plenty of time to get down there and see it. Tickets start from £5. Many thanks as always to Bristol Old Vic press team for our tickets.
ps. My boys loved it so much that they've requested a copy of the book and film for Christmas this year and are STILL talking about the amazing Amazon pirates and Roger. I might even take them to see it again!
******
Set against the infamous Jack the Ripper murders of autumn 1888 and based on the author's own family history, From Whitechapel is a dark and sumptuous tale of bittersweet love, friendship, loss and redemption and is available NOW from Amazon UK
, Amazon US and Burning Eye.
'Frothy, light hearted, gorgeous. The perfect summer read.' Minette, my young adult novel of 17th century posh doom and intrigue is available from Amazon UK
and Amazon US and is CHEAP AS CHIPS as we like to say in dear old Blighty.
Copyright secured by Digiprove © 2014 Melanie Clegg