Sunday, the second of December 1804 was the coldest day of the year, with snow overnight and freezing rain the next morning, which turned the streets of Paris to slush. Spirits in the French capital were still high though for it was the much anticipated day of Napoléon's coronation at the hands of Pope Pius VII himself, who had been inveigled by Bonaparte to take part. Not even the Bourbon kings of France had been crowned by the Pope so this was quite a coup for Napoléon, who was keen to increase his prestige among the other crowned heads of Europe who regarded him as a scrappy, laughable little parvenu of obscure origins.
It almost all backfired on him though, when his wife Joséphine, who had been alarmed for quite some time by the ever increasing rumours that her husband was planning to divorce her, decided to use Pope Pius to legitimise more than just Napoléon's right to rule. The clever Joséphine had guessed, rightly as it happened, that the Pope would be less than impressed by the shambolic nature of the couple's first marriage back in March 1796, which took place according to the civil rites introduced by the Revolutionary government and had not received any sort of religious blessing.
Detail from the Coronation of Napoléon, JL David, 1808. Photo: Musée Louvre.
As far as the Pope was concerned, the couple were living in sin and he threatened to call the entire coronation off if they weren't properly married – Napoléon was extremely displeased, aware as his wily wife was, that a religious second ceremony would make the marriage all the more binding, but he had no option but to go along with it with as much good grace as he could muster. Napoléon and Joséphine were therefore married for the second time in his study at midnight on the night before their coronation by Cardinal Fesch. Unfortunately for Joséphine, thanks to a lack of proper witnesses and the absence of their parish priest, this second ceremony would, in time, prove to be as irregular and easily dismissed as the first but for now she was happy.
The entire coronation was to be a day of triumph for Joséphine and definitely marked a high point in her career, which had taken her from Martinique to marriage to an indifferent aristocratic husband to the dangers of the Revolution to the hitching of her wagon to the rising star of Bonaparte. Sadly, it was also the mark the beginning of what was to be a steep decline in her fortunes as the newly crowned Napoléon became increasingly obsessed with the notion of cementing and founding his own royal dynasty. However, all of this lay in the future on that cold and frosty day in December 1802 and Joséphine no doubt regarded herself in her mirror with great satisfaction as she prepared herself for her moment of victory.
Detail of Empress Joséphine, Gérard, 1806. Photo: Fontainebleau. Joséphine's coronation ensemble no longer exists but was very close in style (albeit with long sleeves instead of short) to the court dress depicted in this portrait.
Her victory must have been made all the more bittersweet by the fact that Napoléon had debated for several months over whether to have her share the ceremony with him. He was already seriously considering ending their marriage so that he was free to find a more prestigious and hopefully more fecund match for himself, but his loyalty to Joséphine was still strong for he was only too well aware that when she had agreed to marry him she had been taking a serious risk and as he pointed out: 'It is only fair that she should be an Empress. If had been thrown into prison instead of ascending a throne, I know she would have shared my misfortune… it is right that she should share in my grandeur.'
His decision to let Joséphine share in his moment of imperial triumph had been a typically last minute one and so she had to make a mad scramble to ready herself for what was to be one of the most important moments of her entire life when the eyes of all France and indeed the world would be upon her. Naturally, the famously modish Joséphine's first thought was of her costume and as her lady in waiting Claire de Rémusat would later recall, she 'called in the greatest artists and artisans of the day to confer with her on the design of the official costume, for the court ladies as well as for herself. Deciding not to resurrect the hoop, Joséphine and her advisors chose the long mantle to cover (their) dresses the gold or silver embroidered lace or tulle ruff, called a cherusque, rising high from the shoulders to frame the neck and face…'
Engraving of Empress Joséphine in her coronation robes, 1804.
Eschewing her usual delicate, diaphanous wafting silk gowns with their tiny puffed sleeves and delicate embroidery, Joséphine collaborated with the artist Isabey and eventually settled instead upon an altogether more grand long sleeved empire lined gown of purest white satin, covered in lavish gold and silver embroidery and with the bodice cut very low and framed by a the ruff like collar, which is almost sixteenth century in conceit to fit in with Isabey and David's plan that the coronation should echo the great court ceremonies of the Renaissance age (a similar conceit was employed by George IV, who wanted an Elizabethan theme for his coronation, with often unintentionally hilarious results). Echoing the robes of her husband, the gown was embroidered all over with gold bees, the new emblem of the Bonaparte dynasty, which Napoléon had decided upon as it linked his new regime with that of the Merovingian dynasty, which had used the bee as one of their symbols.
Special attention was also paid to the fabulous diamond diadem, necklace and earrings that Joséphine wore – all of which had been commissioned by Napoléon for the occasion. She also wore a splendid ruby ring on her finger – the deep red stone symbolising 'Joy'.
While some of the court ladies had spent the night sleeping uncomfortably upright in chairs so as not to disturb their specially coiffed and curled hair, Joséphine was up at the crack of dawn in her rooms in the Tuileries to prepare for her day. Her rooms had formerly been inhabited by Marie Antoinette and it's possible that the sensitive and rather sentimental Joséphine thought about this fact as she sat at her dressing table and watched her hairdresser arrange her hair before Isabey arrived at six in the morning to paint her face, making her look like a 'radiant girl of twenty five' rather than a woman of forty one.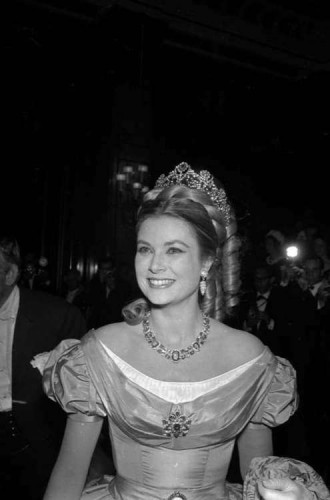 The diamond diadem worn by Empress Joséphine to her coronation in 1804 and two bonus photographs of Princess Grace of Monaco wearing it over a century and a half later to a costume ball in 1966.

When the imperial couple arrived at Notre Dame at just before midday (two hours late), it was Joséphine who was the much admired cynosure of all eyes rather than the man at her side, who looked rather ridiculous in his diamond covered coronation robes. Joséphine, in contrast, looked every inch the queen even before she had covered her beautiful gown with a long purple velvet mantle lined with ermine and embroidered with yet more gold bees.
The Duchesse d'Abrantès later wrote that: 'One of the chief beauties of the Empress Joséphine was not merely her fine figure, but the elegant turn of her neck, and the way in which she carried her head; indeed, her deportment altogether was conspicuous for dignity and grace. I have had the honour of being presented to many real princesses, to use the phrase of the faubourg Saint-Germain, but I never saw one who, to my eyes, presented so perfect a personification of elegance and majesty. In Napoleon's countenance I could read the conviction of all I have just said. He looked with an air of complacency at the Empress as she advanced towards him; and when she knelt down – when the tears which she could not repress fell upon her clasped hands, as they were raised to Heaven, or rather to Napoléon – both of them seemed to enjoy one of those fleeting moments of pure felicity which are unique in a lifetime, and serve to fill up a lustrum of years. The Emperor performed every action required of him during the ceremony with peculiar grace; but his manner of crowning Joséphine was most remarkable: after receiving the small crown surmounted by the cross, he had first to place it on his own head, and then to transfer it to that of the Empress. When the moment arrived for placing the crown on the head of the woman whom popular superstition regarded as his good genius, his manner was almost playful. He took great pains to arrange this little crown, which was placed over Joséphine's tiara of diamonds; he put it on, then took it off, and finally put it on again, as if to promise her she should wear it gracefully and lightly.'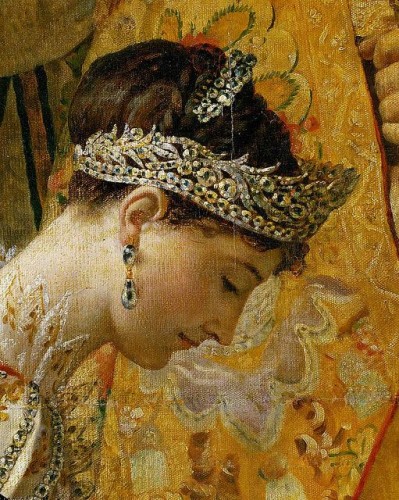 Details from the Coronation of Napoléon, JL David, 1808. Photo: Musée Louvre.
Later on, Napoléon would insist that Joséphine dined alone with him while the official celebrations went on at the Tuileries and requested that she wear her crown to the table, saying that 'no one could wear a crown with more grace'. A feat indeed when you consider the baroque splendour of most crowns, although alas Joséphine's crown did not survive the restoration of the Bourbons. In the midst of all the talk of a divorce, the coronation was a rare oasis of harmony for the imperial couple.
It's fitting that Jacques Louis David's great painting of Napoléon's coronation should commemorate for posterity the moment that the Emperor prepares to crown his wife. According to legend, Joséphine employed her feminine wiles to persuade David to make her the focus of attention in his great work, which is an not unlikely scenario – a drawing exists of the original composition which showed Napoléon crowning himself. However, it's just as likely that Napoléon was fully in favour of this – after all, he's shown as a dynamic powerful figure while Joséphine kneels submissively before him and the Pope is relegated to the position of a mere bystander. Certainly when he finally saw the completed painting for the first time in 1808, he graciously remarked to the artist that 'I am grateful to you, David, for recording for posterity the proof of the affection I wished to give to the woman who shares with me the burden of office.'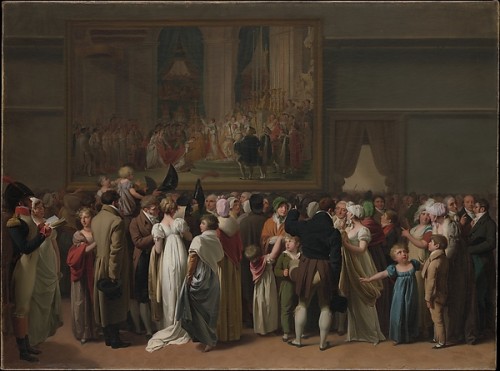 The Public Viewing David's "Coronation" at the Louvre, Boilly, 1810. Photo: Metropolitan Museum of Art, New York.
Empress Joséphine's ruby coronation ring. Photo: Château Malmaison.
Further reading:
Josephine: Desire, Ambition, Napoleon
– Kate Williams.
Napoleon & Josephine: An Improbable Marriage (Phoenix Giants)
– Evangeline Bruce.
Josephine: The Rose of Martinique
– Andrea Stuart.
******
Set against the infamous Jack the Ripper murders of autumn 1888 and based on the author's own family history, From Whitechapel is a dark and sumptuous tale of bittersweet love, friendship, loss and redemption and is available NOW from Amazon UK
, Amazon US and Burning Eye.
'Frothy, light hearted, gorgeous. The perfect summer read.' Minette, my young adult novel of 17th century posh doom and intrigue is available from Amazon UK
and Amazon US and is CHEAP AS CHIPS as we like to say in dear old Blighty.
Copyright secured by Digiprove © 2014 Melanie Clegg