'King Henry V – the great Lion of England – is long dead.
In 1437, after years of regency, the pious and gentle Henry VI, the Lamb, comes of age and accedes to the English throne. His poor health and frailty of mind render him a weakling king -Henry depends on his closest men, Spymaster Derry Brewer and William de la Pole, Duke of Suffolk, to run his kingdom.
Yet there are those, such as the Plantagenet Richard, Duke of York, who believe England must be led by a strong king if she is to survive. With England's territories in France under threat, and rumours of revolt at home, fears grow that Henry and his advisers will see the country slide into ruin. With a secret deal struck for Henry to marry a young French noblewoman, Margaret of Anjou, those fears become all too real.
As storm clouds gather over England, King Henry and his supporters find themselves besieged abroad and at home. Who, or what can save the kingdom before it is too late?'
Marguerite d'Anjou, wife of Henry VI.
One of the most pleasing aspects of the recent upward surge in the popularity of George RR Martin's Game of Thrones books is the related knock on effect on certain genres of historical fiction, mostly of the more *ahem* violent kind. I first noticed this before I read A Song of Ice and Fire books when my husband, who is a massive fan, encouraged me to read them with the words 'They're just like historical fiction except with dragons', which I suppose isn't really surprising as the plot is very closely influenced by all manner of actual historical dynastic squabbles – in fact it's possible to predict what's going to happen next if you can work out the historical inspirations for various characters and events, which can be fun. I'll admit that I was a bit dubious at first though, but actually he was right and so it wasn't really much of a surprise when he finished the series and started asking me for recommendations of what to tackle next, which was a bit unprecedented as, and I say this with love, my husband has never been one for historical fiction. Or wasn't – until now.
He's not the only one either – I've noticed lots of friends, timidly entering the hitherto untapped realm of historical fiction after finishing A Dance With Dragons
and realising that The Winds of Winter, the next instalment in the series is going to be a LOOOOOONG time coming. At my recommendation, Dave has become engrossed in Bernard Cornwell's Warrior Chronicles (which is timely because they are being turned into a television series too!) and I've also been prodding him towards books by Sharon Penman, Elizabeth Chadwick and Conn Iggulden, who all have a similar sort of vibe in their novels.
I was intrigued by Conn Iggulden's Wars of the Roses series for quite some time before I finally took the plunge and bought a copy of Stormbird
and I am now annoyed with myself for waiting so long as it is really superb and, yes, definitely perfect reading for anyone suffering a severe case of Game of Thrones Withdrawal as it has plenty of rapier sharp dialogue as well as all the strong women, dastardly men, heinous violence and touching moments of humanity that anyone could possibly require.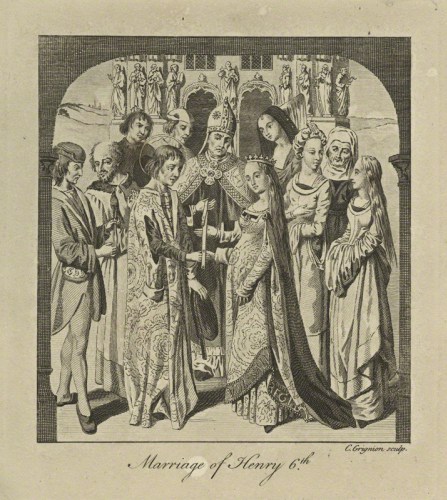 The Marriage of King Henry VI to Margaret of Anjou, Grignion, mid 18th century. Photo: National Portrait Gallery, London.
I'd also recommend Stormbird to my fellow angst ridden fans of Hilary Mantel's Wolf Hall
as we wait in grim patience for the third and final instalment, The Mirror and the Light (fist bump of solidarity to everyone else waiting for this AND The Winds of Winter to be released and wondering if it will EVER happen) as the hero of the Wars of the Roses series, the rather fabulous Derry Brewer, definitely has touches of Thomas Cromwell about him as he adroitly goes about his business as Henry VI's chief spymaster. He's also reminiscent of Sherlock Holmes as played by Robert Downey Jnr as he's all quick wits and even quicker fists and makes for a superb and rather wry guide to the complicated wheeling and dealing going on between the court factions before it all descends into open warfare.
Although Derry is, sadly, a work of fiction, I really enjoyed Conn's interpretations of the well known main players and like Mantel he takes a rather playful, contrary approach by championing people who are often treated unsympathetically and making villains of the traditional painted saints. In Stormbird, his sympathies clearly lie with the Lancastrians, particularly Henry 'the lamb' VI and his French queen, Marguerite d'Anjou, who is clearly a force to be reckoned with. In contrast, Edward and Cicely of York, are absolutely vile and I expect their offspring are just as bad, if not worse, in the forthcoming books in the series. This possibly won't be to the taste of fans of Sharon Penman's The Sunne in Splendour
but I thoroughly relished it.
In summary, a brilliant and highly entertaining read with a quirky engaging hero and interesting perspective on what is now a hoary old tale of squabbling cousins that's perfect for anyone else suffering withdrawal from Game of Thrones and looking for a bit of swashbuckling (I know, I know but it's a great word) Medieval iniquity.
******
Set against the infamous Jack the Ripper murders of autumn 1888 and based on the author's own family history, From Whitechapel is a dark and sumptuous tale of bittersweet love, friendship, loss and redemption and is available NOW from Amazon UK
, Amazon US and Burning Eye.
'Frothy, light hearted, gorgeous. The perfect summer read.' Minette, my young adult novel of 17th century posh doom and intrigue is available from Amazon UK
and Amazon US and is CHEAP AS CHIPS as we like to say in dear old Blighty.
Copyright secured by Digiprove © 2014 Melanie Clegg