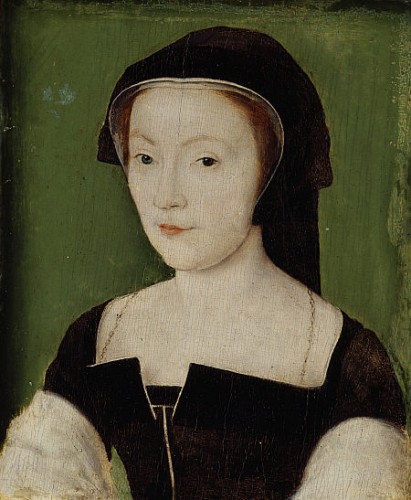 Marie de Guise, Corneille de Lyon, c1537. Photo: National Galleries of Scotland.
It's probably no secret that my next novel, The Thistle Queen will be about Marie de Guise, the mother of Mary, Queen of Scots. I actually set out to write about Mary but then found myself pushing the start of the book further and further back so that there was more from her fascinating mother's point of view, until finally I realised that actually I should be writing about Marie instead and shelving the Mary project until a later date.
I'm really enjoying writing about Marie, who is, I believe one of the most fascinating and under appreciated women in sixteenth century history and on a definite par with her contemporaries, Catherine de Medici in France and Elizabeth I of England, both of whom she knew personally.
Born on the 22nd of November 1515 into the powerful and ambitious Lorraine family, who had connections to several European royal families (Marie's great aunt was Marguerite d'Anjou, Queen of England, while other ancestral aunts were Queens of France and Scotland), Marie de Guise was the eldest child of Claude, Comte de Guise and his wife, Antoinette de Bourbon. Claude, a naturalised Frenchman had spent his formative years at Blois under the care of his mother's cousin, Louise d'Angoulême and there became great friends with her son, the future François I, a friendship that would be of enormous benefit to his family.
Marie herself was raised first at her father's beautiful chateau of Joinville, before being sent to the convent of St Claire in Pont-à-Mousson, where she was looked after by her formidable grandmother, Philippa of Guelders, dowager Duchesse de Lorraine, who had retired from the world to take the veil a few years earlier. Once her education had come to an end, Marie took up residence with her uncle Antoine, Duc de Lorraine and his wife, Renée at their home in the ducal palace in Nancy, where she would have been taught how to behave at court.
Marie joined the French court as a lady in waiting in 1530, when she joined the household of Eleanor of Austria after she married François I. While at court, Marie took part in Eleanor's splendid coronation celebrations and probably also accompanied the Queen to Calais in 1532 for the infamous meeting with Henry VIII, who had brought Anne Boleyn along with him for the trip.
Antoinette de Bourbon, Duchesse de Guise.
Thanks to the grandeur of her connections and her father's ever increasing prestige at court (he was created Duc de Guise in 1528), Marie was an extremely eligible young woman and would eventually be married at the age of eighteen to Louis, duc de Longueville, the Grand Chamberlain of France on the 4th of August 1534. Their marriage was to be short but sweet. Marie gave birth to their first child, François, on the 30th of October 1535 and became pregnant again in 1537. Sadly, however, her husband died at Rouen on the 9th June that year and their second son, named Louis for his father, was born a month later, although sadly he did not thrive and died soon afterwards.
Marie was just twenty one years old when she was widowed and it was her intention to live out her days at the Longueville seat of Chateaudun in the Loire, raising her sons and overseeing their vast inheritance. Her husband had left her an extremely wealthy woman and she now saw a chance for some independence – the life of a rich widow was an extremely enviable one at this time and Marie no doubt was looking forward to making the most of it. However, it was not to be.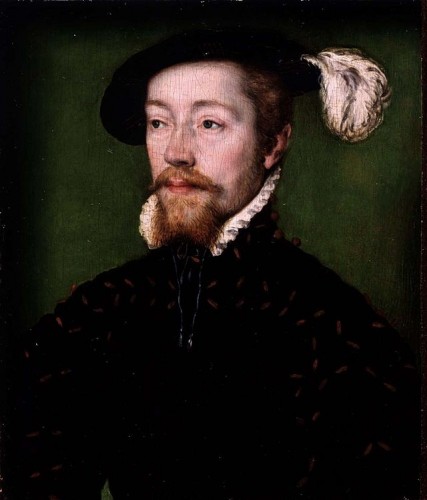 James V, Corneille de Lyon, c1536. Photo: Private Collection.
At the start of 1537, her friend Madeleine, the daughter of François I had married James V, King of Scotland in a splendid ceremony at Notre Dame. Like the rest of the court, Marie had attended the wedding with her husband and had probably made the acquaintance of the Scottish King, who resided at her uncle, Cardinal Jean de Lorraine's Parisian mansion, the Hôtel de Cluny during his stay. Sadly, Madeleine, who was always sickly, died shortly after her arrival in Scotland, which left the alliance between Scotland and France in something of a quandary. Although James was genuinely devastated by his young wife's death – he still needed a wife and preferably a French one and so he didn't waste much time before asking his former father in law, François, to arrange another match for him.
François was naturally unwilling to lose another one of his daughters to the rigours of the Scottish climate and so his attention moved to the recently widowed and extremely wealthy Marie de Guise, who was renowned for her unusual height and excellent health as well as her striking good looks. She was also known to be fertile and her own lineage was impeccable. She may not have been a Princess of France but she was very definitely the next best thing.
However, James of Scotland was not the only recently widowed King hanging about Europe – his uncle, Henry VIII had lost his third wife, Jane Seymour a year earlier in 1536 and was now looking about for a fourth wife to provide him with the all important 'spare heir' as well as grace his court. When he heard that his nephew had been promised Marie's hand, he immediately ordered his ambassador to cut James out of the picture and secure Marie for him instead. Poor Marie. Apparently when she heard that Henry had expressed an interest and had furthermore said that he liked the sound of her because she was tall and he liked the sound of a 'big wife', she immediately quipped that 'I may be big, but my neck, alas, is small.' History does not record if anyone dared to repeat this to the famously choleric Henry. I'm guessing not.
Although the wily François considered Henry's proposal, he was forced to decline as the match with Scotland was too far advanced and instead suggested some other possible candidates, including Marie's younger sister Louise, who was said to be the beauty of the family, and her cousin Anne de Lorraine, who was rather less pretty. In the end Henry ended up marrying her cousin, François de Lorraine's betrothed, Anne of Cleves, while he in his turn married Christina of Denmark, whose full length portrait by Holbein had so enraptured Henry.
James V and Marie de Guise.
Marie herself was not disposed to marry anyone and was particularly resistant to the idea of marrying James, which would mean travelling all the way to Scotland, which she had heard was a very rough and backward sort of place, and, worse still, leaving her young son, François behind in France. The King was adamant however, but it was allegedly a letter from her prospective husband James that eventually changed her mind, as he wrote to her frankly about the difficulties of his position and how much he needed a capable wife to help him govern.
'Madame,' he wrote at the start of his missive, 'I am only twenty seven years old and life already weighs as heavily upon me as my crown does… Fatherless since childhood, I have been the prisoner of my ambitious nobles.' He went on to enumerate the problems facing him as he fought not just his rebellious lords but also his uncle in England. To many lesser women this stark enumeration of problems would have been extremely off putting, but to Marie it seemed like a godsend. Not for nothing was she the descendant of some of the most formidable women in European history. Nowadays, we would say that she was a woman who liked a project and perhaps a bit of a 'fixer upper' when it came to people in general and men in particular and it's clear that when she read James' letter, she realised that here at last, in the woes that had stricken Scotland for decades and its beleaguered, unhappy king, was a project worthy of her unique talents.
The proxy wedding of James and Marie de Guise took place at Chateaudun on the 9th of May 1538. Unlike his first wedding, James did not attend but instead sent over 2,000 of his lords to attend in his stead, with Lord Maxwell acting as proxy. It's possible that Marie also noticed that her wedding ring was much smaller than that presented to Princesse Madeleine a year and a half earlier – it would have been entirely typical of her personality to notice and be quietly amused by the difference but say nothing.
A month later she entrusted her son to the care of her parents and set out for Scotland and her new life. Whatever fears she may have had about the primitive living conditions in her new country were quickly dispelled after she landed at Balcomie in Fife and then progressed to St Andrews, where she and James were properly married in the cathedral. They then progressed together in slow stages to Edinburgh, stopping at Falkland Palace, Stirling Castle and Linlithgow on the way. Marie was reportedly extremely impressed not just by the grandeur and tasteful furnishings of the Scottish royal residences but also the good looks of the people that she saw as they travelled down through the country. The beauty of the landscape must also have made an impression on her and we know from the letters that she wrote home to France that it was certainly not at all the dreadful gloomy impoverished nation that she had been expecting.
Although Marie clearly missed France and her own close knit family there, she threw herself into her new position with all her usual good sense and enthusiasm, keen to be a proper support to her new husband and do all that she could to make his life easier. James, however, was not an easy man to live with – his unfortunate upbringing had left him depressive, neurotic and ever so slightly paranoid, but she did her best nonetheless. It was with the royal residences, however, that she really concentrated her efforts – they already showed signs of French influence in their design, thanks to James and his father, James IV, who had also admired French architecture, but Marie added further luxurious touches and improvements, bringing in French craftsmen and gardeners. She also did her best to add a bit of much needed French polish and sophistication to the court itself, although she was wise enough to have Scottish ladies in waiting and attendants as well as the ones she had brought with her from France and did her best to learn the Scots language as well, instinctively knowing that her integration into her husband's life was a two way thing.
James V and Marie de Guise.
The marriage itself was not always a very happy one and over time the couple became increasingly estranged as a result of James' mood swings, trust issues and blatant infidelity, which he tended to rather crudely parade in front of the whole court and his wife. However, Marie continued to behave like the perfect wife and even welcomed his illegitimate children to court without complaint. Things became easier when Marie became pregnant with their first child and indeed her delayed coronation took place at Holyrood a few months before their son, another James, arrived on the 22nd May. Another son, Robert was born in April of the following year but sadly both little boys died on the 21st of April, when James was almost one and Robert just eight days old. It was a tremendous blow to James and Marie and added unbelievable pressure to their already rocky marriage.
Marie was pregnant again when her husband's troops were soundly beaten by those of his uncle at Solway Moss in November 1542. Contrary to common belief, James, unlike his own father at Flodden, did not actually die in battle but instead limped away to Linlithgow for one last meeting with his Queen, before heading to Falkland Palace, where he died on the 14th of December, probably of dysentery and certainly bewailing the cruel fate that had afflicted him all his life long. The news that his wife had given birth to a daughter on the 8th of December reached him just before he expired and doubtless added to his tirade of misery, although it's not absolutely certain that he actually uttered the fatal words: 'it came with a lass and it will go with a lass'.
Alone at Linlithgow, Marie de Guise, now widowed and in charge of an eight day old Queen, faced an uncertain future. According to the terms of her wedding agreement, she was now free to return to France and was even wealthier than before. It must have been a tempting option – she missed her family terribly and had not seen her son, François since coming to Scotland in the summer of 1538, although her mother kept her updated with weekly letters and even sent lengths of string to show his height as he grew. However, she also knew that she would never be permitted to take the infant Queen, who had been named Mary both for herself and also for the Virgin Mary, upon whose feast day she had been born, with her and the thought of leaving her defenceless infant in the care of the men that her husband had so bitterly distrusted, must have been appalling to her.
Also, Marie was no fool and it would have quickly occurred to her that Henry of England had a son not that much older than her daughter and that he would now almost certainly move heaven and earth in order to gain control over the child and through her, all of Scotland. Once again, Marie found herself confronted by a situation that most meeker women would have fled from, but which she instead, being made of much sterner stuff, viewed as a challenge to be faced up to and perhaps even embraced. There was never really any question of her leaving Scotland – she would remain, raise her daughter and defend her birthright to the death if necessary. A century earlier, her great aunt Mary of Guelders had, as Queen of Scotland, offered refuge to her other great aunt, the exiled and beleaguered Marguerite d'Anjou, another woman who fought like tigress to defend the inheritance of her child. Marie would almost certainly have grown up with tales of both women and regarded their stories as reminders both of her link to Scotland and also her duty to defend her child's inheritance.
Mary Queen of Scots, Clouet, c1555.
For the next few years, Marie, formerly the demure, charming and dutiful Queen Consort, showed her true mettle as a razor sharp political player with an exceptional grasp of diplomacy and a knack at dissimulation that rivalled that of her cousin by marriage, Elizabeth I. Marie even used a few of the same tricks – neither confirming or denying reports of her impending marriage to various men, including Henry VIII himself, in order to play her opponents off against each other and win others to her side. She also span out the tantalising promise of her daughter's prospective betrothal to her Tudor cousin for just long enough to keep the English wolves from the door, no doubt trusting and hoping that something better would come up to save the day. Which it did when her old friends Henri II and his wife Catherine die Medici, both of whom she had known very well in her old life at the French court, finally had their first son, the Dauphin François in January 1544 and signified that they would welcome a match between him and the little Scottish Queen.
However, it had long been apparent to the equally cunning Henry VIII that despite Marie's evasive promises, she was never actually going to let her daughter be married to his son and when he redoubled his efforts to force the issue by a show of military might and general harassment of the Scottish people, Marie acted quickly to place her six year old daughter out of harm and in the summer of 1548 sent her off to France to be raised at the French court as the future wife of the Dauphin. She herself would remain in Scotland to safeguard her interests. It must have cost her a pang though as Mary went off to the country that she herself almost certainly longed to return to, but I think that shows just how remarkable she was, that she let her daughter go and stayed behind to hold the fort. Not for nothing was Marie's emblem a rock surrounded by and yet completely unshaken by turbulent waves and topped by a crown and the defiant words 'And yet it stands'.
For the next twelve years, Marie de Guise devoted her life to protecting her daughter's inheritance, while at the same time working hard to keep Scotland independent from England's encroachments, maintain the important French/Scottish alliance and also keep control of the ever increasing rise of Protestantism in the country. Although her family, the Guises were known for their extreme and profound Catholicism, Marie herself behaved with great tolerance towards her Protestant subjects (a stance later adopted by her daughter during her brief personal reign), but it was ultimately always her aim to maintain a Catholic status quo in Scotland, preferably with the full support of France at her back.
In March 1550, the Treaty of Boulogne put a temporary end to hostilities between Scotland and England and Marie seized this opportunity to travel freely and without fear of harassment from her English neighbours to France to see her family and spend some much longed for time with her surviving children, the thirteen year old François de Longueville and Mary. Marie remained in France for almost a year but it was a visit tinged with sorrow as her son died shortly before she returned to Scotland – it must have been some small comfort to Marie that after all their years of separation she was at least able to nurse him in his final illness.
Marie de Guise, Clouet, c1550.
Thanks to the current peace between the usually warring nations, Marie was able to land at Portsmouth and travel up through England, after paying an impromptu visit to the English court, where she was welcomed by Edward VI, the boy who would have been her son in law had she not put up a superb fight to prevent it. Marie was first received at Hampton Court Palace and richly entertained there by his court before travelling on to the Palace of Westminster where she met Edward himself and dined with him under his cloth of state. His eldest sister, the Lady Mary sadly declined to meet her, but his other sister, the Lady Elizabeth was there although sadly we don't know what she and Marie, the mother of her future greatest opponent and rival, made of each other.
Although her own personal charm and intelligence won many to her side, she still had to deal with innumerable conflicts either from the Scottish nobility, the increasingly demanding Protestant factions and the English, who continued to harry the Scottish borders and during the reigns of Edward VI and Elizabeth I offered a refuge and support for Scottish Protestants. For much of the time, she was hampered in her efforts by the fact that she was not her daughter's actual official regent – that title had gone to the Earl of Arran, the next male in line to the throne, after her husband's death and it remained in his clutches until April 1554, when her daughter was eleven years old and the Arran regency was finally successfully challenged and Marie took over, giving a much needed boost to her powers, particularly when dealing with her daughter's rebellious Protestant subjects, which increasingly included the Lords of the Congregation – a powerful group of Protestant noblemen, who were keen to see an end to the dual Catholic and French grip on Scotland.
For the first few years of Marie's regency everything went relatively well – relations with England, currently being ruled by the Catholic Mary I, were fairly cordial and Marie was hopeful that she would be able to use her new increased power and influence to properly promote Scotland's links with her own native France, making it an independent and predominantly Catholic satellite French nation, always ready and willing to back up French interests while at the same time imbibing French culture and laws. The Scottish were not an easy people to rule and it was Marie's long term plan to turn this around, put a stop to the overt rebellions and make her daughter's country as peaceable as possible.
However, a major setback occurred in November 1558 when Mary I died and was succeeded by the Protestant Elizabeth I, who was seen as something of a heroine by the Scottish Protestants, particularly the Lords of the Congregation, who were not happy with the increasing French meddling in their country's affairs and were keen to promote instead a happy alliance with their English neighbours. Things were also exacerbated by Henri II's defiant insistence upon proclaiming Mary, Queen of Scots, who had become his daughter in law in April of that year when she married the Dauphin François, the rightful legitimate Queen of England and even had her arms quartered with those of England. This was a serious challenge to Elizabeth's right to rule and, rightly furious, she took it out on Marie, whose control of Scotland had long been bolstered by French support.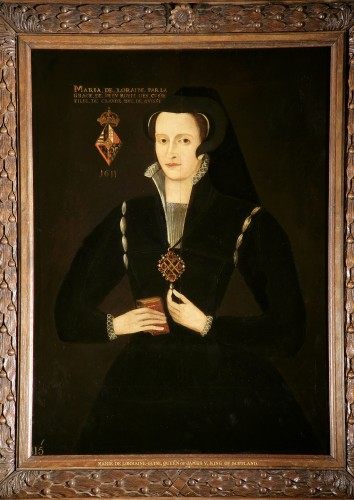 Portrait of a woman allegedly Marie de Guise, unknown artist, 17th century (so obviously not an actual portrait). Photo: Royal Collection Trust/© Her Majesty Queen Elizabeth II 2014.
In February 1560, the Treaty of Berwick was signed by the increasingly powerful and resentful Lords of the Congregation, led by the displaced regent, Arran (now Duke of Chatellerault) and the English, represented by Queen Elizabeth's cousin, the Duke of Norfolk. According to the terms of the treaty, the Lords and England would work together to expel the French from Scotland. Marie was appalled when she discovered that Elizabeth was now openly working against her and immediately moved to defend herself. However, her supporters now began to abandon her, joining with the Lords of the Congregation, who had the advantage of English backing, which was beginning to show its might as Elizabeth's forces laid siege to Leith on the outskirts of Edinburgh.
Marie was also betrayed by her own health, which had been failing for some time due to a heart condition which now developed into severe dropsy. It soon became clear that her famous clear sighted energy, which had got her out of so many scrapes in the past, was now seeping away and in those last few months, although she did her best to rally herself and her remaining supporters, it was clear that her will to carry on was deserting her even as she did her best to continue to prepare for war by overseeing the fortifications of Edinburgh Castle and meeting with English emissaries.
By the start of June it was clear that Marie did not have long to live as she became more severely afflicted by dropsy. She wrote her will and sent for the rebel Lords, all of whom were profoundly affected by her state and in fact many of them were moved to tears as she begged their forgiveness for any offence she may have given them and pleaded with them not to turn their backs on the French alliance that she had worked so hard to promote and which she still believed was better for Scotland's interests than throwing their lot in with the English.
Marie de Guise died a few days later at half past midnight on the 11th of June 1560. Her husband's illegitimate son, Lord James Stewart was by her side. She was just forty four years old and completely exhausted by the struggles of keeping her daughter's unruly nation in one piece. Her body was initially laid to rest in St Margaret's Chapel in Edinburgh Castle, where it remained until March of the following year when it was removed in the dead of night and taken by ship to Rheims, where she was buried in the Convent de St Pierre, where her younger sister Renée was Abbess. At her official funeral service at Notre Dame in Paris, which was attended by her grieving daughter Mary, Marie was likened in the eulogy to 'Judith, light of all the world' and it seems a particularly apt comparison to make.
******
Set against the infamous Jack the Ripper murders of autumn 1888 and based on the author's own family history, From Whitechapel is a dark and sumptuous tale of bittersweet love, friendship, loss and redemption and is available NOW from Amazon UK
, Amazon US and Burning Eye.
'Frothy, light hearted, gorgeous. The perfect summer read.' Minette, my young adult novel of 17th century posh doom and intrigue is available from Amazon UK
and Amazon US and is CHEAP AS CHIPS as we like to say in dear old Blighty.
Copyright secured by Digiprove © 2014 Melanie Clegg