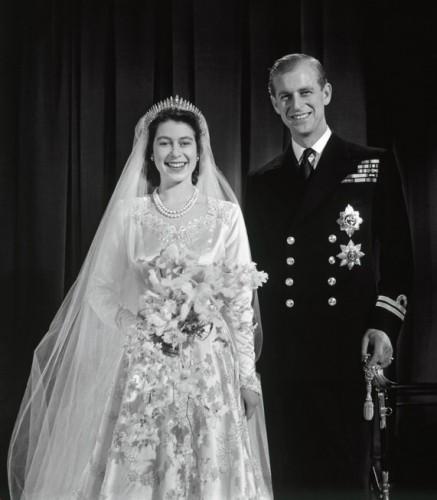 Princess Elizabeth and Prince Philip, Baron Studios, 1947. Photo: Royal Collection Trust/© Her Majesty Queen Elizabeth II 2014.
When Princess Elizabeth, the eldest daughter of George VI announced her engagement to the extremely handsome Prince Philip of Greece on the 9th of July 1947, the people of Britain were, quite understandably, thrilled. The war had ended just two years earlier and the country was still in the grip of a prolonged period of post war austerity, with rubble from bombing raids still littering the streets and some rationing still in force (it didn't end until 1953). Although there were some ill natured mutterings about Philip's foreign background, lack of actual kingdom (his family had been exiled from Greece in 1922, when he was just eighteen months old, and he had resided elsewhere in Europe ever since) and, more worryingly, the marriages of his sisters Sophie and Margarita to high ranking members of the Third Reich army, although he himself had served as a British subject in the Royal Navy and was of unimpeachable loyalty to his adopted country.
The war was well and truly over however and on the whole people were ready for a bit of a party to relieve the gloom and so what if some of the groom's relatives had fought on the other side – that was all in the past and here was an opportunity to properly underline that (although when it came to it, his three surviving sisters, all of whom had married into German aristocracy, were not invited to the ceremony as it was probably felt that this was a step too far even in the current mood of national elation about a prospective royal wedding). However, for all the excitement, there were still some warning rumblings from certain quarters with the Camden Town branch of the Amalgamated Society of Woodworkers warning the bride's father, George VI that: 'Any banqueting and display of wealth at your daughter's wedding will be an insult to the British people at the present time… You would be well advised to order a very quiet wedding in keeping with the times.'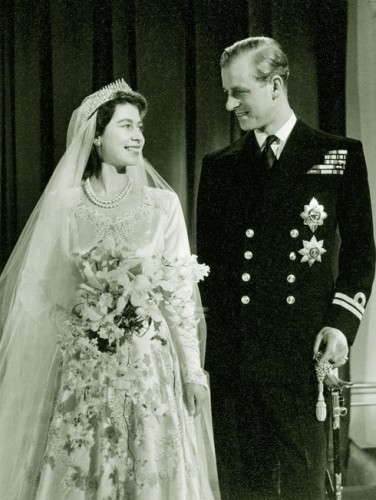 Princess Elizabeth and Prince Philip, Baron Studios, 1947. Photo: Royal Collection Trust/© Her Majesty Queen Elizabeth II 2014.
Nonetheless the wedding on the 20th of November 1947 was a splendid state occasion with a 9 foot tall cake, 2,000 guests and not one but two splendid stag nights for the groom, who had renounced his Greek and Danish titles before the wedding and taken instead the surname of his mother's family: Mountbatten. On the morning of the wedding, he was made Duke of Edinburgh, a title that he proudly carries to this day.
Of course, the focus of many people's attention was the Princess' dress and they were not to be disappointed. Like all other British brides of the time, she was provided with 200 extra clothing coupons by the Government but they probably didn't go very far towards paying for her dress: a beautiful flowing ivory silk Norman Hartnell creation with a 13 foot star covered train, which had been worked on in absolute secrecy for seven weeks by three hundred and fifty seamstresses, who had painstakingly decorated it with crystal and seed pearl roses, jasmine, lilacs, wheat sheafs and leaves – motifs symbolising youth, beauty and fertility.
Princess Elizabeth and Prince Philip, Baron Studios, 1947. Photo: Royal Collection Trust/© Her Majesty Queen Elizabeth II 2014.
Generous women from all around the country, caught up in the wedding fever sent in their own clothing coupons to contribute to the cost of Princess Elizabeth's trousseau but as it was illegal to give away coupons, they were all returned. Actual physical gifts of silks and lace were gratefully accepted though and probably passed on to less fortunate brides to be.
Even the source of the silk was the source of much discussion with Hartnell, who declared the dress to be the 'most beautiful' that he had ever designed, being forced to announce that the silkworms involved in the silk's production had hailed from China not the UK's recent enemies Italy or Japan.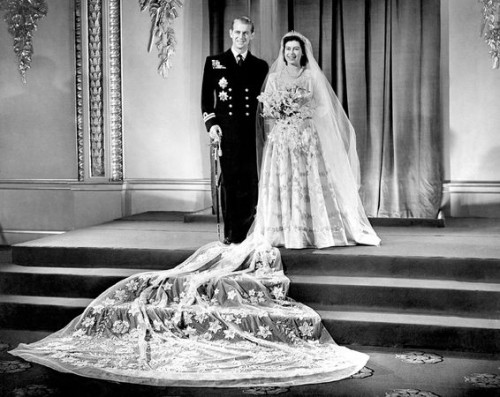 Princess Elizabeth and Prince Philip, Baron Studios, 1947. Photo: Royal Collection Trust/© Her Majesty Queen Elizabeth II 2014.
The princess' tulle veil was held in place by a diamond fringe tiara which had been made for her grandmother, Queen Mary in 1919, reusing jewels given to Mary by her grandmother-in-law, Queen Victoria as a wedding present. It had since passed into the possession of Queen Elizabeth, the consort of George VI and she lent it to her daughter as her 'something borrowed' for her wedding. Alarmingly, the tiara snapped while the princess was getting ready to leave and it had to be hastily fixed so that the show could go on.
Previous royal weddings had been relatively low key affairs involving an evening ceremony in the drawing room of one of the royal palaces or the chapel attached to Windsor Castle. The wedding of Elizabeth II, however, was probably the most showy to date, taking place in Westminster Abbey with amazing carriage processions before and afterwards. It was also the first royal wedding to allow the procession to be filmed and the ceremony itself to be broadcast by BBC Radio nationwide, with over 200 million people getting to listen in and pretend that they too were guests before heading outside to join in with the local street party. Everyone was encouraged to share in the day and it probably really did do a lot to raise spirits and remind everyone that although times were tough, life really did go on.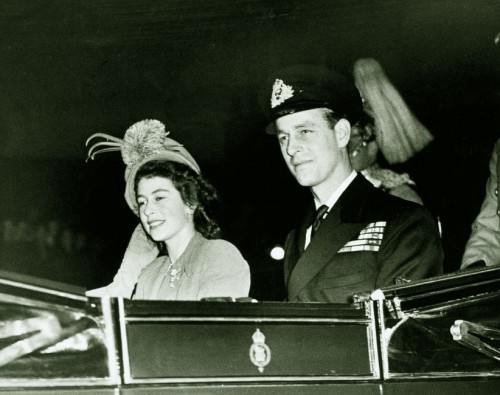 Princess Elizabeth and Prince Philip leaving for their honeymoon, Sport & General Press Agency, 1947. Photo: Royal Collection Trust/© Her Majesty Queen Elizabeth II 2014.
For weeks after the twenty one year old bride and her twenty six year old husband, who had enjoyed a splendid wedding breakfast in the ball supper room of Buckingham Palace, had driven away to their honeymoon at Philip's uncle's estate at Broadlands, the cinemas continued to show film footage from the wedding day and people queued around the block to view the display of wedding presents, which ranged from seventy six handkerchiefs to five hundred cases of tinned pineapple. Around 10,000 telegrams and 2,500 gifts were received by the happy couple but in keeping with the spirit of the times, they were keen to pass on their good fortune and all the edible gifts were boxed and sent out to the less fortunate, with the Princess herself helping package them up.
It's the Queen and Prince Philip's 67th wedding anniversary today. Crikey. Congratulations to them. I have an immense fondness for Prince Philip, who has got to be one of the most hard working members of the royal family – I was looking at the royal appointments in the back of Majesty magazine the other day and felt absolutely EXHAUSTED by his schedule, which is remarkably jam packed and busy for a man of ninety three. I think he must attend at least one official engagement every day, and often two or three, which is really quite incredible and I think a real testament to just how seriously he takes the commitment he made both to Elizabeth and her country on this day all those years ago. What a guy.
******
Set against the infamous Jack the Ripper murders of autumn 1888 and based on the author's own family history, From Whitechapel is a dark and sumptuous tale of bittersweet love, friendship, loss and redemption and is available NOW from Amazon UK
, Amazon US and Burning Eye.
'Frothy, light hearted, gorgeous. The perfect summer read.' Minette, my young adult novel of 17th century posh doom and intrigue is available from Amazon UK
and Amazon US and is CHEAP AS CHIPS as we like to say in dear old Blighty.
Copyright secured by Digiprove © 2014 Melanie Clegg