I don't watch much television (and when I do, it is never live so I'm always a bit behind anyway) so I'm terribly late to the Peaky Blinders party. However, once I'd discovered its existence, I was smitten and then hooked and of course totally amazed that it took me so long to watch it as it really is right up my street in every possible way.
Okay, so the name put me off at first. What on earth, I wondered, is a Peaky Blinder? However, the rave reviews from my friends and discovering that the theme music is one of my favourite songs, Red Right Hand by Nick Cave and the Bad Seeds (it doesn't stop there – the entire soundtrack is made up from gritty, gravelly contemporary pieces, with a definite slant towards the work of PJ Harvey and Nick Cave, which I loved but then again my immense fondness for a well chosen juxtaposition of period drama and modern music is well documented) definitely had me intrigued and so my husband and I sat down a week or so ago to watch the first episode and see how it went. A week later, we'd watched two series and caught up enough to watch last week's amazing series finale. Yes, it's THAT good.
In a nutshell, Peaky Blinders is set in the dark and gloomy streets (slums if you like) of working class Birmingham in the immediate aftermath of WWI and focuses on the dodgy dealings of local gang, the Peaky Blinders, who are so named thanks to the fact that part of their gang attire involves stitching razor blades into the edges of their flat caps, which make for an interesting piece of sartorial weaponry, although I was a bit concerned about accidental injuries but then I'm a pathetic southerner (sort of) so what would I know?
With a grimy, rain soaked and yet vivid aesthetic and slick direction that owes much to the likes of Ripper Street, Copper, Boardwalk Empire and From Hell (the shot where the new horrible Chief Inspector of the police, played with terrifying menace by Sam Neill drives for the first time through the streets of his new demesne owes much to that first orientating and appalling shot through the mean streets of Whitechapel in the film version of Alan Moore's graphic novel) and even recent really lushly filmed and engrossing dramas like Game of Thrones, it was always going to be a winner for me and it has to be said that the cinematography is, despite the impoverishment of the area and the relentless brutality of the plot, really quite extraordinarily beautiful. This is especially true of series two, which apparently had a much bigger budget than its predecessor and was even more impressively grandiose (and violent).
There's some really amazing shots though, like the regularly repeated motif of Tommy Shelby, one time war hero and leader of the Blinders, walking, shoulders hunched down through the industrial darkness of the wide streets of his home town while the windows of the factories and warehouses lining the roads, gleam with the light of the fires within. However, visually stunning though it may be, this is not an engaging world and although the plots are engrossing and the characters beguiling (in their own way), that pervading sense of unease never quite goes as, like Tommy and the rest of his gang, you never know quite what's going to happen next.
The part Irish, part Gypsy, all Birmingham Shelby family are, of course, the heart of this drama and I think that Thomas 'Tommy' Shelby, the second son and leader and brains of the Peaky Blinders is perhaps one of the most interesting and complex characters that I have seen on television in recent times. Brilliantly played by Cillian Murphy, who is all cheekbones, wry smiles, hipster hair and piercing icy blue eyes, he is the epitome of the anti-hero, I suppose, although that's a far too trite and inadequate way to describe Tommy, who is as shady as they come but clearly not totally beyond redemption, unlike plenty of the characters that he comes up against throughout the two series.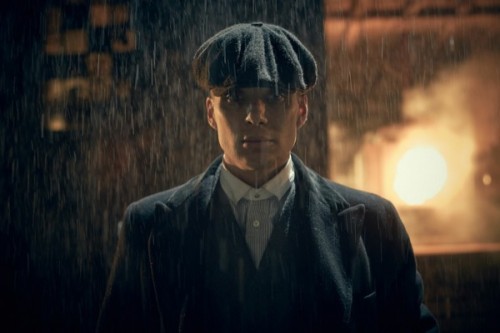 Yes, okay, he's on the serious take (although much of the plot revolves around his attempts to legitimise the family business albeit by fairly nefarious means); has come home from the war with a sense of profound disassociation that neither women, nicotine or the occasional hit of opium can shift and is not at all adverse to slashing faces with his cap razors and whatnot (as he tells a character in series two: 'I'm a bad man and I do bad things'. Then again he fancied the character who asked him so possibly that's what passes for flirtation round his way), but in pretty much every episode there were also reminders of the good heart that beats beneath the impassive surface as evidenced by his extraordinary loyalty and generosity to his family and friends.
I also really loved a tiny moment in series two when he meets a friend of his sisters and offers him his hand to shake after learning that he is homosexual, which ought to be nothing at all to us today but was a significant and unusually accepting move back then, unfortunately. Yes, I love Tommy Shelby.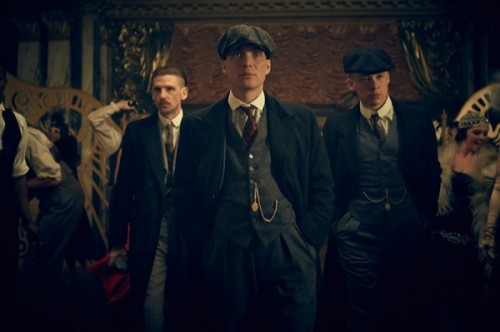 I find it interesting that in the Shelby family dynamic, it is the second son who is in charge and not the elder and that made me particularly sympathise with Arthur Shelby (an astonishing performance by Paul Anderson, whose Sebastian Moran was a highlight of the second Downey Jnr Sherlock Holmes film), whose position seemed to me to be rather an awkward one even if it is obvious why it is Tommy who is in charge of the whole shebang rather than him. Of course, as the show progresses, it becomes startlingly clear that there are more reasons than mere precedence to pity Arthur Shelby, who is as damaged as his younger brother by their experiences as tunnellers in World War One, but instead of retreating into himself has become more unpredictable and violent. In the second series, the dark side of his nature becomes ever more crude and overwhelming as he discovers 'Tokyo' or cocaine (he is introduced to it by his youngest brother, Finn, whose occasional coke habit is indulged whereas his liking for whisky is apparently not, amusingly enough) and is given a London nightclub to look after, with predictably horrible results.
I really liked the third Shelby brother John as well, although I was worried that he might accidentally swallow and choke on the tooth pick that he chews on incessantly in the first series. I was also perplexed when it was revealed as an aside that John, who looks about eighteen at most, is supposed to be the widowed father of four children, none of whom are ever seen. This of course was probably all part of the set up for his marriage (he needs a wife and is provided with a woman who needs a husband but shush that's all I'm saying because spoilers), but even so it was a bit weird, I thought.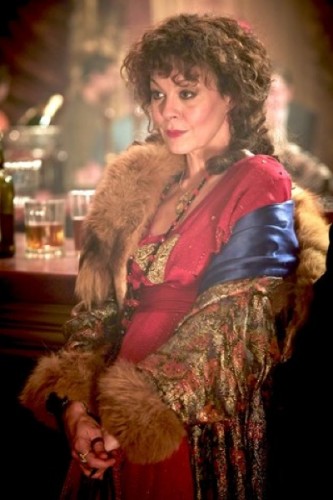 For me though, it was Polly Shelby, the Shelby brother's aunt and family matriarch, who really stole the whole show. Played with a mesmerising, powerful charisma and bravado by Draco Malfoy's mother, Helen McCrory, she was all gypsy smouldering good looks, fabulous clothes, killer cheekbones and a badass manner. As fiercely protective and loyal of her family as Tommy, she was the avenging angel of the show and, like a vixen protecting her cubs, never more terrifying than when made to feel vulnerable or forced to protect her own. She really was superb and a refreshing antidote to what has felt for a while to be a gradual sliding back into the bad old days of sidelined mimsyish female characters.
Oh it's not all bad, as the aforementioned Ripper Street and, yes, Game of Thrones demonstrate but I'm bored with women being depicted as helpless hangers on or observers to the more active roles of their menfolk. I really enjoyed all of Poll's scenes because it was clear right from the start that she was no mere appendage to the all important Shelby name but rather a serious force to be reckoned with in her own right and as she reminded her boys on several occasions – it was she who looked after the family business while they were away fighting in the war after all.
I was also impressed by the other female characters, especially Ada, the token Shelby sister, who reminded me very strongly of Mary Boyle in Juno and the Paycock, Lizzie, who appears in series two as, I suppose, a sort of groupie and secretary to the brothers and Esme, John's wife from the gypsy Lee family. I didn't warm quite so much to Tommy's two love interests (bleaugh, horrible expression, I know) though – the duplicitous Grace who had an extraordinarily high opinion of the power of her singing voice and upper class war widow May Carleton with her vast house and aura of almost tangible sadness which masks the fact that she's as tough as old boots really. They're all tough though in their own way – flawed, yes, but made all the stronger for their weaknesses. These women are no mere cyphers and if every single Shelby man died in a street battle (not an entirely unlikely eventuality), you can be sure that the show would go on as before in the more than capable hands of their womenfolk.
There should be a special mention at this point for Tom Hardy's amazing and surprisingly comedic yet still absolutely terrifying performance as series two protagonist Alfie Solomons, a barking mad Jewish gangster based in north London. I'm a huge Tom Hardy fan anyway and have to admit that his being in it was part of the reason that I watched in the first place. I know, I know. I'm completely shallow really. He was astonishing though – shuffling around the set in a miasma of menace. I really hope that he returns for series three, but as I saw someone comment elsewhere, it's likely that the mercurial Hardy has had his fun so I won't be too optimistic.
Peaky Blinders is apparently returning to our screens next year, which is wonderful news as I bloody loved it and seriously think it's going to go down in history as one of the greatest British shows of all time. In the meantime, RIPPER STREET IS BACK ON FRIDAY so that's my weekly sepia toned dose of angst, clashing music and historical violence dealt with before I fall into a serious withdrawal.
******
Set against the infamous Jack the Ripper murders of autumn 1888 and based on the author's own family history, From Whitechapel is a dark and sumptuous tale of bittersweet love, friendship, loss and redemption and is available NOW from Amazon UK
, Amazon US and Burning Eye.
'Frothy, light hearted, gorgeous. The perfect summer read.' Minette, my young adult novel of 17th century posh doom and intrigue is available from Amazon UK
and Amazon US and is CHEAP AS CHIPS as we like to say in dear old Blighty.
Copyright secured by Digiprove © 2014 Melanie Clegg