It is the winter of 1154 and Eleanor, Queen of England, is biding her time. While her husband King Henry II battles for land across the channel, Eleanor fulfils her duty as acting ruler and bearer of royal children. But she wants to be more than this – if only Henry would let her.
Instead, Henry belittles and excludes her, falling for a young mistress and leaving Eleanor side-lined and angry. And as her sons become young men, frustrated at Henry's hoarding of power, Eleanor is forced into a rebellion of devastating consequences. She knows how much Henry needs her, but does Henry know himself?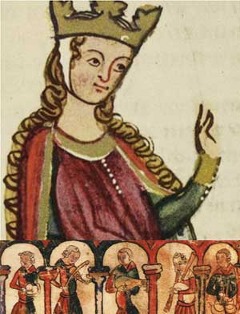 Now as many of you will recall, I absolutely loved The Summer Queen
, the first part of Elizabeth Chadwick's trilogy about my fascinating and tempestuous ancestress Eleanor of Aquitaine (there's honestly no big deal AT ALL to being descended from the rowing Plantagenets – I reckon pretty much everyone I know can claim them as ancestors but it's quite fun to find yourself thinking 'Oh, I wish I wasn't related to This Guy' when reading novels sometimes, which happened on at least one notable occasion while reading this book) and so was pretty thrilled when the sequel, The Winter Crown
came out at the start of September.
The Summer Queen charts Eleanor's (in the books she is called Alienor) career as adolescent heiress to the tremendous wealth and vast lands of the Aquitaine and as Queen of France, finally ending shortly after her marriage to Henri d'Anjou and his succession to the throne of England, which had been hotly contested by his mother Matilda. By the end of the book, Alienor has weathered plenty of storms but looks set to reign triumphantly at the side of her young husband, bearing him lots of heirs and generally being a pretty awesome Queen and indeed, this situation looks set to continue at the second book, although cracks quickly start to appear in the united, majestic facade put forward by the new royal couple.
The Winter Crown kicks off in 1154 with Eleanor's moment of triumph – her coronation in Westminster Abbey. To even the most hostile observer, she must have appeared unassailable – wealthy, beautiful, healthy, beloved and, perhaps most importantly of all, mother of Henry's heir and heavily pregnant again with another. However, as Chadwick's novel soon makes clear, there are cracks already beginning to appear beneath the gilded surface of this apparently happy and well matched royal couple as Henry, autocratic, used to being obeyed, completely unable to delegate and with serious trust issues disregards his wife's abilities and usurps her own authority as Duchess of Aquitaine.
While Alienor is preoccupied with childbearing, this is more of a background irritation but after the birth of her final child, John, when she feels released from what she accepts to be her duties as bearer of royal children, matters quickly reach a head when she decides that it is time to regain some of her own authority and it quickly becomes apparent that her husband is no longer quite so enamoured with her as he was at the start of their marriage and also hurtling headlong down a dark path of his own as he becomes increasingly tyrannical in his bid to retain control of his throne.
This is a fabulous, engrossing and rollicking read that takes the reader into the very heart of the Angevin royal court with all of its schemes, plots and drama. Of course, at the heart of all this intrigue and the story is Alienor and it is her struggle to achieve some element of equality in her marriage that forms the crux of this fascinating tale that charts one of the most dynamic royal pairings of all time.
Of course, with the benefit of hindsight and all those millions of viewings of The Lion in Winter (surely one of the greatest films of all time?) as an impressionable adolescent, it's easy for me to say that Alienor and Henry's marriage was probably always doomed. Like Robert Wagner and Stephanie Beecham in the 70s crime drama Hart to Hart, it was always going to end in tears. And murder. And probably also someone getting excommunicated. How else could it end with two such intelligent, powerful and strong willed people involved? However, if they'd only learned to work together then it could have been so different as after all it was Henry's refusal to share so much as one iota of his power and that made everything go so horribly awry.
What I really love about these books though is the fact that instead of fitting her characters into uncomfortable twenty first century moulds as some writers are wont to do, Elizabeth Chadwick makes them very much of their times so there is a strong emphasis on religion (something that many other writers understandably shy away from as the fervour of Medieval faith can be such an alien concept nowadays) and although Alienor is strong and capable, she still accepts her duties as Queen without question and does her best to support her husband until finally he pushes her to a point where she can no longer remain loyal to him. There's also no attempt to introduce any sort of superfluous romantic entanglements to Alienor's life, which I really like – it's so rare and, yes, refreshing, these days to read a novel about a historical woman that doesn't at least attempt to shoehorn some romance in (which is one of the reasons I'm enjoying writing about Marie de Guise so much) but instead emphasises how strong and capable she was in her own right. In fact, Alienor probably would have been much better off if she'd ruled Aquitaine on her own, and England too for that matter.
In summary, this is a brilliant book and a veritable treat for fans of historical fiction – Elizabeth Chadwick's writing creates a vividly compelling and richly flamboyant Medieval world that readers can really immerse themselves in. I can't wait for the next and final instalment, The Autumn Throne! (I hope we get to see a LOT more of William Marshal in it.)
******
Set against the infamous Jack the Ripper murders of autumn 1888 and based on the author's own family history, From Whitechapel is a dark and sumptuous tale of bittersweet love, friendship, loss and redemption and is available NOW from Amazon UK
, Amazon US and Burning Eye.
'Frothy, light hearted, gorgeous. The perfect summer read.' Minette, my young adult novel of 17th century posh doom and intrigue is available from Amazon UK
and Amazon US and is CHEAP AS CHIPS as we like to say in dear old Blighty.
Copyright secured by Digiprove © 2014 Melanie Clegg