We woke up bright and early on our second morning in Berlin and after some deliberation decided to head off to Museum Island to partake in some CULTURE. After eyeing the queue to get into the Pergamon, we decided instead to visit the rather less busy Neues Museum, which houses the iconic bust of Nefertiti.
This turned out to be a really good idea as the Neues is an amazing museum, stuffed full of wonderful pieces such as some of the most beautiful Egyptian sculpture you could ever hope to see in your life, some of Schliemann's controversial 'Trojan treasure' and plenty more besides. It really is an absolute treat for history fans and we were happy as clams wandering through the galleries.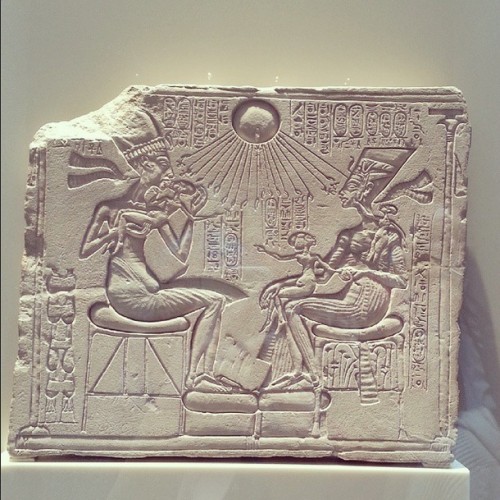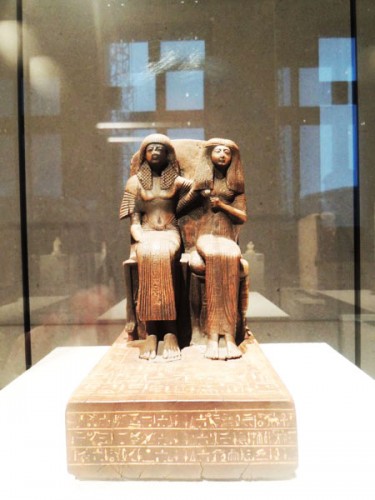 The high point, of course, was the beautiful bust of Nefertiti, one of the most famous pieces of sculpture in the world and rightfully so. Almost unbelievably beautiful, her head balanced like an elegant flower upon a slender neck, the iconic bust of Nefertiti represents to the modern mind all the esoteric mysticism, beauty and glamour of ancient Egypt. Despite the fullness of her lips and heaviness of eyelids, there is nothing winsome or sensual about Nefertiti's beauty, instead its symmetry has an almost chilling, unnerving effect that keeps us at a respectful distance.
According to the official accounts, the bust was discovered by a local workman attached to the team of German archaeologist, Ludwig Borchardt on the afternoon of the 6th December 1912, while they were excavating the remains of the deserted ancient city of Amarna, once the capital of the so called heretic Pharaoh Akhenaten and his Queen, Nefertiti.
The find was made while they were excavating the remains of the house and studio workshop of the sculptor, Tuthmosis, who was responsible for some of the most important sculptures of the Amarna royal family. When the city was abandoned, he had left behind some unfinished, broken or unimportant pieces and it was amongst these that the bust of Nefertiti was allegedly discovered.
Nefertiti. Photos: Neues Museum, Berlin.
We can only imagine the excitement when the bust was brought to the surface and gently cleaned so that its beauty could be seen again for the first time in thousands of years. It must have been immediately clear that here was a piece of enormous significance. As Borchardt himself wrote in his diary afterwards: 'Suddenly we had in our hands the most alive Egyptian artwork. You cannot describe it with words. You must see it.'
What happened next is open to some debate – according to the rules of the dig, all artefacts found on the site were supposed to be divided between the French run Egyptian museum service and the excavator but, oddly, the French site inspector took a painted relief of the Royal family instead of the bust, which was clearly the star piece of the dig. There is some speculation about how this came to pass with many people theorising that the German archaeologist team had somehow contrived to conceal the value of their find, either by hiding its existence, taking an unflattering photograph that was shown to the inspector or covering it with mud so that Nefertiti's radiance was dimmed and it looked like just yet another unimportant royal statue.
Whatever happened, the bust was duly presented to James Simon, the backer of the expedition to Amarna and didn't go on public display until 1924 in the New Museum in Berlin – its existence having been kept secret at the insistence of Borchardt until a year earlier. The tomb of Nefertiti's son in law, Tutankhamen had been discovered two years earlier in the Valley of the Kings and the world was still in the grip of a furious obsession with ancient Egypt when the bust went on display to a rapturous reception and went on to become the museum's star exhibit.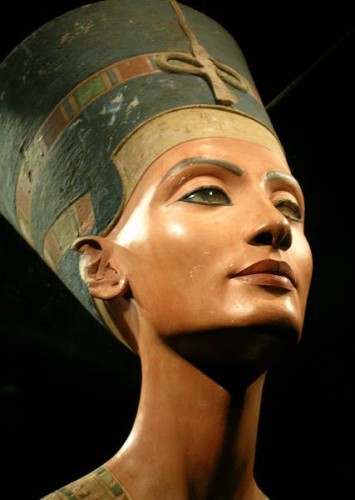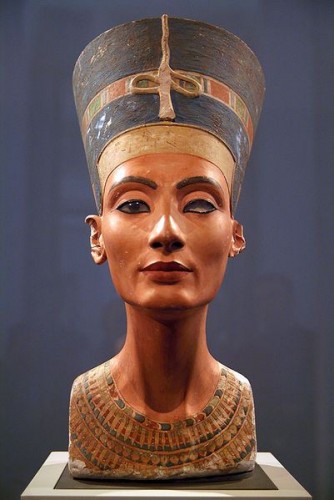 Nefertiti. Photos: Neues Museum, Berlin.
Feeling somewhat hoodwinked, the Egyptian authorities demanded the piece be returned to them, which the Germans refused to comply with – only backing down when two equally celebrated pieces from the Cairo collection were offered in exchange. However, the exchange never took place, probably because of protests from the German people.
It was at this point that the story of the bust took a somewhat sinister turn, when it was hailed in the 1930s by the German press as one of the finest art treasures of Prussian Germany and a symbol of German national identity. It was, in short, their Empress. Hitler himself was completely enamoured with Nefertiti's aloof, austere beauty, regarding her as one of his favourite works of art and describing her as 'a unique masterpiece, an ornament, a true treasure' and befitting an entire new museum which would have her as its centrepiece – 'in the middle, this wonder, Nefertiti, will be enthroned, … I will never relinquish the head of the Queen.' There was clearly no way that the precious bust was ever going to be leaving Berlin.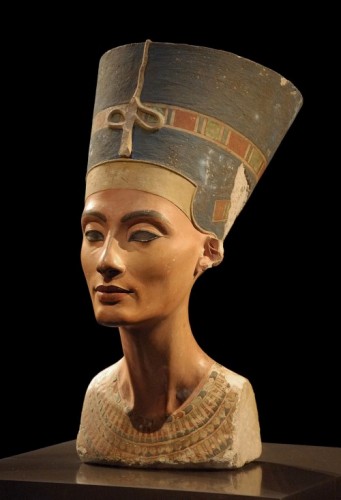 Nefertiti. Photo: Neues Museum, Berlin.
During the war, the museums of Berlin were emptied of their treasures, which were hidden in shelters for safekeeping. Nefertiti was moved three times – to the cellar of a bank, the tower of a Berlin bunker and then finally to a salt mine in Thuringia, where she was later found by US troops.
Controversy will probably always surround the bust of Nefertiti – as well as debate about the circumstances of its discovery and then new residence in Germany, there have also been rumours that the bust is in fact an elaborate fake, either by Borchardt, who used his wife as a model for the piece or by Hitler, to hide the fact that the original sculpture had been destroyed during the war.
These allegations are extremely unlikely to be true as a CT scan has revealed that beneath the smooth, austere perfection of Nefertiti's face there lies another face, of an older woman with wrinkles and a prominent bump on the bridge of the nose. It's also been revealed that the pigments used on the piece are those employed by ancient Egyptian artisans.
It is believed that the bust was created in the Amarna workshop of Thutmose in around 1345 BC. It was carved from limestone and then coated with a carefully applied layer of gypsum plaster before being painted. There are no inscriptions to identify the sitter but it wears a flat topped blue crown that is usually associated with Nefertiti, whose name, fittingly, means 'The beautiful woman returns'.
The bust is usually shown in profile, which both displays the elegance of that long slender neck and also conceals the unnerving fact that one of the Queen's dark eyes is missing. After its discovery, Borchardt searched the studio for the missing eye but was unable to find anything and indeed it looks like the eye was never actually in place which suggests either it a disease or that the piece was unfinished or used to train novice sculptors in the application of inlaid crystal eyes.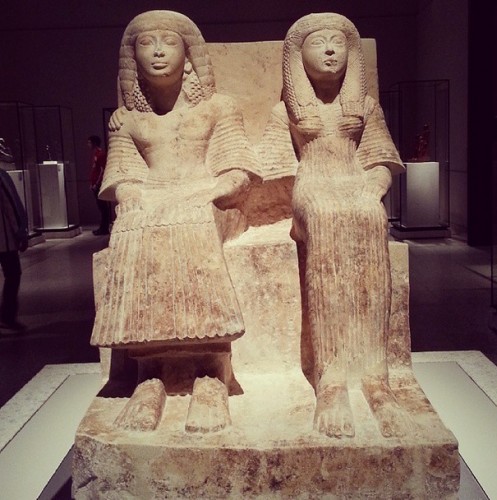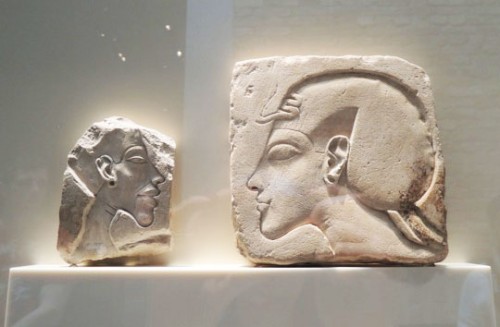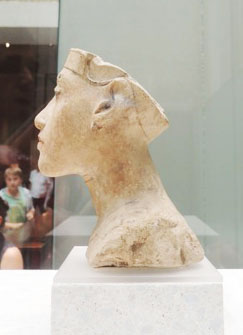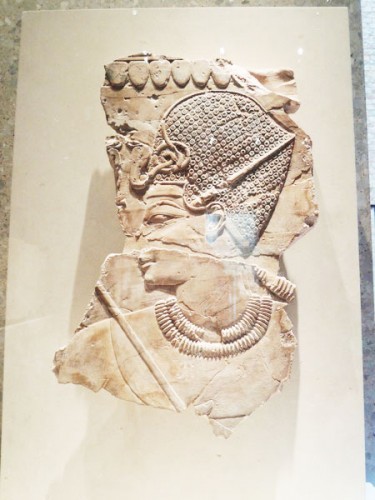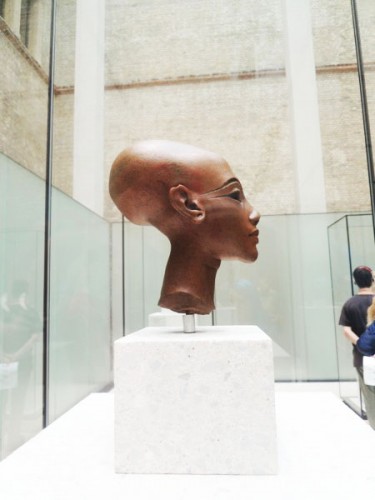 Sadly, but I suppose understandably, photography isn't allowed near Nefertiti – as my husband found out when he took out his phone to take a picture of the lovely frieze above the door in the neighbouring gallery. He got properly shouted at in German, which he thought was the best thing ever. I was horribly alarmed though. There's some other very lovely pieces from Amarna close by in the museum though, including some other busts of Nefertiti, Akhenaten and their family.
After paying our respects to Nefertiti, we wandered upstairs to view the Gold Hat, which is apparently very famous but just made us giggle rather a lot. I was more enamoured with the bronze age hunting horn next door, from which there emitted the melancholy sounds of it being played by a celebrated German trumpeter. I thought it was rather lovely.
Feeling all museumed out, we went off to Potsdamer Platz after this as I'd heard a lot about the Sony Centre there. I wasn't massively impressed to be honest but enjoyed poking around in the shops in the nearby shopping centre before having lunch in the enormous food court, where once again I was impressed by the range of foods available for vegetarians and vegans, all of which were clearly marked. I opted for noodles with tofu while Dave had currywurst, of course.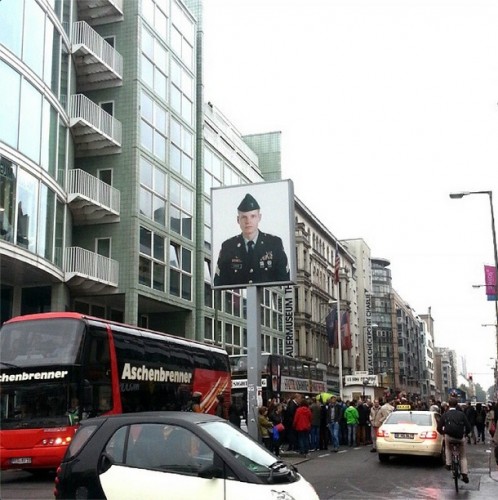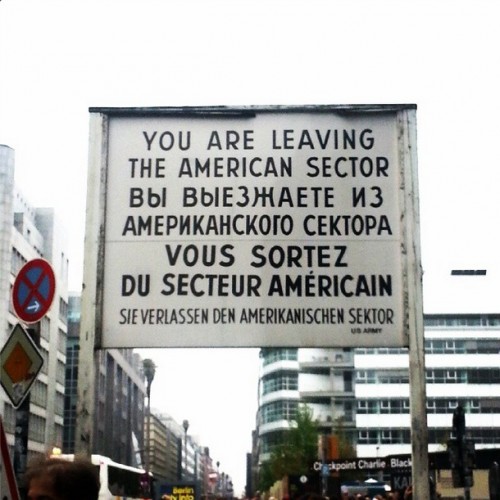 After this we walked over to Checkpoint Charlie, which turned out to move me far more than I had expected it to. I remember when the Berlin Wall came down but have to confess to being rather ignorant about the whole thing – or at least I WAS until I went to Berlin and made it my business to find out more about those awful decades of separation. I actually found myself in tears as I looked at a nearby exhibition about the wall and the many escape attempts, both successful and unsuccessful, made by German people who found themselves on the wrong side. It seemed insane to me that such a thing could have happened within my own life time – it just seems so harsh and unnecessarily draconian.
Feeling very definitely sombre after this, we made a quick trip to the Berlin branch of Galeries Lafayette, which I suppose underlined for me how much the city has changed in the past few decades. As I noted in my last post about Berlin, it feels like money is POURING into the city and within just a few decades more it will be virtually unrecognisable – the appearance of shops like Galeries Lafayette just confirms this as Berlin starts to lose its rather grimy and rough about the edges reputation.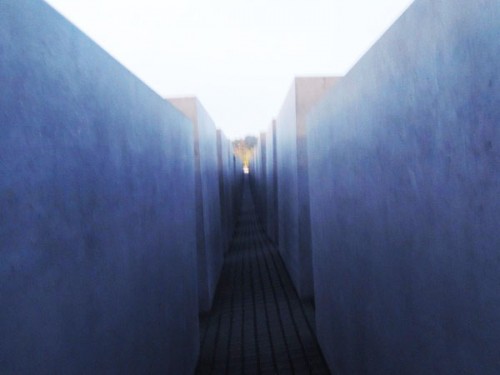 Feeling restored by the Galeries and its amazing tea selection (especially the Marie Antoinette one!), I felt able for our next planned destination – the famous Holocaust Memorial by the Tiergarten. I really had to brace myself for this as I find the subject so distressing but it felt really important to go so I put my chin up and went to see. At first, I was rather taken aback by the plainness of those austere rows of concrete blocks and wondered how they could ever elicit any particularly profound emotions other than perhaps confusion. How wrong I was.
The memorial has plenty of critics but I am not one of them – I found it intensely moving and not a little disturbing as I slowly walked from one end to the other, feeling increasingly unnerved by those unmarked silent stones looming overhead until eventually I became frightened that one of them would topple and crush me. I found the whole experience deeply upsetting and had to take a long moment afterwards to sit and cry and think about the overwhelming horror of what those grey blocks symbolise. It's a shame that other visitors perhaps weren't as moved – we witnessed some rather upsetting behaviour, particularly from a young couple who were playing a screaming game of chase amongst the stones. It was horrible but I suppose it is impossible to police the monument to ensure that all visitors behave appropriately so what can you do?
After this we decided to walk the short distance to the site of the former Chancellory, which was destroyed after the end of the war in 1945. The main lure for us was seeing the location of Hitler's infamous bunker, where he hunkered down for the last few months of the war and where the film Downfall was mostly set. After seeing the vast memorial to the memory of the victims of the Holocaust, it was pleasing, I suppose, to see that the site of Hitler's final defeat and death had been covered, in the best European tradition, by a nondescript car park and accorded no more memorial than a very prosaic board to show the layout of the bunker as well as a brief summary of its history. It's a weird spot and one, I suspect, that not many visitors to Berlin go out of their way to see but I wanted to see it with my own eyes and am glad that we took a moment to visit.
We'd booked in to go to the top of the Reichstag dome at ten that night and having a couple of hours to kill we wandered over to the Brandenburg Gate to see the illuminations and then lurked in the Café Einstein on Unter den Linden (the street name literally means 'under the linden trees' – how pretty is that?) for a restorative coffee with amaretto, which seemed to mostly comprise booze and sorted me out a treat. After this we walked over to the lovely pair of cathedrals on the beautiful Gendarmenmarket square, which had been lit up.
We saw a lot of the Gendarmenmarket during our time in Berlin as it was quite close to our hotel and it never failed to make me just stop and stand and stare in awe at how lovely it is. Like pretty much all of Berlin, it's not precisely beautiful and certainly not charming like, for instance, Paris or some parts of London, but follows the rather swaggeringly masculine and overly large Baroque style that most official buildings in Berlin seem to favour. They're impressive rather than lovely and built on a monumental scale. Thus it is with the Gendarmenmarket, which has the Konzerthaus in the centre and two flanking cathedrals – the French Cathedral, built for Huguenot emigrés in the early 18th century on the left and its slightly younger twin, the German Cathedral, on the right. It makes for an impressive sight and I suppose confirms the intrinsic grandeur of Berlin – that they should have a square that houses not one but two cathedrals, as well as the concert hall.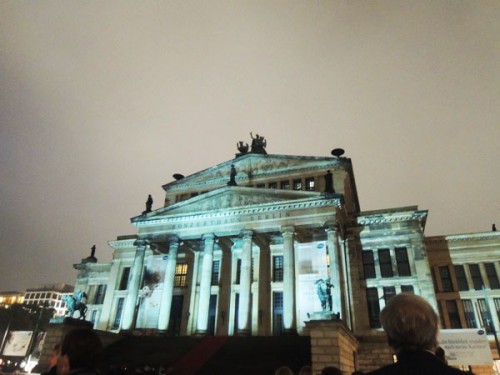 I'd been pretty desperate to have some of that most delicious of German delicacies – apfel strudel and finally seized the opportunity in a bar with a wonderful view of the square. I ordered it with a side helping of 'vanille sauss', which sounded unimaginably delicious and exotic. It was CUSTARD. Yup, plain old custard. Very DELICIOUS custard but yes, definitely nothing more interesting than that. I'm not going to cast aspersions though – it was really bloody nice and a delightful way to pass the time before heading off to our appointment at the Reichstag.
We arrived dead on ten o clock for the airport style security checks that all visitors have to undergo – the Reichstag being, of course, the seat of the German parliament. I was starting to feel a bit nervous as I'm terrified of both lifts and also heights and will go to inordinate lengths to involve both but was assured by various people that I'd be able to take the stairs to the top of the building once I'd cleared security. This turned out to be untrue and after some debate with the nice gentleman manning the elevator and the reassurances of a group of very lovely German fellow visitors who stepped in to translate for me, I found myself in a lift going to the top.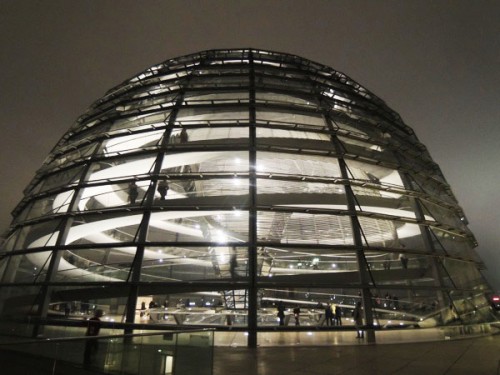 From below, the Reichstag didn't actually look all that high up but although I started bravely enough, I soon felt my legs do the telltale turn to jelly and had to retreat indoors again. Dave managed to get a photo of me outside first but you can see how scared I am by that fixed grin and the way my hand is gripping on to the rail for dear life. I probably lasted about five minutes up there before I beat a thankful retreat back on to the lift, which now seemed like the lesser of two evils and made my way down to ground level again. I then sat outside the Reichstag taking photos for about twenty minutes while Dave made his way to the top of the glass dome, which has runways spiralling up and down the inside.
I'm still proud of myself though – I am absolutely terrified of flying, underground trains, lifts and heights thanks to a lovely combination of claustrophobia and vertigo but managed to deal with all of them during my time in Berlin and in fact ended up taking the u-bahn every day without a qualm and didn't make NEARLY so much fuss about our flight back to England as I did about the one out to Berlin. I wouldn't go so far as to say that I'm totally cured of all my fears (I don't think that tall buildings are ever going to be my thing) but I certainly feel less at their mercy, if that makes sense and that's probably the best thing that happened over my birthday weekend for what could be a better way to enter a new decade than without a few of the silly fears that blighted the last one?
Gosh this got a bit wordy and long winded, didn't it? Part Three is coming soon!
******
Set against the infamous Jack the Ripper murders of autumn 1888 and based on the author's own family history, From Whitechapel is a dark and sumptuous tale of bittersweet love, friendship, loss and redemption and is available NOW from Amazon UK
, Amazon US and Burning Eye.
'Frothy, light hearted, gorgeous. The perfect summer read.' Minette, my young adult novel of 17th century posh doom and intrigue is available from Amazon UK
and Amazon US and is CHEAP AS CHIPS as we like to say in dear old Blighty.
Copyright secured by Digiprove © 2014 Melanie Clegg