'This is the incredible rise and unbelievable fall of a woman whose energy and ambition is often overshadowed by Napoleon's military might. In this triumphant biography, Kate Williams tells Josephine's searing story, of sexual obsession, politics and surviving as a woman in a man's world.
Abandoned in Paris by her aristocratic husband, Josephine's future did not look promising. But while her friends and contemporaries were sent to the guillotine during the Terror that followed the Revolution, she survived prison and emerged as the doyenne of a wildly debauched party scene, surprising everybody when she encouraged the advances of a short, marginalised Corsican soldier, six years her junior.
Josephine, the fabulous hostess and skilled diplomat, was the perfect consort to the ambitious but obnoxious Napoleon. With her by his side, he became the greatest man in Europe, the Supreme Emperor; and she amassed a jewellery box with more diamonds than Marie Antoinette's. But as his fame grew, Napoleon became increasingly obsessed with his need for an heir and irritated with Josephine's extravagant spending. The woman who had enchanted France became desperate and jealous. Until, a divorcee aged forty-seven, she was forced to watch from the sidelines as Napoleon and his young bride produced a child.'
Joséphine Bonaparte, Appiani, 1797.
I'm a big fan of Kate Williams' biographies, which take a fresh and lively look at celebrated women in history, from Emma Hamilton to the young Queen Victoria and now the always beguiling and fascinating figure of Joséphine de Beauharnais in her new book Josephine: Desire, Ambition, Napoleon
.
I've been fascinated by the lovely Joséphine for a long time and have read pretty much every book out there about her so couldn't wait to read Kate Williams' take on her story, which I was sure would breathe some much needed new life into Napoleon's elegant and charismatic first wife. It was also a bit of a consolation prize for not managing to make it to Paris this summer for the exhibition about Joséphine at the Luxembourg Palace, a building that she knew very well as not only did she live there with Napoléon before they moved to the Tuileries, but her first husband, the awful Alexandre, was imprisoned there during the Terror.
Empress Joséphine, Massot, 1812. Photo: Hermitage, St Petersburg.
Although I didn't get on with the short, almost telegraphic, sentence style of the book at first, it very quickly gathered pace and became unputdownable – which resulted in a sad incident when I was so desperate to read it that I ended up dropping my Kindle in the bath. Oops. It was all worth it though and I'd do it again, I tell you. I'D DO IT AGAIN.
Overall, I found this a really vivid and interesting interpretation of Joséphine's story – although it is clear that Kate Williams sympathises with her heroine, and there is much that is sympathetic about Joséphine, it doesn't blind her to her many faults, which creates a rounded picture of a woman of not particularly great intelligence who was prepared to do anything, even sacrifice the happiness of her children, to survive in a dangerous, treacherous world but who was still tremendously charming and likeable.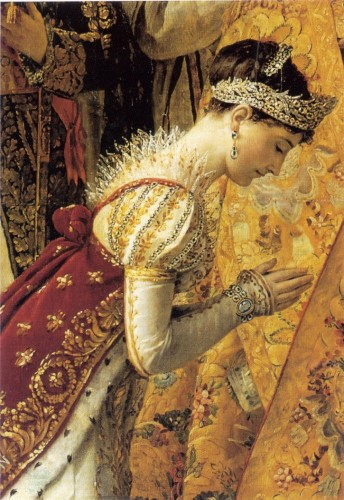 Detail from David's painting of Napoléon's coronation, JL David, 1804. Photo: Musée Louvre.
Of course, one of the most fascinating facets of Joséphine's story are the interesting times that she lived through, including her miraculous escape from the guillotine and dramatic marriage to Napoleon, who is also treated dispassionately here as a man of enormous and admirable drive and ambition who was also curiously unfeeling and extraordinarily selfish in his personal life – someone to follow into battle but not give your heart to. It's a pity for Joséphine that his initial passion for her so swiftly cooled, even if he never quite fell out of love with her, but in the face of his mounting dynastic ambitions, their divorce was always fairly inevitable, especially when he ascertained for certain that their lack of a child was down to Joséphine.
Unfortunately for poor Joséphine, Napoleon came with the additional burden of his ghastly family – in particular his awful mother and rapacious, nasty, spiteful bevy of sisters, all of whom worked together to bring Joséphine down, despite her best efforts to appease and befriend them – even going to the lengths of marrying her unfortunate daughter by her first husband, Hortense to Napoleon's unpleasant brother Louis. However, if she had been in the mood to laugh then surely Joséphine would have appreciated the irony of the fact that it was ultimately the horrible Bonaparte clan who lost out when all their machinations finally bore fruit and she was put aside in favour of the Austrian archduchess, Marie Louise – an act that showed them all up even more as the desperate parvenus they undoubtedly were as they came into contact with actual royalty and also displaced them all from the succession once Marie Louise produced the much longed for male heir.
Empress Joséphine, Gérard, 1801. Photo: Hermitage Museum, St Petersburg.
Overall, this is a delightful book about a delightful woman, whose life, albeit touched by sorrow, has left an impression of tremendous grace and charm throughout the centuries and which will probably always continue to exert a fascination. I particularly loved the chapters dealing with Joséphine's vast and stunning art collection (the spoils of her husband's war and her own sensitive patronage of new and up and coming artists) and her house at Malmaison, both of which are topics that don't get enough attention in my opinion. A definite must read.
(Sorry, I'm not very well at the moment and managed to sprain my wrist yesterday in what was perhaps THE most humiliating accident EVER so this isn't my most sparkling review ever but I promised myself that I would post it before I head off to Berlin in a few days time so here it is!)
******
Set against the infamous Jack the Ripper murders of autumn 1888 and based on the author's own family history, From Whitechapel is a dark and sumptuous tale of bittersweet love, friendship, loss and redemption and is available NOW from Amazon UK
and Amazon US.
'Frothy, light hearted, gorgeous. The perfect summer read.' Minette, my young adult novel of 17th century posh doom and intrigue is now 99p from Amazon UK
and 99c from Amazon US. CHEAP AS CHIPS as we like to say in dear old Blighty.
Blood Sisters, my novel of posh doom and iniquity during the French Revolution is just a fiver (offer is UK only sorry!) right now! Just use the clicky box on my blog sidebar to order your copy!
Copyright secured by Digiprove © 2014 Melanie Clegg