No, not THAT. I am referring, of COURSE, to your first Georgette Heyer novel. Duh.
As I've mentioned a couple of times on here, I was effectively banned from reading childrens' books when I was growing up but had free range of my grandmother's enormous collection of the classics, history books and, most crucially, historical fiction. My early preference was for the works of Jean Plaidy, Margaret Irwin and Norah Lofts, which I devoured while my peers were obsessing about Enid Blyton but can remember curiously eyeing up the vast row of Georgette Heyers on her bedroom bookcase with their candy coloured covers and quirky titles.
However, my first attempt at around age nine to read a Heyer ended in disaster. My grandmother recommended The Black Moth as a first book, I suppose surmising that as Heyer herself was in her teens when she wrote it then it was perhaps the most suitable starting point for a child reader. How wrong she was – the ponderous language was an instant turn off and, lets face it, even the most die hard of Heyer's fans (and I would indeed describe myself thus) wouldn't describe The Black Moth as one of her best books.
I decided therefore that Heyer was Not For Me – a sad state of affairs that continued for about three more years until a particularly bad day just after I started secondary school drove me to my grandmother's bookcase in search of a quick and easy comfort read. Cotillion
by Georgette Heyer caught my eye with its sugared almond lilac cover and delightful picture of a winsome Regency couple dancing while a pretty blonde woman played the piano against the backdrop of opulently swagged curtains.
I began to read and within moments, was hooked.
'The saloon, like every other room in Arnside House, was large and lofty, and had been furnished, possibly some twenty years earlier, in what had then been the first style of elegance…'
The plot of Cotillion is a simple one: pretty Kitty Charing, a half French orphan has been raised since childhood as the ward of the eccentric and extremely wealthy Matthew Penicuik, who lives immured in self inflicted isolation in the countryside. As wealthy old gentlemen in such novels are wont to do, he decides in 1816 to vent his dislike of his actual family in his will and names Kitty, who isn't actually a blood relation (although it is hinted that he was in love with her now dead mother) his heiress, on the rather irksome condition that she marries one of his great nephews, of which he has several.
With an apparent lack of taste, Uncle Matthew then invites his bevy of great nephews to Arnside House with the intention of revealing the contents of his will and then compelling them to propose to the entirely unaware Kitty. Of course, the old man has an ulterior motive – he has long been aware that his ward has a decided preference for his favourite great nephew, the rakish and handsome Jack Westruther and believes that she will, naturally, marry him and so bestow his fortune where he intended that it should go all along.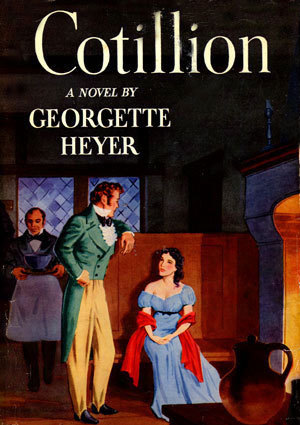 However, his stratagem all goes wrong when Jack fails to put in an appearance at this peculiar family gathering and in a fit of pique, Kitty then declares that she doesn't want to marry him anyway, despite being horrified by the proposals put to her by his cousins. So horrified is she in fact that she decides to run away but in doing so she bumps into yet another cousin, the completely adorable, sweet natured and amazing Freddy Standen, who is so wealthy that he has no need to propose to Kitty anyway and was in fact completely unaware of his great uncle's intentions when he invited him to the peculiar family gathering in the country. In some desperation, Kitty manages to persuade Freddy to pretend to be engaged to her in order to keep the other cousins at bay and then gets him to invite her to stay with his family in London, which gets her away from Uncle Matthew as well plus means that she can show Jack what he is missing – with the obvious hope that he will eventually become overcome with jealousy and propose to her instead.
What ensues once Kitty arrives in the very heart of fashionable London is a wonderful comedy of errors that ultimately and rather predictably ends in a wonderfully romantic and much appreciated finale and also reflects the title, Cotillion, which invokes both the high society whirl that Kitty finds herself within but is also a dance for four dancers, suggesting the romantic misunderstandings and entanglements that occur within the book. I was completely enchanted by Cotillion (and madly in love by the end with the wonderful Freddy, although he has now been superseded in my affections by Captain Gideon Ware in The Foundling – so much so in fact that one of my sons is called Felix Gideon in tribute to both him and another favourite Heyer character, Felix Hethersett in April's Daughter) and moved on with super speed to Friday's Child, a rather similar tale where the good natured aristocratic hero marries the sweet but completely penniless (although actually very well bred) little thing who has adored him since childhood and whisks her off to London to give her a bit of 'town bronze' as Heyer puts it.
My love affair with Georgette Heyer had begun. When did yours start?
******
Set against the infamous Jack the Ripper murders of autumn 1888 and based on the author's own family history, From Whitechapel is a dark and sumptuous tale of bittersweet love, friendship, loss and redemption and is available NOW from Amazon UK
and Amazon US.
'Frothy, light hearted, gorgeous. The perfect summer read.' Minette, my young adult novel of 17th century posh doom and intrigue is now 99p from Amazon UK
and 99c from Amazon US. CHEAP AS CHIPS as we like to say in dear old Blighty.
Blood Sisters, my novel of posh doom and iniquity during the French Revolution is just a fiver (offer is UK only sorry!) right now! Just use the clicky box on my blog sidebar to order your copy!
Copyright secured by Digiprove © 2014 Melanie Clegg