Alexandrine Le Normant d'Étoilles, Boucher, private collection.
Although Versailles is better known as a very adult sort of playground, full of gilt and priceless treasures, I've always been fascinated by the children who lived there over the decades that it was inhabited by the French court, and to whom it must surely have been like living in the midst of some sort of crazy fairytale.
I love their portraits too – dressed up like miniature adults in their finery, gazing solemnly out of the canvas and clearly barely stifling their impatience to be off and away somewhere else, the only concessions to childhood being perhaps a beloved pet or perhaps a couple of artfully arranged toys, there as part of the decoration rather than to be actually handled and used.
Perhaps one of the most intriguing of the Versailles children was Alexandrine-Jeanne Le Normant d'Étoilles, the daughter of Jeanne Antoinette Poisson, the future Madame de Pompadour and her husband, Charles Le Normant d'Étoilles, who at the time were perfectly happily married and living in some high style with Charles' uncle in the Hôtel de Gesvres on the Rue Croix des Petits Champs in Paris.
Alexandrine, known within the family as 'Fanfan', was to be their only surviving child and was born three years into their marriage on the 10th of August 1744, probably at the Hôtel de Gesvres. Although her birth seems to have been straightforward enough, things took a peculiarly disastrous turn when news came in of the young king Louis XV's near fatal illness at Metz, which was so severe that poignant death bed farewells were said to his family and the Bishop of Metz was preparing to bring the Holy Sacrament from the cathedral to the king in order to perform the last rites. Upon hearing about all of this drama and woe, Madame d'Étoilles, who had, like half the young women in France, been harbouring a massive unrequited crush on the handsome young king since childhood, suffered a relapse and almost died. Goodness knows what her husband made of this.
Unlike most unrequited crushes, especially those on royalty, that of Madame d'Étoilles was to have a relatively happy ending as the events at Metz had left Louis temporarily without a mistress – his chief favourite, Madame de Châteauroux having rather inconveniently died of pneumonia after rising too early from her sickbed to take a bath and hasten to his side for a much longed for reunion upon his return to Versailles from Metz. Certain court factions were fed up with the long series of rapacious aristocratic mistresses and so decided to wave the undoubtedly gorgeous and very definitely up for it but also rather middle class, Jeanne Antoinette d'Étoilles in front of the king instead to see what happened. It succeeded beyond their wildest dreams when the couple vanished off together during a Versailles ball in February 1745, just six months after Alexandrine's birth, and by May of that year she was installed as official mistress and just as officially separated from her long suffering husband with custody of their daughter.
Madame de Pompadour, Boucher, 1760. Photo: Private Collection.
Alexandrine, of course, was just a baby so this dramatic end to her parents' marriage would hardly have affected her. Besides, while all of this was going on, she was being looked after by a wholesome wet nurse in a cottage close to her family's country estate at Étoilles and only saw her parents when they popped along for a visit. As she grew up though, her mother took over and kept her with her, installing her in her apartments at Versailles and taking her with her when she went to stay in her growing collection of beautiful houses. Of course, it helped that little Alexandrine with her blonde ringlets and big blue eyes was clearly growing up to be as pretty and charming as her mother and was in her own way as much of a decoration as Madame de Pompadour's precious collections of Sèvres porcelain, engraved precious stones and paintings.
Having inherited her mother's famous charm and good humour, Alexandrine seems to have been a favourite with everyone who knew her, with Madame de Pompadour even laughingly complaining to her father, François Poisson that: 'I believe that Alexandrine has quite supplanted Reinette (her own family nickname – a reference to that long harboured crush on Louis XV) in our heart, but as I love her very much I must forgive her.' As for the king who had now completely captured her heart, he too fell under Alexandrine's spell and treated her almost as if she were his own daughter, which of course meant that the rest of the court fell over themselves to do so too, no doubt shoving their eligible sons in her direction while they did so.
However, in one of Madame de Pompadour's letters she noted about her daughter, who by now was being educated alongside aristocratic girls in a very high class convent on the Rue St Honoré in Paris, that: 'She seems to be getting very plain, not that I care – so long as she isn't really hideous I should prefer her not to be a great beauty. It only makes enemies of the whole female sex which, with their friends, amounts to three-quarters of the world's inhabitants.' Not that it really mattered – plain or not, Alexandrine would be a great matrimonial prize one day, especially if she continued to be her mother's sole child, which meant being heiress to what everyone supposed to be a vast fortune as well as a veritable portfolio of amazing properties.
Madame de Pompadour and her daughter Alexandrine, Guèrin, 1748. Photo: Albertina, Vienna.
Certainly, Madame de Pompadour was not idle when it came to Alexandrine's matrimonial prospects – first of all suggesting a match between her and the so called 'Demi-Louis', the son of her lover and Madame de Vintimille, who was about the same age as her daughter. This idea was coldly rebuffed by the king as being completely unsuitable, much to his mistress' sorrow for as she said later on to a confidante: 'I would have preferred him to all the little dukes at the court. My grandchildren would have had something of me and something of him, it would have made me so happy.'
She then turned her attention to the Duc de Fronsac, eldest son and heir of that most consummate of all Louis' courtiers, the Duc de Richelieu. Monsieur le Duc was aghast at the suggestion that his son be affianced to Alexandrine but with great aplomb (he was a seasoned diplomat after all) apologetically informed Madame de Pompadour, whom he had absolutely no wish to offend (probably because he'd spent rather too much time in royal disfavour already for various misdemeanours) even if he wasn't exactly her greatest fan, that because his son's mother belonged to the technically foreign noble house of Lorraine, he would require special permission from the head of the house, the Emperor Francis Stephen I (Marie Antoinette's father) to go ahead with such a betrothal. Madame de Pompadour had been at court for long enough to recognise a polite snub when she saw one and so tactfully, and doubtless much to Richelieu's relief, let the idea drop.
Overtures to her friend, the Duc de Chaulnes were much more fruitful and little Alexandrine, who was just eight at the time, was duly betrothed to his eldest son, the Duc de Picquigny, an eccentric little person who was completely obsessed with chemistry, gardening and horticulture – not that this would have troubled Madame de Pompadour as she too liked to fancy herself to be rather green fingered. The plan was that the Duc and Alexandrine would be married when the latter reached the age of thirteen and everyone was exceedingly delighted by all this as it looked like her future at court was assured.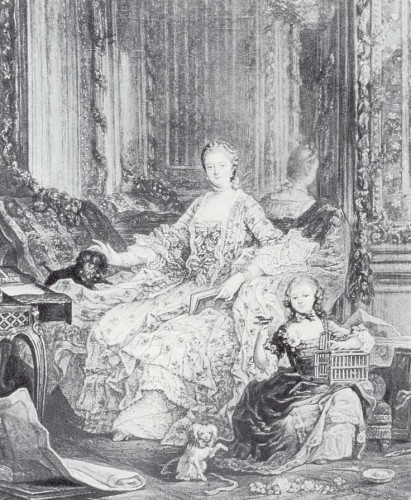 Fanciful but rather lovely imaginary portrait of Madame de Pompadour and her daughter pulled from different contemporary works.
However, disaster struck in early June 1754 when Alexandrine, who was still at her convent in Paris, fell seriously ill with appendicitis and died of peritonitis before her mother and the royal physicians sent by the king could get to her bedside. She was not quite ten years old. Madame de Pompadour was absolutely devastated by her death and was in fact so grief stricken that for a while her own life was despaired of and it was believed that she too would die. Certainly, her father, Monsieur Poisson, who had absolutely idolised his granddaughter was felled by her death and died too within the same month. It was therefore a double blow to poor Jeanne-Antoinette and one that she would never quite recover from.
For days on end, the king's mistress kept to her bed, sleeping fitfully and waking only to cry. To his credit, Louis stayed by her side constantly so that he would always be there when she woke up and did everything he could to comfort her for what must have seemed like the earth shattering loss not just of her daughter but also her charming, scapegrace father too. In the end Madame de Pompadour did recover and even did her best to resume her previous lighthearted life, knowing that this would please Louis and also, probably, being afraid that any signs of lowered spirits might scare him away. In reality though, she was devastated and also thoroughly depressed – it was extremely unlikely that she and the king would ever have a child together (her pregnancies with him had all ended in miscarriage) and without Alexandrine and the prospect of grandchildren (not that she might have had much luck in that respect – her daughter's fiancé would eventually marry a daughter of the Duc de Luynes who became one of Marie Antoinette's first ladies in waiting and was famous at Versailles for always wearing white to symbolise her continued virginal state), she felt that her future, dazzling though her life must have seemed, looked very bleak and lonely indeed.
******
I don't have adverts or anything like that on my blog and rely on book sales to keep it all going and help pay for the cool stuff that I feature on here so I'd like to say THANK YOU SO MUCH to everyone who buys even just one copy because you are helping keeping this blog alive and supporting a starving author while I churn out more books about posh doom and woe in the past! Thanks!
As the youngest daughter of the Empress Maria Theresa of Austria, Marie Antoinette was born into a world of almost unbelievable privilege and power. As wife of Louis XVI of France she was first feted and adored and then universally hated as tales of her dissipated lifestyle and extravagance pulled the already discredited monarchy into a maelstrom of revolution, disaster and tragedy. Marie Antoinette: An Intimate History is now available from Amazon US and Amazon UK
Set against the infamous Jack the Ripper murders of autumn 1888 and based on the author's own family history, From Whitechapel is a dark and sumptuous tale of bittersweet love, friendship, loss and redemption and is available NOW from Amazon UK
, Amazon US and Burning Eye.
'Frothy, light hearted, gorgeous. The perfect summer read.' Minette, my young adult novel of 17th century posh doom and intrigue is available from Amazon UK
and Amazon US and is CHEAP AS CHIPS as we like to say in dear old Blighty.
Copyright secured by Digiprove © 2014-2015 Melanie Clegg