Eye miniatures, early nineteenth century. Photo: Victoria and Albert Museum.
As we all know, the eighteenth century was a bit of a heyday for weird, wonderful and often super creepy fashion from the amazingly funereal get ups of the Merveilleuses with their white powdered faces, red ribbon chokers (to evoke their guillotined chums) to false eyebrows made from mouse hair to having entire miniature gardens decorating the tops of their towering white coiffures. However, to my mind, the creepiest eighteenth century fashion of all time has got to be the brief fashion towards the end of the century for eye jewellery.
No, not jewellery attached to your eye (ouch!) but jewellery decorated with eyes, more specifically that of your beloved – an intriguingly portable way of keeping them with about your person at all times. According to legend, it was that famous trend setter, the Prince of Wales who kicked off the fashion for eye jewellery after he commissioned a miniature of his own eye as a discreet present for his lady love (and secret wife) Maria Fitzherbert, thinking that a painting of just his eye would preserve his anonymity and keep the court gossips at bay. In return, a miniature of Mrs Fitzherbert's eye was also commissioned, which the prince then kept hidden about his own person. How romantic.
Eye miniature in a crescent setting, early nineteenth century. Photo: Victoria and Albert Museum.
However, according to the Victoria and Albert Museum, the eye miniature may in fact have rather less romantic but rather more mystical origins in the French Revolution, which was almost certainly the most stylish uprising in history as befits one that kicked off in Paris, I suppose:
'Eye miniatures were a curious but brief anomaly in miniature painting that came into fashion at the end of the 18th century. They were an extremely intense manifestation of an already emotionally charged art, apparently an attempt to capture 'the window of the soul', the supposed reflection of a person's most intimate thoughts and feelings. Often, as here, the result was a compelling piece of jewellery. Sometimes, however, the result was merely unpleasantly anatomical or disturbingly uncanny.
The eye is one of the oldest and most powerful symbols used by man. In Italy one often finds a large eye gazing down from a cupola, the all-seeing eye of God, and the Masonic Order, for example, adopted the eye as its symbol. In France, where the eye miniature seems to have originated, the eye as symbol of watchfulness was adopted by the state police for buckles and belts. During the Revolution of 1789 it was apparently adopted by adherents of the Revolutionary party to signal a member's allegiances to initiates.
In Britain it seems to have had a much more innocent role as a love token, with some eye miniatures even glistening with a trompe-l'oeil tear, or even a diamond set to imitate a tear. Most eye miniatures are unsigned, due to the minuteness of the background, and all too often the name of the person whose eye is depicted is unknown.' — Victoria and Albert Museum.
Lovers Eye Statement Necklace, £295. Photo: Tatty Devine.
Creepy, mystical or romantic, eye jewellery certainly causes a reaction and are definitely what the kids nowadays would call A Strong Look. I was pleased as punch therefore when I followed a link to Tatty Devine's new A/W collection and found that they had some contemporary versions of Georgian eye jewellery going on. I'm a HUGE fan of Tatty Devine and really love how imaginative and bold their designs are.
Lover's Eye Earrings, £50. Photo: Tatty Devine.
The A/W season is usually the time for Victorian gothic style pieces to start appearing in the shops so it's actually a really refreshing change to see something Georgian for a change, which is a definite boon to those of us who enjoy prancing about and pretending to be Marie Antoinette from time to time. They aren't ridiculously over the top either – I mean, okay, there's obviously always going to be something EXCEEDINGLY theatrical about wearing this jewellery, but it can be as subtle or dramatic as you like, depending on if you wear just one piece, perhaps the earrings or the ring, or go for a couple.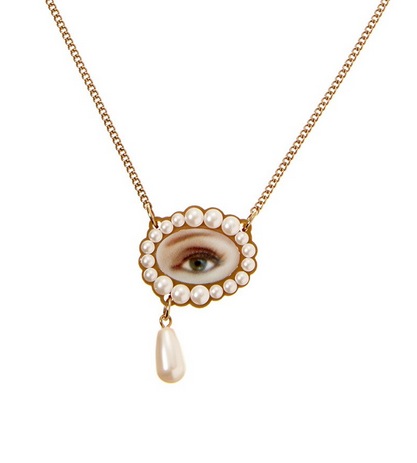 Lover's Eye Necklace, £40. Photo: Tatty Devine.
Anyway, what do you think? Could personalised eye jewellery be about to make a well deserved comeback or is that just taking the trend a little bit too far? Personally, I'll be saving up for one of these beauties (and some of the star pieces as well) as I think they'll make a perfect addition to my history geek wardrobe of strange and peculiar sartorial delights. Don't we all have one of those?
******
Set against the infamous Jack the Ripper murders of autumn 1888 and based on the author's own family history, From Whitechapel is a dark and sumptuous tale of bittersweet love, friendship, loss and redemption and is available NOW from Amazon UK
and Amazon US.
'Frothy, light hearted, gorgeous. The perfect summer read.' Minette, my young adult novel of 17th century posh doom and intrigue is now 99p from Amazon UK
and 99c from Amazon US. CHEAP AS CHIPS as we like to say in dear old Blighty.
Blood Sisters, my novel of posh doom and iniquity during the French Revolution is just a fiver (offer is UK only sorry!) right now! Just use the clicky box on my blog sidebar to order your copy!
Copyright secured by Digiprove © 2014 Melanie Clegg