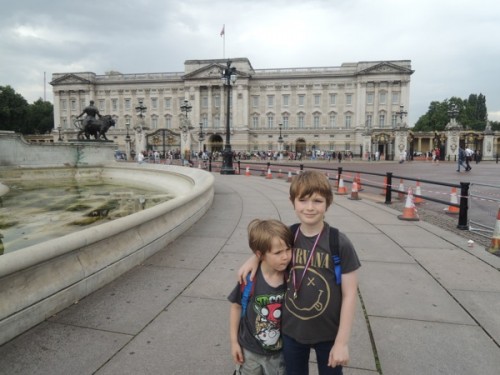 'From well-loved toys and treasured family gifts to tiny childhood outfits, a special exhibition at Buckingham Palace will give an unprecedented glimpse into life as a young member of the royal family growing up at Buckingham Palace.'
I'm a very lucky girl indeed as once again I was invited along to a special blogger's preview of the new Royal Childhood exhibition at Buckingham Palace along with a chance to wander through the state rooms without the usual hoards of people all craning for a view of the same thing and generally getting in the way. A visit to Buckingham Palace is a VERY special event indeed though and one that I'd definitely encourage all my fellow history buffs to experience at least once as it really is mind blowingly stunning inside and mostly big enough for the crowds not to be too annoying.
To celebrate the birth last year of Prince George of Cambridge, this year's special exhibition at the palace focusses on the theme of royal childhood and involves amazing displays of clothes, school work and toys that have belonged to royal children from the eighteenth century onwards. This makes for a very touching and sweet display that reminds visitors of the relatively normal family life that goes on behind the royal façade, albeit in the splendid surroundings of Buckingham Palace and the other royal residences.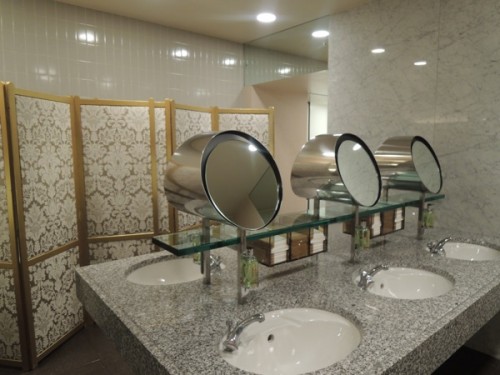 Train selfie!/ Royal cake!/ the Buckingham Palace loos have moved on JUST a bit from the days when debutantes would complain about the only facilities being a chipped chamber pot hidden behind a screen.
Our day began with a morning train from Temple Meads and then the very special joy of swishing into the Buckingham Palace past all the tourists before making our way through security and wandering through to the gardens, where we were invited to take tea and cake. Due to the theme of the exhibition, I was invited to bring my two boys along with me and they were definitely suitably awed by their first glimpse of the palace's inner courtyard and corridors and sweeping staircases – although I think they were even MORE impressed by the cake on offer, which came complete with little crown embellished decorations.
After we had demolished our cake and enjoyed sitting beneath a canopy while a thunderstorm raged overhead, it was time to explore the state apartments. This was my second visit but I was more than happy to have another poke around as there is just so much to see and it's always going to be a pleasure to see some of the Royal Collection's most iconic portraits, such as Winterhalter's superb paintings of Queen Victoria and her family on display in their original settings. Sadly, visitors aren't allowed to take photos inside the palace (it is someone's home after all), but suffice to say that the interior of Buckingham Palace can definitely give Versailles a run for its money.
The Grand Staircase at Buckingham Palace, State Ball, 5 July 1848, Lami, 1848. Royal Collection Trust/© Her Majesty Queen Elizabeth II 2014.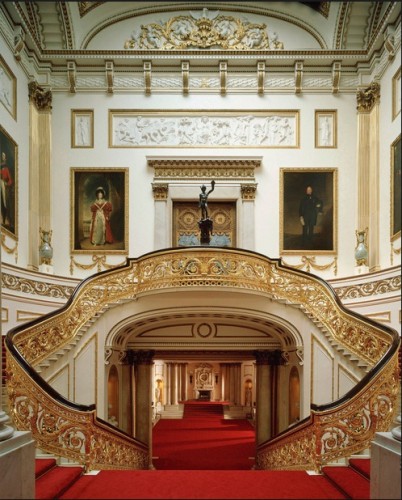 The Grand Staircase, Buckingham Palace as it is today. Photo: Royal Collection Trust/© Her Majesty Queen Elizabeth II 2014/ Derry Moore.
Buckingham Palace itself is substantially sized rather than massive like Versailles, but behind those famous pale walls and façade of 760 windows, there lies a warren of 775 rooms, including the 19 state rooms, 52 royal and guest bedrooms and 78 bathrooms. It's only the state rooms that summer visitors are permitted to see though so we can only imagine what other treasures remain firmly behind closed doors. My boys were also intrigued by all the 'secret' doors in the silk covered walls and I had to explain about how in the past (and maybe the present too), royalty liked to pretend that housework happened and food appeared as if by magic (a bit like the house elf system at Hogwarts) and didn't like to see their servants so behind the splendid state rooms there is a system of back corridors and staircases that the maids, butlers and page boys would spend their days scurrying around.
Once past security, you make your way along a covered entrance to the Grand Entrance and Grand Hall, an elegant gilt and marble extravaganza that we all saw on television a few years ago when the Duke and Duchess of Cambridge's coach pulled up outside after their wedding. After this you go up the wonderfully elegant Grand Staircase, which is lined with fabulous late eighteenth and early nineteenth century portraits of Queen Charlotte, her granddaughter Princess Charlotte, the Duchess of Kent and Queen Adelaide as installed by Queen Victoria, who wished to honour her immediate family. I like to imagine debutantes making their way up the stairs to be presented to the King and Queen, their sequinned cream dresses gleaming in the candlelight and ostrich feathers bobbing on top of their heads.
After this there is a small guard chamber, with some well chosen and very beautiful sculptures, including a very lovely pair depicting Queen Victoria and Prince Albert in classical dress and with rather haughty looks, which were installed in 1849.
The Green Drawing Room, Buckingham Palace, Morrison, 1843. Photo: Royal Collection Trust/© Her Majesty Queen Elizabeth II 2014.
Princess Louisa and Princess Caroline Matilda, Cotes, 1767. Photo: Royal Collection Trust/© Her Majesty Queen Elizabeth II 2014.
The guard chamber leads to the Green Drawing Room which has lovely soft green silk walls and gilt decorations (there's a LOT of gilt in Buckingham Palace!) and views across the inner courtyard of the palace. The artworks in here included large Sèvres pot pourri vases that once belonged to Madame de Pompadour and beautiful group portraits of George II and III's daughters, including poor Caroline Matilda, the ill fated future Queen of Denmark.
The Throne Room comes next – a large crimson and gold space dominated by enormous chandeliers and the royal thrones sitting together on a swagged and curtained dais. I love that the Duke of Edinburgh's throne has a golden 'P' to match the 'ER' on the Queen's. It's all extremely theatrical and my boys were pleased as punch to see actual real thrones, although they were a tad disappointed that they weren't allowed to sit on them.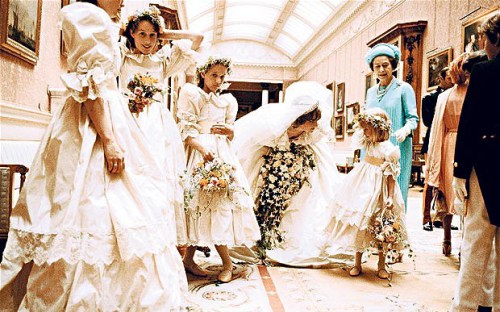 Princess Diana and her bridesmaids in the Picture Gallery, Buckingham Palace. Photo: Getty Images.
After this there is a stroll through the salmon pink silk walled Picture Gallery, with its glass skylight ceiling, which allows softly filtered light through. The walls are lined with the most wonderful paintings including works by Vermeer, Canaletto, Rubens and Rembrandt from the collection put together by Charles I and George IV and like last time, I felt a stab of envy for my fellow History of Art graduate, the Duchess of Cambridge getting to spend as much time as she likes with such fabulous art. Fellow royal buffs will also recognised the Picture Gallery from the famous rather informal photograph of the Princess of Wales and her bridesmaids on the royal wedding day in July 1981.
John Hayes St Leger, Gainsborough, 1782. Photo: Royal Collection Trust/© Her Majesty Queen Elizabeth II 2014.
After the picture gallery, visitors make their way through the Silk Tapestry Room (which has a most lovely sculpture of Mrs Jordan as well as a portrait of my new historical crush, John Hayes St Leger by Gainsborough – cor etc) and then the East Gallery, which houses Hayter's wonderful painting of Queen Victoria's coronation and the famous Winterhalter of Queen Victoria, Prince Albert and their children which usually hangs opposite a portrait of Charles I, Henrietta Maria and their two eldest children, but I think that may have been moved elsewhere this summer.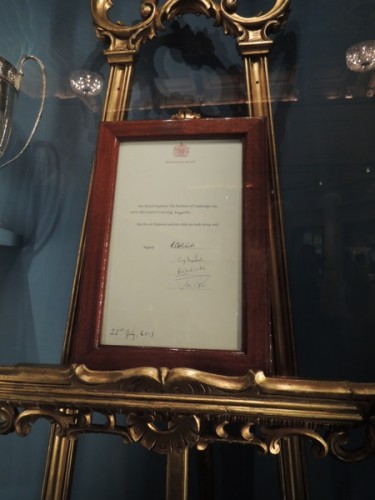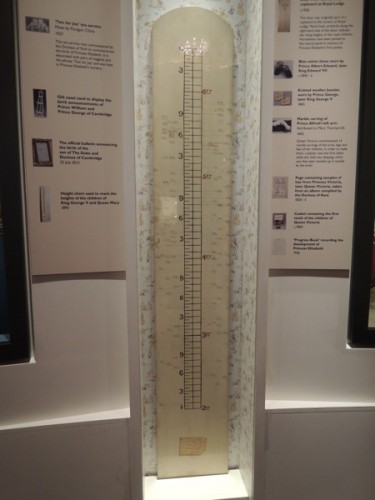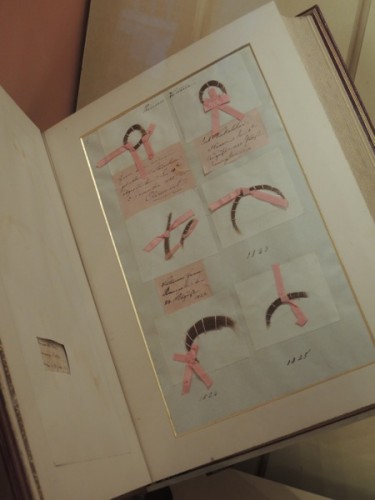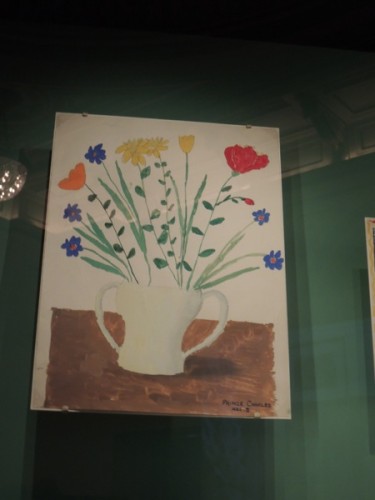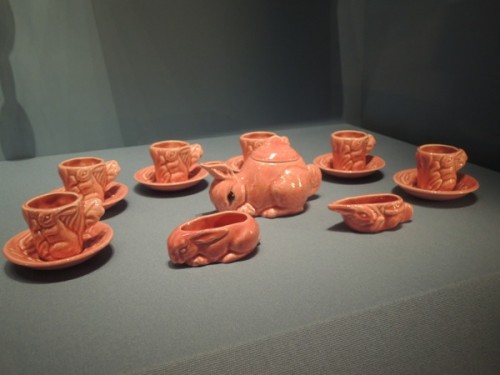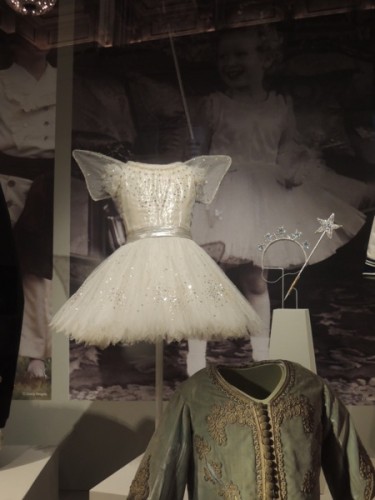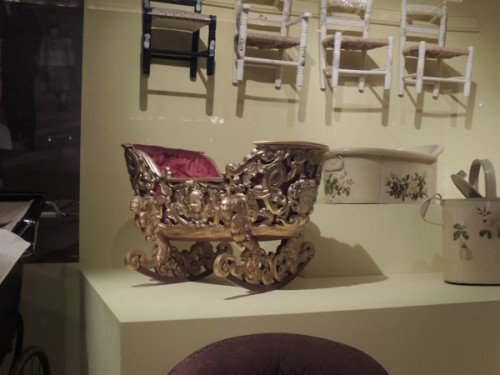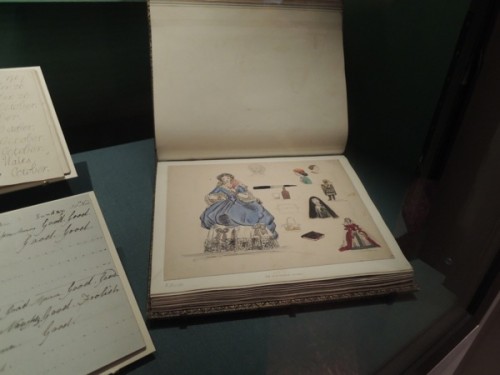 Prince George's official birth announcement/ height chart for the children of George V/ Princess Victoria's hair cut book compiled by her mother/ a royal cradle/ painting by Prince Charles as a child/ bunny tea set that once belonged to the Queen and Princess Margaret as little girls/ fairy outfit worn by Princess Anne/ cradle used by Queen Victoria's children/ Vicky, Princess Royal's sketch book.
After this, we stepped inside the first of two exhibition spaces to view some of the displays relating to royal childhood. We were lucky enough to be allowed to take photos in there so there was an immediate flurry of #buckinghampalaceselfie taking going on inside as we all made the most of this rather special opportunity to whip our cameras out inside the palace.
The exhibition was superb and comprised thoughtful displays that encompassed several generations of royal children, from the offspring of George III to the present day princes and princesses, giving revealing little glimpses of both their public and private lives via the medium of some carefully chosen exhibits. It must be a really weird life, all things considered – to be constantly on display and so intensely scrutinised and I think the exhibition did a really good job of bringing that to life, not least because of the juxtaposition of homely objects like exercise books and school work by Princes William and Harry and stately Edwardian prams against the gilt and glass embellished splendours of Buckingham Palace.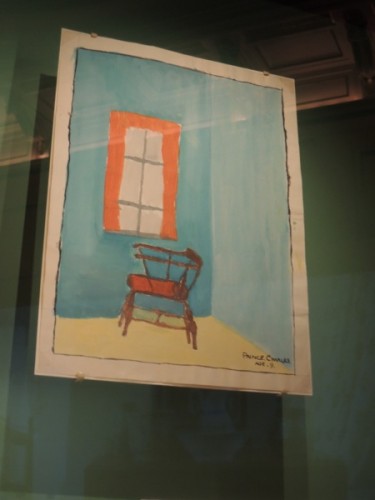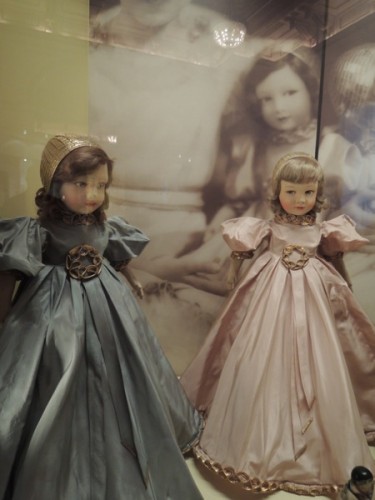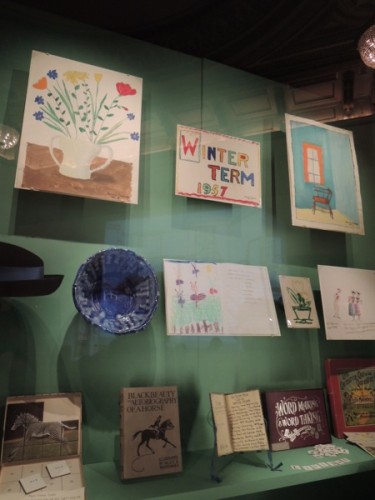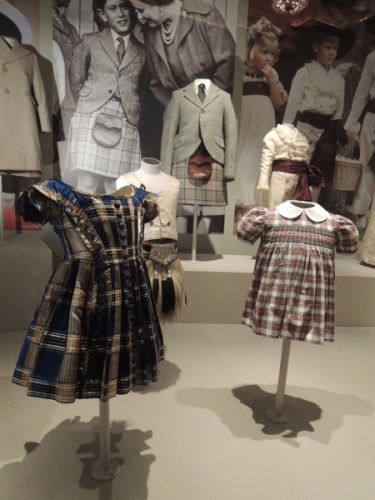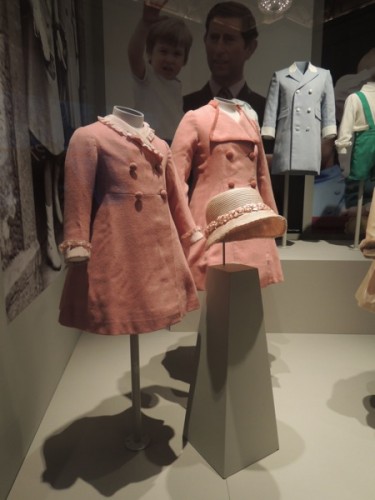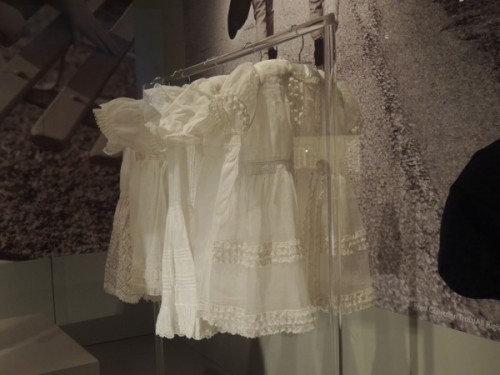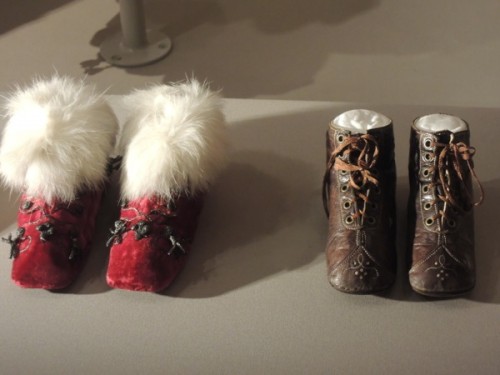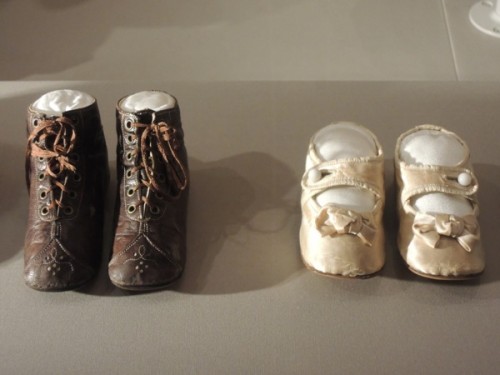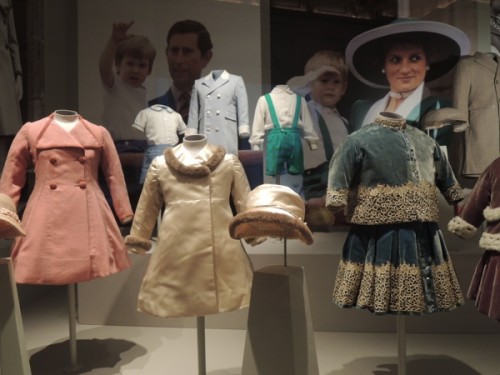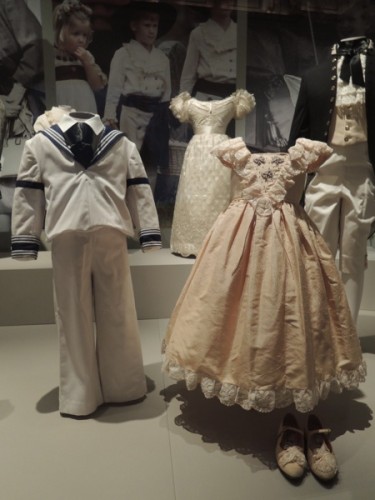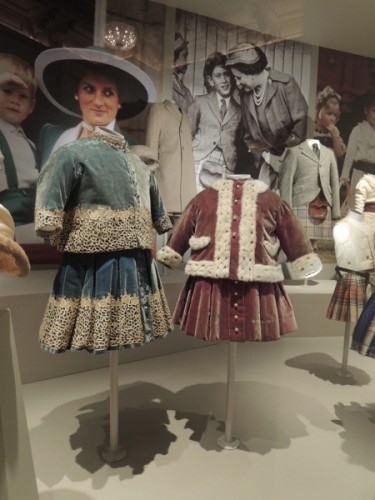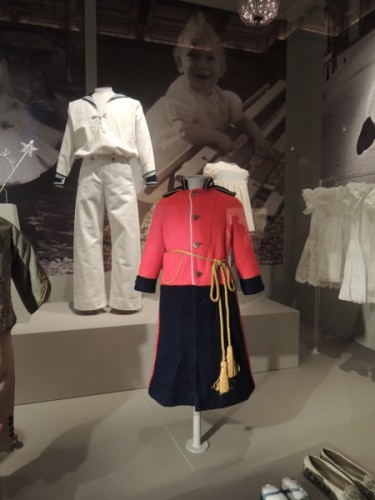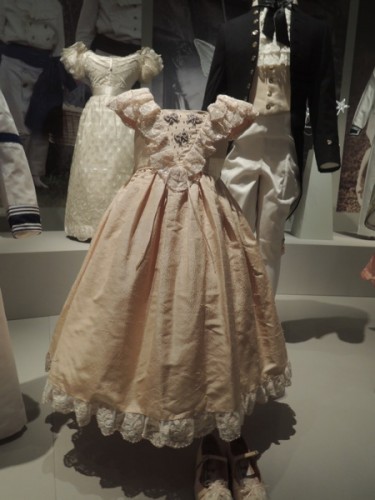 A rather melancholy painting by the young Prince Charles/ dolls that belonged to the Queen as a little girl/ Queen Victoria's first tooth box/ art work and books that have belonged to royal children across the generations/ dresses worn by Edward VII as a child and Lady Louise, daughter of Prince Edward/ matching outfits worn by the Queen and Princess Margaret as little girls/ dresses worn by the Queen as a toddler/ shoes worn by royal children/ page boy outfit worn by Prince William at the wedding of the Duke and Duchess of York/ brocade lace and ermine trimmed coats worn by George V as a child/ Prince Harry's guardsman dressing gown/ Lady Zara Phillips' bridesmaid dress.
There really was a wealth of objects out on display but for me the real stand outs were the small things that underlined the strong family life going on behind the scenes and the genuine affection that underpins the royal public façade – things like the measuring chart used to mark the growing heights of George V's children, the book in which a lock from every single one of the future Queen Victoria's hair cuts was kept for posterity by her mother and the rather splendid embroidered velvet boxes in which Victoria kept her children's first teeth. Okay, maybe there's something a bit macabre about this but all parents like to keep such memorabilia, albeit perhaps in a much more haphazard way at the bottom of a drawer.
There are also some amazing pieces of clothing on display, from an ermine trimmed little winter dress worn by George V as a child to an amazing dressing gown modelled on a guard's uniform that once belonged to Prince Harry to a rail of gorgeous white linen frocks worn by the Queen as a toddler and the adorable matching pink outfits worn by her and Princess Margaret at the celebrations for her grandfather, George V's Jubilee in 1935. Also on display is the adorable peach bridesmaid dress worn by Lady Zara Phillips at the wedding of the Duke and Duchess of York in 1986 – an iconic moment in wedding sartorial history.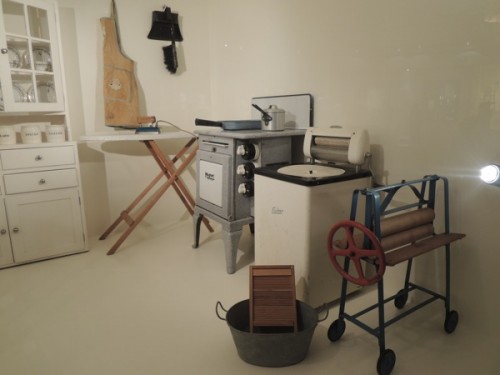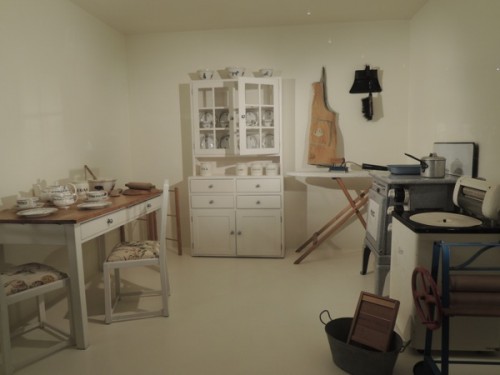 Also on display are some pieces from the kitchen of Y Bwthyn Bach, the little cottage that the Princesses Elizabeth and Margaret received as a present from the Welsh people in April 1932 and which was constructed in the grounds of Royal Lodge, Windsor Great Park. The little cottage is a proper scaled down house and was fully furnished inside with all the mod cons, albeit in child sized miniature. Apparently it is still there and is no doubt a huge favourite with the current generation of royal children.
The exhibition continues in the palace ball room, where there is a display of toy cars belonging to various royal children (including a replica James Bond car driven by Prince Charles) and also photographs and videos of the royal family projected on to specially constructed screens, giving a unique glimpse into their private family life. I was especially taken with the video of Prince Philip chasing Prince Charles on a child sized bike with his knees up around his ears and a fiendish grin on his face, while Princess Margaret, dressed up to the nines as always, clattered after them in her high heels. In fact, Prince Philip was a real stand out for me in this exhibition as all the photos and videos show that he really was a hands on cool dad, who was willing to throw himself down slides in full naval uniform or roll down grassy banks with his children. I've always a huge soft spot for Prince Philip and came away from Buckingham Palace with a whole new respect for him as not only did he have to give up his beloved career in the navy when his wife succeeded to the throne much earlier than anyone had expected but he really does seem to have acted as a grounding lynchpin within the royal family.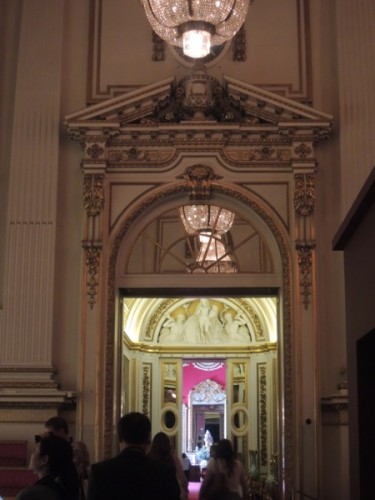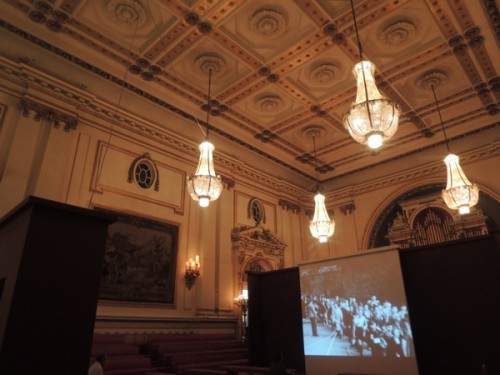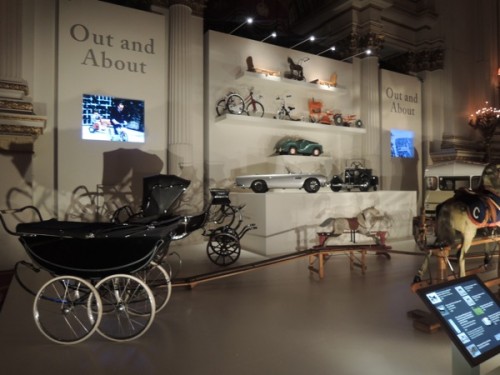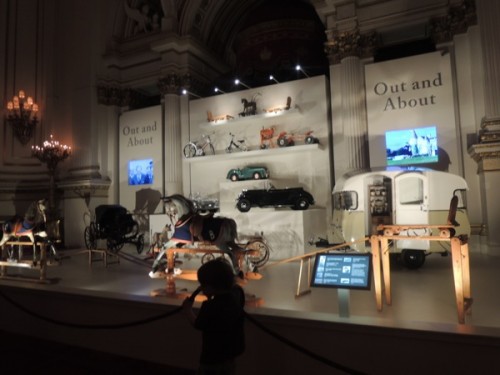 After this we were back to the usual state rooms with the State Dining Room, which is a lot more cosy than one would expect with crimson silk walls hung with portraits of pop eyed Hanoverians and their blandly smiling wives, an ornate plaster and gilt ceiling and a very lovely polished table down the centre, decorated for this season with a replica of the gorgeous cake made for the Christening party of Prince Leopold, Queen Victoria's youngest son.
The dining room is followed by the enormous and extremely magnificent Blue Drawing room, which is dominated by vast chandeliers and matching portraits of Queen Mary and George V and then the Music Room, which is used for royal christenings. The ceiling, which lies beneath a large cupola, always makes me gasp as I walk in as it is absolutely gorgeous with an intricate feathered design picked out in yet more gilt. On display this season is the royal christening gown, which is a replica of the original one made for Queen Victoria's children and was most recently worn by Prince George of Cambridge.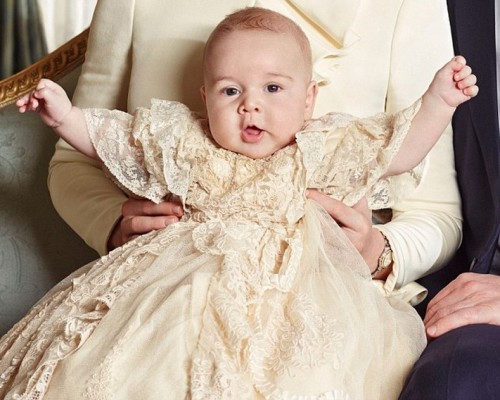 Prince George of Cambridge modelling the royal christening gown with considerable aplomb.
The royal christening gown was originally commissioned by the newly pregnant Queen Victoria back in 1840, just a few months after her wedding to the dashing Prince Albert. The royal couple appear to have wasted no time starting their family as their first child, a charming daughter Princess Victoria, was born in November 1840, just over nine months after their wedding.
Details of the actual design of the christening gown are sketchy but it is believed to have been made from the same Spitalfields silk as the Queen's wedding gown and trimmed with Honiton lace made by the same lacemakers who made the lace. It would certainly be very much in keeping with the sentimental nature of Albert and Victoria for them to want a christening gown that echoed her wedding gown as much as possible. Victoria herself said in her journal that her daughter 'looked very dear in a white Honiton point lace robe and mantle, over white satin.'
The gown itself is made from silk with a ruffled lace overlay and is high waisted with a long trailing skirt, short sleeves and a wide silk sash. This is clearly an imposing gown for a very special occasion indeed but despite all of the lace and silk, there is something so adorable about seeing a baby dressed up in such a garment. The gown went on to be worn by each of Queen Victoria's nine children and then by many of her grandchildren and on and on throughout the years. Despite it only being worn as a one off, all those babies and christenings took their toll on the fragile lace and silk, which over time have mellowed from the pure white chosen by Queen Victoria to a soft shade of ivory magnolia. To try and preserve it for future generations, it was kept in an air tight container at Buckingham Palace and handwashed in sanitised water in between each use before being lovingly put away again for the next royal christening.
However, after 167 years of use, the Queen finally decided that it was time to retire the original Victorian gown and commission a replica, which was first worn in April 2008 by James, Viscount Severn, the infant son of the Duke and Duchess of Wessex. It's sad that the original gown won't be seen again but on the other hand it's better that it doesn't end up disintegrating completely and now at least many many more generations of royal babies will get to look special (and also a bit weird) on their christening day.
The White Drawing Room, Buckingham Palace. Photo: Royal Collection Trust/© Her Majesty Queen Elizabeth II 2014/ Derry Moore.
The White Drawing Room is after the music room and is dominated by a full length portrait of Queen Alexandra, looking absolutely gorgeous with a sparkling waterfall of diamonds around her throat. This is perhaps the room that is most reminiscent of Versailles (and in fact a roll top desk in the corner is a Reisener piece that originated in the apartments of the French royal family, probably one of the Louis XV's daughters) although it is a lot more comfortable and is clearly still in use. My husband joked that the chandelier in this room is probably worth more than our house and I don't doubt him. Even the sofa upholstery is gold and you can be sure that I kept a close eye on my boys while we were in here!
After this, we made our way down the Minister's Staircase to the Marble Hall and then Bow Room below, which have still more portraits of Queen Victoria's close family including her sister Feodora and favourite members of the French royal family like the beautiful Victoire, Duchesse de Nemours, upon whom I think Victoria had a bit of Girl Crush, as well as the splendid portrait of the latter in all her state by Winterhalter. There were some superb Winterhalter portraits of some of her daughters in one of the ante rooms up stairs as well as a gorgeous portrait of Queen Mary in her younger days as Princess of Wales.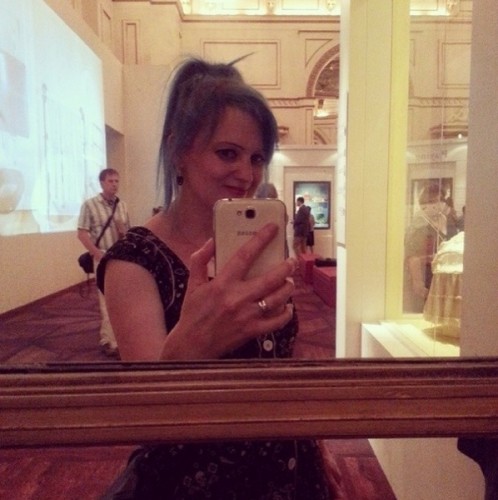 Gratuitous selfie because how often do you get to take a photo of yourself inside Buckingham Palace?!
Our amazing visit to the state apartments over, we trotted off to the special children's pavilion, which has been erected in the palace gardens this summer and which offers a selection of activities for visiting children to enjoy, such as a dressing up box, a lovely rocking horse and loads of interactive games and colouring in opportunities. My boys had a brilliant time and it was a great opportunity to relax and unwind a bit after a couple of hours of worrying that they might destroy the palace. Whereas I think Buckingham Palace is a great place to take children (it's part of their heritage after all), it can be a bit nerve wracking keeping a tense eye on them when surrounded by so much precious STUFF. However, despite what you might think, it's far from stuffy and the curators and staff inside are absolutely lovely and always more than happy to chat about their jobs with young visitors, giving yet another insight into the daily life of one of the most iconic and famous buildings in the world.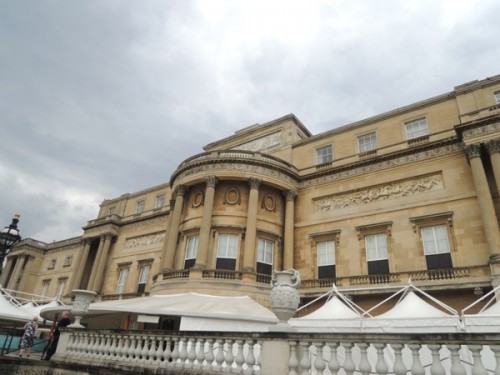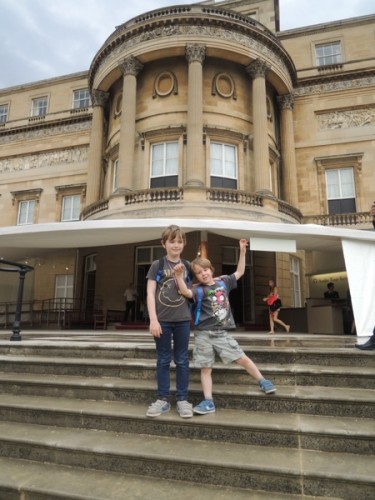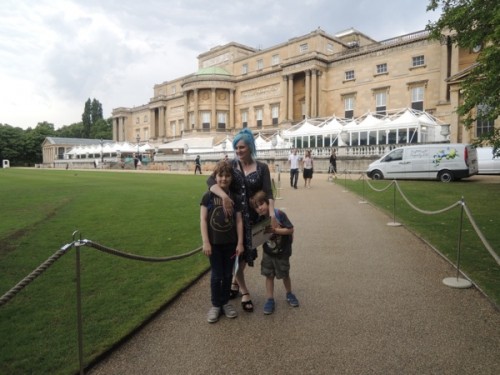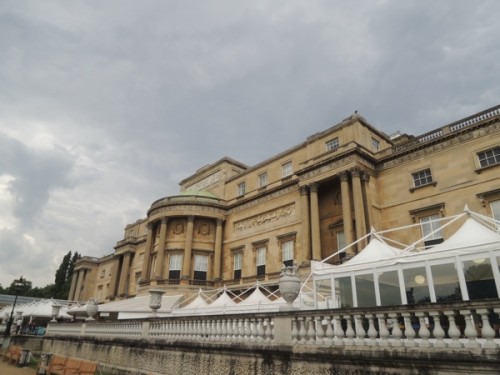 Our visit ended with a walk through the gardens, following the special garden trail which encourages visitors to look out for some unusual features that they might otherwise have missed, like the bridge leading to Prince Albert's special bird sanctuary in the middle of the lake and the helicopter landing pad. It was the perfect end to a really amazing day that I'm pretty sure my boys will remember forever.
The Buckingham Palace summer opening runs until the 28th of September and includes entry to the state apartments and the Royal Childhood exhibition. PLEASE remember to book ahead of your visit as it's EXTREMELY popular and you'll be turned away at the gates if you rock up on the day without an advance booking. Adult tickets are £19.75 and children between seventeen and five get in for £11.25. There's the children's pavilion and a special multimedia guide for young visitors and I'd definitely recommend it as a great place for families to visit as there's loads to see and has a really surprisingly unstuffy atmosphere with children being especially welcome and inquisitiveness being absolutely encouraged by the kindly curators who stand on hand to answer all manner of questions about the paintings, building and royal family.
Thanks as always to the Royal Collections team for my invitation and for being such lovely hosts.
******
Set against the infamous Jack the Ripper murders of autumn 1888 and based on the author's own family history, From Whitechapel is a dark and sumptuous tale of bittersweet love, friendship, loss and redemption and is available NOW from Amazon UK
and Amazon US.
'Frothy, light hearted, gorgeous. The perfect summer read.' Minette, my young adult novel of 17th century posh doom and intrigue is now 99p from Amazon UK
and 99c from Amazon US. CHEAP AS CHIPS as we like to say in dear old Blighty.
Blood Sisters, my novel of posh doom and iniquity during the French Revolution is just a fiver (offer is UK only sorry!) right now! Just use the clicky box on my blog sidebar to order your copy!
Copyright secured by Digiprove © 2014 Melanie Clegg