I've been thinking for a while that I need to do something a bit extra with this blog as all the history posts can get a bit dry and it's nice to shake it up a bit and be all egotistical and write about myself every now again. I'm not sure though, to be honest, if I have it in me to be THAT sort of blogger but let's see how it goes, shall we?
And what better way to start than with that hoary old blogger stand by – the weekend post. I find these a bit daunting to be honest – I mean, what if you did absolutely NOTHING for two days and have nothing to write about? What then? Luckily for you, however, I was quite busy this weekend so have stuff to talk about. Whether it is INTERESTING, however, is somewhat more debatable. Anyway, here goes.
This may come as something of a surprise but I'm not actually massively keen on weddings – I think they're a bit weird to be honest with all the strange customs and first dancing and cake cutting and whatnot. Then again maybe I'm just incredibly embittered because my own wedding was not exactly the day that I had spent years dreaming of. Fun fact – when I was a teenager, I used to COLLECT WEDDING MAGAZINES for years and years and years. I know, right?
I know all about veil lengths and flower meanings and favours and suitably rousing entrance music and EVERYTHING – but still somehow ended up with the most un-weddingy wedding EVER with no bridesmaids or cake or flowers (nope, not even the tiniest bouquet for me) and one of my friends taking pity on my unkempt appearance and putting my hair up for me IN THE STREET mere minutes before the ceremony was due to begin and oh lord, before we went in an old woman came up to me and asked 'Where's the bride?' and I said 'That would be me' and she gave me the most disgusted up and down look that took in my high street dress and messy hair and lack of bouquet and said 'Are you sure?' So yeah, that was my wedding.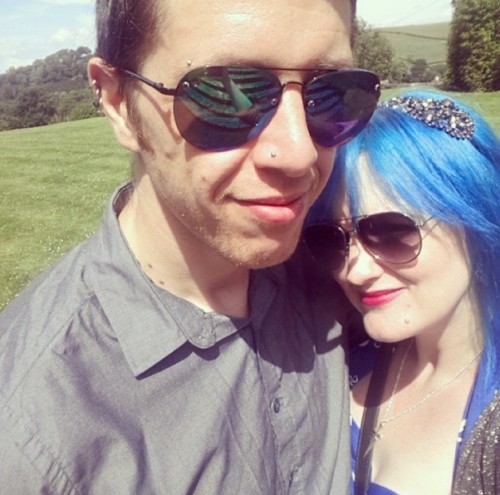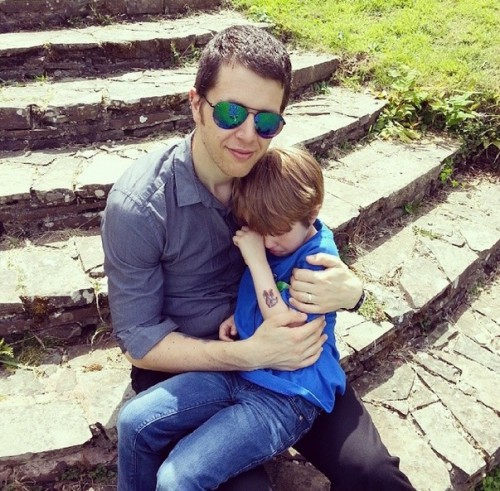 I think we scrubbed up pretty well. I wore my Vivien of Holloway anchors away dress, a pair of Tatty Devine anchor earrings and some brilliant blue and silver glittery platform heels from Topshop. My perfect eye make up is courtesy of the new Benefit They're Real push up eyeliner, which is AMAZING.
You can probably appreciate, therefore, why I'm therefore not absolutely and wholeheartedly into the whole thing. However, I have to say that the wedding we went to on Saturday, which was that of one of my husband's oldest friends and his lovely now wife, was a real treat to behold and be a part of as it was just so darn beautiful.
The setting helped of course as the wedding was held from start to finish in a really charming Georgian country house on the outskirts of Bideford in Devon. What also helped was the fact that the threatened rain totally failed to materialise and we were blessed with glorious sunshine all weekend, which was kind of lucky as the wedding ceremony took place outdoors.
Anyway, it was a perfect day and we all fell about in AWE at the bride's dress which was absolutely amazing and just the sort of sequinned, flouncy, gorgeous thing that I would like to wear should I ever get married again.
The next day was gloriously sunny again so we decided to head off to the seaside as there are few things that I enjoy more than lazing about by the sea. We don't really have what I think of as 'proper seaside' near Bristol so I'm always pleased as punch when the opportunity to spend some time next to 'proper sea' presents itself and I made sure that we made the most of Sunday's glorious weather with plenty of swimming, paddling, reading and just lazing about. It was brilliant.
I especially enjoyed being able to put some quality reading time in with the new Penny Vincenzi novel A Perfect Heritage
, which revolves around the recovery of a floundering vintage cosmetics company. I have REALLY got into Vincenzi's more historical novels lately but this was more contemporary, being set around the royal wedding and Jubilee a couple of years ago, with some flashbacks to the 1950s. Anyway, I absolutely LOVED it and would definitely recommend it to anyone who fancies an enthralling and EXTREMELY glamorous summer read.
******
Set against the infamous Jack the Ripper murders of autumn 1888 and based on the author's own family history, From Whitechapel is a dark and sumptuous tale of bittersweet love, friendship, loss and redemption and is available NOW from Amazon UK
and Amazon US.
'Frothy, light hearted, gorgeous. The perfect summer read.' Minette, my young adult novel of 17th century posh doom and intrigue is now 99p from Amazon UK
and 99c from Amazon US. CHEAP AS CHIPS as we like to say in dear old Blighty.
Blood Sisters, my novel of posh doom and iniquity during the French Revolution is just a fiver (offer is UK only sorry!) right now! Just use the clicky box on my blog sidebar to order your copy!
Copyright secured by Digiprove © 2014 Melanie Clegg