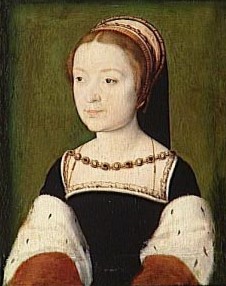 Madeleine de Valois, Corneille de Lyon, c1536.
Sorry for being so quiet at the moment but I am up to my EARS in the two books that I seem to be working on at the same time – the sequel to Minette and another one set in the sixteenth century, which I don't feel QUITE ready to talk about yet but will probably divulge more about in the fullness of time. Anyway, although I am being fairly secretive about this latter project (mainly because it's out of my comfort zone and so I'm not sure how viable it is), I wanted to write a tiny bit today about a sad little tale that features quite a lot in it and has, in fact, fascinated me for quite some time.
Madeleine de Valois was born at Saint Germain en Laye on the 10th of August 1520, the fifth child of François I of France and his long suffering wife Claude, who was Duchess of Brittany in her own right, being the daughter of her husband's predecessor Louis XII and his wife, Anne of Brittany. Glorious though their ancestry might be, genetics were not on the side of the Valois family, whose dynasty would eventually come to an end with the assassination of Henri III just two generations later to be succeeded by the far more robust Bourbons.
Poor little Madeleine, so adored and petted by her parents, was a typically sickly Valois and would be raised away from Paris in the far more salubrious surroundings of the royal chateaux in the Loire Valley, where the air was considered to be purer and more healthy. Sadly, this care to her health did not prevent Madeleine from developing tuberculosis and further weakening her constitution.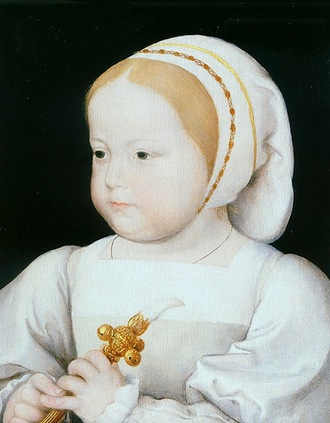 Madeleine de Valois, Jean Clouet, c1522.
Madeleine's marital prospects had been a matter of great interest ever since her birth, with her father's continued embroilment in the ongoing European wars and their associated chopping and changing of treaties and allegiances meaning that he was particularly keen to build bridges with his fellow monarchs. However, François was genuinely fond of his daughter and resolved that he would under no circumstances risk her health by exposing it to the rigours of travelling to a new country or, more alarming still, the dangers of childbirth.
One of the most persistent suitors for Madeleine's hand was James V, King of Scotland, who had been promised a match with one of François' daughters under the terms of the 1517 Treaty of Rouen, which was intended to boost the so called Auld Alliance between Scotland and France, which was intended to keep their mutual enemy, England sandwiched between them in a state of some suspense. Scotland's reputation as a chilly and un-hospitable kingdom with a long tradition of kings dying well before their time either in battle against the English or at the hands of their subjects, had gone before it and naturally, François was exceedingly unwilling to send his delicate daughter off to such a place, despite the assurances of the Scots that she would be treated with the greatest care.
He was also rather less than keen on the person of her prospective bridegroom, James V who was eight years older than his daughter and lacked the great personal charm and charisma of his parents James IV of Scotland and Margaret Tudor, sister of Henry VIII, although he had had the good fortune to inherit their good looks. However, François was still keen to keep Scotland on his side so he offered Marie de Bourbon, the daughter of the Duc de Vendôme as a bride instead, thinking that the terms of the Treaty could be stretched to accommodate the substitution of a French noblewoman for an actual princess. As might be expected, James, who had a very high sense of his own importance, was massively offended by François' suggestion, seeing it as a veiled insult of both himself and his country but after the actual protracted diplomatic to and fro, which included an assurance from François that although he may not be providing an actual bone fide princess, he was offering a princess worthy dowry to go with Mademoiselle de Bourbon, James finally agreed to the match and in 1536, the annus horribilis of royal marriages, made preparations to travel to France to claim his bride.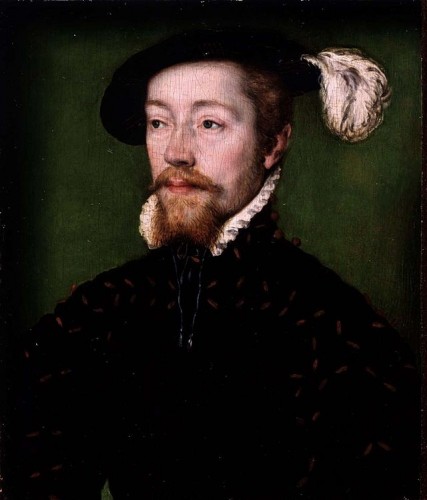 James V of Scotland, Corneille de Lyon, c1536.
Predictably, it was all to end in disappointment for poor Marie de Bourbon, who was perfectly well behaved and even quite good looking in a stodgy sort of way but had none of the sixteen year old Madeleine's delicate charm. James no sooner set eyes upon the princess than he declared that she was his chosen bride and as for Madeleine, she fell head over heels for her Scottish suitor's russet hair and good looks.
Faced with this burgeoning romance, François did his best to stand firm in his stance that Madeleine was far too precious and delicate to make the journey to Scotland but in the end felt forced to capitulate and give in to his daughter's demand that she be allowed to marry the Scottish king. He had done his best, after all, to protect her from the potential rigours of royal life and save her from the prospect of living out her days in Scotland where she would, he felt, be at very real risk of assassination or dying in childbirth. In the end, though, François, perhaps feeling that Madeleine's delicate health meant that she wasn't likely to live very long anyway so she might as well have some true happiness first, gave in and the betrothal was duly arranged, with the unfortunate Marie de Bourbon being consigned to the Jilted Bride Scrap Heap of History. She died not long afterwards – of shame, some whispered, at having been jilted so crudely and publicly by the Scottish king.
Madeleine was married to James on New Year's Day 1537 in an opulent ceremony at Notre Dame cathedral in Paris, where only twenty one years later her groom's future daughter, Mary Queen of Scots would be married to her nephew, the Dauphin François, thus underlining and reinforcing once again the precious links between France and Scotland.
Holyroodhouse Palace. Photo: Melanie Clegg.
Sadly, as her father had predicted, married life was to have a detrimental effect on Madeleine's already precarious health, which now nosedived sharply despite all of the care that her new husband, still infatuated with his young bride, took of her. Although the couple would normally have departed for Scotland straight after their nuptial celebrations, which involved the usual feasts, balls, jousting and masques, had come to an end, François, terrified by the prospect of losing his daughter and sure that he would never see her again once she had left France, did everything he could to delay their departure, arguing that she was far too delicate to endure a Scottish winter straight off the bat and ought instead arrive in that country in the more salubrious spring.
In the end though, he had to let her go and Madeleine and James left for Scotland in May 1537, bringing their prolonged French honeymoon to an end. Pale, relentlessly coughing and devoid of energy, it was clear that the sixteen year old Queen of Scots was not long for the world and her farewells with her family must have been especially touching.
The royal couple and their entourage, which included several French attendants including her old governess and a doctor for the new Queen as well as a dazzling array of wedding gifts from her father, arrived in Leith on the 19th of May and immediately proceeded to Holyroodhouse, which James was intending to renovate in the sumptuous yet comfortable style of a French château in honour of his wife and to house the king's ransom of furnishings and objets d'art that she had brought with her.
At first, in the midst of the excitement of arriving at her new court and taking up her duties as Queen, it seemed like Madeleine's health might rally but these hopes were speedily dashed when it became clear that she was more ill than ever and declining rapidly.
Holyrood Abbey, final resting place of Madeleine de Valois. Photo: Melanie Clegg.
The inevitable end came at Holyroodhouse on the 7th of July 1537, when poor Madeleine breathed her last in the arms of her husband. She was just over a month away from her seventeenth birthday and had lived in Scotland for less than two months. The little Queen was buried with great pomp and ceremony at Holyrood Abbey, which lies alongside the palace and her widower gave every appearance of being totally devastated by her untimely but entirely predictable demise – in fact he was already writing to her father to request that another French match be arranged, only this time with someone sturdier and therefore more likely to survive the Scottish climate and produce the heirs that he badly needed.
If François was appalled by what could be construed by his son in law's rather callous behaviour, he hid it well and in due course another match was arranged – this time with the widowed Marie de Guise, Duchesse de Longueville, who had been widowed exactly a month before her prospective bridegroom and had already proved by fecundity by producing a son and heir for the Longueville title.
******
I don't have adverts or anything like that on my blog and rely on book sales to keep it all going and help pay for the cool stuff that I feature on here so I'd like to say THANK YOU SO MUCH to everyone who buys even just one copy because you are helping keeping this blog alive and supporting a starving author while I churn out more books about posh doom and woe in the past! Thanks!
As the youngest daughter of the Empress Maria Theresa of Austria, Marie Antoinette was born into a world of almost unbelievable privilege and power. As wife of Louis XVI of France she was first feted and adored and then universally hated as tales of her dissipated lifestyle and extravagance pulled the already discredited monarchy into a maelstrom of revolution, disaster and tragedy. Marie Antoinette: An Intimate History is now available from Amazon US and Amazon UK
Set against the infamous Jack the Ripper murders of autumn 1888 and based on the author's own family history, From Whitechapel is a dark and sumptuous tale of bittersweet love, friendship, loss and redemption and is available NOW from Amazon UK
, Amazon US and Burning Eye.
'Frothy, light hearted, gorgeous. The perfect summer read.' Minette, my young adult novel of 17th century posh doom and intrigue is available from Amazon UK
and Amazon US and is CHEAP AS CHIPS as we like to say in dear old Blighty.
Copyright secured by Digiprove © 2014-2015 Melanie Clegg