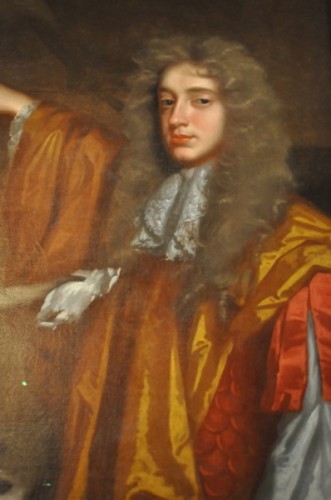 John Wilmot, 2nd Earl of Rochester, Huysmans, Private Collection. Photo: my own.
Today marks the 384th birthday of one of my most favourite British kings, Charles II and what more fitting way could there be to commemorate it than with a review of the play The Libertine, which I saw last night at Bristol's iconic Old Vic theatre and which focusses on the fall from grace of Charles' most infamous and charismatic courtier, John Wilmot, 2nd Earl of Rochester.
Like a lot of impressionable goth adolescent girls, I developed quite a hefty crush on Milord Rochester back in the day – partially because I discerned a sort of melancholy, world weary genius behind his poetry but also because I've always been a bit of a sucker for a nihilistic bad boy. I wish I could say that I've grown up and out of such infatuations nowadays but unfortunately I'm just as in thrall to Rochester now as I was back then so I was pretty delighted to get asked along to the press night for Stephen Jeffreys' brilliant play The Libertine where I could spend three hours indulging my terrible passion for one of British history's most infamous and charismatic rakes.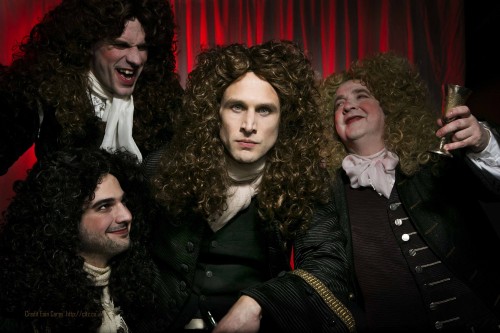 'London in the 1670s – Charles II is on the throne, Nell Gwynn is in his bed and the theatre and sexual promiscuity are flourishing.
The Libertine is the true story of John Wilmot, the second Earl of Rochester – a hedonistic poet, playwright and rake whose appetite for women and wine has made him a notorious figure. He is a man who does not feel alive unless he exceeds every limit. He's not easy to like, much less to love. Yet this most charismatic of sinners is forced to reconsider everything he thinks and feels when a chance encounter at the Playhouse sends him reeling.
You may not like the Second Earl of Rochester. But you will not be able to take your eyes off him.
With all the wit, flair and bawdiness of a Restoration Comedy, this brilliant play is both historical romp and incisive critique of an age of excess.'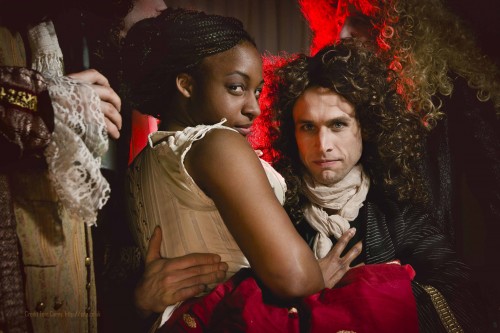 As soon as I walked into the theatre and saw that a Restoration coffee house was in full noisy swing on the stage while we waited for the play to begin, I was pretty well hooked. The rest of the play continued in much the same vein as the actors directly addressed and engaged the audience and invited them to step inside Rochester's world in all its raucous, bawdy glory and despair. I've always been a bit of a sucker for Play Within A Play scenarios and so was delighted when the cast invaded the contemporary audience for Elizabeth Barry's (played with superb aplomb and great strength by Gillian Saker, whom many of you will remember as Bella in Ripper Street) inauspicious debut, demonstrating how hard seventeenth century thespians had to work to be heard over the sound of flirtation, orange selling, foot stamping and heckling.
Although The Libertine presents itself as a brilliantly savage skewering of the dark undercurrent of Charles II's anything goes Restoration society with its glittering excess and apparently non stop iniquity, it is also a study of the complicated personality of his unruly courtier and sometime protegé, Rochester, a man of unusual genius and talent who dissipates all of his prodigious intellectual gifts by indulging in a debauched, drunken existence. Yet, even in his most drunken moments, he is never truly happy and it becomes quickly apparent that alcohol is just a means of masking the bleakness and self loathing that is effectively eating him alive just as effectively as the syphilis that is remorselessly destroying his body and health. It's a vicious cycle though – Rochester uses alcohol to keep the world and his own inner torment at bay only to find that it is gradually deadening his own capacity to feel, which means that he has to push himself to ever increasing dissipations and excesses in order to feel properly 'alive' while all the while he feels more and more dead inside and alienated from all positive human emotions. It can only end in disaster for both himself and the women who, despite themselves, love and care for him, and we the audience are invited to bear witness to the inevitable tragedy as it unfolds before us.
I was especially intrigued by Rochester's fraught relationship with his royal patron and sometime protector Charles II, which at times became almost dysfunctionally paternal in its tone with Charles switching quickly between indulgence and disappointment, while in his turn Rochester raged at his king for constantly letting him down, for not living up to the high hopes that he had had for him. Although Charles has generally always been depicted as the benign and charming 'merry monarch' of popular hagiography, there definitely seems to have been a recent movement towards portraying him in a rather more negative light, as was the case here. I personally believe that Charles was one of our more personally complicated monarchs and that neither depiction is accurate but that rather he was a mixture of the two. I very much enjoyed him in this though and thought that John Hodgkinson did a splendid job of portraying him in all his majestic bluster and almost unconscious cruelty towards his 'son' Rochester.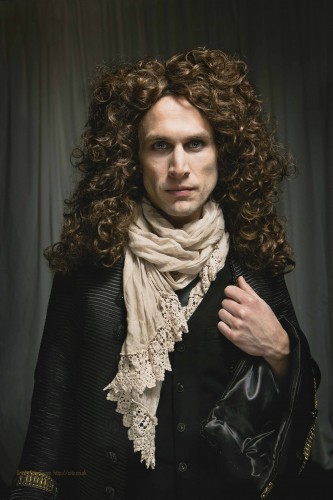 "Ladies, an announcement: I am up for it, all the time…"
Rochester himself was played with great and often heart-wrenching aplomb by Martin Hutson, who managed to skilfully convey both Rochester's enormous external charm and also the dark torments that lay beneath the surface as he laid himself bare before the audience. Never looking particularly healthy even at the start of the play, he really did rock the syphilitic cadaverish look as it went on until at the end you really did believe that he was literally wasting away. I was particularly moved by the point towards the end where he declared that 'This is what I envy in you stage people. The notion that something HAS TO BE and within the next few seconds. You make time seem so important. I must change my clothes NOW, I must make my entrance NOW. But that is not what life is, it isn't a succession of urgent NOWS it's a listless trickle of 'why should I's?' His addresses to the audience which bookend the play, the first demanding that we do not grow to like him and the last asking 'Do you like me now?' were also incredibly moving, revealing as they did, Rochester's underlying, and ultimately doomed to failure, secret wish to be loved just as he is.
In summary this was an amazing play, upheld by powerful, gutsy performances and innovative stage direction that created an almost immersive experience that drew the contemporary audience into a bawdy colourful and yet ultimately bleakly dark world, where like Rochester himself we were invited to become wry observers of his downward descent into ruination and death. It was incredibly and perhaps surprisingly funny too though – I particularly loved the scene where Rochester and his wife (played with great sensitivity by Lucianne McEvoy, who gave a perfectly nuanced performance absolutely redolent of the enormous inner pain that a woman married to and in love with such a man must feel) are having their portraits painted and he clearly itches with impatience to have a drink and be off elsewhere. This is a tale of brilliant genius destined to burn itself out in a torpor of excess, bitterness and misery. It is a play within a play and a tragedy hidden within a comedy.
The Libertine, presented by Citizens Theatre and directed by Dominic Hill is running at the Bristol Old Vic theatre until the 31st of May. HASTEN AND SEE IT WHILE YOU CAN, BRISTOLIANS. You won't be disappointed.
******
Set against the infamous Jack the Ripper murders of autumn 1888 and based on the author's own family history, From Whitechapel is a dark and sumptuous tale of bittersweet love, friendship, loss and redemption and is available NOW from Amazon UK
and Amazon US.
'Frothy, light hearted, gorgeous. The perfect summer read.' Minette, my young adult novel of 17th century posh doom and intrigue is now 99p from Amazon UK
and 99c from Amazon US. CHEAP AS CHIPS as we like to say in dear old Blighty.
Blood Sisters, my novel of posh doom and iniquity during the French Revolution is just a fiver (offer is UK only sorry!) right now! Just use the clicky box on my blog sidebar to order your copy!
Copyright secured by Digiprove © 2014 Melanie Clegg