Evening gown, probably Norman Hartnell, early 1950s. Lent by kind permission of HM the Queen. Photos: Melanie Clegg.
Although there's a distinctly Georgian theme going on at Kensington Palace at the moment, there's still plenty of nods towards the palace's other famous residents to enjoy when you pay a visit with displays devoted to the last Stuarts and Queen Victoria as well as my favourite, which showcases some of the wonderful dresses worn by the Queen, Princess Margaret and the late Princess of Wales. It's certainly very fitting that the gowns should be on display at Kensington Palace as all three royal ladies have close connections with the building – the Queen and Prince Philip lived there as a young married couple (and the Prince spent his last night as a single man in the palace), while perhaps more famously Princess Margaret and the Princess of Wales lived there on a more permanent basis.
A few years ago, I was fortunate enough to pay a very special behind the scenes visit to the Royal Ceremonial Dress collection, which at the time was housed in Kensington Palace. I was completely overawed by the thousands of white boxes contained in the store rooms, each of which was emblazoned with a polaroid showing its contents, which varied from the Duke of Windsor's safari pith helmet to wedding dresses to Coronation robes to Queen Victoria's jet encrusted mourning dresses to evening gowns worn by royal ladies over several generations. It was absolutely amazing and I longed to go wild and look inside everything at the ACTUAL dresses that I've seen so many photographs of. It's brilliant therefore to see a very choice selection presented for visitors to gawp at to their heart's content.
Evening gown, Norman Hartnell, 1963. Lent by kind permission of HM the Queen. Photos: Melanie Clegg. This dress was worn by HM The Queen to the opening of the New Zealand Parliament during a visit to the Commonwealth.
I think one of the most astonishing things about the dresses on display at Kensington Palace is just how well they've aged – the gowns worn by the Queen and Princess Margaret in particular look absolutely pristine and could easily grace a red carpet event today, so amazingly timeless are they. It feels a bit disloyal to say this but the dresses worn by the Princess of Wales don't really hold up quite so well and seem very much of their time and rather dated in comparison – in fact, I can't help thinking that if I was in the Duchess of Cambridge's position, I'd be raiding the royal dress collection for some special vintage pieces to wear out and about. Can you imagine? She'd look INCREDIBLE.
The inimitable Norman Hartnell, who was responsible for some of the gowns worn by the Queen in this display, remarked that 'as a rule, ladies of the royal family wear light coloured clothes because such colours are more discernible against a great crowd' and it's easy to imagine the reaction when the Queen arrived at gatherings wearing one of the pale silk dresses, shimmering with sequins and pearls that are on display here. Although the late Princess of Wales seems to have favoured bolder colours, which draw the eye in their own way, there's something far more elegant and restrained about the way that the young Elizabeth II dressed.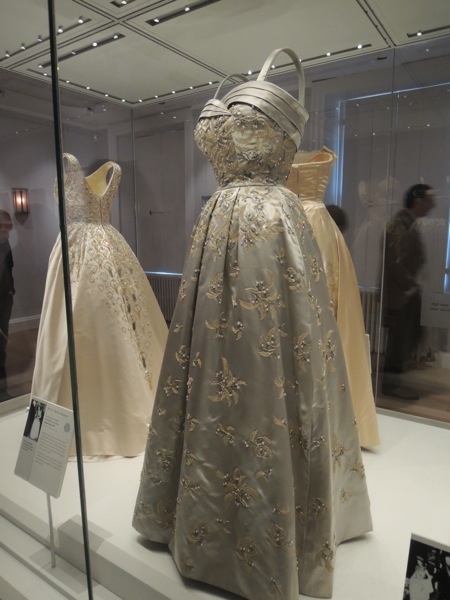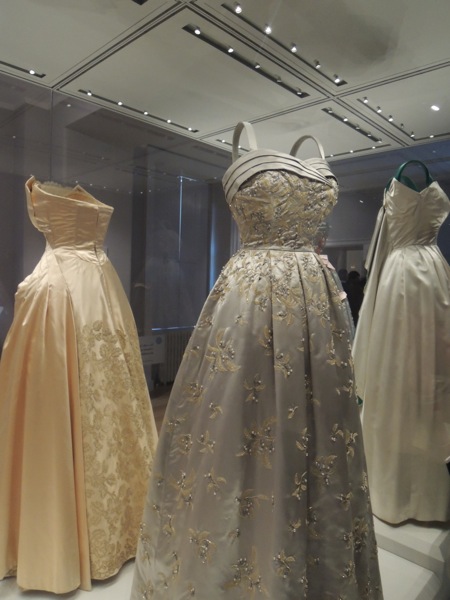 Evening gown, Hardy Amies, 1958. Lent by kind permission of HM the Queen. Photos: Melanie Clegg. This dress was worn by HM the Queen to a formal dinner held at the German Embassy in London. Amies and Hartnell were great rivals when it came to dressing the Queen, although Amies is better known for his day wear.
I think that my favourite of the Queen's dresses on display has got to be the delicate pale blue Hardy Amies dinner gown, which was worn by Her Majesty in 1959, when she was in her early thirties. It was worn during a state visit to Canada and as is typical on such occasions there are nods towards this in the design, with the floral decoration featuring a mayflower motif – the mayflower being a motto of Nova Scotia.
I find it hard enough already to decide what to wear in the morning, but imagine just how extra tricky it'd be if you were expected to match your clothes to the place that you are visiting? It's a lovely gesture though and it's nice to see it continuing with the Duchess of Cambridge, who has been wowing the crowds in New Zealand and Australia this week with stylish little nods to their national cultures.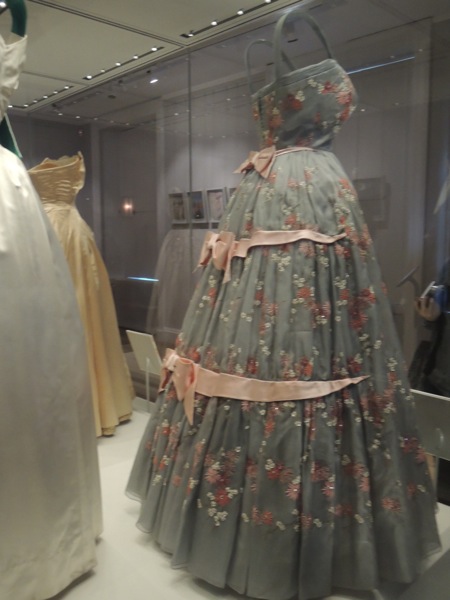 Dinner gown, Hardy Amies, 1959. Lent by kind permission of HM the Queen. Photos: Melanie Clegg. This dress was worn in Novia Scotia during a Commonwealth visit to Canada in 1959. Just look at those darling pink silk ribbon bows at the back. Sigh.
The Queen didn't always stick to pale oyster and cream silks though – as we all know, no one can rock a pastel shade like Her Majesty, probably thanks to the lovely translucent Scottish complexion that she inherited from her mother as well as her own sense of style.
Whereas most of us can just hurl our clothes on with gay abandon every morning, the Queen has to give so much thought to every aspect of her wardrobe, especially on days when she has official functions to attend. She's not so much dressed as armed to face whatever the day throws at her and I think it's amazing that she nonetheless always manages to look really fresh and feminine. I really do believe that Her Majesty is one of the last great dressers left on the planet – okay, her rather conservative style might not be to everyone's taste but she's got an amazingly classic look going on and is never EVER either over or under-dressed. I know we've all moved away from the whole sartorial concept of being 'ladylike', but I have to say that the Queen is the ULTIMATE lady and as someone who sticks to the same sombre palette of colours (okay black, more black and a touch of grey if I'm feeling cheerful), I actually really admire the bright and broad range of colours that the Queen steps out in. She really does seem to suit every shade going and wears each one with confidence aplomb. Lady Gaga eat your heart out.
Silk dress and hat with fur trim, Norman Hartnell, 1972. The Queen wore this outfit to her Silver Wedding anniversary celebrations at Westminster Abbey in 1972 and on several formal occasions in 1974.
Silk chiffon dinner dress, Ian Thomas, 1970. Lent by kind permission of HM the Queen. Photos: Melanie Clegg. HM the Queen wore this to a dinner at Government House in Sydney during a royal tour of Australia in 1970 and again to a charity function later the same year. Amazingly swishy, isn't it?
Of course, one of the best dressed royals of all time was the late Princess Margaret, who never failed to look absolutely wonderful and was one of the very few genuinely fashion forward and trend setting royal ladies of the last few decades. Although, as the Queen's younger sister, Princess Margaret was bound by many of the same sartorial rules, she was still allowed plenty of leeway to form her own style and even take a few risks by wearing things that protocol pretty much precluded the Queen from wearing, like the mini skirts, especially wacky hats and towering heels that well dressed ladies favoured in the sixties. Lucky Margaret seems to have been in her element in this decade, favouring designers like Mary Quant as well as the more traditional names favoured by her mother and sister and her wardrobe definitely reflects the princess' cool, flamboyant and rather fun loving personality.
The dresses on display at Kensington Palace certainly embody some of the high points of Princess Margaret's style from the gorgeous evening gown that accentuates her teeny tiny waist to a mini length dress by Marc Bohan for Christian Dior, which is a rather un-royal charcoal hue.
Evening gown, unknown designer, 1951. This gown was worn by Princess Margaret at a film premiere in London and then again at a dinner party in Paris as a guest of Prince Paul of Yugoslavia. Wow. Lent by kind permission of Lord Linley and Lady Sarah Chatto. Photos: Melanie Clegg.
Short day dress, Marc Bohan for Christian Dior, c1979. Lent by kind permission of Lord Linley and Lady Sarah Chatto. Photos: Melanie Clegg.
Grey lace dress, Norman Hartnell, 1952. Lent by kind permission of Lord Linley and Lady Sarah Chatto. Photo: Melanie Clegg. This dress was worn by Princess Margaret to Ascot Races and also to the wedding of her cousin, the Honourable Gerald Lascelles to Angela Dowding in 1952.
There is definitely something a lot more playful about the dresses worn by the princess and she no doubt considered herself very fortunate to be able to dress to please herself without the restrictions imposed on her sister, although she could also very definitely pull out the stops on official occasions as well.
I really REALLY love the cream lace dress that she wore during the 1960s – it's just the sort of thing that you can imagine more boho celebrities like Kate Moss or Sienna Miller wearing today and I think it'd look amazing on the Duchess of Cambridge as well as it's in the same muted palette that she seems to favour as well as including a lace decoration, which we know she's pretty keen on. Although I certainly associate Princess Margaret with bolder looks, this is a really soft and even demure dress, suitable for the young wife and mother that she was at the time.
Short day dress, unknown designer, c1960s. Lent by kind permission of Lord Linley and Lady Sarah Chatto. Photos: Melanie Clegg.
Perhaps the star of the show though is the absolutely incredible costume worn by Princess Margaret to a party on the island of Mustique in 1979. It really is utterly extraordinary and definitely in keeping with the flamboyant style that I always associate with the princess.
There is no doubt at all that the princess wasn't the cynosure of all eyes when she appeared wearing this pale sari silk gown, especially when teamed with its amazing turban.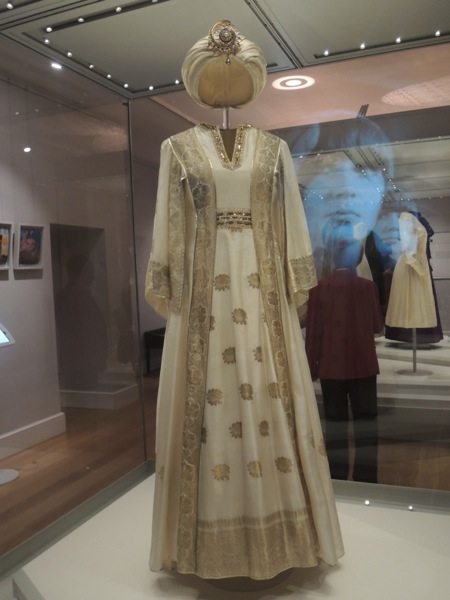 Kaftan and turban, Carl Toms, 1976. Lent by kind permission of Lord Linley and Lady Sarah Chatto. Photos: Melanie Clegg.
The final room in the Fashion Rules display features a selection of dresses worn by the late Diana, Princess of Wales and they certainly serve as quite a decided contrast to the softly coloured vintage frocks of the past rooms. As a little girl, I used to collect magazine articles and books about Princess Diana and absolutely idolised her. It was possibly a bit creepy, however I remember really swooning over some of the evening dresses that she wore, especially in the eighties when she seemed to favour a really romantic, 'princessy' flouncy look with silk sashes, lace everywhere and huge chiffon skirts. However, although at the time I thought she looked amazing, nowadays, well, it's always a bit of a shock to recall just how young she was at the time as she always seems to have dressed about a decade older than she actually was.
I suppose that's another one of the downsides of being royal – not only do you always have to be appropriate and on show but you can't generally give in to the quirkier sides of your personality, unless like Princess Margaret you've built up a private life on the side where you can indulge your own sartorial quirks to your heart's content. Poor Diana though, stuffed into buttoned up suits and bedecked with flounces when she'd probably much rather ram raid the branch of Topshop on Kensington High Street and make off with armloads of fashionable and much more comfortable gear.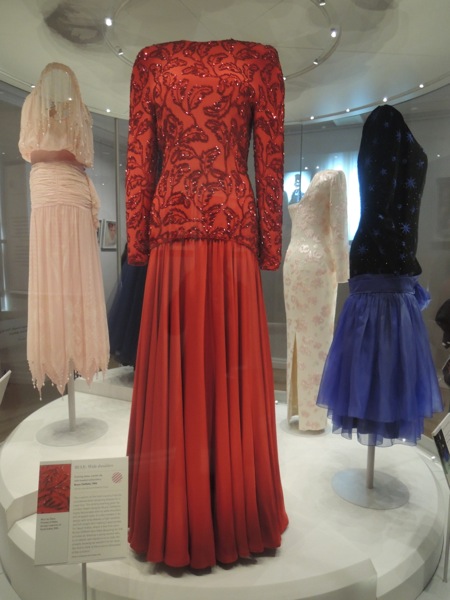 Evening dress, Bruce Oldfield, 1986. Lent by kind permission of Linda Sarna and Roberta Hurtig. Photos: Melanie Clegg. Hard to believe that Princess Diana was just twenty five years old when she wore this gown during a royal tour of Saudi Arabia.
Evening dress, Murray Arbeld, 1986. Lent by kind permission of Pat Kerr (Mrs John Tigrett). Photo: Melanie Clegg.
However, just as the wonderful fitted vintage gowns worn by the Queen and Princess Margaret are very much products of what was very definitely a much better dressed time, so too are the clothes worn by the Princess of Wales of their own time so she can hardly be blamed if they don't seem quite so becoming to modern eyes as they did back in the eighties, when, let's face it, I think most of us made some very questionable sartorial choices.
I really love the inclusion of this really quite playful and kooky Zandra Rhodes dress, which the princess wore to a state banquet in Kyoto, during a visit to Japan in 1986. There's something a bit Medieval fancy dress about it, I think and she must have looked really delightful and youthful in it – it's certainly a marked contrast to the ageing deep colours and sequins that she usually appeared in. Of course, whimsical though the design may be, there is a nod to royal convention here with the inclusion of cherry blossoms in the decorations, a polite nod to a well known motif in traditional Japanese art.
Evening dress, Zandra Rhodes, 1986. From the Royal Ceremonial Dress Collection of Historic Royal Palaces. Photos: Melanie Clegg.
Fashion Rules can be seen at Kensington Palace for several more months and entry is included with the usual admission charge. I'd say it's a definite must see if you're at all interested in the development royal fashion in the twentieth century. I can't help wondering though what effect the Duchess of Cambridge's fondness for high street fashion will have on future exhibitions like this one – yes, she wears plenty of really luxe couture gowns on formal occasions but will her dresses from the likes of Warehouse, Zara, LK Bennett, Jigsaw et al hold up just as well as the more expensive items? Certainly, I find it somewhat amusing (and also pleasing!) to imagine dresses from Topshop being reverently folded up inside those white boxes in the Royal Ceremonial Dress collection alongside evening gowns by Hartnell, Amies and Dior.
******
Set against the infamous Jack the Ripper murders of autumn 1888 and based on the author's own family history, From Whitechapel is a dark and sumptuous tale of bittersweet love, friendship, loss and redemption and is available NOW from Amazon UK
and Amazon US.
'Frothy, light hearted, gorgeous. The perfect summer read.' Minette, my young adult novel of 17th century posh doom and intrigue is now 99p from Amazon UK
and 99c from Amazon US. CHEAP AS CHIPS as we like to say in dear old Blighty.
Blood Sisters, my novel of posh doom and iniquity during the French Revolution is just a fiver (offer is UK only sorry!) right now! Just use the clicky box on my blog sidebar to order your copy!
Copyright secured by Digiprove © 2014 Melanie Clegg