La reine Hortense sous une tonnelle à Aix-les-Bains, Duclaux, 1813. Photo:Napoleonmuseum, Thurgau, Switzerland.
I've always had THE most immense soft spot for Hortense de Beauharnais and have long harboured an ambition to one day write about her as she had such an interesting, albeit rather sad life. I don't know if I'll ever get around to it but in the meantime I'll just look forward to Sandra Gulland's upcoming YA series about her schooldays instead, which I'm sure will be much better than my efforts!
Hortense Eugènie Cécile de Beauharnais was born on the 10th of April 1783 in Paris, the younger child and only daughter of Marie Josèphe Rose Tascher de la Pagerie (now better known as Joséphine) and Alexandre de Beauharnais. The Beauharnais' couple didn't have the happiest of marriages and indeed had pretty much entirely fallen out by the time their daughter was born and things only got worse afterwards when Alexandre's frankly nasty mistress, Laure de Longpré, persuaded him that as Hortense was born a few weeks early then she couldn't possibly be his daughter. This was just further fuel to the deeply unpleasant Alexandre's hypocritical determination to tarnish his wife's name and in the end, despite the support of both her family and his, she was forced to take up residence in the very plush surroundings of the convent of Panthémont in the Faubourg St Germain, which acted as both exclusive boarding school for aristocratic girls (Thomas Jefferson's daughters were pupils at one point) and also refuge for well heeled ladies, who were able to live there unmolested with their children and even entertain their friends.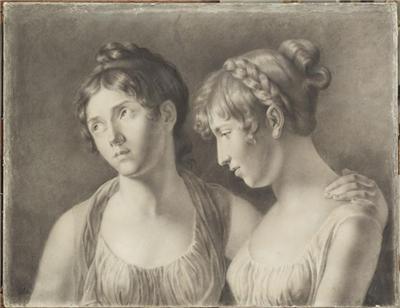 Hortense de Beauharnais and Aglaé Auguié, Adèle Auguié, c1798.
The situation came to a head in early 1785 when Alexandre kidnapped his son Eugène from the convent and Joséphine was forced to go to war to get her boy back. The resulting furore ended with Alexandre being forced to accept an out of court settlement and being utterly shamed when no evidence could be found to back up his claims of his wife's allegedly libertine lifestyle. He was also forced to drop his allegations about Hortense's paternity and cough up for her maintenance as well as agree that his wife and children could leave Penthémont and live wherever they pleased. The only downside was that Éugene, then aged just three, would be returned to him at the age of five to be brought up by his father.
The rest of Hortense's childhood was pleasant enough and even involved a thrilling trip back to her mother's homeland of Martinique, but would inevitably be interrupted by the outbreak of the French Revolution in 1789. At first it must have seemed like the Beauharnais' family fortunes were on the up as Alexandre had thrown his lot in with the liberal aristocracy fairly early on and even rose to the position of President of the National Constituent Assembly in 1792 – in fact he was the president at the time of the ill fated flight of Louis XVI, Marie Antoinette and family to Varennes. However, things took a decided nosedive a year later when he turned down the position of Minister of War then incurred the suspicion and wrath of the Committee of Public Safety due to his failure to properly defend Mainz during the siege of summer 1793. His loyalties fell under suspicion and suddenly everyone started to remember that he was actually a Vicomte and had been in the habit of hanging about Versailles and even dancing with Marie Antoinette on occasion. Oh dear.
Hortense de Beauharnais, Sablet, c1798. Photo: Musée Fesch – Ajaccio, Corsica France.
Alexandre was eventually imprisoned, first at the Luxembourg and then Les Carmes in March 1794, with Joséphine following him just a month later – her attempts to secure the release of her estranged husband having turned the dread eye of the Committee upon her and resulted in her own denunciation and imprisonment. Although the two Beauharnais children, who had been left in the care of their devoted governess, were not able to see their parents they did their best to reassure them by writing laundry lists themselves so that Joséphine and Alexandre would recognise their handwriting and know that they were well.
Alexandre de Beauharnais was guillotined in July 1794, just a few days before the fall of Robespierre and it looked very likely that his widow would follow him until the events of Thermidor put a stop to the Terror and she was eventually freed in August 1794. Traumatised but desperately relieved to still be alive, Joséphine now threw herself wholeheartedly into the fashionable life that had sprung up in the French capital after the overthrow of Robespierre and became a decided leader of fashion herself thanks to her close friendship with the altogether fabulous Madame Tallien, who had secured her release. It was this lifestyle that drew her into the orbit of a certain Napoléon Bonaparte – an event which was to dramatically change the lives of her children and everyone around them.
Hortense de Beauharnais, Schall, c1804. Photo: Châteaux de Malmaison et Bois-Préau – Malmaison, France.
At the time of her mother's first flowering relationship with Napoléon, Hortense was at Madame Campan's very exclusive school, the Institut National de Saint Germain, where she was proving to be an extremely well behaved, sensitive, well liked and diligent pupil with a very definite talent for art and music. Hortense remained at Madame Campan's school until her mid teens, at which point all thoughts turned towards providing her with a suitable husband. Napoléon himself took a great interest in the matter as he was extremely fond of his step daughter (too fond, some evil minded people whispered) and wanted to make sure that she made a suitably grand match – certainly he wanted to do better for her than his sisters had managed, no doubt to their enormous chagrin as they were already inordinately envious of both the pretty, talented, well behaved blonde Hortense and her elegant mother.
However, in the end, it was decided that Hortense should marry Napoléon's own brother Louis – match that she wasn't entirely in favour of, being of a romantic disposition but in the end agreed to as 'it was a question of sacrificing my romantic fantasies for my mother's happiness. I could not hesitate between the two'. The reason that the match meant so much to Joséphine was the fact that she had still not had a child with Napoléon, whose increasing prestige meant that he was rapidly feeling himself in need of an 'heir' to the empire that he was carving out for France and himself. The couple had decided between them, however, that a match between Hortense and his favourite brother would perhaps be the perfect solution to the dilemma as then their children (and especially so if Napoléon could adopt the eldest boy) could inherit everything. Although Joséphine could not possibly be blind to her daughter's apathy towards the unprepossessing and rather charmless Louis (she regarded him as nothing more than a 'brother'), this marriage was still a scheme that was very much close to her heart and one that she fervently hoped would somehow keep her increasingly precarious marriage to Napoléon safe from the dissolution that his family were pressing upon him.
Hortense de Beauharnais, Appiani, c1800.
Hortense and Louis were married in January 1802 in the Tuileries palace. Although Joséphine with a characteristic lavishness and eye to detail had provided a magnificent wedding gown and diamond parure for her daughter, the not entirely happy young bride instead appeared at the service wearing a simple white dress and a string of pearls. In the event, Hortense's scruples about a match with a man that she had no romantic feelings for and with whom she felt herself entirely incompatible turned out to be correct and the marriage turned out very badly indeed with Louis proving himself to be a jealous and unpleasant husband in the mould of her own father and Hortense herself putting up with a great deal from him.
However, although Napoléon could not exactly congratulate himself on the success of the marriage that he himself had arranged, in one respect he could be well pleased as Hortense and her husband had three sons together: Napoléon Louis Charles (born on the 10th of October 1802), Napoléon Louis (born on the 11th of October 1804) and Charles Louis Napoléon (born on the 20th of April 1808), who would much later on become Napoleon III and a more charming (they very definitely took after the Beauharnais side of the family) trio of boys cannot possibly be imagined, despite the confusing similarity of their names.
Hortense de Beauharnais and her eldest son, Gérard, c1806. Photo: Private Collection.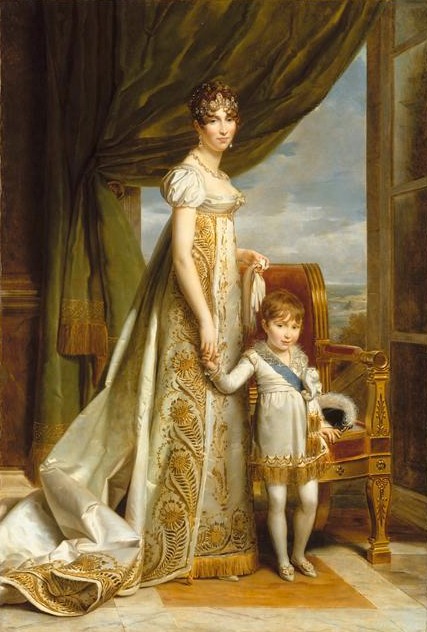 Hortense de Beauharnais and her son, the Crown Prince of Holland, Gérard, 1807. Photo: Château de Versailles.
In line with Napoléon's policy of plonking his own family down on to the hastily vacated thrones of Europe, Hortense and her husband Louis were offered the crown of Holland in 1806 – an honour that she was remarkably loath to accept as it would mean spending more time with her husband and also involve leaving her beloved Paris and moving to the Netherlands. However, Napoléon did not care to listen to her objections and so, dutiful as ever, Hortense headed off to the Hague. In the event, this hardcore born and bred Parisienne found life in the Netherlands not nearly so bad as she had anticipated and even managed to be pretty happy there, all things considered although proximity to her increasingly curmudgeonly and difficult husband would always be a bit of a downer, with their marriage taking yet another nosedive when he refused to allow his brother to make their eldest son his heir, an act that would have saved Joséphine's bacon, as he saw it as being shamefully 'disinherited' in favour of his own child.
When the marriage of Joséphine and Napoléon came to its inevitable sad end in January 1810, Hortense was on hand to offer support to her devastated mother although both she and her brother, Eugène made it clear to their stepfather that although their first loyalty was to Joséphine, they would never cease to care about him either – something that must have brought him some comfort as he had grown to genuinely love his stepchildren, who had never let him down unlike his own blood family, over the years.
Hortense de Beauharnais, Girodet, c1806. Photo: Rijksmuseum Amsterdam.
Hortense de Beauharnais, Isabey, 1813. Photo: Musée National du Chateau de Malmaison.
Hortense's marriage stuttered on for a few more years, with her deep unhappiness compounded by the death of her adored eldest son in 1807 and the fact that she herself had developed consumption. However, dutiful as always, Hortense raised no protest, not even when her stepfather scolded her for showing grief about her son in public nor when her husband, who had gradually become more loyal to Holland than to his brother, abdicated rather than accept Napoléon's aggressive tactics towards the Netherlands. Instead, she became regent for their son, who was now King of Holland and was clearly fully willing and ready to rule in his stead until Napoléon pulled the rug out from under her by making Holland part of the French Empire. His recent marriage to Marie Louise of Austria making him less inclined to favour his nephews at the future expense of his hopefully awaited prospective legitimate heirs.
It was at this point, with her world in turmoil, that Hortense made the decision to abandon herself to the man who was without doubt the love of her life – Colonel Charles de Flauhaut, an illegitimate son of Talleyrand and the novelist Adélaïde de Flauhaut (whose elder sister had married Madame de Pompadour's brother). It's probable that Hortense had always carried a bit of a torch for the undeniably handsome, charming and charismatic Comte de Flauhaut but it was only after the abdication of her husband that they finally became lovers, with Hortense becoming pregnant with his child at the start of 1811. As it was well known that she and Louis were separated, the pregnancy had to be kept completely secret and poor Hortense did as many other women of her period and class did by travelling to Switzerland to give birth to her baby, another boy, who was christened Charles Auguste in September 1811 before being consigned to the devoted care of his grandmother, Adélaïde de Flauhaut, who had been allowed in on the great and most scandalous secret.
Hortense de Beauharnais, Richard, 1815. Photo: Fondation Dosne-Thiers, Paris.
During the first Bourbon Restoration of 1814, Hortense had bewitched Tsar Alexander I with her famous charm and grace – although entertaining him at Malmaison had led to the sadly premature demise of her mother, Joséphine who had caught a terrible cold and died after insisting upon showing the handsome Tsar her roses by moonlight while eschewing the protective services of a shawl. Keen to show his appreciation for the lovely Hortense, Alexander had encouraged the incoming Louis XVIII to show her some favour and give her the title of Duchesse de St Leu. However, Hortense's loyalty to her former stepfather could not be so easily erased and she ended up being exiled from France for showing him support when he managed to escape from Elba.
Hortense de Beauharnais remained in exile, wandering between Italy, Germany and Switzerland for the rest of her life, with just one brief incognito return to France in 1831, when her permission to remain for a short period was quickly reversed after her presence became known and prompted scenes of mourning for the now long dead Napoléon. She would eventually die herself at the age of fifty four on her estate in Switzerland on the 5th of October 1837. She would be buried beside her mother at the church near Malmaison in January 1838. Her husband, Louis Bonaparte survived her by nine years, eventually dying in July 1846. Their youngest son would become Napoleon III in 1852.
******
Set against the infamous Jack the Ripper murders of autumn 1888 and based on the author's own family history, From Whitechapel is a dark and sumptuous tale of bittersweet love, friendship, loss and redemption and is available NOW from Amazon UK
and Amazon US.
'Frothy, light hearted, gorgeous. The perfect summer read.' Minette, my young adult novel of 17th century posh doom and intrigue is now 99p from Amazon UK
and 99c from Amazon US. CHEAP AS CHIPS as we like to say in dear old Blighty.
Blood Sisters, my novel of posh doom and iniquity during the French Revolution is just a fiver (offer is UK only sorry!) right now! Just use the clicky box on my blog sidebar to order your copy!
Copyright secured by Digiprove © 2014 Melanie Clegg