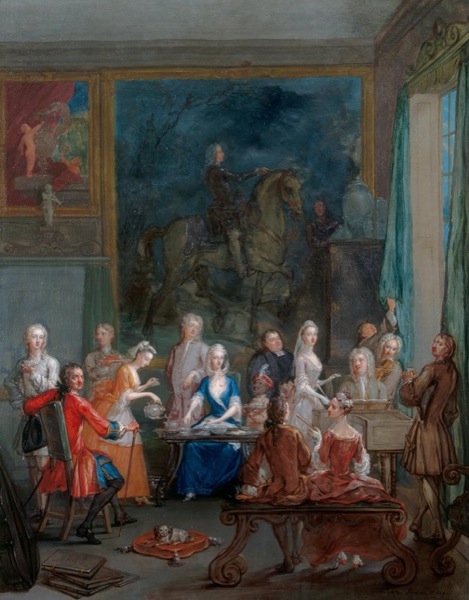 A Musical Tea Party, Laroon, 1740. Photo: Royal Collection Trust/© Her Majesty Queen Elizabeth II 2014.
In 1714 George I ascended the throne as the first British monarch of the German House of Hanover. With the dawn of a new dynastic age came a silent revolution – one of the most dramatic periods of change across all aspects of British political, intellectual and cultural life.
To mark the 300th anniversary of the beginning of the Georgian era, The First Georgians: Art and Monarchy 1714-1760 explores royal patronage and taste in the reigns of George I and George II as a product of a time when Britain was the world's most liberal, commercial and modern society. It brings together over 300 works in the Royal Collection from royal residences across the UK.
'The Music Party': Frederick, Prince of Wales with his Three Eldest Sisters, Mercier, 1733. Photo: Royal Collection Trust/© Her Majesty Queen Elizabeth II 2014.
When I went to the special bloggers' preview of last year's superlative In Fine Style exhibition at the Queen's Gallery, Buckingham Palace (which those north of the border will be able to see in the Queen's Gallery at Holyroodhouse this summer), the curator Anna Reynolds let slip to me that they were hoping to put on a Georgian themed follow up this year. Being a huge fan of the Georgians, I was really thrilled about this and really delighted when The First Georgians, the exhibition in question, was announced late last year. Therefore, it was with great anticipation that I headed off to London yesterday morning (I had to get up at 3am to make sure that I was there on time – eek!) for a sneaky peek at The First Georgians.
Although The First Georgians is very different in feel and atmosphere to last year's In Fine Style, which was ALL about the over the top bling and swagger of sixteenth and seventeenth century court portraiture, I was still not at all disappointed with this new display, which is intended to evoke a proper sense of Georgian patronage, taste and art collecting as well as firmly placing this newly regal dynasty in the context of their own time.
The Family of George II, Hogarth, c1731-2. Photo: Royal Collection Trust/© Her Majesty Queen Elizabeth II 2014.
Before we had our first glimpse of the exhibition, we were treated to a great introductory talk by the Surveyor of the Queen's Pictures, Desmond Shawe Taylor (who was my tutor at university and is really quite superb – in fact, this whole blog is probably his fault as he encouraged me a few years ago to find my forté in the art history world and this is what I came up with!), who briefly talked about what an innovative, dynamic and exciting period the early eighteenth century was and where the Hanoverian monarchs fit into this period of enlightenment and how they used patronage as a means of establishing themselves.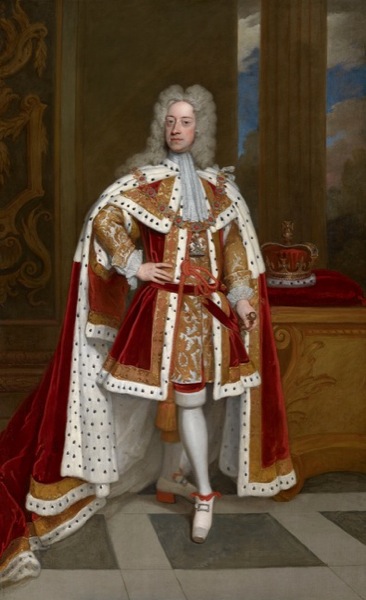 George II, Kneller, 1716. Photo: Royal Collection Trust/© Her Majesty Queen Elizabeth II 2014.
The early Hanoverians (and, let's face it, most of the later ones too) were a pretty unattractive lot all things considered but it has to be said that they presided over a dazzling court and formed a lynchpin to a progressive and fascinatingly bold and modern society. In fact, the First Georgians exhibition started with a peek at the new learning room, where families can pick up activity packs for children, watch and listen to specially filmed pieces about the exhibition and other things – all in the cosy ambience of an early Georgian coffee house – the central hub of all that was new and exciting in society, art, science, finance and, well, everything. The coffee house was where the well heeled and well connected Georgian went to see their friends, make new ones and pick up all the latest titbits of scandal, gossip and news. It was a place to see and be seen and it is fitting that the exhibition starts here.
After this, the first room of the exhibition introduces us to the key players in the Hanoverian succession to the throne: poor old Queen Anne, Sophia of Hanover (I always think it's such a shame that her brother, His Royal Hotness Prince Rupert was already long gone by this time as he would have been a superb king if, perhaps, a little martial and hot tempered) and then George I and his family – all looking very stolid, fleshy and protuberant of eye. There's a reminder, however, in the corridor beyond that their claim to the throne was not an entirely uncontested one as we file past a really beautiful painting of James II, Mary of Modena and their family, painted in their French exile by Pierre Mignard and looking far more elegantly regal than any of their successors on the British throne.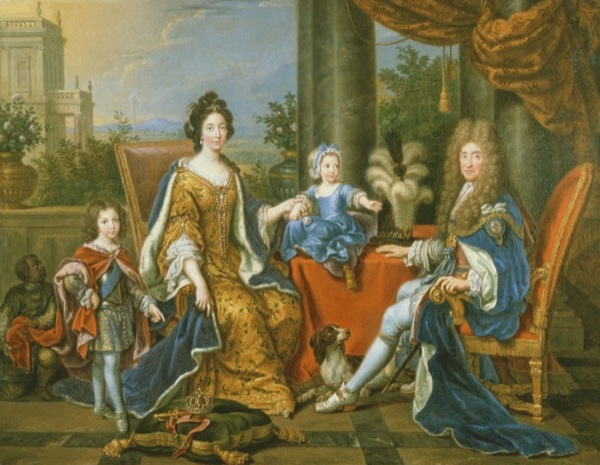 James II and his family, Mignard, 1694. Photo: Royal Collection Trust/© Her Majesty Queen Elizabeth II 2014.
The first main room of the exhibition introduces the visitor to the wonderful palaces that the Hanoverians acquired – in particular their London residences at Kensington Palace and St James' Palace. The visitor is treated to an amazing display of building plans, drawings and watercolours that evoke the work that the Georges put into imposing their own taste on the buildings, bringing them up to date and further embellishing them with the assistance of William Kent and others.
After this, there was a room devoted to the military conflict of the period, focusing in particular on the fearful bloodbath that was Culloden. I loved this as although I adored In Fine Style's real wow factor with all those sumptuous portraits, it's also really great to be served up something more meaty as well and I really enjoyed looking at battle formation charts in this bit.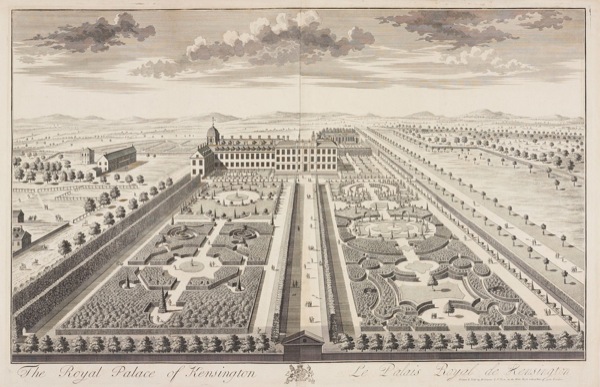 The Royal Palace of Kensington, 1730. Photo: Royal Collection Trust/© Her Majesty Queen Elizabeth II 2014.

A Plan and Elevation of the Royal Fireworks in St James' Park, 1749. Photo: Royal Collection Trust/© Her Majesty Queen Elizabeth II 2014.
Now, you can't have an exhibition about the art of the Georgian period without at least a nod to the genius of Hogarth – an artist that to me is quintessentially Georgian in both his sly wit, his honesty and his robust artistic style. Here, you'll be glad to hear there is a whole room devoted to his work, with a full collection of Marriage à la Mode and other works. Of course, Marriage à la Mode, which chronicles both the miserable descent into iniquity of a fashionable and not at all well suited young couple and also the dissolute hurly-burly of the seamier side of Georgian high society, is familiar to most of us but it's always a pleasure to see it displayed all together.
If the first few rooms were reminiscent of a Georgian gentleman's study with their carefully arranged and rather sombre but nonetheless beautifully executed engravings, maps and jewel like watercolours then the next room, which focuses on the early Hanoverian monarchs' sumptuous art collection, was a veritable feast for the eyes. In fact, I got there a bit early and hung around the door like a small child on Christmas morning, wondering if it was alright to go inside as it was all just so breathtakingly beautiful and I wanted to dive in head first and revel in it a bit.
Queen Caroline of Ansbach, Highmore, 1735. Photo: Royal Collection Trust/© Her Majesty Queen Elizabeth II 2014.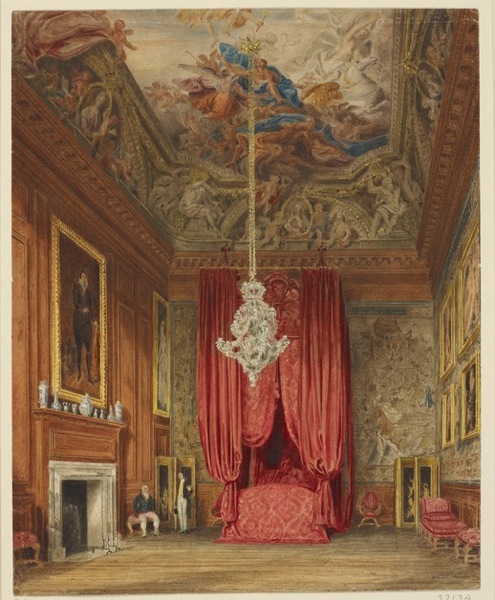 The Queen's State Bedchamber at Hampton Court, Cattermole, c1816. Photo: Royal Collection Trust/© Her Majesty Queen Elizabeth II 2014.
The early Georgians were highly enthusiastic collectors of the Old Masters, with a particular love of Raphael, who was regarded as the quintessential artist, with his emphasis on 'ideal beauty' as well as light, form and colour. There are no Raphaels on show in the exhibition, but instead the visitor is treated to a dazzling display of colour courtesy of such masters as Van Dyck, Holbein, Frans Hals, Reni and Rubens, whose fabulous Portrait of Don Rodrigo Calderon on Horseback dominates the room and, like several other works on display, was specially cleaned before the exhibition to reveal its full and proper beauty.
Any art lover is bound to have a serious field day when let loose amongst such splendours and it really does vividly illustrate what early Georgian taste was all about – vibrant colour, florid movement, fleshiness, magnificence and at the same time an almost homely directness and sensual earthiness that effectively prevents it from being just a bit too pompous for words. You can probably tell a lot about a person from the sort of art that they choose to surround themselves with and here it becomes clear that the early Georgians were a complicated lot – rumbunctiously fun loving, fond of outward display and intellectual, yet never preciously so.
Photos: Melanie Clegg.
The next room focuses more on depictions of the Hanoverian royal family themselves with a particularly wonderful painting of the eldest children of poor Prince Frederick hanging on the end wall. Prince Fred, who is a bit of a favourite at this blog, is represented by a rather marvellous bust that shows him wigless and looking like a Roman politician about to be horribly murdered. Unprepossessing though the early Georges were, they really knew how to put on a show and their portraits definitely underline this as they have all the pomp and swagger of their Tudor and Stuart forbears and yet at the same time there's always something a touch more human and approachable about them – you feel like you'd have a better time at the pub with George I, even at his most majestic, than Henry VIII or Charles I. Actually, that's probably a given. I can't imagine having a good time ANYWHERE with Charles I, but even so. Charles II, however, is a totally different matter…
The Children of Frederick, Prince of Wales, Du Pan, 1746. Photo: Royal Collection Trust/© Her Majesty Queen Elizabeth II 2014.
Frederick, Prince of Wales, Scheemakers, 1741. Photo: Royal Collection Trust/© Her Majesty Queen Elizabeth II 2014.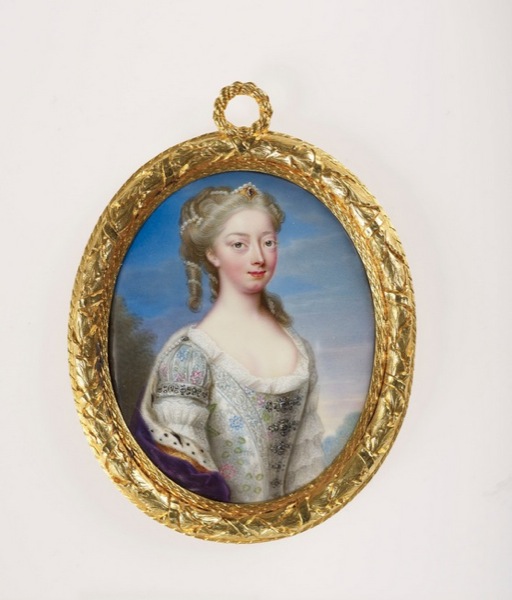 Anne, Princess Royal, Zincke, 1730. Photo: Royal Collection Trust/© Her Majesty Queen Elizabeth II 2014.
A Dinner Party, Laroon, c1719-25. Photo: Royal Collection Trust/© Her Majesty Queen Elizabeth II 2014.
What makes this exhibition truly special though is the way that the work is displayed in the same symmetrical formal way that the Georgians themselves are known to have favoured. This can take some getting used to as nowadays we have become accustomed to a rather different approach, however it really is extremely easy upon the eye and emphasises the way that painting was an important and integral part of interior decoration at the time. This is also underlined by the inclusion of wonderful period furniture, such as amazing early eighteenth century chairs modelled on those at Versailles as well as splendid roll top and gilt embellished tables. All of this is carefully arranged around and beneath the art work on display to convey a sense of how a really fabulously regal Georgian interior would have looked in the first half of the eighteenth century. It's overwhelming and yet at the same time curiously cosy – the paintings are so flamboyant that they seem larger than life, while the furniture is opulently massive, which makes the space itself seem just a little bit smaller.
There's more than just a nod to the decorative arts as well, with small side chambers displaying examples of early Georgian dining ware (I particularly loved the cauliflower shaped tureens), miniatures and jewellery, all of which were absolutely dazzling. This, of course, is suggestive of the increasing growth of the luxury market in the early eighteenth century thanks to a successful economy, sophisticated tastes and rapidly improving trade links all over the globe, which meant that our Georgian forbears had access to all manner of completely wild and wonderful beautiful things from all around the world – from spices to silks to magnificent pearls to amazing perfumes and it was at this time that shopping as a leisure activity in its own right, punctuated of course by those all important visits to coffee houses, really started to take off as the range of both shops and also goods available in them increased enormously.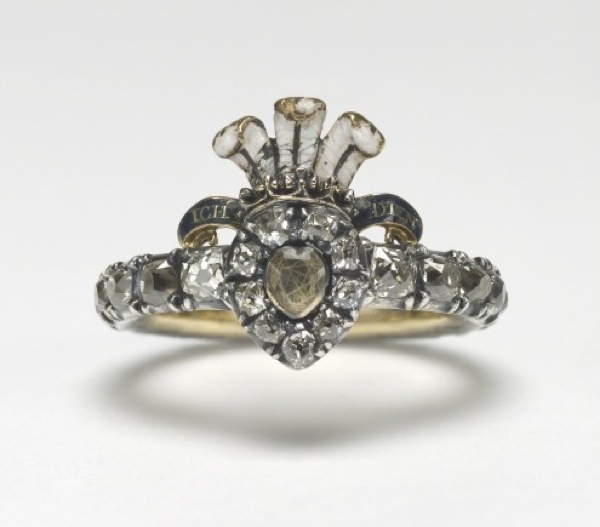 A ring, 1736. Photo: Royal Collection Trust/© Her Majesty Queen Elizabeth II 2014.
Ring with cameos of George II and Queen Caroline, c1730. Photo: Royal Collection Trust/© Her Majesty Queen Elizabeth II 2014.

Pendant with thirteen cameos which belonged to Queen Caroline's collection of curios. Photo: Royal Collection Trust/© Her Majesty Queen Elizabeth II 2014.
I could happily have spent all day drifting through this superb evocation of the early Georgian world but sadly had to hurry back to Bristol as it was my husband's birthday and I'd promised to take him out for pie. A good Georgian wife would probably have thrown some oysters and fine French wine in as well, but I am not, alas, a good wife by any era's standards. I'd definitely encourage everyone to take a look at The First Georgians though – it really is a wonderful exhibition and a definite must see this summer for any history buffs.
Detail from St James' Park and the Mall, unknown, 1745. Photo: Melanie Clegg/Royal Collection Trust/© Her Majesty Queen Elizabeth II 2014.
The First Georgians: Art and Monarchy 1714-1760 opens at the Queen's Gallery, Buckingham Palace on the 11th of April and will be running until the 12th of October. Tickets cost £9.75 for adults and £4.95 for the under seventeens. Children under five get in free and concessions are £8.95. As always, booking in advance is probably a good idea and can be done via the Royal Collection website here.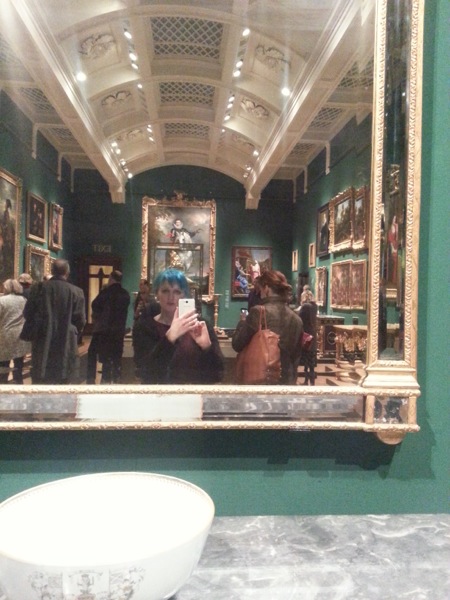 Obligatory Queen's Gallery selfie shot. My camera battery decided to completely die while I was there, which is why you're being treated to the Royal Collection's photographs instead of my own work for once! Argh.
Thanks so much to the Royal Collection team for inviting me along to yet another superb event.
******
Set against the infamous Jack the Ripper murders of autumn 1888 and based on the author's own family history, From Whitechapel is a dark and sumptuous tale of bittersweet love, friendship, loss and redemption and is available NOW from Amazon UK
and Amazon US.
'Frothy, light hearted, gorgeous. The perfect summer read.' Minette, my young adult novel of 17th century posh doom and intrigue is now 99p from Amazon UK
and 99c from Amazon US. CHEAP AS CHIPS as we like to say in dear old Blighty.
Blood Sisters, my novel of posh doom and iniquity during the French Revolution is just a fiver (offer is UK only sorry!) right now! Just use the clicky box on my blog sidebar to order your copy!
Copyright secured by Digiprove © 2014 Melanie Clegg