Long term readers of this blog may well recall my ENORMOUS over excitement about attending the Elizabethan themed Hampton Court Sleepover last September. It was a night of Tudor dancing, wine, strange sixteenth century food, angry Elizabeth I and all manner of hilarity before we bedded down for the night in the Cartoon Gallery overlooking the stately Fountain Court in the heart of the palace. It was an incredible experience – just sleeping in the palace would have been enough really but to be able to roam around in the dead of night and see the Great Hall and Haunted Gallery in the dark was just incredible.
Anyway, if my account of last year's shenanigans filled you with intense longing to experience the same thing, then fear not for there is ANOTHER SLEEP OVER about to happen on the 2nd of May and this time it has a Georgian theme as we poor twenty first century interlopers bear awkward witness to the event known to Georgian history fans everywhere as 'The Midnight Flit' when Prince Fred, probably THE most awesome male Hanoverian, bundled his nine months pregnant and already labouring teenage wife, Princess Augusta down a staircase and into a waiting carriage to ensure that she would give birth in St James' Palace, London far away from what he viewed as the pernicious influence of his parents, George II and Queen Caroline.
It's going to be amazing and you can bet your life that I'm going to be there to see it! And so can you as tickets are now generally available for £100 (a bargain when you consider they cover a drinks reception, dinner, entertainments and then a night in the palace!) from the Historic Royal Palaces website. I think there were only sixty or so available last time so move fast if you want to make sure that you are there!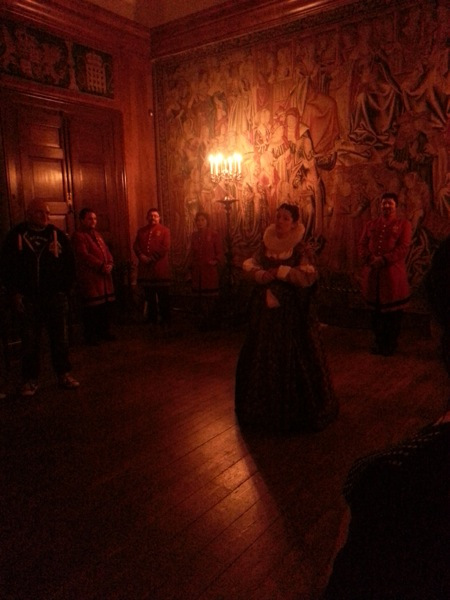 For those of you who can't be there for whatever reason, never fear – I'll be taking loads of photos again and will do a full report here so you can share the fun. In the meantime, I'll be attending previews of the upcoming Georgian season at Hampton Court and Kensington Palace in a couple of weeks time as well as a preview of the Georgian exhibition at the Queen's Gallery, Buckingham Palace next week. I'm really looking forward to the latter as my old university tutor, the always superbly entertaining and terrifyingly erudite Desmond Shawe-Taylor is curating as he is Surveyor of the Queen's Pictures so it'll be nice to see him again.
******
Set against the infamous Jack the Ripper murders of autumn 1888 and based on the author's own family history, From Whitechapel is a dark and sumptuous tale of bittersweet love, friendship, loss and redemption and is available NOW from Amazon UK
and Amazon US.
'Frothy, light hearted, gorgeous. The perfect summer read.' Minette, my young adult novel of 17th century posh doom and intrigue is now £2.02 from Amazon UK
and $2.99 from Amazon US.
Blood Sisters, my novel of posh doom and iniquity during the French Revolution is just a fiver (offer is UK only sorry!) right now! Just use the clicky box on my blog sidebar to order your copy!
Copyright secured by Digiprove © 2014 Melanie Clegg