My amazing new Bloody Mary Metal sword earrings/graffiti in Bristol/poorly five year old/Viking exhibition preview.
I can't believe that March is already over – especially as February seemed to drag on and on and on. It's been a mostly good one though, with a trip to London for the press review of the epic Vikings exhibition at the British Museum as a definite highlight even if I wasn't absolutely smitten by the show itself.
Closer to home, we had one of our regular outings to the SS Great Britain, which is the very best attraction in Bristol (I've got a top ten of my favourites coming up soon!) and a huge favourite with my youngest son, who absolutely adores it. In fact, I've bought tickets to a special evening opening of the SS Great Britain in May, which we're really looking forward to!
Christ Church Spitalfields/the class toy visits/amazing new Orphan's Arms Oscar Wilde top/Bloody Mary Metal bone bracelet.
The highlight of March though has got to be the release of my much talked about and long awaited novel, From Whitechapel, which is set during the Jack the Ripper murders of autumn 1888 and is already attracting some really amazing reviews. I decided to steer well clear of the classic whodunnit formula and instead focus on the victims and other women working and living in the Whitechapel area so that it would be a fresh take on the hoary old tale of fog, gin, top hatted toffs and Victorian iniquity and woe. It's available NOW from Amazon UK
and Amazon US.
The 5yo and me/a very Bristol view/unashamed selfie/booze glugging monkey onboard the SS Great Britain.

I read some ace books this month but would have to say that the best was definitely How To Be A Heroine
by Samantha Ellis, which really resonated with me on so many different levels and which I have reviewed here. It's definitely well worth a read. I also really loved Deanna Raybourne's new novel, City of Jasmine
and Linda Porter's Crown of Thistles: The Fatal Inheritance of Mary Queen of Scots
, which I should be reviewing in the next few days.
Film wise, this month has been dominated for me by the absolutely amazing 300: Rise of an Empire. Now, okay, I'm no classicist and have only the most tenuous grip on Ancient History so most liberties and inaccuracies went whooshing right over my head, but I absolutely loved this film. Basically, it's a real pleasure to see something with such strong, badass female characters for a change – and really the 'for a change' isn't something that I should typing in 2014 to be honest. Anyway, I loved pretty much everything about this film (especially the soundtrack, which is superb and brilliant for writing) and can't wait for the third instalment. Every time I think of the last few moments when the SPOILER SPOILER SPOILER and SPOILER etc, I just get the shivers. I believe my jaw actually literally dropped when we saw it in the cinema, it was THAT awesome.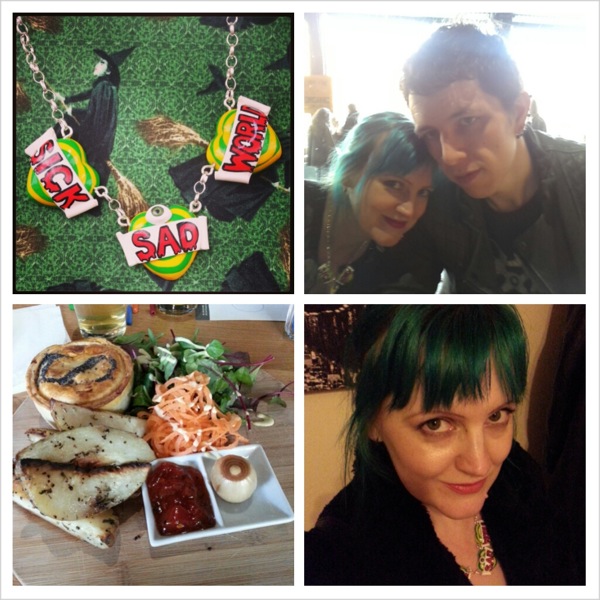 Sick Sad World Daria necklace from Bete Noire/Monsieur Guillotine et moi/PIE and CIDER at The Stable to celebrate three years of publishing my books/new accidental (don't ask) fringe.
Anyway, moving on to cinema's little cousin – I don't watch much television to be honest but March was the month of THE BRIDGE for us with both my husband and I ending up utterly gripped by both original series. We both agreed that we have never identified so strongly with any other television character as we did with Saga Norèn and cannot wait for her return in the third series. Absolutely amazing.
Oh yes and Mr Selfridge definitely deserves a mention for a stellar second season that had me weeping buckets at the finale. What a corker and MUCH better than the late and mostly unlamented The Paradise. There, I said it. I went there.
Selfie/the little bookworm/a walk in the woods/yet another selfie.
So there we have it. April looks set to be a bit of an epic month here at Guillotine Towers as I have a lot of blog posts coming plus a rigorous writing schedule (I'm hoping to get the sequel to Minette out and into your hands by the end of summer), two birthdays AND four amazing press events coming up. Blimey.
Oh and don't forget to enter my competition to win a fabulouso Bete Noire GIN necklace, which I'm giving away to celebrate the launch of From Whitechapel. All you need to do is go here and follow the instructions to be in with a chance! Good luck, my gin loving amigos!
From Whitechapel/Bristol graffiti/an amazing building in Bristol/bye from us.
Hope your March was a good one!
******
Set against the infamous Jack the Ripper murders of autumn 1888 and based on the author's own family history, From Whitechapel is a dark and sumptuous tale of bittersweet love, friendship, loss and redemption and is available NOW from Amazon UK
and Amazon US.
'Frothy, light hearted, gorgeous. The perfect summer read.' Minette, my young adult novel of 17th century posh doom and intrigue is now £2.02 from Amazon UK
and $2.99 from Amazon US.
Blood Sisters, my novel of posh doom and iniquity during the French Revolution is just a fiver (offer is UK only sorry!) right now! Just use the clicky box on my blog sidebar to order your copy!
Copyright secured by Digiprove © 2014 Melanie Clegg