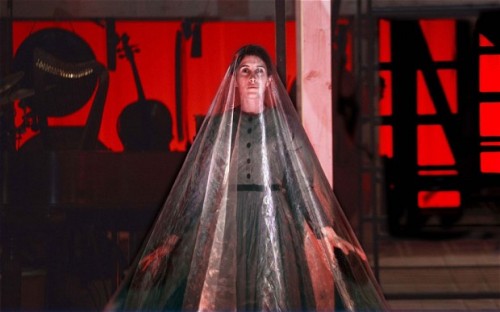 "Do you think, because I am poor, obscure, plain and little, I am soulless and heartless? You think wrong! – I have as much soul as you, – and full as much heart! And if God had gifted me with some beauty and much wealth, I should have made it as hard for you to leave me, as it is now for me to leave you!" – Jane Eyre, Charlotte Brontë, 1847.
One of my resolutions for this year was to go to the theatre more often as I absolutely love it but seem to have fallen out of the habit over the years. It's a bit sad really as I used to go all the time in my youth. HOWEVER, I kick started 2014 with a fabulous trip up to Stratford upon Avon (surely the HEARTLAND of theatre!) to see the Wolf Hall and Bring up the Bodies double bill at the Swan Theatre and, as you can imagine, was well up for it when the Bristol Old Vic invited me along to their own double bill of Jane Eyre, which is currently running until the 29th of March.
The Wolf Hall marathon was somewhat marred by the hideously uncomfortable seats they have in the Swan so I'll admit that I was rather trepidatious about the prospect of spending another four hours in theatre seating – I needn't have worried though as the Old Vic is FAR more comfortable and really beautiful to boot as it's a lovingly restored Georgian theatre in what can only be described as an intimately grand style.
This was actually my second excursion to the Old Vic in the last few weeks as I was there a couple of weeks ago for a very VERY special screening of one of my favourite films, Withnail and I, in the company of two of its stars: Phil McGann (Marwood aka 'I') and Ralph Brown (Danny), who did a brilliant, insightful and occasionally moving Q&A session with Phil Jupitus on the stage afterwards. Jane Eyre was a rather different experience but equally one that I would have hated to miss.
I think we're all familiar with the plot of Jane Eyre – the ignored ward of a wealthy family who is sent to a horrible school before becoming a governess and falling in love with Mr Rochester, the guardian of her pupil. As a teenager I just couldn't get to grips with the whole Jane Eyre and Mr Rochester romance – probably because Jane was described as being so very plain and little while Rochester is almost overpoweringly vibrant, masculine and energetic. It was only much later that I saw their romance for what it really was – a true meeting of minds that was really much more intellectual, powerful and bold than that simpering, reedy little word 'romance' can really properly convey. I still don't really like Jane but I do, at last, consider her a match for Rochester – in fact, I don't entirely believe that he is completely worthy of her.
I didn't really know what to expect from the Old Vic production, which was broken into two parts so that the first two hours explored her childhood, time at Lowood School and then the early budding of her relationship with Rochester, while part two focussed on their falling in love, the disastrous wedding, her time with the awful St John and then finally ends with a happy reunion for the two lovers. It probably could all have been melded together into just one production but on reflection, I think that it worked better as a two parter as we needed the leisurely story telling to really appreciate just how dark and exhausting Jane's emotional journey was.
However, despite the leisurely pace of the actual story, this was an energetic, robust, exciting and often very funny (I know – who knew that Jane Eyre could raise more than a few laughs?) production that brought Charlotte Brontë's best known novel to dazzling life. Special mention must surely go here to Benji Bower's superb music score, which was performed in the very heart of the stage, creating a uniquely powerful ambience than brought action and sound totally together, particularly when the amazing Melanie Marshall (who also played The First Mrs Rochester) took to the stage to sing in her crimson gown. It was really superb.
In all my time out from going to the theatre, I'd forgotten how physical and energetic performances can be – or maybe they've changed since I last went regularly? Certainly, it was clear that the actors in Jane Eyre worked as hard as any dancers and that there was as much emphasis on the power and suggestion of carefully planned and choreographed movement as on the script and music. I particularly liked the sequence at Lowood school where the pupils wearily mime their day of prayer, cold water washes, shivering in front of meagre fires and uninspiring lessons. I also loved the bits where Jane went on one of her many exhausting carriage journeys, which were literally sprinted through by the cast running on the spot.
Excellent use was made of the stage for this production – I wondered beforehand how they would evoke the faded grandeur of Gateshead, the spartan grimness of Lowood and then the gothic foreboding of Thornfield Hall on the limited Old Vic stage. I was even more intrigued when I got my first glimpse of the set, which looked very much like an children's playground with wooden platforms, ramps and ladders. It all made perfect sense once the play started though and the actors made full use of their surroundings to convey the drama of the story.
All in all, I absolutely loved Jane Eyre – the acting was faultless, with particular praise being due to Madeleine Worrall for her touching, heartfelt, bold and intelligent interpretation of Jane herself. It was a thought provoking portrayal that felt much more real, more nuanced than most of the more cinematic versions of recent years. This was an intelligent, reserved yet passionate Jane who longed for freedom and despite the smallness of her stature was courageous enough to do what so many will never manage – to follow her own heart.
In summary, I loved this so don't miss it if you get a chance to go and see for yourself!
'A bold and dynamic re-imagining of Brontë's timeless masterpiece presented in two parts with an ensemble cast of actors and musicians.
Almost 170 years on, there is still much in Brontë's story of the trailblazing Jane and the charismatic yet vulnerable Mr Rochester to inspire today's generation. This empowering and courageous production uncovers one woman's fight for freedom and fulfilment on her own terms.
Jane Eyre is a strong and spirited heroine who, despite humble beginnings as a destitute orphan, faces life's obstacles head on to follow her own path.
Part one of this vivid re-telling will take you from Jane's childhood at Reed Manor, to Lowood School and on to Thornfield where Jane encounters the man who challenges her own passion and integrity.
Part two follows Jane's rage against the injustice of society, the discovery of bitter betrayal and, in turn, the ultimate decision to follow her heart.
Directed by Sally Cookson (Peter Pan, The Boy Who Cried Wolf, Treasure Island), and with an original score and live music led by Benji Bower the two parts will draw on dark fairy tales and folk tradition to create a vivid and compelling journey.'
******
'Frothy, light hearted, gorgeous. The perfect summer read.' Minette, my young adult novel of 17th century posh doom and intrigue is now £2.02 from Amazon UK
and $2.99 from Amazon US.
Blood Sisters, my novel of posh doom and iniquity during the French Revolution is just a fiver (offer is UK only sorry!) right now! Just use the clicky box on my blog sidebar to order your copy!
Copyright secured by Digiprove © 2014 Melanie Clegg