I've been a huge fan of Adele Parks' novels for many many MANY years and always look forward with enormous excitement to each new release. I was particularly thrilled, however, when I found out that Adele's latest book moves into entirely new territory with her first ever foray into historical fiction. Gosh, I suppose that I ought to feel at least FAINTLY aggrieved when one of my favourite contemporary fiction writers takes a swerve into my own turf but honestly I am just THRILLED when it happens as they always bring something fresh and new to the table.
Evening dress, French, c1925. Photo: Metropolitan Museum of Art, New York.
Spare Brides
was no exception to this – I'd had my copy pre-ordered for months and started to demolish it as soon as it hit my kindle at midnight on release day, delighted by the period detail, the wonderful dresses and, above all, Adele Parks' emotional depth and exploration of every corner of her characters' feelings and motivations. It made for a most wonderful read and one that I definitely recommend.
Evening dress, Martha Weathered Inc (Chicago), c1925. Photo: Metropolitan Museum of Art, New York.
New Year's Eve, 1920. The Great War is over and it's a new decade of glamorous promise. But a generation of men and women who survived the extreme trauma and tragedy will never be the same.
With countless men lost, it seems that only wealth and beauty will secure a husband from the few who returned, but lonely Beatrice has neither attribute. Ava has both, although she sees marriage as a restrictive cage after the freedom war allowed. Sarah paid the war's ultimate price: her husband's life. Lydia should be grateful that her own husband's desk job kept him safe, but she sees only his cowardice.
A chance encounter for one of these women with a striking yet haunted officer changes everything. In a world altered beyond recognition, where not all scars are visible, this damaged and beautiful group must grasp any happiness they can find – whatever the cost.
Evening ensemble, Philippe & Gaston (probably French), c1925. Photo: Metropolitan Museum of Art, New York.
As you can probably guess from the title and rather luxe glam cover, Spare Brides is set in the early 1920s and follows the lives of a group of friends who are dealing with the aftermath of the First World War in general and the lack of eligible young men in particular. Maybe it was a tad self involved to see the deaths of so many prospective husbands as a personal tragedy but I think it must have been really awful, not to mention actually frightening, to be a young woman at this time – especially if you had no particular looks, talents or prospects to mark you out from the crowd. Remember, at this time, there weren't all that many academic or career opportunities for middle and upper class young women 'left on the shelf' (hideous expression!) so if you couldn't find a husband or some sort of properly genteel purpose in life you were thrown back on to a life of dependancy on your male relations, which can't have been much fun at all.
Evening dress, French, c1925. Photo: Metropolitan Museum of Art, New York.
Adele Parks takes a good long and rather unflinching look at all of these issues from the point of view of the four main characters, all of whom are dealing with their own demons and a whole myriad of issues from the dearth of available men, infertility, widowhood, loneliness and a lack of opportunity. Beautiful Lydia feels like her life would be better if she had a baby; plain and rather graceless Beatrice longs for a husband; exciting, glamorous, daring Ava doesn't know quite WHAT she wants but is rather despondently coasting until she finds it while sensible, pretty, widowed Sarah just longs for her husband to come back to her and can't quite accept that he's actually gone. Their stories and struggles are compulsive reading and I really enjoyed watching each character unfurl and come to realisations, fulfillments and endings that none of them could have anticipated at the beginning.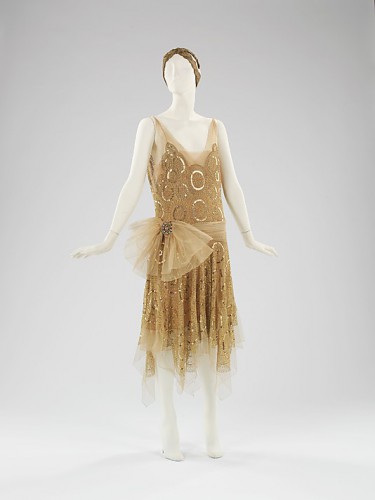 Evening ensemble, House of Lanvin (Paris), 1923. Photo: Metropolitan Museum of Art, New York.
I know that lots of people don't like having too many dresses and shoes in their books but I am definitely NOT one of them. In fact, few things please me more than a novel with loads of dress descriptions and lingering mentions of sequinned skirts, ribbon bedecked necklines and spangled panniers. I'm therefore pleased to report that Spare Brides has lots of this sort of thing going on and the mentions of the glorious tulle, silk, lace and sequin encrusted frocks worn by the main characters are pretty fabulous. Ava's wardrobe, in particular, sounds extremely enviable as she is the most 'fashion forward' and, more importantly, richest of the four women.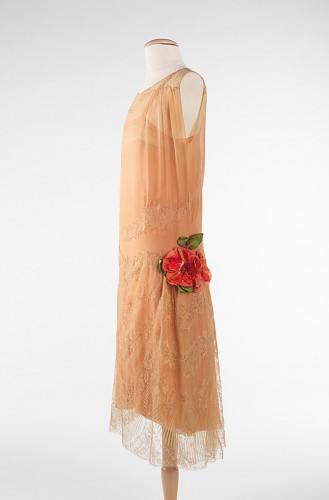 Evening ensemble, attributed to Goupy (France), 1924. Photo: Metropolitan Museum of Art, New York.
In tribute to her, I've illustrated this post with some of the most delectable 1920s dresses from the vaults of the Metropolitan Museum of Art in New York, all of which I could well imagine being sported by dazzling, short haired young aristocratic girls, drunk on champagne, cocktails and LIFE, in the gilt encrusted ballrooms of 1920s Mayfair.
Evening dress, Molyneaux (France), c1926. Photo: Metropolitan Museum of Art, New York.
If you're looking for a really deep look at the social history of the early 1920s then obviously this isn't going to be it, but if you're in the market for a really entertaining, insightful and rather glamorous read about the lives of four well heeled gals trying to make sense of a rapidly changing world then I reckon this will be right up your street.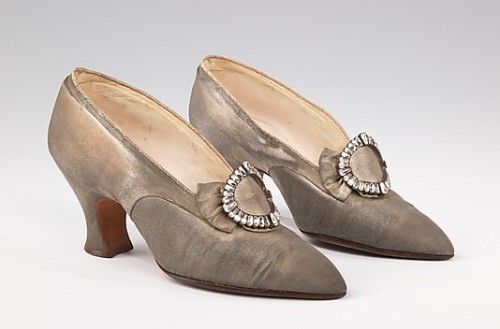 Evening pumps, Pietro Yantorny (France), 1925-30. Photo: Metropolitan Museum of Art, New York.
******
'Frothy, light hearted, gorgeous. The perfect summer read.' Minette, my young adult novel of 17th century posh doom and intrigue is now £2.02 from Amazon UK
and $2.99 from Amazon US.
Blood Sisters, my novel of posh doom and iniquity during the French Revolution is just a fiver (offer is UK only sorry!) right now! Just use the clicky box on my blog sidebar to order your copy!
Copyright secured by Digiprove © 2014 Melanie Clegg