Ben Miles as Thomas Cromwell in Wolf Hall. Photo by Keith Pattison.

Well, after a year of waiting and yearning and impatience and massive over excitement, the time finally came a couple of days ago for me to head up to Stratford upon Avon to see the RSC productions of Wolf Hall and Bring up the Bodies. Long term readers of this blog will know that I have been a massive Hilary Mantel fan girl since reading A Place of Greater Safety when it was first published and that I was subsequently blown away by her more recent vibrant, brutal, fascinating depictions of the Tudor court.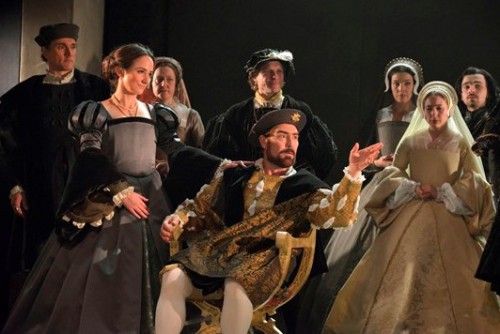 Ben Miles as Thomas Cromwell, Lydia Leonard as Anne Boleyn, Lucy Briers as Jane Boleyn, Lady Rochford, Oscar Pearce as George Boleyn, Lord Rochford, Nathaniel Parker as Henry VIII, Madeleine Hyland as Lady in Waiting, Leah Brotherhead as Jane Seymour and Pierro Niel Mee as Christophe in Wolf Hall. Photo by Keith Pattison.
I bought tickets for the RSC productions as soon as they were released last winter – opting to see both plays on the same day as an epic double bill of Tudor awesomeness. Some might say that this plan was a bit foolish and I myself looked forward to the experience with some trepidation, but honestly it was well worth ANY amount of inconvenience as I was utterly enthralled from start to finish by both productions. Anyway, if it was exhausting for me, imagine what it was like for the cast – who perform in both plays almost every day. I can only imagine how elated they feel when they come off the stage at the end of the evening – elated and triumphant no doubt.
Lydia Leonard as Anne Boleyn in Bring Up the Bodies. Photo by Keith Pattison.
Wolf Hall and its follow up, Bring up the Bodies are both BIG books – not just in size but also scope. They're meaty and bursting at the seams with a colourful rough and tumble evocation of life in Tudor London as observed by the wry eyes of Thomas Cromwell, formerly the beaten son of a Putney blacksmith who has risen up in the world thanks to a combination of physical hardiness, intellectual genius and an ability to turn his hand to pretty much anything. I wasn't entirely sure, to be honest, how Mike Poulton (who adapted the plays with the assistance of Hilary Mantel) would make the enormousness, the larger than life vibrancy of Wolf Hall and its darker follow up, Bring up the Bodies translate to the stage but what he has created is a triumph, reminiscent of the seamless scene changing of a film only this is accomplished in real time rather than in an editing suite. It really was amazing as we, the audience, were carried along with them from the arrival of Cromwell in Wolsey's chambers to tell him about his trip to Yorkshire to the very end of Bring up the Bodies where he stands alone but for the spectres of the dead who lurk in the gloom behind him and drinks to his own health, having accomplished all that he had set out to do. We know that disaster looms on the horizon but at that moment he is a man at the very pinnacle of his powers.
Leah Brotherhead as Jane Seymour in Bring Up the Bodies. Photo by Keith Pattison.
I wasn't, to be honest, entirely certain about the casting of Ben Miles, thinking him perhaps too physically slender, too refined looking to be a convincing Cromwell. I was very very wrong as he was actually perfect – intelligent, kind, very occasionally flirtatious, efficient and amused, he came across as a true Renaissance man, capable of anything and everything. Despite the lack of Cromwell's physical bulk, he kept all eyes upon him as he moved across the stage and for all his urbanity, verbal sparring with Henry's venal courtiers and gentle bemusement at the antics of the young men of his own household, you still felt that here was a man that you wouldn't want to cross. He was brilliant.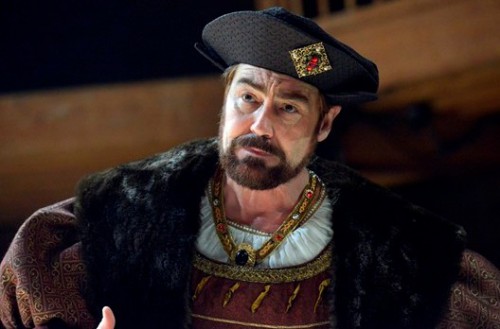 Nathaniel Parker as Henry VIII in Wolf Hall. Photo by Keith Pattison.
The rest of the cast were superb as well – especially when you consider that they were on stage for around six hours and that most of them were playing more than one (some even had three parts) character. I was particularly impressed by Joey Batey's supercilious, vain and ultimately rather pathetic Mark Smeaton; Joshua James' Rafe Sadler, who made a brilliant foil to Miles' Cromwell; Paul Jesson's urbane Wolsey (especially his post mortem appearances in Bring up the Bodies, which reminded me of Dexter's father popping up to dispense some words of advice before wandering off again), Leah Brotherhead's fluting voiced Jane Seymour; Lucy Briers as both Catherine of Aragon and Mary Boleyn and Pierro Niel Mee as Christophe, Cromwell's foul mouthed French servant who had zee mooooost outrrrrrageous French accent I have ever heard. It was utterly superb and absolutely hilarious.
Madeleine Hyland as Lady in Waiting, Benedict Hastings and Lydia Leonard as Anne Boleyn in Bring Up the Bodies. Photo by Keith Pattison.
Of the main cast, Nathaniel Parker made an excellent Henry VIII – not unintelligent but certainly not capable of the suave genius of the likes of Wolsey and Cromwell and ultimately rather pathetic even when in a rage. This was the good natured, likeable but often thoughtlessly cruel Henry of his younger years, incapable of seeing the wider devastating effects of his desires and careless of the feelings of those around him.
Nathaniel Parker as Henry VIII and Lydia Leonard as Anne Boleyn in Wolf Hall. Photo by Keith Pattison.
On the other hand, Lydia Leonard's Anne Boleyn was shrewish, harsh voiced, spiteful, difficult, pretentious, quick tempered and seemingly always on the point of some sort of hideous hysteric breakdown. I'm sure that plenty of the Anne Boleyn Fan Girl Brigade will take exception to this rather brutal depiction of their heroine and I certainly found it quite difficult to watch – mainly because here was a woman who was clearly hurtling straight for an epic downfall thanks to her unpleasant treatment of the people around her, inability to inspire loyalty even from her own family, tendency to make scenes and, according to the stage play, lack of discretion around certain court gentlemen. You could really share in Henry's clear relief when she was executed although the absence of her difficult presence certainly drained some of the energy out of the piece. It wasn't altogether devoid of sympathy though – her final scenes at it all falls apart around her are very touching especially as even Cromwell admits that 'who knows?' when asked if she is guilty. Overall it's a brittle and compelling interpretation of a woman who has clawed her way up to the top of the pile by sheer force of will alone but then doesn't have the requisite humility to realise that her staying there is dependant on staying in her husband's good books.
Lydia Leonard as Anne Boleyn in Wolf Hall. Photo by Keith Pattison.

Special mention has to go as well to the fabulous costumes – you could see that the female cast members were having a wonderful time swishing about in their full skirts and it was an inspired decision to give the coifs delicate gauze veils to add extra movement as they hurried about the stage. The opening moments of Wolf Hall were particularly effective as the cast came on and danced Tudor style (it's a bit like Gangnam Style only with more finger clicking and clapping) in an amazing swirl of colours and fabric. The music, played live, was also excellent and perfectly matched to the action on stage.
Nathaniel Parker as King Henry VIII in Bring Up the Bodies. Photo by Keith Pattison.
Ultimately, I was held entranced from the very first colourful, attention grabbing moment of Wolf Hall to the end, shrouded in regret and darkness, of Bring up the Bodies. Both productions were funny, touching, exciting and overall utterly wonderful. It must have seemed like an impossible task, to bring such meaty books to life as plays but the result is really extraordinary, absolutely amazing and a definite must see. I predict that both plays will be transferred to London after they finish their run in Stratford upon Avon and then, hopefully, you'll all get to see for yourselves if you haven't already made the trek up to the Midlands. Otherwise, we all have the BBC production to look forward to in the next couple of years, although I expect that to be a rather different, darker and more political kettle of fish.
Olivia Darnley as Mary Boleyn in Wolf Hall. Photo by Keith Pattison.
Jay Taylor as Thomas Wyatt, Madeleine Hyland as Lady in Waiting and Joey Batey as Mark Smeaton in Wolf Hall. Photo by Keith Pattison.
Wolf Hall and Bring up the Bodies are currently showing at the Swan Theatre, Stratford upon Avon. GO AND SEE THEM!
******
Set against the infamous Jack the Ripper murders of autumn 1888 and based on the author's own family history, From Whitechapel is a dark and sumptuous tale of bittersweet love, friendship, loss and redemption and is available NOW from Amazon UK
, Amazon US and Burning Eye.
'Frothy, light hearted, gorgeous. The perfect summer read.' Minette, my young adult novel of 17th century posh doom and intrigue is available from Amazon UK
and Amazon US and is CHEAP AS CHIPS as we like to say in dear old Blighty.
Copyright secured by Digiprove © 2014 Melanie Clegg