I've wanted to read Bertie: A Life of Edward VII
for AGES but was completely put off by the prohibitively high cost even in Kindle format while waiting for it to come out in paperback. However, it finally came down in price just before Christmas and I swooped upon it with many cries of purest JOY.
Edward VII, Downey, 1868. Photo: National Portrait Gallery, London.
Typically though, despite all this fuss, it took me a while before I actually got around to READING it. I know, I know. It was ALL worth it though as this is a superb book and probably one of the best biographies that I have ever read – and let's face it, I've read quite a few.
This huge book (don't be put off by the size – although I almost had a heart attack when I came across a copy in Waterstone's and saw how big it actually is as I was only 35% through at the time) closely follows the life and career of Edward VII from his birth in November 1841 until his death in May 1910, after just nine years on the throne. I must admit that I didn't actually know all THAT much about Edward VII other than that he didn't get on with his mother, he was a bit fond of the ladies, his coronation was postponed because he was ill (traditionally with appendicitis although Ridley argues against this) and that he died far too soon so I was keen to learn more and I have to say that I'm very glad that I took the time to read this as it was a fascinating read.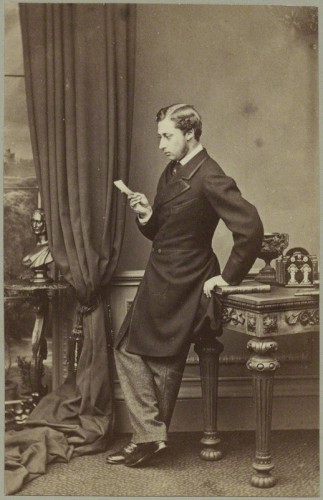 Edward VII when Prince of Wales, Mayall, 1862. Photo: National Portrait Gallery, London.
Edward himself mostly comes across as extremely likeable and it's obvious that Jane Ridley viewed him with great affection despite the odd point when he behaved badly, generally to former mistresses and friends. It's hard not to sympathise with the young prince, compared at several points and with good reason with Shakespeare's Prince Hal, brought up to feel himself inferior to his intellectually gifted elder sister, harried by his parents, particularly resented by his mother and generally unprepared for the destiny that awaited him.
Poor Bertie. He turned out alright though, despite the odds that were stacked against him – assisted by his natural intelligence, the wry affection tempered with exasperation with which he regarded his overbearing mother and his inherent charm and good nature which made him able to cope with situations that would have overwhelmed and daunted a lesser man. I suppose the main saving grace of Bertie is that he was nothing much like either of his parents and it was precisely this that made him such a successful king when Victoria finally shuffled off this mortal coil and left the way open for his succession.
Queen Alexandra and Edward VII, Lafayette, 1863. Photo: National Portrait Gallery, London.
There's not much here about his children but there's also plenty of material about Bertie's wife, the beautiful, rather stupid, somewhat clingy but undeniably charming Alexandra of Denmark. It's possibly a shame that he couldn't love her quite as much as she seems to have adored him but I suppose that's just the way of royal marriages (and look how it turns out when the royal couple are mutually devoted – it generally ends in disaster and woe) but she doesn't seem to have allowed herself to wallow in misery about the situation, which is something.
Edward VII and Alexandra of Denmark, Mayall, 1863. Photo: National Portrait Gallery, London.
This really was a fascinating read, partially thanks to Bertie's own ebullient personality but also because of the interesting times that he lived through and the really quite crazy network of European royalty that he was at the very centre of. Although he was effectively held back by his mother's refusal to share not so much as an iota of her power with him during her lifetime, he was quick to make up for lost time after his succession, establishing himself as the head of a family that included his nephews, Kaiser Wilhelm and Tzar Nicholas II.
In summary, this is a great book and I can definitely recommend it to anyone who thinks they might have even a passing interest in the life of Edward VII.
Edward VII when Prince of Wales, Mayall, 1859. Photo: National Portrait Gallery, London.

******
'Frothy, light hearted, gorgeous. The perfect summer read.' Minette, my young adult novel of 17th century posh doom and intrigue is now £2.02 from Amazon UK
and $2.99 from Amazon US.
Blood Sisters, my novel of posh doom and iniquity during the French Revolution is just a fiver (offer is UK only sorry!) right now! Just use the clicky box on my blog sidebar to order your copy!
Copyright secured by Digiprove © 2014 Melanie Clegg