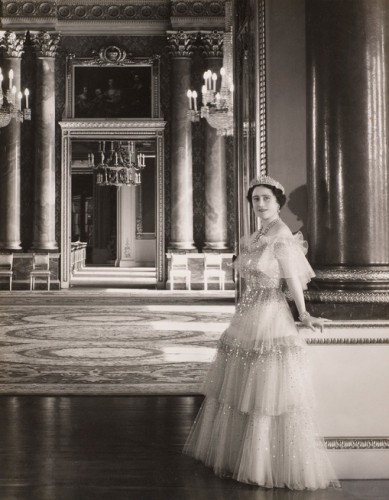 Queen Elizabeth, Buckingham Palace, Sir Cecil Beaton, 1939. Photo: Royal Collection © Her Majesty Queen Elizabeth II.
Today marks the birthday of Sir Cecil Beaton, whose wonderfully glamorous photographs always evoke for me the heady, brittle glamour of mid twentieth century high society – from film stars to writers to shy debutantes to their sophisticated mothers, he captured them all for posterity.
It was quite difficult to pick just one Beaton photograph as portrait of the week but in the end I went with this wonderfully frothy and romantic picture of Queen Elizabeth, dolled up in all her finery in Buckingham Palace in 1939. There are so many things to love about this photograph but what particularly strikes me, I suppose, is the way that its fairytale whimsicality stands as such a stark contrast to the gathering clouds of war that were besetting Britain at the time that it was taken.
The last season of 1939, like the one of 1914, has attained almost mythical status amongst afficionados of social history, and with good reason as it was the last hurrah of the upper classes before life changed forever. This photograph, for me, really sums up that period, punctuated by worries about the German threat, of almost breathless gaiety and a last enjoyment of gracious living, that immediately preceded the outbreak of war in autumn 1939.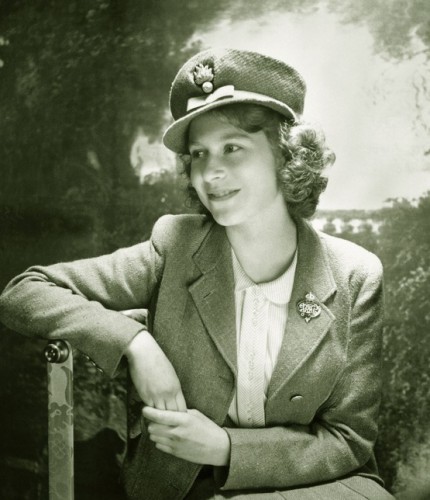 Princess Elizabeth as Colonel of the Grenadier Guards, Sir Cecil Beaton, 1942. Photo: Royal Collection © Her Majesty Queen Elizabeth II.
I suppose therefore that this lovely photograph of the young Princess Elizabeth in her uniform stands as a counterpoint to the graciously posed and elegant photograph of her mother, taken just three years earlier. This almost informal shot of the princess in military uniform, posed with her gaze directed away from the viewer and a natural looking smile on her lips, reveals the changes that have been wrought not just in Britain but also within the highest echelons of society, where even the debutantes who had been photographed in all their fresh faced, hopeful glory were doing war work and Buckingham Palace itself was not unscathed by the bombs.
Life really would never be the same again.
******
'Frothy, light hearted, gorgeous. The perfect summer read.' Minette, my young adult novel of 17th century posh doom and intrigue is now £2.02 from Amazon UK
and $2.99 from Amazon US.
Blood Sisters, my novel of posh doom and iniquity during the French Revolution is just a fiver (offer is UK only sorry!) right now! Just use the clicky box on my blog sidebar to order your copy!
Copyright secured by Digiprove © 2014 Melanie Clegg