Frances d'Arblay Burney, Edward Burney, c1784. Photo: National Portrait Gallery, London.
I was twelve, that dangerous age when several of my female friends and I started delving into the murkier tides of literature, when I took my first taste of Frances Burney's wonderful books. Unlike most of her fans, I started not with Evelina but with Camilla, that most fabulously frothy tale of family, youthful high spirits, social mishap and romantic misunderstandings and was instantly smitten, not just with the delightful eponymous heroine but Burney herself, whose wry good humour (which is rather less caustic than that of Jane Austen) shines from every perfectly placed word.
After Camilla, I moved on to devour the rather more serious toned Cecilia, which follows the misadventures of a splendidly beautiful heiress who can only inherit the fortune left to her by a disgustingly wealthy uncle if she finds a husband who will take her surname. This is all well and good and she is besieged by suitors until, OF COURSE, she falls for a young man of such good family that he absolutely CANNOT switch surnames – at which point it all goes rapidly downhill for poor old Cecilia.
I then read Evelina, Burney's first and most famous novel – a cheerful epistolary tale about the arrival into high society of the lovely Evelina who, after the usual parade of misunderstandings, social disasters, exclaiming, woe and fuss, achieves her much longed for happy ending. I probably should re-read it soon actually as lots of it is set in Hotwells in Bristol. In fact I may re-read it next month then do a little tour of any actual places in the book that can still be seen. I expect you'd all like that, wouldn't you?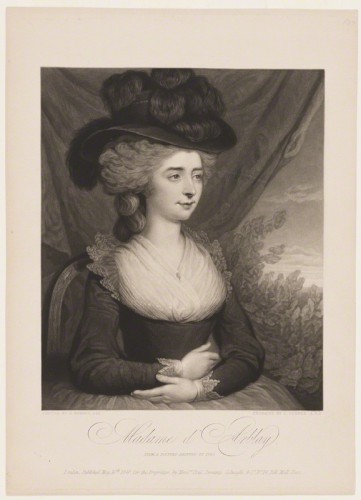 Frances d'Arblay Burney, mezzotint by Turner after Edward Burney, 1840. Photo: National Portrait Gallery, London.
I read Burney's final book, The Wanderer, while doing my GCSEs as I opted to write my English Literature 'long essay' about different depictions of the French Revolution and decided, in my ridiculousness, to compare it with A Tale of Two Cities and *drumroll* Les Dieux ont Soif by Anatole France which for some reason I read first in the original French before deciding that it might be better to read it in English too seeing as I was reading it for an English essay. I have to say that The Wanderer was a bit of a shock as it was so very different, so sombre in tone, to Burney's earlier books. I enjoyed it much more when I read it again in my twenties, but oh dear, my disappointment at fifteen was terrible.
I'll always love Frances Burney though, not just for her books but also her own personal spirit, courage and gumption (massive kudos to anyone who puts up with Queen Charlotte, survives the early modern treatment for breast cancer and completely deranges the contemporary notions of marriage and courtship by falling head over heels for then marrying a handsome French emigré in her early forties when she might be supposed to be well past such romantic fuss), and I'll never stop thinking that it's sad that she's not as well known as Jane Austen. Things are better than they were when I first read Camilla all those years ago and I've been lucky enough to hit upon several little seams of Burney worship on the internet but mention her name to the average reader and even some self professed Jane Austen fans and you'll often get a blank look, which is a shame. Certainly a television adaptation of one of her books is long over due – but where to start?
******
'Frothy, light hearted, gorgeous. The perfect summer read.' Minette, my young adult novel of 17th century posh doom and intrigue is now £2.02 from Amazon UK
and $2.99 from Amazon US.
Blood Sisters, my novel of posh doom and iniquity during the French Revolution is just a fiver (offer is UK only sorry!) right now! Just use the clicky box on my blog sidebar to order your copy!
Copyright secured by Digiprove © 2014 Melanie Clegg