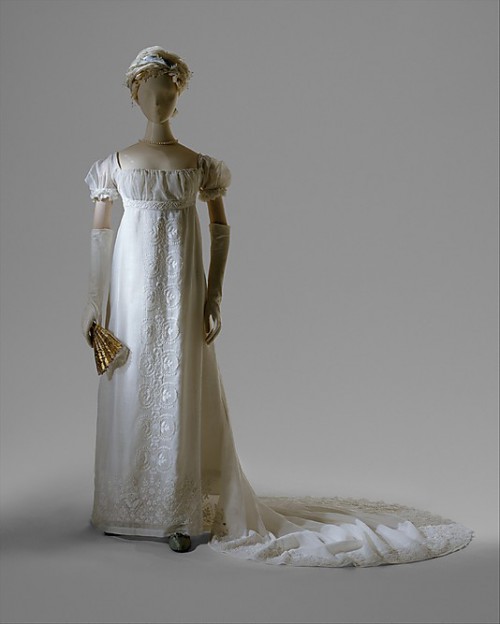 Evening dress, French, c1805. Photo: Metropolitan Museum of Art, New York.

Although I would hardly call myself a Janeite, I have been on a bit of an Austen kick for the last week or so, which involved watching several adaptations of her novels both for the big and small screen and culminated in a reading of Jo Baker's superb Longbourn
, an alternative version of Pride and Prejudice which focuses on the behind the scenes activities of the servants and takes an unshrinking and occasionally harrowing look at the social issues and war that lie behind the apparently calm and pretty facade of the original text. I loved it but can see how it might be a bit tart for other tastes – certainly at least some of its enjoyment for me is derived from reading the Goodreads reviews of certain Austen fans who seem to have gone into some sort of peculiar meltdown because they've been forced to confront the apparently unpalatable fact that Elizabeth Bennet had underarm hair and menstruated.
Anyway, Jane Austen herself was born on this day in 1775 so what better way to commemorate this than with, yes, you guessed it, a rather fabulous evening gown with a romantic history as the sixteenth dress in my advent calendar of flouncy doom?
I've spoken about this dress relatively recently but for those of you who are new to the whole Madame Guillotine thing, this dress is said to have belonged to the striking and rather awesome sounding American beauty Miss Eliza Patterson, who was married to Napoleon's younger brother, Jérôme and had the distinction of being even less to the taste of her picky, awful, ridiculously up themselves Bonaparte in laws than Joséphine de Beauharnais.
This is a splendid dress – not perhaps one that would have been worn by any of Austen's heroines before marriage (with the possible exception of Miss Woodhouse) but certainly one that I could imagine Miss Bingley wearing to the infamous Netherfield Ball.
******
Set against the infamous Jack the Ripper murders of autumn 1888 and based on the author's own family history, From Whitechapel is a dark and sumptuous tale of bittersweet love, friendship, loss and redemption and is available NOW from Amazon UK
, Amazon US and Burning Eye.
'Frothy, light hearted, gorgeous. The perfect summer read.' Minette, my young adult novel of 17th century posh doom and intrigue is available from Amazon UK
and Amazon US and is CHEAP AS CHIPS as we like to say in dear old Blighty.
Copyright secured by Digiprove © 2013 Melanie Clegg