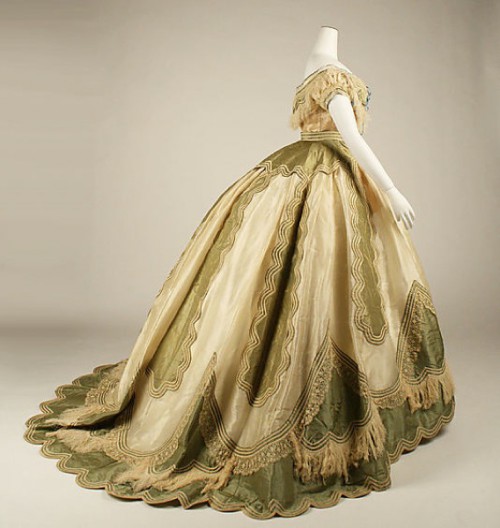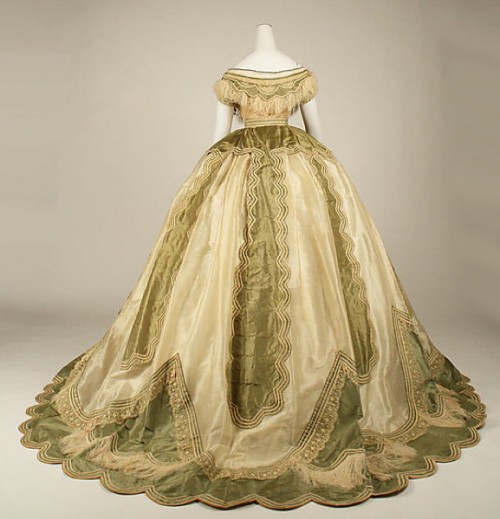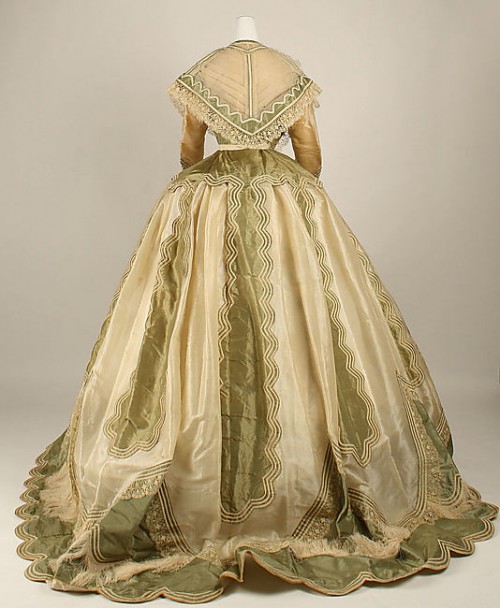 Evening ensemble, Marguerite Robes (Paris), c1865. Photo: Metropolitan Museum of Art, New York.

I have a most fabulous Parisian evening ensemble from 1865 behind the twelfth window of my advent calendar. In a period when dresses could be massively expensive, ordering a multi purpose ensemble piece like this with different bodices and perhaps an extra overskirt could be a really thrifty and yet still chic way of making sure that your money went even further.
In fact, it's just struck me that I think this very dress makes an appearance in the book I am reading at the moment: Curtsies and Conspiracies
by Gail Carriger, in which the main character Sophronia has just been gifted a green gauzy evening confection very much like this one. How pleasing.
I'm still ill and have been ploughing my way through the costume dramas on Netflix because I haven't got the energy for much else right now. Yesterday's dose of bonnets and woe was provided by the 2006 version of Jane Eyre, with Toby Stephens being a rather Byronic Rochester and Jane, as usual, being much prettier than Charlotte Brontë had intended she should be. This isn't a Jane dress though, obviously, but I can definitely imagine Blanche Ingram appearing in the gallery at Thornfield Hall in this – can't you?
******
Set against the infamous Jack the Ripper murders of autumn 1888 and based on the author's own family history, From Whitechapel is a dark and sumptuous tale of bittersweet love, friendship, loss and redemption and is available NOW from Amazon UK
, Amazon US and Burning Eye.
'Frothy, light hearted, gorgeous. The perfect summer read.' Minette, my young adult novel of 17th century posh doom and intrigue is available from Amazon UK
and Amazon US and is CHEAP AS CHIPS as we like to say in dear old Blighty.
Copyright secured by Digiprove © 2013 Melanie Clegg