Evening dress, R.H White and Co (Boston), American, 1885. Photo: Metropolitan Museum of Art Costume Institute, New York.
Behind the eighth window of my rather flamboyant advent calendar there lurks this rather gorgeous evening dress from 1885. I don't know about you, but to my mind, this gown just SCREAMS Christmas – probably because of the oh so delightful combination of a fluffy feather trim and that elegantly draped wintry ice blue silk.
I can just imagine a fashionable young Boston lady venturing out in this to go ice skating or take a snowy carriage ride with one of her ardent admirers. Or perhaps it would be better suited to a Christmas party – it's certainly guaranteed to stand out against all the rich, jewel like colours that have always tended to prevail at this time of year.
Speaking of advent calendars – what do you think of mine? It's from the Historic Royal Palaces website and has a glittery pop up Kensington Palace, Tower of London and Hampton Court Palace. I'm a bit in love with it – and why yes, I do have a print warning about the poisonous effects of laudanum hanging in my kitchen! What else did you expect?!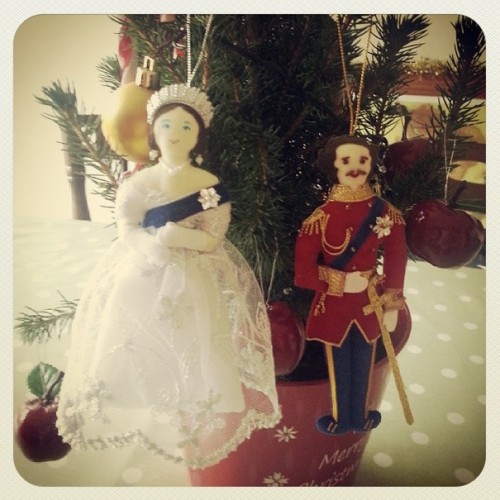 I also love my Victoria and Albert Christmas decorations, also from the HRP site. Reunited at last after all those years apart. I keep getting an earworm of the Erasure song Stop! whenever I look at them – you know the one, it goes 'We'll be together again, I've been waiting for a long time…' Anyway, they're ace and I very much approve of the snazzy Adidas trainers that Albert seems to have picked up in the afterlife.
******
Set against the infamous Jack the Ripper murders of autumn 1888 and based on the author's own family history, From Whitechapel is a dark and sumptuous tale of bittersweet love, friendship, loss and redemption and is available NOW from Amazon UK
, Amazon US and Burning Eye.
'Frothy, light hearted, gorgeous. The perfect summer read.' Minette, my young adult novel of 17th century posh doom and intrigue is available from Amazon UK
and Amazon US and is CHEAP AS CHIPS as we like to say in dear old Blighty.
Copyright secured by Digiprove © 2013 Melanie Clegg