Marie Adélaïde de Savoie, Duchesse de Bourgogne in front of the grand canal at Fontainebleau, 1704. Photo: Versailles, Châteaux de Versailles et de Trianon.

I would have to say that this is one of my all time favourite portraits, even though it is not nearly so cloyingly frou-frou as my other favourites (I have a decided taste for sugared almond coloured silks, froths of tulle, pearls and a tumble of powdered ringlets) and has a certain mannered stiffness that is at odds with, for example, the sensuous curves of my beloved Gainsboroughs.
However, in this case of this piece I think that it is the gamine charm of the subject that won my heart, that delightedly mischievous sparkle in her sloe dark eyes, the amused curve of her red lips and the swagger with which she wears her almost mannish crimson and gold riding dress. I think that this portrait, unusually for the period where most depictions of court ladies are more style than substance, really manages to capture the essence of its sitter, who was that most delightful and charming of princesses: Marie Adélaïde de Savoie, Duchesse de Bourgogne, who was born on this day, 6th December in 1685.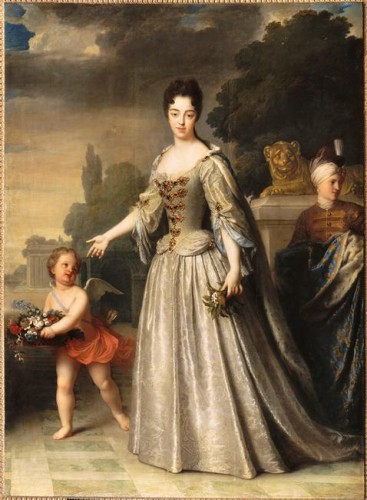 Marie Adélaïde de Savoie, Santerre, 1709. Photo: Versailles, Châteaux de Versailles et de Trianon.
I've had a bit of a girl crush on Marie Adélaïde ever since I was a very little girl myself when I came across this very portrait in my grandmother's copy of Nancy Mitford's The Sun King about Louis XIV and then with great delight read her account of Marie Adélaïde's all too brief life. Born in Savoy, she was the granddaughter of that other most charming princess, Henrietta Anne Stuart, who was the subject of my novel Minette. In fact, when I first started working on Minette it was originally going to be a split period type affair with half devoted to Marie Adélaïde as, newly arrived at Versailles as bride to her cousin, the Duc de Bourgogne, she makes herself at home in the decadent court of her great uncle, Louis XIV and the other half devoted to her lovely grandmère, Minette. I swiftly abandoned this plan however, although I'd still like to write about Marie Adélaïde one day – perhaps something for children as she was a veritable nuisance after her first arrival at Versailles, encouraged by both Louis XIV, who absolutely adored her and believed she could do no wrong (in fact, after her death it was said that she was one of the only two people that the dread king had ever loved during his long life) and his morganatic wife, Madame de Maintenon, whose favourite little pet she was.
The splendid court of Louis XIV had become elderly, fusty and set in its ways as even the King's scandalous bevy of illegitimate daughters by La Vallière and La Montespan entered into middle age so the arrival of the impish, disobedient, wilful yet still utterly sweet natured Marie Adélaïde was something of a breath of fresh air as she capered like a monkey around the court, making the ladies in waiting cry with her practical jokes and generally causing mayhem where ever she went. I suspect that much of the little princess' charm is down to the fact that she knew when to behave (on visits to convents and elderly relatives etc) and when to raise hell (all of the rest of the time) and was also skilled in twisting Louis and Madame de Maintenon around her little finger, as well as her husband who inevitably perhaps fell madly in love with her after their marriage when she was just twelve years old.
Marie Adélaïde de Savoie, Gobert, 1700. Photo: Versailles, Châteaux de Versailles et de Trianon.
Sadly, Marie Adélaïde was to die at the age of just twenty six (just like her mother and maternal grandmother before her – clearly it was not a lucky age for princesses) in February 1712 of a virulent bout of measles, which also claimed her adoring husband just six days later. Their eldest surviving son would also die of measles the following year, leaving the little Louis, Duc d'Anjou the sole survivor of their family – he would eventually succeed his great grandfather as Louis XV at the age of just five in 1715.
******
Set against the infamous Jack the Ripper murders of autumn 1888 and based on the author's own family history, From Whitechapel is a dark and sumptuous tale of bittersweet love, friendship, loss and redemption and is available NOW from Amazon UK
, Amazon US and Burning Eye.
'Frothy, light hearted, gorgeous. The perfect summer read.' Minette, my young adult novel of 17th century posh doom and intrigue is available from Amazon UK
and Amazon US and is CHEAP AS CHIPS as we like to say in dear old Blighty.
Copyright secured by Digiprove © 2013-2014 Melanie Clegg