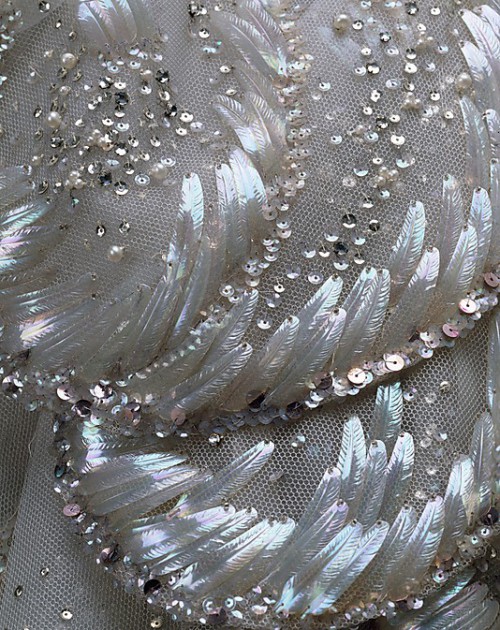 'Venus', Dior, A/W 1949-50. Photo: Metropolitan Museum of Art, Costume Institute.
Today's advent calendar dress is this very special Dior offering with frothy tulle, silk and rhinestones that looks like something that a grown up fairy on top of the tree would wear. Although it's rather more demure than yesterday's glitzy blue Chanel gown, this is still guaranteed to turn heads.
If you look closely, you can see that some of the sequins are shaped like little feathers, which makes this even more angelic, I think although Dior decided that this dress should, in contrast, be called 'Venus' in tribute to the goddess of love and beauty. You can see why.
I wish I had a dress like this right now actually as I'm off to a Christmas party in the state apartments of Kensington Palace tonight and compared to this, I don't think the outfit I have planned can really cut it. I will OF COURSE try and take as many photos as I can though so you can all have a peek.
******
Set against the infamous Jack the Ripper murders of autumn 1888 and based on the author's own family history, From Whitechapel is a dark and sumptuous tale of bittersweet love, friendship, loss and redemption and is available NOW from Amazon UK
, Amazon US and Burning Eye.
'Frothy, light hearted, gorgeous. The perfect summer read.' Minette, my young adult novel of 17th century posh doom and intrigue is available from Amazon UK
and Amazon US and is CHEAP AS CHIPS as we like to say in dear old Blighty.
Copyright secured by Digiprove © 2013 Melanie Clegg