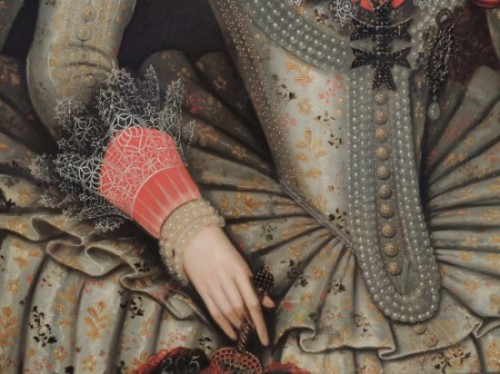 The Royal Collection have just announced their programme of exhibitions for 2014 and I have to say it's a bit exciting!
First of all is the brilliant news that this year's wonderful In Fine Style: The Art of Tudor and Stuart Fashion will be moving to the Queen's Gallery at the Palace of Holyroodhouse in Edinburgh from the 14th of March until the 20th of July. This is really excellent news as this was a truly outstanding exhibition that showcased some of the most powerful, sumptuous and gorgeous examples of sixteenth and seventeenth century royal portraiture and it really deserves to be seen by more people. I'm planning another trip up to Edinburgh next year and I think I may well go and see it again as it was so wonderful.
In contrast, next year's major exhibition at the Queen's Gallery at Buckingham Palace is The First Georgians: Art & Monarchy 1714-60, which will be running from the 11th of April until the 12th of October. This is VERY exciting news as there just isn't enough attention paid to the early Hanoverians in my opinion – okay the Georges themselves were rather ghastly, dreary types but they somehow managed to surround themselves with the most fabulous courts, full of intrigue, wit and scandal so this exhibition promises to be a real treat – especially as it is going to include over three hundred works from within the Royal Collection. How amazing.
Another intriguing exhibition is 'Treasures from the Royal Archives' which is being displayed in The Drawings Gallery of Windsor Castle from the 17th of May 2014 until January 2015. 'The Royal Archives hold an unparalleled range of material relating to the history of the British Monarchy. Since 1914 they have been housed in the Round Tower at Windsor Castle. To celebrate this centenary, a display at Windsor Castle presents some of the Archives' greatest treasures, many of which have never been on public display before. Offering a fascinating insight into the lives of monarchs, it includes diaries and correspondence sent between members of the royal family, such as a letter written by Prince Albert to Queen Victoria during their engagement.' This sounds so wonderful and is definitely making me think it's about time I paid a visit to Windsor Castle!
******
Check out my new alternative lifestyle blog, Gin Blossoms!
'Frothy, light hearted, gorgeous. The perfect summer read.' Minette, my young adult novel of 17th century posh doom and intrigue is now £2.02 from Amazon UK
and $2.99 from Amazon US.
Blood Sisters, my novel of posh doom and iniquity during the French Revolution is just a fiver (offer is UK only sorry!) right now! Just use the clicky box on my blog sidebar to order your copy!
Copyright secured by Digiprove © 2013 Melanie Clegg