Christ Church, Spitalfields.
Crikey, WHAT a weekend! I have no idea where to start but I promised an update about the Jack the Ripper Conference so here it is!
My first Conference was just last year in York so it was a bit exciting a year on to be there in the capacity of speaker as well as delegate – it certainly felt a bit like I've gone up a bit in the world! Anyway, I was both excited and also rather scared as I got on my train at Bristol Temple Meads last Friday morning and headed off to the East End of London for the first day of the conference, which was planned to involve an epic walking tour around the area followed by an evening at the pub.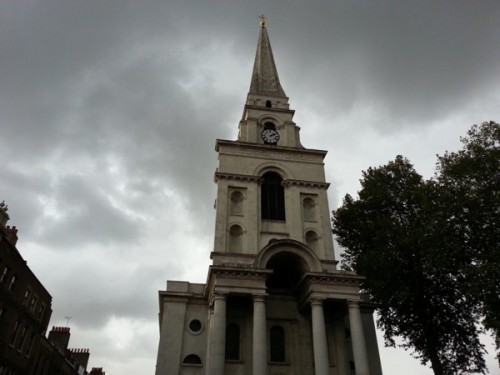 Christ Church, Spitalfields.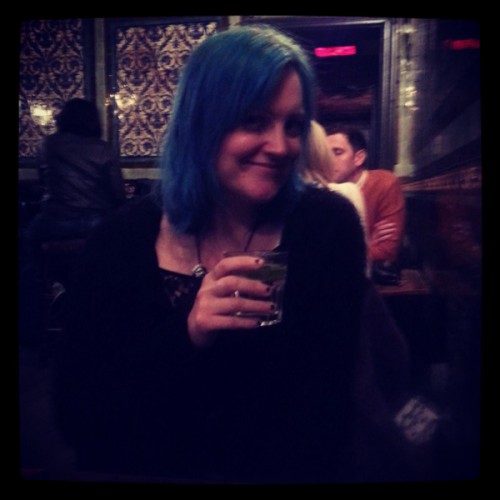 Enjoying the Ten Bells.
The walking tour was great although the rain was TERRIBLE so I ended up running off to the Ten Bells pub before we got to Mitre Square for a few gins, which was rather nice. The Ten Bells is, of course, intrinsically linked with the whole Jack the Ripper case so I often make a bit of a beeline for it when I land up Whitechapel – in fact, I've been drinking there on and off for over a decade and have seen it change quite a lot over the years.
After this we went on to the Princess Alice further down Commercial Street, one of my favourite pubs and another that is linked with the Whitechapel murders for the end of the tour, which had involved actors in Victorian dress acting out scenes and giving a bit of fun authentic flavour to the proceedings. We were escorted by a group of Victorian policemen to the top floor of the pub for a costumed interpretation of the interrogation of Joseph Barnett, the ex boyfriend of Mary Jane Kelly, last likely victim of the Ripper.
Victorians in the Princess Alice pub.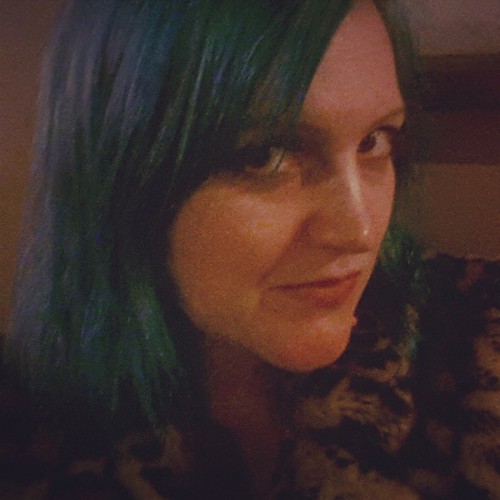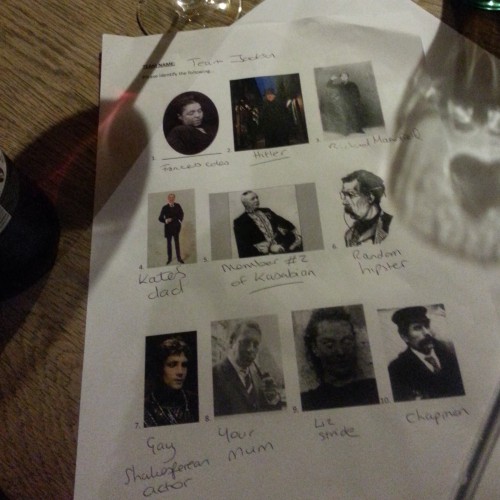 We had a great time at Dirty Dicks.
Following this, I went off to Wagamama for dinner, picked up a Lola cupcake for pudding then went off to check into my hotel with my friends Alix and Kate and get ready for the evening drinks and entertainment at Dirty Dicks, a well known pub opposite Liverpool Street Station, where we had SUCH a fun time! There was a quiz, which was more fun than it ought to have been as we got a bit creative with the answers and rather too much cider was drunk by me, despite my intention that I really should try to lay off the booze a bit considering my talk was the next morning! Oops.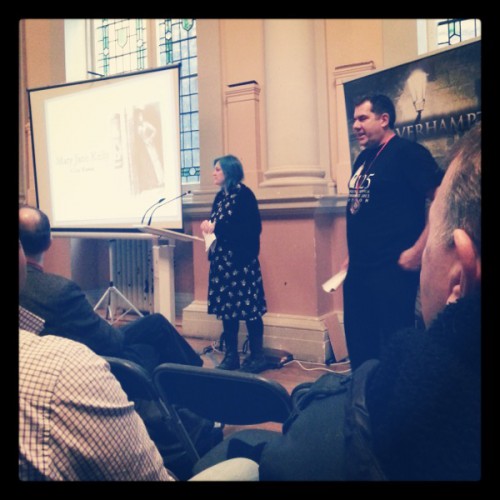 Speaking at the conference.
I wasn't feeling my most amazing the next morning but I dragged myself out of bed and headed off to Shoreditch Town Hall with plenty of time to spare before the event started. As it was the anniversary of the murder of Mary Jane Kelly on the ninth of November 1888, the whole day was themed around her and my talk was supposed to kick this off with a bit of an overview of her life and the mystery that surrounds her. Obviously there is LOADS that can be said about this as there are so many different theories about Mary, her identity and why she was murdered and by whom but I only had forty five minutes to pack it all in so had to be somewhat brief and give something of a more general over view that highlighted some of the key aspects of the interest in her.
Although I was really nervous, it wasn't nearly so bad as I had anticipated and people were SO kind to me about it afterwards so I think it came across well and most of the listeners grasped what I was trying to do.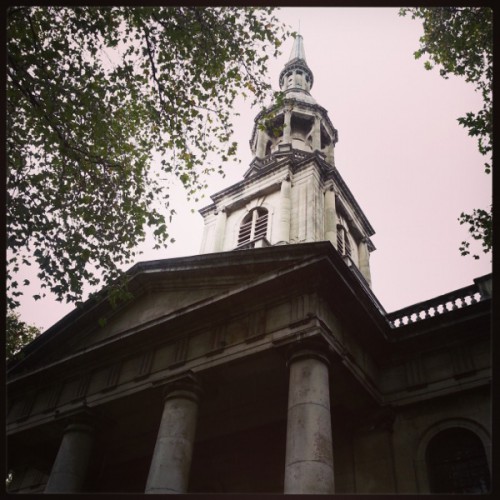 St Leonard's, Shoreditch.
Anyway, after this we went off into the rain and walked to St Leonard's Church (if you're a fan of the BBC comedy Rev, you'll likely know that it's the church in that), where the funeral service for Mary Jane was held and where her body lay in the mortuary on the grounds after being recovered from Miller's Court. Phil Hutchinson, who is ace, gave a great talk about the history of the church and the mortuary before we got onto coaches for a visit to St Patrick's Cemetery in Leytonstone to see Mary Jane Kelly's grave, which as usual was covered with flowers and the traditional bottle of gin.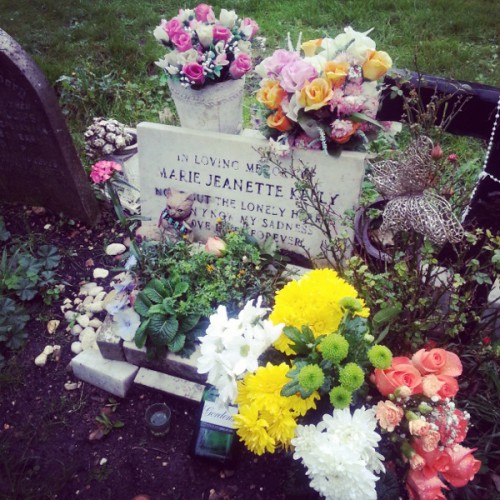 The grave of Mary Jane Kelly, St Patrick's, Leytonstone.
I was supposed to give a couple of short talks at the graveside about Mary Jane and her life but decided against it at the last minute as people seemed much happier being left to pay their respects in silence.
After this it was off to a nearby pub for lunch and a talk about George Hutchinson, whom the Ripper Literate among you will know to be the guy who rolled up to the Whitechapel police station a few days after the murder to give a very detailed and possibly fanciful account of the last time he saw Mary Jane Kelly shortly before her murder.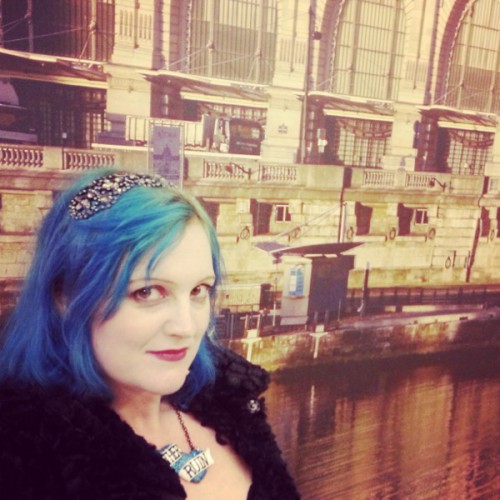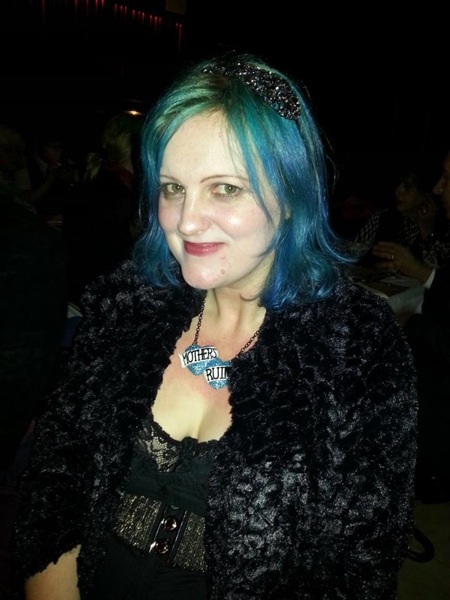 The formal dinner was SUCH fun.
The formal dinner was held that evening in a really nice curry house on Middlesex Street, which was ace as I bloody love curry. We were asked to dress up in at least an approximation of Victorian clothes, which was great fun and some people really got into it with some excellent outfits on display from Rebecca, Frogg Moody, Jack and others. It was superb. Naturally I got rather drunk but it was tremendous fun and I even got presented with a JACK THE RIPPER BEAR as thanks for giving my talk. There was some entertainment involving a brilliantly spooky talk by Neil Storey and then singing and larking about of a Cockney Victorian flavour after the meal before we went off to the White Hart, another pub associated with the murders for a bit of a late opening, which involved even more gin and an early hours stroll up Brick Lane for bagels from one of the 24 hour bakeries.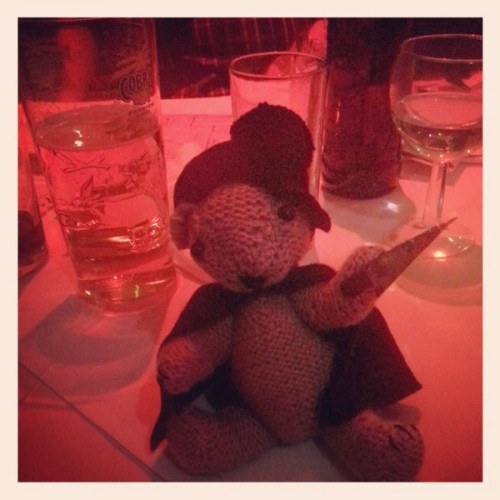 The bear I was presented with.
The menu for the evening, which was based on the layout of Mitre Square in 1888. Last year's menu was a foodie version of the Dear Boss letter.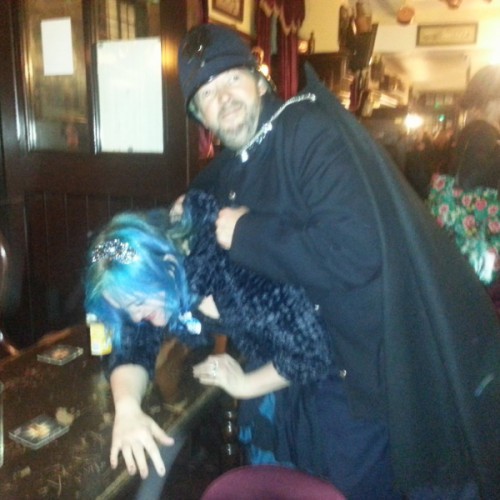 The evening ended in CHAOS though. This isn't what it looks like.
As you might expect, I felt rather the worse for wear the next day so managed to accidentally miss the first talk about the Ten Bells pub, which was given by Paul Bennett, one of the writers of the superb CSI: Whitechapel – apparently it was great though so I'm really annoyed that I didn't get to hear it. Anyway, we made it there in the end – the venue for the third day being the same cinema on Mile End Road where I went to the rather thrilling premiere of the second series of Whitechapel. Sadly, Rupert Penry Jones wasn't present on this occasion however.
We were at the cinema for the rest of the day so settled in for a talk about serial killers by Professor Glenn D. Wilson, another about the problem with eye witness testimonies by the superb Jon Rees and then ended by Sir Christopher Frayling taking to the stage to talk about his 1988 Timewatch documentary The Shadow of the Ripper, which was one of the reasons I was lured into the whole thing back in the time of the centenary. Although some things had been cut out, it was pretty much just as I had remembered and it was nice to see Martin Fido, who was also present and who is really LOVELY involved as well although my favourite thing about it is the fact that Christopher Frayling looked suspiciously like the Yorkshire Ripper at the time, which was a bit unnerving at times.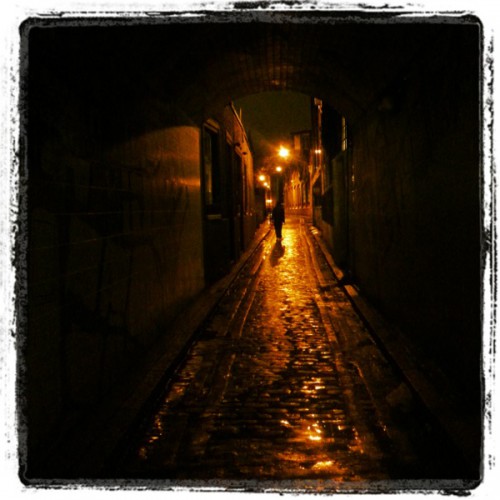 Gunthorpe Street, Whitechapel, site of the Martha Tabram murder in 1888.
After this there was a presentation of a lifetime achievement award to Martin Fido before the Conference was officially closed and we all wandered out into the night to make our way home. I'm really annoyed that I couldn't go with everyone else for a restorative curry but I was a bit keen to get home and see my husband and boys again after three days away so I headed straight off to Paddington.
Overall, I would say that this year's Conference, while very different in feel to last year's in York, was superb and a LOT of fun. I really felt that I was among friends and am looking forward to next year's event (which will be in Salisbury and will be organised by The Whitechapel Society) when we can all hang out together again! If you're at all interested in Jack the Ripper or the macabre side of Victorian history but feel a bit nervous about attending, I'd definitely urge you to give it a go as a more welcoming and friendly bunch of people can't be imagined.
The original board from the Ten Bells, Commercial Street.
Oh and crikey, you guys, I've just seen that this blog has now gone over 4.5 million page views. Blimey. Thanks SO much for all your support – I have the best blog readers around, you lovely lot. Thank you!
******
Check out my new alternative lifestyle blog, Gin Blossoms!
'Frothy, light hearted, gorgeous. The perfect summer read.' Minette, my young adult novel of 17th century posh doom and intrigue is now £2.02 from Amazon UK
and $2.99 from Amazon US.
Blood Sisters, my novel of posh doom and iniquity during the French Revolution is just a fiver (offer is UK only sorry!) right now! Just use the clicky box on my blog sidebar to order your copy!
Copyright secured by Digiprove © 2013 Melanie Clegg